---
Teaser for Christmas horror anthology DeathCember!!
---
Epic Pictures announced the acquisition of worldwide sales rights for the upcoming Christmas horror anthology DeathCember.
The anthology was created by Dominic Saxl, who produced alongside Ivo Scheloske, production manager with Anolis Entertainment, and Frank Vogt, COO of Magna Mana Production and made in part thanks to the German HessenFilm fund.
Segments from over ten countries make up the anthology. Starring: Barbara Crampton, Brianna Barnes (THE DAY), Sean Bridgers (DEADWOOD), Johnny Vivash (BOOK OF MONSTERS), Barbara Magnolfi (Dario Argento's SUSPIRIA) and AJ Bowen (YOU'RE NEXT).
The anthology film is composed of 24 shorts + 3 bonus segments, each inspired by a unique take on holiday terror.
The full list of directors are:  Dominic Saxl, Michael Varrati, Lazar Bodroža, Florian Frerichs, Isaac Ezban, Sonia Escolano, Bob Pipe, Steve De Roover, Jürgen Kling, Ama Lea, Sadrac González-Perellón, Julian Richards, Lee Sang-woo, Vivienne Vaughn, Ruggero Deodato, Sam Wineman, Andreas Marschall, Lucky McKee, Milan Todorović, Pollyanna McIntosh, Rémi Fréchette, Jason A. Rostovsky, John Cook Lynch, Trent Haaga, Annika Marx, BJ Colangelo, Zach Shildwachter and Alyosha Saari.
DEATHCEMBER is set to premiere in 2019.
.
Here it is, our first official teaser trailer! Can't wait for you all to see the crazy, bloody, weird Advent horror anthology that #DEATHCEMBER has become. Full trailer out next month! 🎅 world sales: @epic_pictures pic.twitter.com/KivRAymp9Y

— DeathcemberFilm (@DeathcemberFilm) July 13, 2019
.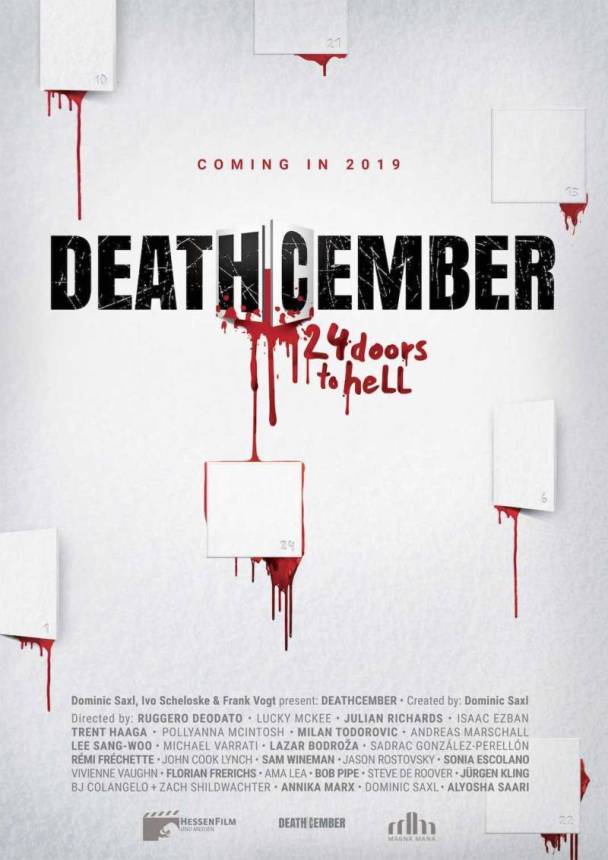 ---