Grue's Pride Month: Hellter interviews Dominic Haxton (Tonight It's You, Tonight It's Me)!!
---
Grue's Pride Month: Hellter interviews Dominic Haxton (Tonight It's You, Tonight It's Me)!!
---
Hello Grue-Lings,
  In Celebration of Pride and Grue's Pride Month, we have openly gay actor, writer, producer, editor, and director Dominic Haxton. He does it all.  Dominic Haxton was born in Santa Rosa, California, USA. He is known for Tonight It's Me (2014), We Are Animals (2013), and Teens Like Phil (2012). Tonight It's You (2016). Dominic is a graduate of USC School of Cinematic Arts and a 2013/2014 fellow in Project Involve at Film Independent. He's currently in pre-produciton on the pilot for Dead Boys, a queer horror anthology series that centers on young gay men confronting their worst nightmares. The episode he directed was titled Scarred. He is writing a horror feature adaption of Michael Rowe's novella October. He also directed three entries in the popular Boys on Films series: Boys on Film X, Boys on Film 11, and Boys on Film 12. Here is my interview with the sexy and talented Dominic Haxton:
.
.
---
.
.
HELLTER: Hello sir and thank you so much for being on Gruemonkey and Celebrating Pride Month with us today. Before we talk about Tonight It's You. Let's talk about your other film, Tonight It's Me. What is the film about and how was the cast for this film?
DOMINIC: The film is about a male prostitute who forges an unexpected connection with a transgender client over the course of a night. The cast was all people I knew and worked with before. Caleb James (the actor playing Ash) was a long time friend. It was his acting debut. The older creepy guy at the beginning is my downstairs neighbor. He was also in my short film, We Are Animals, as the surgeon.
.
.
.
HELLTER: That's awesome. Is Tonight It's Me, how you met the very talented and hot Jake Robbins, that you put him in Tonight It's You?
DOMINIC: Jake and I worked together on the short film, Teens Like Phil. We had been talking of collaborating again and this is what we decided on.
.
.
.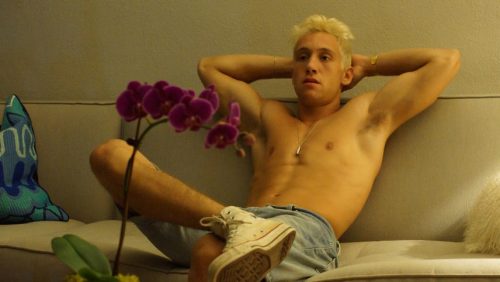 .
HELLTER: Jake is a very talented actor. Where did you discover Jake Robbins and are you still friends with him?
DOMINIC: Jake and I met in New York City when I casted him for one of the main roles in Teens Like Phil. Now we both live in LA a few blocks from each other. We hang out often. I'm also still friends with Caleb James. 
.
.
.
HELLTER: That's cool that you two are still good friends. What made you decide you wanted to be involved in the entertainment world?
DOMINIC: I've always loved film. I made many short films in high school and later went to USC film school. 
.
.
.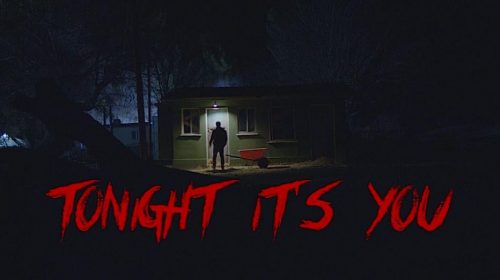 .
HELLTER: What actor would you love to cast as a main role in one of your films?
DOMINIC: Paul Dano or Tilda Swinton. Love their work.
.
.
.
HELLTER: Can you tell us what Tonight It's You is about?
DOMINIC: It's about a small town guy ventures out to a remote farmhouse for a late night hook up when things take a dark turn. Ultimately about the vulnerabilities and fears that people have when they meet a stranger off the internet for sex. There are many unknowns when you put yourself out there like that. And in this case, the horror that can come from a hookup.
.
.
.
.
HELLTER: I love this short film. Can you tell us about the characters of CJ and Hunter?
DOMINIC: CJ is a male prostitute who lives in a trailer park. On his free time, he smokes meth and watches alot of horror movies. Hunter is a farm boy who lives with his crazy evangelical father.
.
.
.
HELLTER: Jake Robbins starts the horror short out by looking at a hookup app laying shirtless on the sofa. I'm assuming this app is supposed to be like Grindr? 
DOMINIC: Yeah, it's a hookup app very similar to Grindr. I intercut shots of CJ scrolling through guys on the app to shots of the zombies from Night of the Living Dead to show an allegory for hookup app culture is turning us into sex zombies.
.
.
.
.
HELLTER: (Laughs). I can see the comparisons (laughs). After seeing this horror short, it makes gay men second guess going into the woods for sex with a stranger (laughs). Did you make this film to show men the dangers of going to hookup with strangers you never met?
DOMINIC: Yes, also to show what it's like to be a gay person living in a less tolerant area where there is the fear of being assaulted.
.
.
.
HELLTER: When Jake Robbins character CJ drives to the creepy woods to meet Hunter for sex, where is that creepy location at? Where was it filmed?
DOMINIC: Everything was filmed at Stickleback River Ranch in Agua Dulce, CA. Except the sex scene which was shot on a sound stage at One Big Stage in Glendale. 
.
.
.
.
HELLTER: I love how you made that shed all satanic. If i'm walking into a shed for sex and see a pentagram and a satanic shit all over the shed, I would be running back to my car and never look back. Why does CJ not run away from what he just saw?
DOMINIC: Because he doesn't recognize what the symbols are and also because he's horny. (Laughs).
.
.
.
HELLTER: Yeah, when your horny you only think with the one head (laughs). At first you think Hunter's dad is a over protecting hillbilly the way he treats Hunter after finding him in the shed. But then you find out Hunter's dad is in a religious cult to try to take a demon out of Hunter. What made you decide to add a religious cult and a Exorcism in your horror short? Do you like Exorcism type horror films?
DOMINIC: Because I wanted people to think it was a gay exorcism and then reveal that Hunter is actually possessed by a demon. Yes, I love exorcism horror films. Particularly, The Last Exorcism and The Exorcist. 
.
.
.
.
HELLTER: Exorcism films are great! The scene where CJ is peaking threw the closet door and sees Hunter change from Human to Demon, that scene is scary as shit. It made me jump (laughs). How did you film that scene and make it look so real and believable?
DOMINIC: We has a great spfx makeup artist who created the look from a references I had of the ghouls/zombies from The Evil Dead. I also had a vfx artist embellishing certain things to make him look scarier. 
.
.
.
HELLTER: What would you do if you found out your just had sex with a demon and how would you escape the Demon's house?
DOMINIC: I would have jumped out the window instead of hiding in the bathroom. 
.
.
.
.
HELLTER: (Laughs) Me too. The ending of the short seeing CJ sitting by a pool all freaked out and Hunter is watching him. Do CJ and Hunter hookup again or does CJ find a way to kill or escape the Demon Hunter?
DOMINIC: He comes to collect his soul. 
.
.
.
HELLTER: Oh hell no. We would fight (laughs). Ian Lerch is so creepy and awkward and makes his character Hunter so believable. Ian can play many more roles as Demon or some kind of horror person, he has that look. Plus he has a nice bubble butt as seen in the sex scene. How did you find Ian and when he auditioned, how did you know he was the perfect one for the role of Hunter?
DOMINIC: We knew as soon as he auditioned that he was the best choice. He had that awkward, creepy vibe we wanted. 
.
.
.
HELLTER: Any other projects you have coming up that you want to promote and discuss?
DOMINIC: I'm developing two digital series and writing a queer horror feature that I hope to make soon. Very excited about the feature! Time to move up to features.
.
.
---
.
.
.
---