Grue's Pride Month: Hellter interviews Michael Dimitroulakos (Jack and the Box)!!
---
Grue's Pride Month: Hellter interviews Michael Dimitroulakos (Jack and the Box)!!
---
Hello Grue-Lings,
   In honor of Grue's Pride Month we did a interview with openly Gay writer, director, and make up artist 
Mike Dimitroulakos. Mike broke into the entertainment world by directing and writing a short film called Post-Mortem Depression. From there he wrote another short called Do It Yer'Self and did special effects makeup for horror short Jimbo. He also did special effects makeup for another horror short after Jimbo called The Essay From Hell. He did makeup for a episode of Dead Land as well. He then went on to do special makeup effects for 3 more shorts called Is She The One, Mujeres, and John 137. He currently has out a LGBT Horror short called Jack and The Box. He wrote and directed this LGBT horror short. Here is my interview with Michael Dimitroulakos:
.
.
---
..
..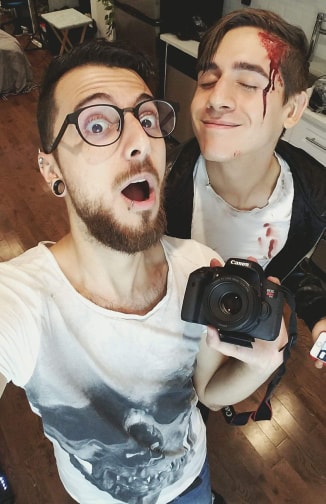 .
HELLTER: Hello sir and welcome to Gruemonkey for Pride Month. Thank you for being on our site today and helping us celebrate our Pride Month.
MICHAEL: Thank you for having me. I really appreciate it!
.
.
.
HELLTER: Tell us what made you get interested in directing, writing, and make up artist?
MICHAEL: Well, I've always interpreted things visually. My thoughts, emotions etc, they are often expressed in visual means. I just love visual media and telling stories through it. My brother and I always made really terrible home video movies on my dads clunky camcorder back when we were young. It didn't really hit me how much I wanted to make a career of it till I was a little older and off to college. I was obsessed with practical make up effects in films and always had elaborate Halloween costumes as a kid, so I guess doing make up professionally was just a natural evolution in that regard. My first college film I wrote(Post-Mortem Depression) was special FX make up heavy but I didn't know any make up artists at the time. So, I just learned the things I needed for that film before production and it kind of just stuck. I soon found myself working on tons of other films through out college and beyond. I was dubbed, "Make-up Mike" (Laughs).
.
.
.
..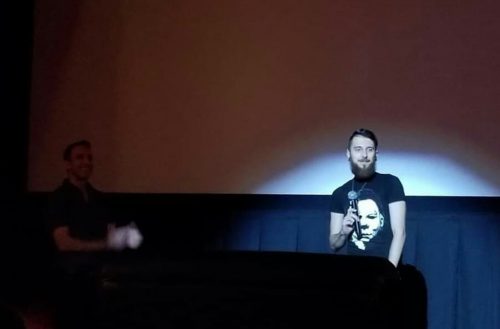 .
HELLTER: Well, Welcome to Gruemonkey Make-Up Mike (Laughs). One of your first makeup gigs was makeup artist for the tv show Dead Land in one episode. How did it feel to do makeup on a big show like that?
MICHAEL: Dead Land was fun! I was only on for one episode but it was pure, unadulterated, raw Brooklyn film making, (Laughs).
.
.
.
HELLTER: Your first horror short you were involved with for Special Makeup Effects was Jimbo. How did it feel to work on your first horror film?
MICHAEL: Prior to Jimbo, I had worked on a slew of college films as I mentioned earlier, which kind of prepared me for a bigger independent project like Jimbo. I really appreciated Jeff Turboff for taking me on for that considering I was relatively new to it all still! Overall it was a very fun bloody experience. 
.
.
.
..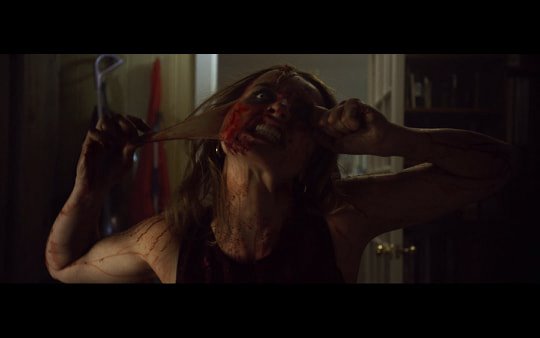 .
HELLTER: Glad to hear it was fun and bloody (laughs). You then moved on to another horror short called The Essay From Hell. What was your favorite experience on working on that short?
MICHAEL: Essay From Hell is an incredibly fun film. I enjoy it so much be it from on set memories or just by re-watching it repeatedly. I got to make an original full face prosthetic for that film and at the time, it was truly a culmination of what I've learned as an artist over those few years. I really appreciated Max Seiler(Writer/Director) for trusting me with his face tearing demon from Hell! My favorite part was definitely seeing it all come to fruition and capturing what Max had in mind for the demon reveal. Still very much a favorite of mine.
He's currently working on a new film which is just as bonkers and FX heavy! You can find the details at: https://maxseiler.com/drained-horror-film
.
.
.
HELLTER: Essay From Hell sounded like a fun horror short. Jack and the Box is the first horror short you wrote and directed and it's a gay themed horror short. Where did you look for inspiration to write this short?
MICHAEL: Funny enough, 6 or so years ago I was in bed watching Family Guy really late and the episode that was on featured a normal Jack and the Box toy. I thought, "how funny would it be if it was possessed?!" (Laughs). I had written it soon after but sat on it as I was working on a few other things. It wasn't until many years later I thought about it again and revisited it. With the revisit I altered it some but overall it remained the same.
.
.
.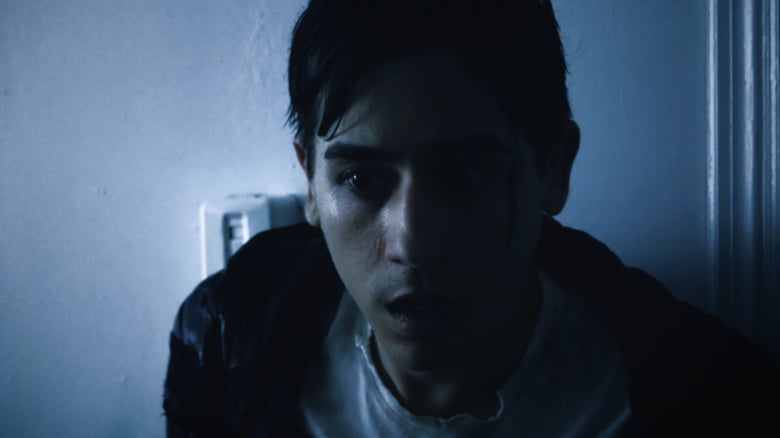 .
HELLTER: Never would have guessed Family Guy inspired a possession horror short (laughs). I'm glad to see people writing gay themed horror shorts. There aren't a lot out there. What do you want people to take away from your gay themed horror short Jack and the Box?
MICHAEL: For sure! Representation of any and all minorities is more important than ever. Honestly, with this specific project, with such a limited window of time(the film is just under 4 minutes) I really wanted to just put a gay character into a normalized scenario. You know, straight characters dominate horror films and we often never question their sexuality. They are predominantly straight unless otherwise stated. I kind of approached this the same way. Him being gay didn't need an explanation. He just is. And that's that. 
.
.
.
HELLTER: Wow. I love that so much. I wish more Gay characters in movies and tv shows are more like that. Where did you find the both amazing actors Davide Illiano and the man who plays the demon Z. Joseph Guice?
MICHAEL: I am incredibly fortunate and grateful to not only know/work with such talented people, but to also call them friends. Davide Illiano and I have been friends for many many years and have worked on a slew of things together in all facets of the art world. Visual media, commercials, shorts, photography/modeling, music videos. You name it, good chance we have something floating about, (Laughs). Though, with this film it was my first opportunity to properly direct him. Was, of course, a great experience. He knew what I wanted and delivered.
Joe came in to read for a character in a previous film of mine called Do It Yer'self! many years back. And honestly, I still feel like I didn't deserve him them! I knew immediately I wanted him in that role but I remember being a little ambivalent in asking him because I thought he was way too good for my little film, haha. I am so honored to have not only worked with him then, with Jack and the Box but also on one of his personal projects, John 137, which is circulating the festival route as we speak. I'm currently putting together a new project and he was one of the first to read the script.
.
.
.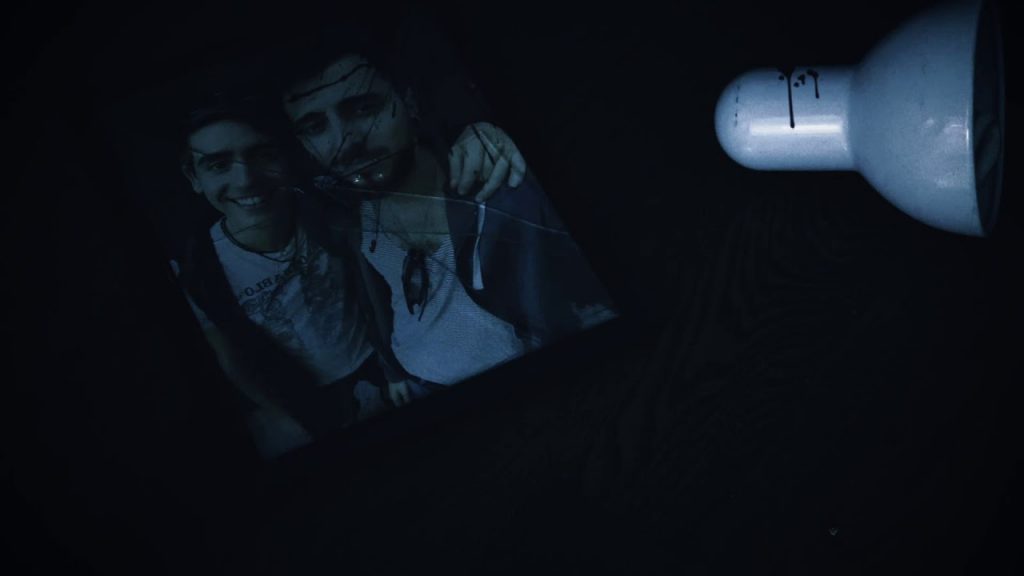 .
HELLTER: That's cool that you and Davide are good friends. He is a great actor and a cutie. Tell us what Jack and the Box is about?
MICHAEL: Jack and the Box is a big story told in a small way. Essentially its about a guy(Davide) coming in from some sort of attack outside only to find the same horror he escaped within his apartment. With limited finances and tools at our disposal, it was definitely a lesson in stripped down film making.
.
..
.
HELLTER: What was your favorite moment filming Jack and the Box?
MICHAEL: Definitely directing my best friend and working with Joe again! It made a potentially difficult process seamless and amazing.
.
.
.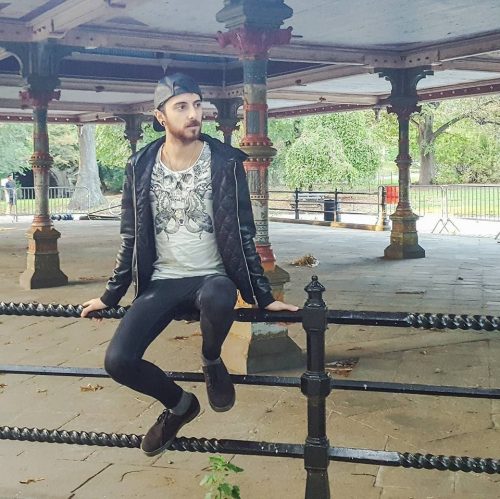 .
HELLTER: Any cool stories that happened on set between you and the actors that you can share with us?
MICHAEL: I got crazy glue on Davide's marble counter tops and he yelled at me. That's about it, (Laughs)!
.
.
.
HELLTER: (Laughs). I bet he was upset. Since it's Pride Month. How happy were you to show the world a gay themed horror short and do you plan on making more gay themed horrors?
MICHAEL: I enjoy the gay horror-niche very much and would very much love to become a more solidified part of that as I continue to make more films. I am currently working on a new film with a gay couple as the lead and I am INCREDIBLY excited about it. I will be launching a crowd source campaign for it very soon as it is quite a big project. So, definitely look out for that across all my social media platforms and such. You can find me at Mike Dimitroulakos on Facebook and Instagram!
.
.
.
HELLTER: I can't wait to learn more about this film. I will promote it a lot on Gruemonkey for you. Anything else you want to discuss or promote?
MICHAEL: As independent film makers, we can use all the support we can get. More so if we are part of a minority that is currently struggling to be seen in the real world and the art world. Support everyone who needs it!
.
.
.
HELLTER: I agree!! Thank you for being a guest on Gruemonkey for Pride Month.
MICHAEL: Was an honor. Thank you!
.
.
---
.
.
.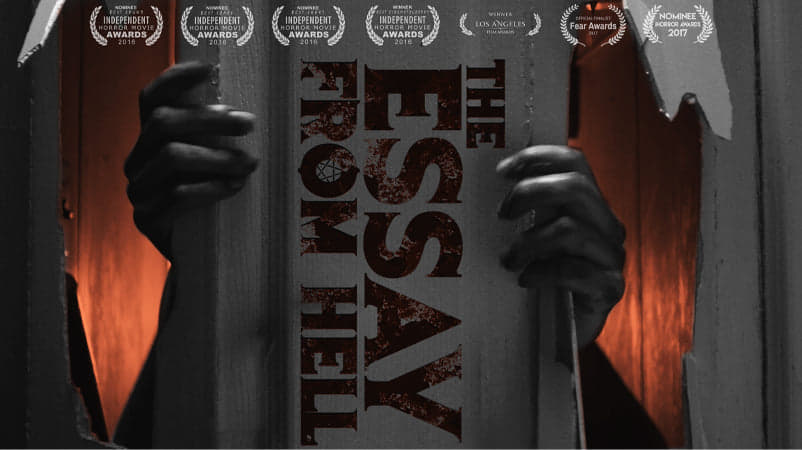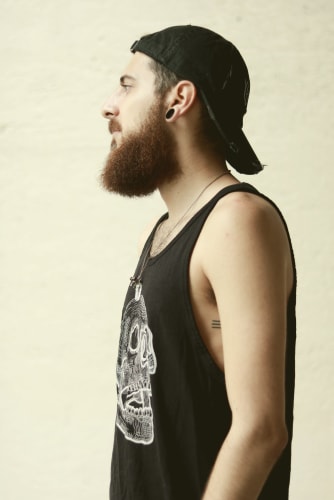 ---