---
Dee Wallace to star in creepy horror film Dolls!!
---
Dee Wallace (E.T., CUJO, THE HOWLING) stars in DOLLS. First-time feature from director Cuyle Carvin that will be released on DVD and VOD in the U.S. on July 2. screenplay is by Justin Hawkins & Josh Hawkins, with Jeff Miller (OUIJA HOUSE, THE TOYBOX) also contributing to the story.
.
.
DOLLS concerns a struggling children's book author and his rebellious teenage daughter who move into a house they've inherited and find mysterious dolls in the attic. They soon learn that the dolls have a sinister — and deadly — past. Wallace plays a neighbor who knows about the dolls and their ties to the house. 
.
.
Starring: Dee Wallace, Tom Downey (AXE GIANT: THE WRATH OF PAUL BUNYAN), as well as newcomer Trinity Simpson, Bret Green (CBS's THE INSPECTORS), Elise Muller (BAGHEAD), Melinda deKay, and Robert R. Ryel.
Produced by Millman Productions, along with Robert Michael Ryan (NECROSIS). Josh Hawkins and Ben Demaree were Co-Producers on DOLLS, with Demaree also serving as Director of Photography. Veronica Rodarte handled makeup FX. Ken Stachnik was Gaffer. Korey Rowe edited. Holly Amber Church composed the score. Uncork'd Entertainment is handling worldwide distribution on DOLLS.
.
.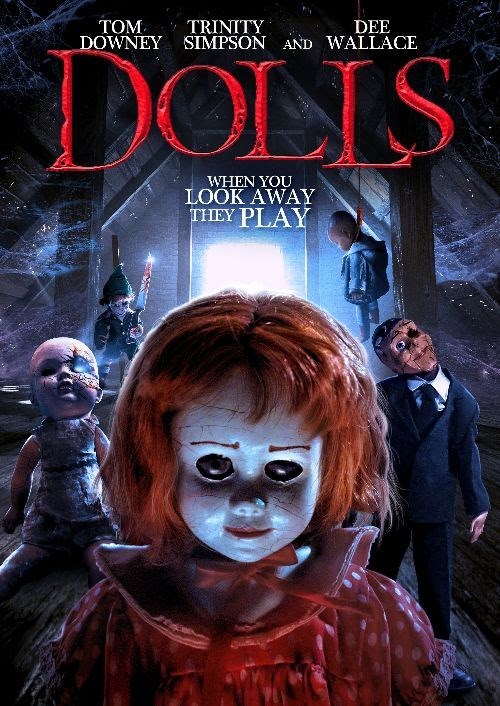 ---