---
Andrew E reviews Crisis Hotline
---
Gruemonkey's Andrew E reviews Crisis Hotline – Written and Directed by Mark Schwab.
Crisis Hotlines official website describe the film as:
An LGBT thriller about a young man who calls a suicide hotline operator who threatens to kill three people before killing himself. We then flashback to the events leading up to the grim circumstances as the crisis center attempts to trace the caller and keep him on the line before he kills.
​'A Diamond in the rough' production 'CRISIS HOTLINE' is an absorbing thriller that graphically tackles contemporary subjects of cyber exploitation and the danger of social networks on inexperienced users. It has secured both North American and Worldwide distribution and will be hitting all major VOD, SVOD and AVOD platforms in early spring 2019.
Starring: Christian Gabriel, Corey Jackson, Pano Tsaklas, Mike Mizwicki, August Browning, Christopher Fung, Michael Champlin.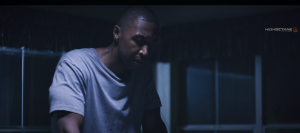 Simon (Corey Jackson) is man managing an LGBT crisis hotline late at night. After a wealth of none urgent and sexually charged calls with people thinking it is a sex line, the shit gets real. Simon gets a call from Danny (Christian Gabriel) who begins to inform Simon he is going to kill himself.
Simon has never dealt with a real crisis before but has to think fast and get Danny talking. As Danny's story is told we discover his plans are darker than just suicide they are in fact to murder x3 people before killing himself.
The story is a combination of the LGBT crisis center and Danny's story is narrated combined with flashbacks that tell the story of love, romance and a dark underworld of sex, drugs, pornography, and lies.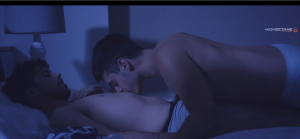 The movie is expertly shot, there is no let down with the quality of production. The acting is decent throughout. The main leads allow you to become involved in the characters lives and care for them. They are mostly young and ridiculously cute and good looking but that adds to the innocence and betrayal. The love story between Danny and Kyle  (Pano Tsaklas)  plays beautifully and is realistic. They share sweet and intimate moments as well as passionate ones, and things do get a little steamy from time to time.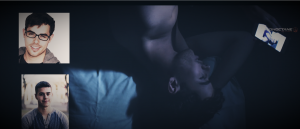 The movie plays out nicely. It is a slow burner and my description would be the movie starts at dawn, and slowly gets brighter and lighter and then begins to get darker and darker. I won't go into any more detail about the hidden lies and story as it will ruin anyone wanting to watch the movie. But it is slow burner of guessing who has done what, saying things out loud like "What is going on". I spent a large portion of the movie hoping Kyle wouldn't be a dick, watch to the movie to find out if he is….
All Danny and Kyle want is "Pizza, Netflix, Coach", or do they?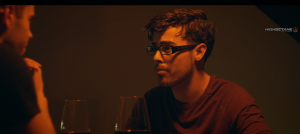 Danny and Kyle are the focal points of the movie and both actors do a superb job. Their ability to play off each other is to be applauded. Christian Gabriel is brilliant at delivering the shy and reserved type in the sequences but yet holding a menacing tone on the phone speaking to Corey Jackson. A nice duel and interesting combination that Gabriel played perfectly. As I stated before Pano Tsaklas is lovable. He has eyes that make you trust him and want him to be good and honest. Which is why as the mystery unfolds you want him to be good as opposed to evil.
The twists are a blinder, both shocking and relevant – you will not be disappointed!!
GRUEMONKEY RATING: 4/5 GRUEMONKEYS!!
Official Website –  Click Here
Facebook – Click Here 
IMDB – Click Here
---