---
Andrew E reviews Scary Stories
---
Gruemonkey's Andrew E checks out the documentary 'Scary Stories' This is not the traditional film review as Scary Stories is a documentary.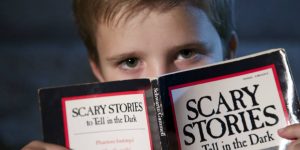 When people mention scary children's books they instantly jump to the loved R.L Stine's Goosebumps franchise but before GooseBumps came Alvin Schwartz's iconic book series Scary Stories to Tell in the Dark. These are the stories that kept many a child up late at night unable to sleep as they feared what ghouls, goblins, severed heads, or hideous monster would be coming for them.
The cult following and impact of these books is and was massive. The series served as a gateway to the horror genre for many people.
Cody Meirick's documentary Scary Stories offers viewers a fascinating peek at the life of the man behind the books, the controversies surrounding the series, and gives insight to Schwartz's research process.
The documentary is well put together with nice editing and pacing. It looks high quality and for fans will be a nice watch!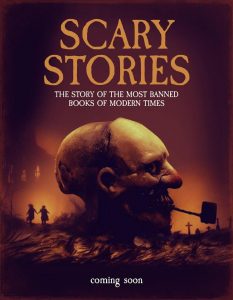 While the documentary does embrace the nostalgia horror fans have for these stories, the film also focuses on the history of the Scary Stories to Tell in the Dark books and the tales of folklore which inspired them.
Scary Stories is packed with eye-opening interviews with all sorts of people bearing a connection to the books, including Schwartz's family, fans of the series, other children's horror writers such as RL Stine, academics, people who tried to have the books banned, and librarians who fought against the conservative parents seeking censorship.
Follow the documentary on:
[SIDE NOTE]
Scary Stories to Tell in the Dark is heading to the big screen in the up and upcoming Canadian-American horror film directed by André Øvredal, based on the children's book series by Alvin Schwartz. The screenplay was adapted by Dan and Kevin Hageman, from a screen story by producer Guillermo del Toro, Patrick Melton, and Marcus Dunstan. It stars Zoe Colletti, Michael Garza, Austin Abrams, Gabriel Rush, Austin Zajur, Natalie Ganzhorn, and Dean Norris.
The film is set to be released on August 9, 2019, by Lionsgate and CBS Films.
---