Gruemonkey's interview with Tyler Cotton (Chilling Adventures of Sabrina)!!
---
Gruemonkey's interview with Tyler Cotton (Chilling Adventures of Sabrina)!!
---
Hello Grue-Lings,
    Today we will be doing a interview with the talented actor Tyler Cotton. Tyler is a young actor. He is just getting his feet wet in the acting world and he is doing such an incredible job so far. He got his start by playing the role of a Ice Cream Vendor in the hit series The Magicians. From there, he went out to have a starring role in Season 2 of The Chilling Adventures of Sabrina. He plays the warlock Melvin. Tyler Cotton is going to have such a bright future ahead of him. I can't wait to see the projects he does next. Below is my interview with Tyler Cotton from The Chilling Adventures of Sabrina.
.
.
---
.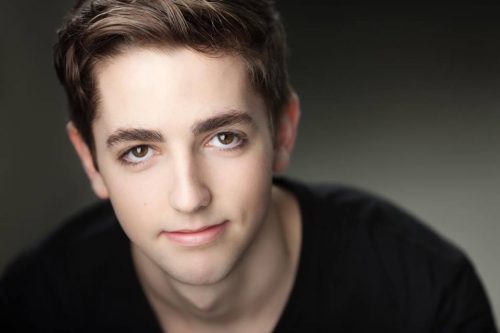 .
HELLTER: Hi Ty and welcome to Gruemonkey. Thank you for being my guest today. How did you get involved in acting?  
TY: Thank you so much for having me!
I feel like I've always been involved in acting. When I was younger my Father had his own national TV show called "The PetGuys". Through that I got to do commercials and I was on the show, plus my father and I did some acting together in Calgary. I didn't really think about it as a serious career (even though it was something I always wanted to do) until I was doing background work on "Hell On Wheels" and I got the opportunity to talk to Christopher Heyerdahl and I remember calling my parents on my drive home and said "this is it, this is what I want to do." Then a couple of months later I packed my bags and moved to Vancouver to pursue my dream. 
.
.
.
HELLTER: Wow that's awesome. Congrats on your move. Can you tell us how you got involved with the hit tv series The Magicians? 
TY: I had watched a few episodes of the magicians when I moved to Vancouver because I knew it filmed here and I had a few friends recommend it. I ended up getting the audition for the ice cream vendor and the following week I got a call from my agent saying I booked it! Which was my first TV booking! 
.
.
.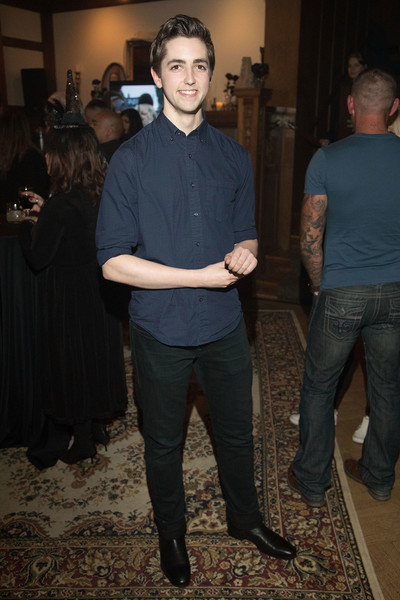 .
HELLTER: You had to be so excited about that. Have you ever watched any of the Sabrina The Teenage Witch original series from the 90's?
TY: I do remember watching a few episodes of it, I mainly remember loving Salem.
.
.
.
HELLTER: (Laughs). Everyone loved Salem. He had jokes. How was the audition process like for Chilling Adventure of Sabrina and when did you find out you got the part?
TY: The audition process was actually very quick, I only had one audition for the role. I auditioned with the introduction of Melvin in the Lupercalia and another scene between Melvin and Dorcas which was sadly cut from the script.  I actually was only booked for the one episode but I guess they loved Melvin enough and they kept bringing me back! The day I found out I booked the role; I was asleep when my agent called and thankfully woke up to her telling me I booked the role. Definitely a great way to start your day! 
.
.
.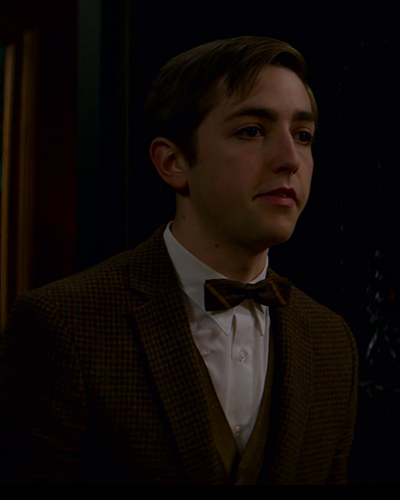 .
HELLTER: Are you kidding? That's a awesome way to start your day!! Tell us about your character Melvin and what he's about on Chilling Adventures of Sabrina?
TY: I love Melvin! Melvin is a very sharply dressed warlock attending the academy of unseen arts. He's a very shy person but as you see in chapter 17, he has his moments of bravery.  
.
.
.
HELLTER: Shy, brave, and sharp dressed. That's a great Warlock there (laughs). What's been your favorite scene that Melvin is involved in?
TY: That's a very difficult question. I've loved every scene but I'd say it's a tie (or bowtie) between the scenes in Lupercalia; because it's the introduction of Melvin, and then Melvin's death scene in chapter 17.
.
.
.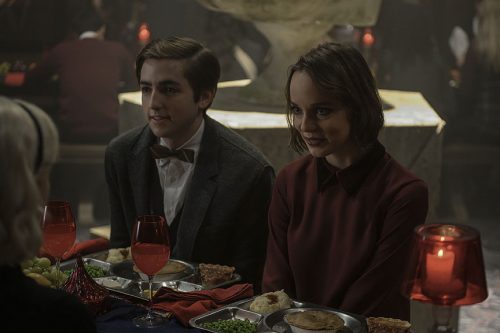 .
HELLTER: Both great scenes. How was it like filming your death scene and resurrection scene on the show?
TY: Fantastic and very challenging. It was a very long day on set to film that whole scene, which means I was dying all day, but I wouldn't trade that day in for anything. I had a blast! We filmed a lot of my stuff closer to the end of that day because of the prosthetics I had to wear, which we should give a round of applause to the amazing makeup department for the incredible job they did! 
.
.
.
HELLTER: I saw that scene. The makeup team did do an incredible job with you and everyone else involved in that scene. You got to share the screen a lot with Kiernan Shipka and the actresses who play The Weird Sisters. How was it like working out scenes with them?
TY: I have only good things to say about all of them! They were all so welcoming and so kind! I was so scared on my first day and when I met them, I went to shake their hand and they slapped my hand to the side and gave me a huge hug and made me feel very welcome. I spent most of my scenes in Lupercalia with Abigail. We spent a lot of time laughing and goofing off in between takes and figuring out/playing around with the relationship between Dorcas and Melvin.  Kiernan is so sweet and so hard working and the weird sisters Adeline and Tati are the nicest people considering the characters they play.
.
.
.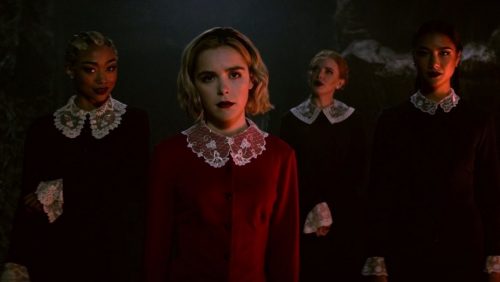 .
HELLTER: I'm glad to hear they were all great and you got along with them during filming. By playing a Warlock on the show. Did any of that interest you? Did any of that make you want to read about or learn witchcraft? 
TY: It did interest me; I love learning new things and this was something that I wasn't very familiar with so when I booked the role I really delved in the history of witchcraft and I read a few books on it just so I could understand the world better.
.
.
.
HELLTER: Nice!! Maybe you can cast a few spells now (laughs). If you were granted one magic spell for anything you want, what would it be and why?
TY: What a great question! I'm a huge "Star Wars" fan so if there was a spell which could grant me the powers of the force, I would be wanting that one. Because who wouldn't want to be a Jedi? 
.
.
.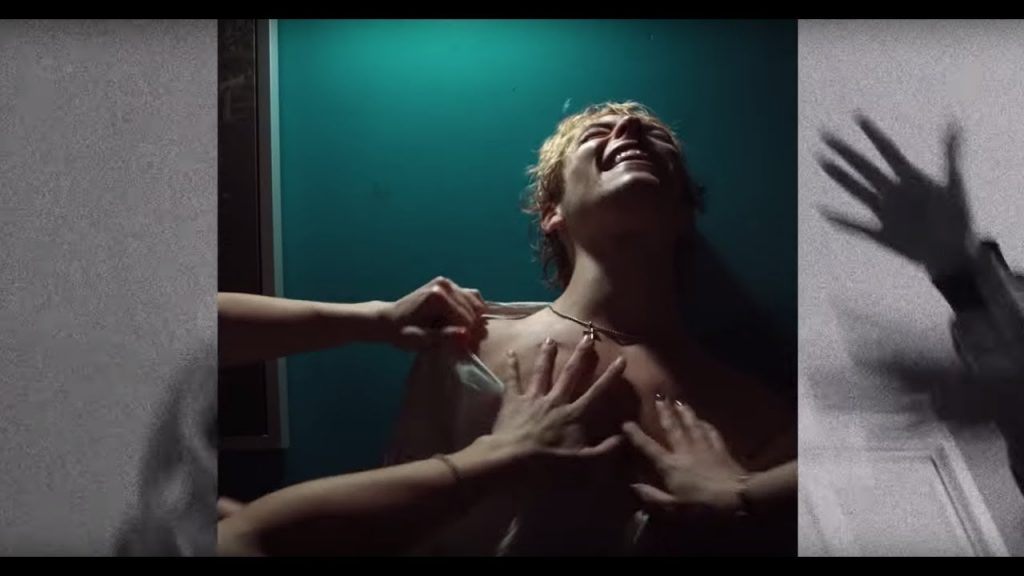 .
HELLTER: I would love the power of Force. That would be so awesome. Did you get a chance to work at all with Ross Lynch? I heard he is a really amazing nice person. 
TY: I did and he is! We met during filming of Chapter 17! I only have great things to say about him. He is such a brilliant actor and performer and overall a very good guy. Perfect for Harvey!  
.
.
.
HELLTER: Ross seems amazing, he's my man crush. I would love to meet him and hang with him. Anything else you want to discuss or promote? 
TY: I would just like to thank all the fans of the show for all the amazing support and kind words, it really warms my heart to hear that people love Melvin as much as I do. 
.
.
---
.
.
.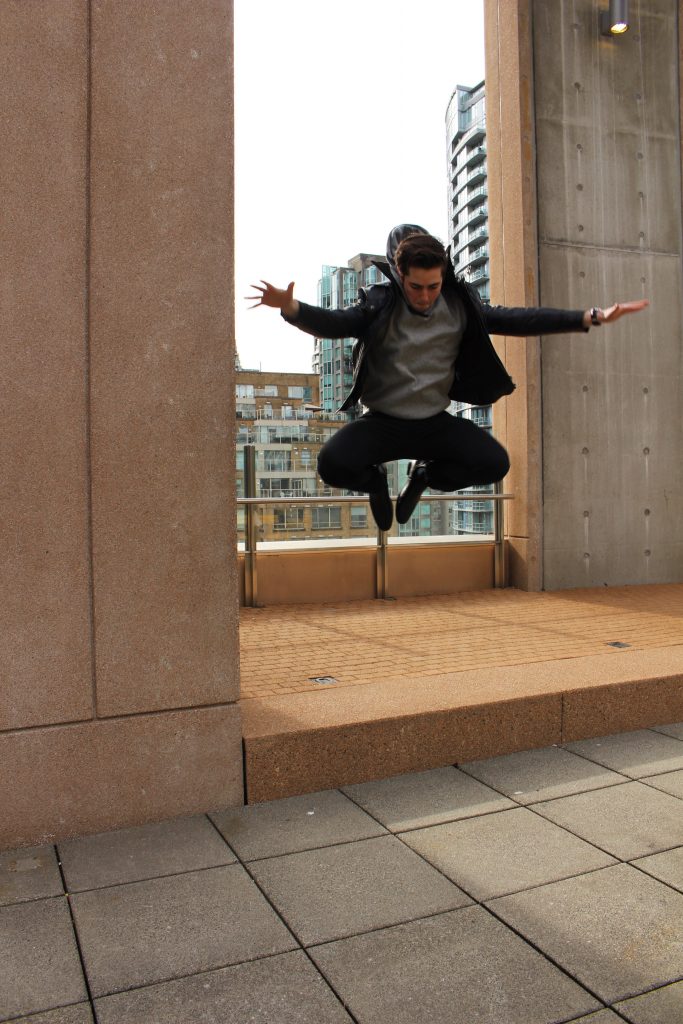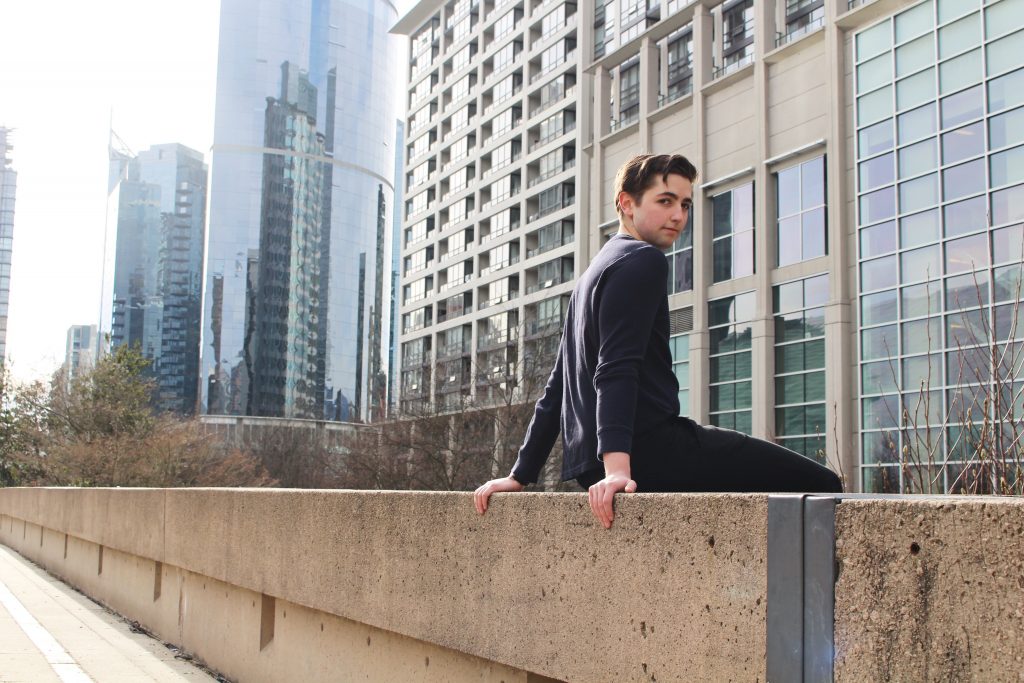 ---