---
Andrew E visits Portsmouth Comic-Con ENGLAND
---
Gruemonkey's Andrew E was lucky enough to be invited to Portsmouth Comic-Con 2019 as a media guest for Gruemonkey.  Check out what Andrew E had to say about the event: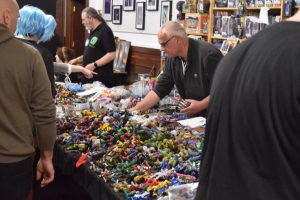 Portsmouth Comic-Con held its annual event over the bank holiday weekend at the Portsmouth Guildhall. This is the conventions 2nd year, and I (Andrew E) have only ever been to one smaller convention in my lifetime. So attending Portsmouth Comic-Con was mind-blowing as it is BIG! Stuffed with terrific comic creator guests, cosplayers, film and TV actors, a retro gaming area and more. Initially a little daunting but after 10minutes of sussing out what the setup was, I began immersing myself in everything and everything seem nicely planned, laid out and fun.
In fact, the whole set-up was very smooth. The Guildhall was in a good location, with easy access to cafes and smaller supermarkets for reasonably priced food.
There were several rooms, which made it feel a little fragmented at first. But helpfully rooms were named (Comic Cities 1 – 4) to help you keep track of where you have been. They were even showing movies to relax and watch on the top floor of the theatre for free which was a nice touch!
There are more floors than just the main trading zones with tonnes of exciting stuff going on, from 3D – Printing, VR and let's not forget the gaming room/floor, I wasted some serious time in that room.
The guests artists alley was in the main hall, on the stage. It was very accessible, with a good range of comic guests for the size of the convention. Ques seemed to be moving fast and no bottlenecking and guests were excited to meet fans and speak with everyone.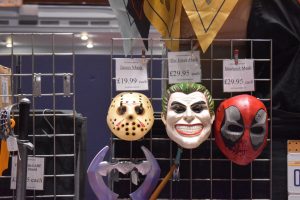 Saturday was the busiest day. The weather was warm and sunny, but it didn't put people off coming inside (and perhaps it helped). We spoke with some traders who said it was a good trading day.
Sunday was slightly slower, as apparently it always is, but still an amazing turnout!
Having never been to a BIG convention before, I wanted to test the variety of products available by some of the friendliest traders I have met. I set a list to see if my extremely cult self would be catered for.
Item 1:
Anything Xena related –

Yes; I found boxsets, toys, and a bag.

80's Scream Queen movies –

Yes; found a few VHS and rare DVD releases!

Garbage Pal Kids memorabilia  –

(this was a request by someone else) – Yes; rare cards found.

Limited edition Brinke Stevens Comic Book –

Not found, but I met a man who can find it for me!!!
Cosplay:
There is a lot of cosplay, from thrown together at the last minute to detailed work. Everyone's there to have fun – there are natural rules to what is allowed, check the site for most recent guidelines.
There is a cosplay masquerade is on both Saturday and Sunday on the main stage outside which was open to all and was a fun parade to watch the creativity of some of the attendees (my personal winners were a couple dressed from the original Jurassic Park).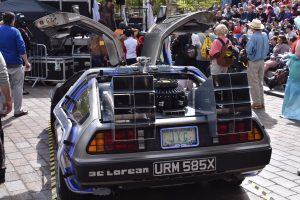 (I didn't get a good photo of my winning Jurassic Park pair, but check out the top right of this photo – they were the true winners! If anyone knows them – tell them job well done by me!)
Many cosplayers spend the day outside– the temperature is cooler and there's always a bit of a team cosplay atmosphere out there.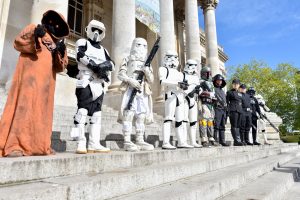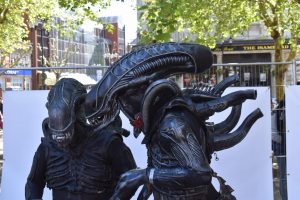 Should you attend?
Yes!!! Take water and money. Be aware of the busy times. Make a list. Expect to make it to a fraction of those things because OH LOOK AT THAT COSTUME/GAME/RPG  BOOK/ XENA BAG/FOOD…
Portsmouth Comic-Con proved an extremely well organized, fun event with plenty to do and see, more than enough to buy in the way of comics, toys, games, film posters and more, and if you're in the area today you really should check it out.
Bring on 2020 for Portsmouth Comic-Con. If they want to offer a table for a UK independent film marker (me) I would love to have a stall to take the event in once more.
Facebook: facebook.com/PortsmouthComicCon
Twitter: twitter.com/PComicCon
Instagram: instagram.com/portsmouthguildhall
---