Gruemonkey interviews Marisol Ramirez (The Curse of La Llorona)!!
---
Gruemonkey interviews Marisol Ramirez (The Curse of La Llorona)!!
---
Hello Grue-Lings,
   There is an amazing scary horror film currently showing in theaters everywhere. It's called The Curse of La Llorona. Today we are happy to announce we actually have the actress who plays La Llorona (The Weeping Woman) with us for our interview. Her name is Marisol Ramirez. Marisol started in the world of acting by getting spots on Tv series such as: The Shield, Eve, The District, Without a Trace, The Inside, Drake and Josh, Cold Case, The PTA, ER, Eleventh Hour, The Mentalist, Dallas, Shameless, CSI: Cyber, Convinction, Major Crimes, Ten Days in the Valley, 911, NCIS Los Angeles, and The Rookie. This is her first major feature role as La Llorona in The Curse of La Llorona. Below is my interview with Marisol Ramirez:
.
.
---
.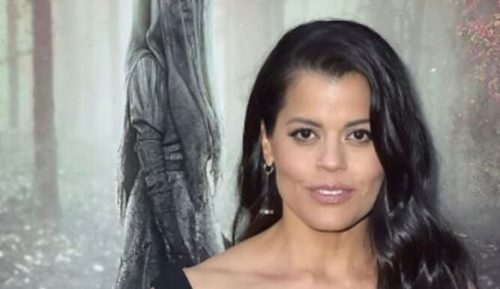 .
HELLTER:  Hello Marisol and welcome to Gruemonkey. We are happy to have you on today as our guest. You started out in acting according to your IMDB page by having spots on different tv series. On series you were on is my favorite tv series Shameless. How was it like working on Shameless for the one episode and did you get a chance to work with the amazing Cameron Monaghan or anyone else on Shameless? 
MARISOL: Hi! And thanks for having me! Oh that's great! I love Shameless too! It was a wonderful experience! I actually shot some other scenes that didn't make it onto the episode on location in Chicago as well as LA. My scenes were with Emma Kenny and Emmy Rossum who were so kind and lovely! Everyone on the set was lovely! It was a super fun experience. 
.
.
.
HELLTER: I am glad you had such a great experience on set for Shameless.  Before you became La Llorona. Did you read up on the Mexican Folklore of The Weeping Woman? 
MARISOL: Yes! I actually already knew who she was. I grew up in the Panama Canal Zone and in Panama, La Llorona is known as La Tulivieja. The character of La Llorona has spread throughout Latin America so she is a very well known in the Latin culture. I grew up scared to death of her because cousins, friends, aunts, uncles, even grandparents scare you into behaving by saying La Llorona will come take you away if you don't do as you're told! (laughs)! It's part of the culture. Even though I already knew who she was, I did do a lot of research on her and read a lot of the different versions and the history of which she is part. Did you know that there is actually a tomb in a town called Hidalgo in Guanajuato, Mexico, where they say she is buried? Fascinating!!
.
.
.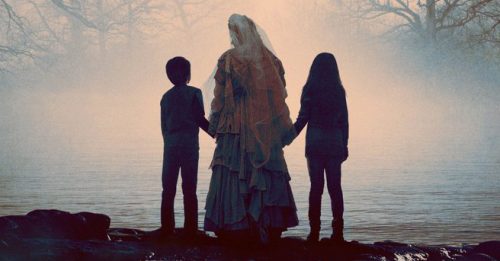 .
HELLTER: Oh wow, I actually didn't know that. Thank you for sharing that with me. How did it feel stepping into the role of the very creepy La Llorona? 
MARISOL: It felt amazing! It was thrilling and exhilarating! I have always been a horror fan. My parents didn't let us watch scary movies but when my grandma babysat us she let us watch all kinds of things! Salem's lot, Poltergeist, the Trilogy of Terror, etc, etc… So I grew up loving it! I have always wanted to be in a scary movie and I always wanted to play the object of fear; the ghost, the witch, the vampire. So everyday when I got into the makeup and costume I felt like a wish had come true! It was a very powerful and fun experience.
.
.
.
HELLTER: Oh wow nice. Your wish did come true. You play a person who is the object of fear. Congrats on that. How long did the makeup process take for La Llorona? 
MARISOL: The makeup was the most intense part of the process. It took approximately 3 and ½ hours every day to put it on. Though it may sound grueling, it was not because I got one of the best special effect makeup artist in the business! His name is Gage Munster and he is the consummate professional and a talented artist! If you look him up on instagram at @gagemunster you will see all his amazing creations. I would always have the earliest call time as my makeup took the longest. After all the layers of make were applied, then the hair was prepared to make it look wet and heavy, and then finally at the very end, the contact lenses were put in. They were very thick and dark which contributed to making me feel like I was surrounded in darkness and isolated. 
.
.
.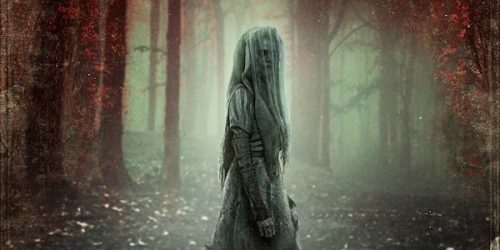 .
HELLTER: If I ever need a makeup person, I know who to contact. Thanks. Horror films can often have some intense things to film, unlike other genres – were there any elements that you struggled with emotionally? 
MARISOL: Not really. I saw her (La Llorona) as a woman whose soul is stuck. She is in a kind of limbo after having committed the most heinous deed due to a moment of deep anger and rage, a moment of madness. Her soul is looking for her children. She is willing to do whatever it takes to get them back. And it is in this kind of maddening confusion that she does what she does. She feels very Greek to me, and we can find maybe even an early version of her in Medea. But these emotions; anger, jealousy, revenge, sorrow… they are very primal human emotions. For an actor it's great to be able to sink your teeth into them on a project.
.
.
.
HELLTER: Yeah I agree. It must be fun to tackle a character like her.  Did anything in the film really scare you or freak you out? Any weird or scary things happen while on set, behind the scenes? 
MARISOL: Not to me specifically. I heard that Patricia Velasquez and Raymond Cruz did have some paranormal experiences, but that was not the case for me. Oddly enough, I felt so much light surrounding this project. There were a lot of laughs and a lot of joy. Every day on set was joyous for me.
.
.
.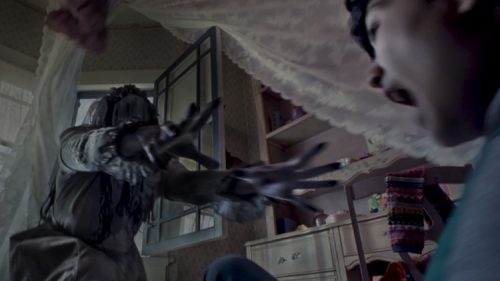 .
HELLTER: That's a good thing that nothing paranormal happened to you on set (Laughs). What was your favorite scene and your favorite kill from La Llorona? 
MARISOL: (Laughs)! Well my favorite scenes to shoot were the scenes in the attic. My favorite kill was with the actor Oliver Alexander Pineda because that was my first kill (we shot out of sequence) and he was so good! All the kids were amazing on this film! So brave! 
.
.
.
HELLTER: That's good that the kids were grave during the shoot. Hopefully they didn't have nightmare of La Llorona getting them (laughs).  How do you mentally prepare yourself for a character like La Llorona? 
MARISOL: I see her as a co-dependant woman. Her sense of self was so wrapped around a man's validation, that when he left her, she lost her mind. She did not have the self- love or self-referral to see her through the abandonment. Her mind unhinges by this betrayal, and she commits the worst crime possible to punish her husband. She kills what is most dear to him. When she realizes what she has done, she kills herself and her spirit is condemned to roam the earth looking for her children. Her soul is in a kind of limbo.
.
.
.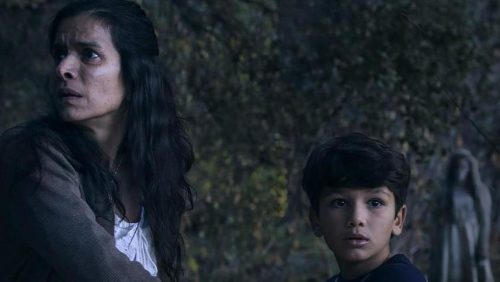 .
HELLTER: That must be horrible to be stuck in limbo for a crime you did that you regret doing it. Powerful character.  Are you excited to be included in The Conjuring universe? 
MARISOL: Well, our movie is not actually a part of the Conjuring Universe. Only stories or films based on the Warren Files are part of the Conjuring Universe. Though our movie has Tony Amendola (the priest character who is also in Annabelle) in it, The Curse of La Llorona is considered a separate film, a separate universe. We do give pay homage to Annabelle and The Conjuring in our movie – kind of like a wink wink for fun – but strictly speaking we are not part of the Conjuring Universe. Having said that, I am SUPER excited to be in a James Wan movie! I am a HUGE fan of the Conjuring as well as all this other films and I always wished I could work with him. My wish came true and I couldn't be more thrilled! 
.
.
.
HELLTER: Ooooooh ok. Thank you for clearing that up for me. Tell us something random about you that no one else would know?
MARISOL: I have an unruly Chihuahua who bosses me around and a sweet Terrier that makes up for all the abuse I take from the Chihuahua. I love them both madly.
.
.
.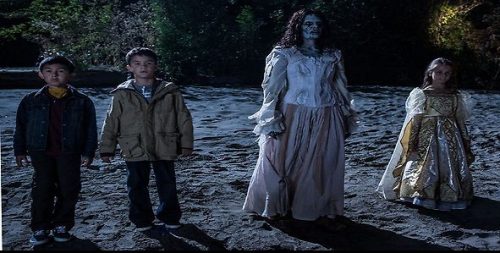 .
HELLTER: Aww. I love dogs too!! Have you ever experienced anything Paranormal or seen a Ghost? 
MARISOL: I used to live in a haunted apartment! Yes, things used to fly off the dresser and kitchen counter all the time and my dog would wake up and stare at something I couldn't see but she could. The energy was very strong and I had trouble sleeping. I moved! I sleep much better now and nothing flies off the furniture! 
.
.
.
HELLTER: Oh wow. That sounds like a fun experience (laughs).  Anything else you would like to promote? 
MARISOL: I hope everyone enjoys our movie! Though it's a "horror film" it's really a very human story about women trying to do right by their children.
.
.
.
HELLTER: Thank you so much for taking time out to be my guest today.  
MARISOL: Thank you for having me! It was my pleasure! XO Marisol 
.
.
---
.
.
.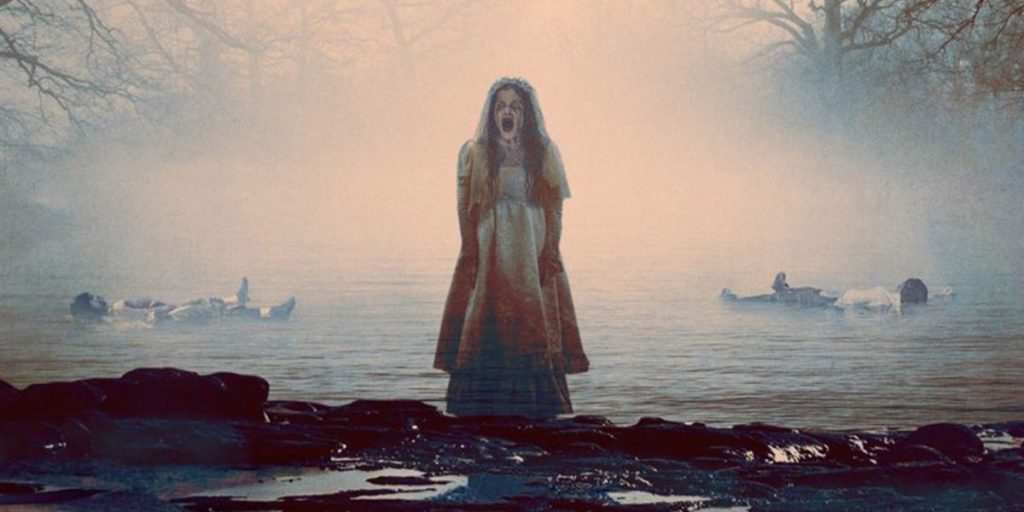 ---