---
Andrew E reviews Long Lost
---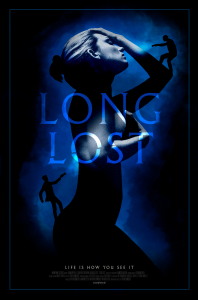 Long Los
t
tars
Adam Weppler
(
The Cobblestone Corridor
) as
Seth
, a young man invited to spend a long weekend at a Connecticut mansion with his long lost millionaire half-brother
Richard
(
Nicholas Tucci
, 
You're Next
) who, along with his enigmatic live-in girlfriend
Abby
(
Catherine Corcoran
, 
Terrifier
), lead
Seth
down a psychological rabbit hole wherein luxury and temptation are intermingled with treachery and taboo.
Long Lost is writer/director

Erik Bloomquist

's debut feature.

Bloomquist

is best known for creating the nationally syndicated television series The Cobblestone Corridor for which he won two New England Emmy® Awards (Outstanding Writer and Outstanding Director). His recent horror short 

She Came from the Woods

 recently completed a year-long international festival tour, accumulating myriad Grand Jury Prizes and Best of Fest awards.
Best feature honors for Long Lost include awards from Eastern Oregon Film Festival, Nevermore Film Festival, Laughlin International Film Festival, Queen Palm International Film Festival, jellyFEST, Sherman Oaks Film Festival, and ReadingFilmFEST.
Trailer:
The film centers around 3 core characters; you have Seth (Adam Weppler), a young man of normal achievements. His long-lost, older half-brother Richard (Nicholas Tucci), who suddenly invites Seth to spend the weekend at his massive mansion with him and his girlfriend. Abby (Catherine Corcoran) is the aforementioned girlfriend of Richard, whose friendliness toward Seth quickly becomes more than a sister in law type behavior. And it is more than obvious that she wants nothing more than to see what Seth is like between the sheets!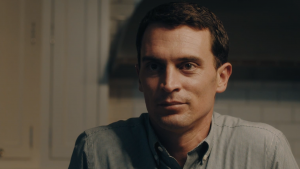 The story is that Seth has never before met his brother. Seth is more than a little confused around his strange welcome to his brother's mansion and the behavior of his girlfriend. Things seem normal enough but with cringe-worthy elements that would make you question why you accepted the invitation if this was real life.
As the weekend gets into full swing, Seth learns his brother's previous wife was killed in an accident and he survived. Richard continues to add to the cringe/creep persona by switching between a psychopath and fun brother, while Abby makes clear her desire is to have sex with Seth. I would personally question meeting my long lost brother (Richard) and seeing him play the piano naked – that might just ring alarm bells for me. Understandably as things get weirder Seth informs his brother of his wish to leave. If it wasn't already creepy, Richard offers him $10,000 to stay one more night. It's an offer Seth can't afford to pass up. And if we again are being real, $10,000 for one more night with a slightly creepy brother who's sometimes nude and his attractive sexed up girlfriend to me is an easy decision, well for $ 10,000.
What I enjoy is the tone of the film, it doesn't fully establish itself in any genre for too long. Moments of the film are dark and comedic and others firmly based in the thriller category, though it has elements of eroticism thrown in as the film has it's sexier moments. The characters are nicely displayed on screen Richard and Abby and their strange behavior is something mesmerizing and unbelievable (in a good way). Seth is meant to be the everyman the audience relate is too and does so perfectly.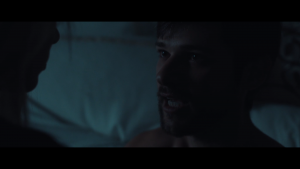 Seth's character is one I couldn't help but stare at on the screen. He lights up the screen every time he appears and is cute to boot. The ending is unexpected, slightly arousing and then distributing and bloody! I won't give too much more away as this film plays out with the three characters and if I inform you of any more, then it will ruin the overall feel and enjoyment of the film.
What stood out?
Carson Bloomquist (director) takes a simple set up and makes the most out of it and for a screenplay with only four speaking roles the dialogue never gets repetitive or dull.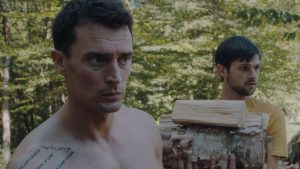 The performance by actor
Adam Weppler
is brilliant. The stand out performer of the movie. He brings a charming innocence to the screen, an unknowingly attractive man lighting up the screen with his presence. The scenes in bed with
Abby
are hot and played perfectly in every situation his character is put in, even including the ending.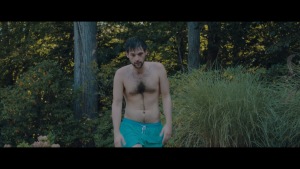 The stuffed marshmallows competition made me smile and want to try myself! I think I would win…but was a nice fun scene to watch and I can image had a tone of bloopers that were a little gross.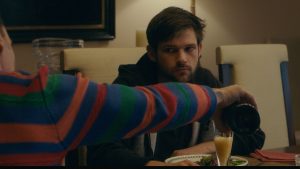 Where did it fall short?
The music is a little distracting at time. But overall there is nothing that I didn't like. I would have liked some more almost caught moments with Seth, or his brother maybe turning the tables and watching him have sex. But nothing felt like it was lacking all the actors performed great. The setting was fabulous, and the cinematography was faultless.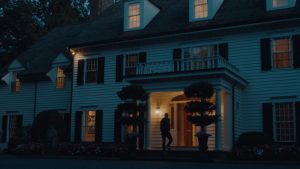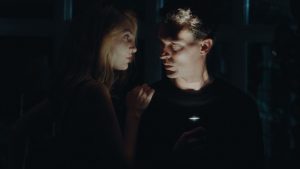 When is it out?
The film had a 30 citywide theatrical run in March and now is on Amazon with an exclusive digital release from April 10 (National Siblings Day) with more platforms to follow soon.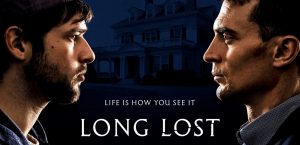 Overall GrueMonkey Score: 4/5 Gruemonkeys!
---