---
Andrew E reviews Pet Graveyard
---
GRUEMONKEY's Andrew E reviews 'PET GRAVEYARD'
Official synopsis:
PET GRAVEYARD concerns a group of friends tormented by the Grim Reaper and his sinister pet after they undergo an experiment that allows them to revisit the dead.  The film marks the directorial debut of Rebecca J. Matthews (producer of MOTHER KRAMPUS), from a screenplay by Suzy Spade.  Scott Jeffrey (THE BAD NUN) produces.  Jeff Miller (THE TOYBOX, OUIJA HOUSE) is executive producer.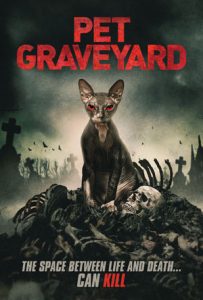 The movie stars Jessica O'Toole, David Cotter, Rita Siddiqui, Hindolo Koroma, Kate Milner-Evans, Georgina Jane, T'Jean Uter-Dinh, and Hattie Willow.
PET GRAVEYARD  was released on DVD/digital on April 2nd.  Uncork'd Entertainment is handling worldwide distribution.
What is the movie about?
Well let's first put this out there: Pet Sematary is raking in the box office $$, which is why opportunistic distributors are trying to capitalize on its release. This is nothing new and has been done time and time again. If you run a search for Quija or Nun based films you will see a rafter of lower budget versions with almost identical titles.
Of course, Pet Graveyard's title is sure a way to lure people to buy it, but if you do buy Pet Graveyard, you can expect something very different from the box office hit (and original release) Pet Sematary.
After a tense opener set "3 Years Ago" giving us a taste of what's to come, the film leaps into the present day. Lilly (Jessica O'Toole) is having a troublesome time at college since her mother died. Her brother Jeff (David Cotter) has already dropped out and is trying to make it on YouTube creating daredevil type videos. This leads Jeff to a group who want to die and cross over into the afterlife and then be resuscitated and come back. You may be thinking you have heard this particular plotline before, you have – Flatliners.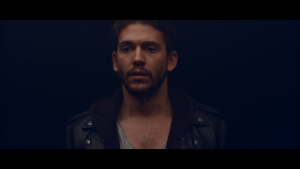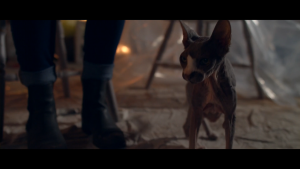 Initially, the plan is devised so those involved can talk to people who have already passed over. Mostly Jeff and Lilly wanting to speak with their deceased mother.  It would be the perfect deceased skype session if it wasn't for the Grim Reaper himself getting pissed off that he isn't getting the souls he was once promised. The Grim Reaper and his cat (see cover art) want their souls.
Is it any good?
Yes. Is it low budget, is it reminiscent / inspired by Flatliners and Pet Semetary yes. But I think audiences are smart enough to know that entering the movie. The movie is nicely paced and with good acting. Applause must be given to David Cotter, he manages to deliver in my opinion one of the strongest characters in the film. A real testament to how new talent can really shine through. Writer Suzy Spade and director Rebecca Matthews make a good little piece of cinema nodding to clearly favorites of theirs. Pet Graveyard needed to be on point and for the most part, it is, and a nice addition to the indie world. I am excited to see what Rebecca and Suzy come up with next. There is simply not enough female directors and writers in horror today, and this is a good start.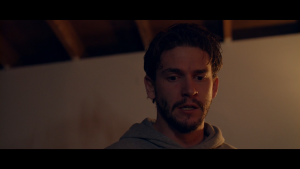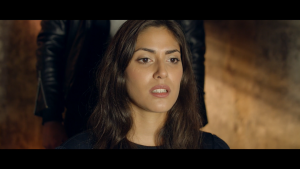 Stand out moments?
The bag deaths! each time makes me wince. It seems a horrific and panicky way to die. I am not sure if I would trust someone with an egg timer or if I could be the person holding the other one down – barbaric. I, however, like how the bags on the head are shot and they truly add to the terror and suspense. As mentioned above David Cotter made a great impression on screen. Also, actor Andrew Hollingworth did a nice job on the screen.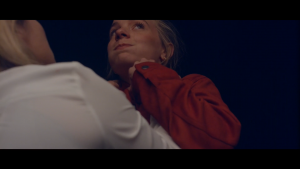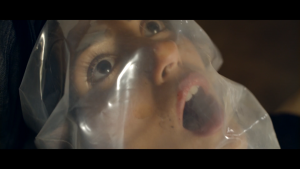 Drawbacks?
Sometimes we are reminded the film is lower budget. I love a low budget film and will forgive a lot as I am a filmmaker myself and I know how difficult making movies is.  There are some minor drawbacks that the Grim Reapers cat looks rather cute than menacing. The afterlife can look a little uninteresting and is created with an effect most of us can do.  The grim reapers mask is good, but maybe could have had a different or stronger effect to make it pop on screen.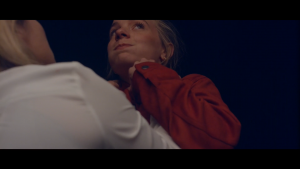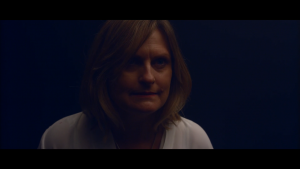 Score?
Official GRUEMONKEY RATING:  3/5 GRUEMONKEYs!
Official Trailer:
Links:
---