Gruemonkey's interview with Riverdale's young mobster Julian Haig (Riverdale)!!
---
Gruemonkey's interview with Riverdale's young mobster Julian Haig (Riverdale)!!
---
Hello Grue-Lings,
   Today is a very special treat for Riverdale fans. We have for you the underground casino and boxing young mobster of Riverdale Elio. The man behind Elio, Julian Haig. 
Julian Haig is the younger brother of actress Georgina Haig, son of screen writer and director Russell Haig and artist Gillian Haig.
Since starting his acting career in Vancouver, Julian has landed roles on shows such as 'Arrow', 'Once Upon a Time' and most notably a reoccurring role on the hit show 'Riverdale'. Here is my interview with Riverdale's Julian Haig:
.
.
---
.,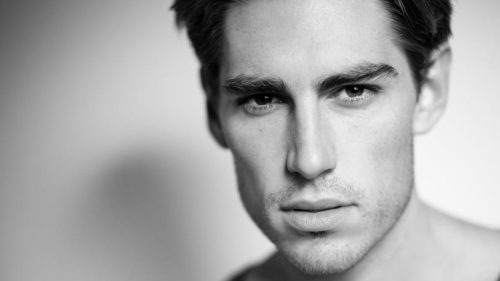 .
HELLTER: Hello Julian, Welcome to Gruemonkey. I am very happy to have you on the show today. What made you want to get involved in being a actor? 
JULIAN: Hey guys, thanks for having me. Big question to start with but I'll try to give you a succinct answer (Laughs). Basically it's kinda in my family, my sisters an actress (Georgina) and my dad (Russell) is a script writer and directer, and my mum (Gillian) is a painter, so a pretty creative family. I kinda tried to avoid the arts for a while and studied Sports Science in Uni but then got into modelling and was doing that overseas but quickly worked out that I wanted to study Acting properly moved to Melbourne and got into a Full-time program at a school called 16th St Actors Studio. Something major that made me think it was all possible was when my sister booked her first big role on the US show Fringe, as the lead characters daughter Etta. I kinda just thought, wow, we can do anything. That's the short version (Laughs) A lot more to it but yeah.
.
.
.
HELLTER: (Laughs). Wow, you come from a really talented family. That's good. You are no stranger to horror series. Looks like your first role was as Prince Gregor in Once Upon A Time. How did you get involved with the show and can you tell us about your character on Once Upon A Time?
JULIAN: I had auditioned for the show before as a Prince and I thought I did a pretty good job so I think when another Prince role came around I still auditioned but maybe I was already in with a good shot. I was so excited to book that role for a few reasons. It was my first speaking part in a show and as an actor it's almost a weight off your shoulders to get that first speaking role. It was also nice because I had a few friends on the show, Colin O'Donohue who played Hook became a mate when I first moved to Vancouver because my sister became mates with him when she played Elsa in season 4 and Rose Reynolds is a mare too, who played Alice. So yeah loved that it was my first show and that I got on there in the last season before it ended. It was also great to be welcomed to the set by the lovely hair and make up crew who all remembered working with my sister. Basically Prince Gregor was fast to die (sorry for the spoiler (Laughs)) He was engaged to Drizella who basically tricked him and kinda killed him to become more powerful… Pretty nasty behaviour.
.
.
.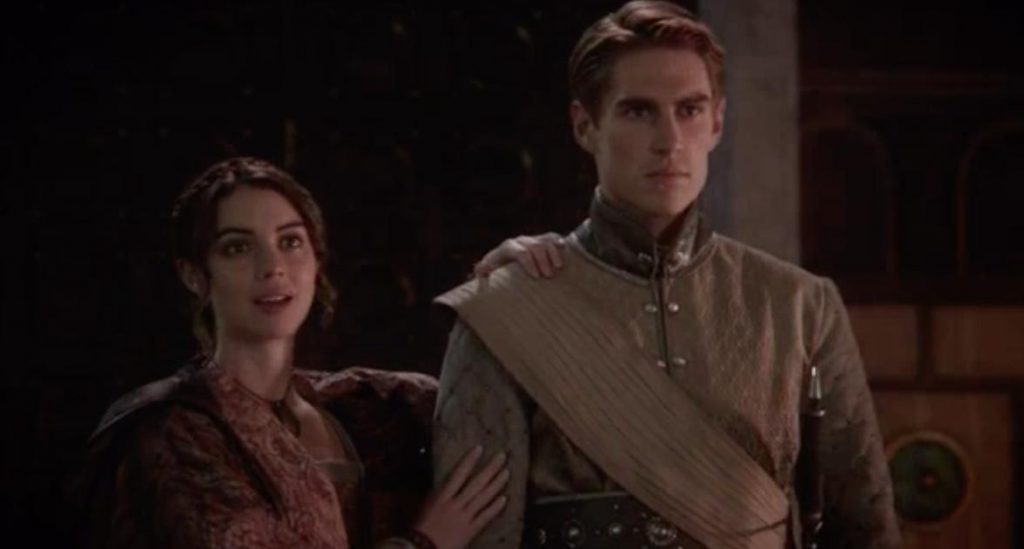 .
HELLTER: I remember you as the Prince on Once Upon A Time. I loved that series. You did good. You also had guest spots on Lucifer and Arrow. How was it like working with both shows and did you get to work with Stephen Amell at all on Arrow?
JULIAN: Yeah that was so much fun. I got to do a scene opposite Stephen where I played a bad cop and he throws me into a wall and I think kills me? (Laughs). Pretty sure I died. Had to work out how to look like a cop and hold a gun pretty quickly. Lucifer was great, I really loved working with Tom Ellis, was just having so much fun playing Lucifer and just super professional. Really good energy. I clocked that and I hope I emulate that positive way of being on set. Just makes your experience and others more enjoyable.
.
.
.
HELLTER: If your getting thrown into the wall by Arrow, I'm pretty sure your going to die (Laughs). And yeah, Tom Ellis does look like he has a blast playing Lucifer. Riverdale is one my favorite shows to watch. It's so popular to. For people who actually still haven't watched Riverdale yet, can you tell us about your character Elio and how you got the role as Elio?
JULIAN: Oh glad you watch it! Elio is basically a young mobster. He was introduced as the son of a prominent mob family but the more time he spends on the show the more he seems to be taking things into his own hands and making a name for himself. He dresses well (Laughs) seems to be in a really nice suit no matter what day of the week or time of day. And yeah there seems to a bit of a dark edge to him but I don't wanna spoil anything for newer viewers. He's a lot of fun to play. Always exciting to play someone quite different from yourself.
I got the role just from a regular audition but it's a bit of a funny story. Basically there were a few other smaller roles that I thought I was auditioning for, but I was meant to be auditioning for all of them, Elio included, but I didn't even look at the lines for Elio because my breakdown didn't say Elio it just said suiter #1 (not sure my agent knows this by the way.. haha) And after I read for the other roles the casting directer was like "ok great, ready to do the lines for Elio now?" And I was like, ummm I actually haven't looked at those… mind giving me 5 minutes? They said yeah of course. Went outside, read through it a couple of times and thought, I think I've actually got this, went back in and actually did really well… Not how I would recommend doing it though!
.
.
.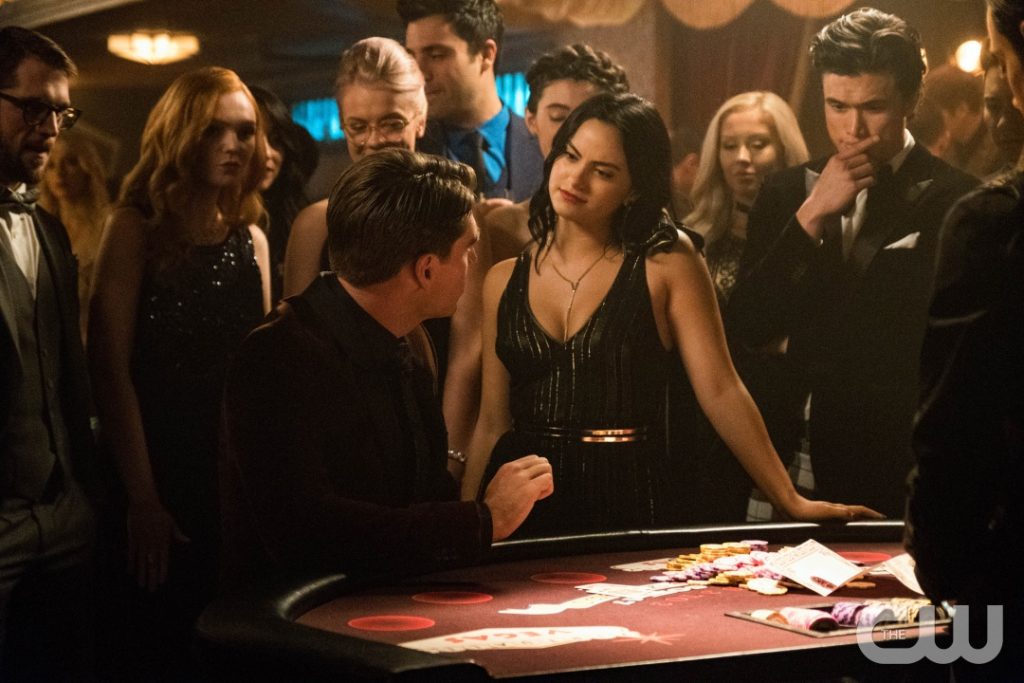 .
HELLTER: (Laughs). Hey, It don't matter how you got the role, as long as you did get the role. And you play Elio great! When you first come on the scene in Riverdale. Elio is sent to Riverdale by his mobster father to make deals with Veronica Lodge. How was it like working with Camila Mendes and on those very intense scenes from your debut in Season 2?
JULIAN: Working opposite Camila is honestly so much fun. She's a really amazing actress and such a goofball so there's usually plenty of laughs off camera. On camera yeah the scenes tend to be pretty dramatic but I still try my best to have fun with it all. I don't think Elio is completely serious, I think he enjoys what he's up to so I try to bring that fun too. 
.
.
.
HELLTER: Yeah, Camila does seem like a very funny person to be around. Would you have liked to see Veronica and Elio form a partnership running the underground Casino business together?
JULIAN: Yeah that's would have been so cool. Honestly there are so many possibilities of what I would like to see happen but I have to reel in my expectations. Then when I get to read a new episode I'm in I get so excited to see what Elio is up to and what I get to do. I've also noticed sometimes that what I wish to happen is what I would want if it was actually me, but when I think about it from Elio's perspective it makes way more sense what's happening.
.
.
.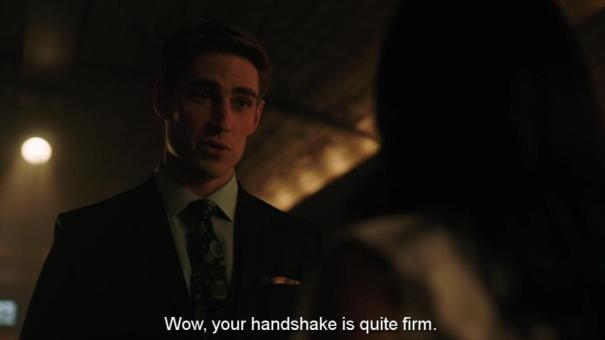 .
HELLTER: Yeah, it seems like you have a lot of fun with Elio. Even though Elio uses the Casino as a front for Mob activity. Elio and Veronica seem to have a understand of each other, almost on the lines of friendship. When Archie went missing, when Hiram had him in the underground fight club in the prison, Veronica turned to Elio for help getting her into the Fight Club to see Archie. Why do you think Veronica turned to Elio for help finding Archie and do you think Elio likes Veronica that he always agrees to her favors?
JULIAN: Well I can only speak from my point of view and not the writers… But! In my opinion… yeah he kinda had a thing for Veronica (Laughs) I mean how could you not?? And yeah I'm pretty sure he flirts with her… I mean she's the perfect match for him, she's kinda his counterpart in a different mob family. Not sure how he feels more recently with everything's that's happened… Yeah probably still into her (Laughs).
.
.
.
HELLTER: (Laughs). I think Elio is still into Veronica (Laughs). Elio then moves on to arranging fights and arranging bets on fights with a lot of rich dangerous men betting. Elio wanted Archie to throw the fight but Archie refuses and gives Elio is money back. Luckily for Archie and Elio, Archie loses the fight from split decision. What do you think Elio and Archie would have done if Archie won the fight?
JULIAN: Good question… I would like to know actually. Elio basically threatens the hell outta Archie for even trying to back out of the fight. Now were those empty threats?… not sure… (Laughs) All I know is it's a really good thing that Archie lost. 
.
.
.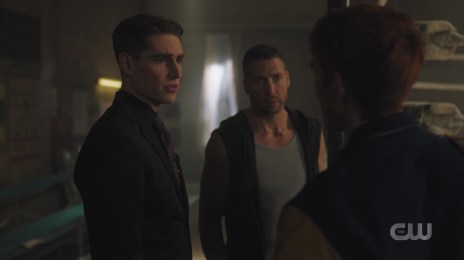 .
HELLTER: (Laughs). I don't think Elio or Archie would be breathing if Archie won (Laughs). How did you enjoy your scenes with KJ Apa, how is it working with him?
JULIAN: Oh working with KJ is awesome. He's from New Zealand and I'm Australian so we have a pretty similar sense of humour. North Americans think we have some big rivalry but I honestly love Kiwi's, possibly prefer them (Laughs). He's honestly one of the most positive and fun actors I've ever worked with. Also super encouraging. It has definitely been my biggest role ever and getting to do nice big chunks of dialogue and meaty scenes is what we dream about. But it can also be super nerve racking and to have someone there who's the lead of the show tell you "nice work bro" after a take is just super encouraging. He's become a good mate and it's awesome getting to work with your mates. This is how down to earth he is. He literally introduces me to everyone on set, not just actors, like truck drivers (Laughs) that's not how most actors operate. 
.
.
.
HELLTER: Wow, KJ is awesome!! In a horror short for Night Terror, it's about a sinister force in the house, a monster. Would would you do if you were trapped in a house with a Sinister Force like the monster from Night Terror?
JULIAN: Oh my god I have no idea. That monster was scary as hell. When they were doing the make up on the monster downstairs I went down to check it out and they basically took away the actors eyes with make up which just freaked me out. So if I was trapped in a house with a monster like that… I guess the only option is to try to win it over and make friends with it. Maybe make jokes or offer Tim Tams?
.
.
.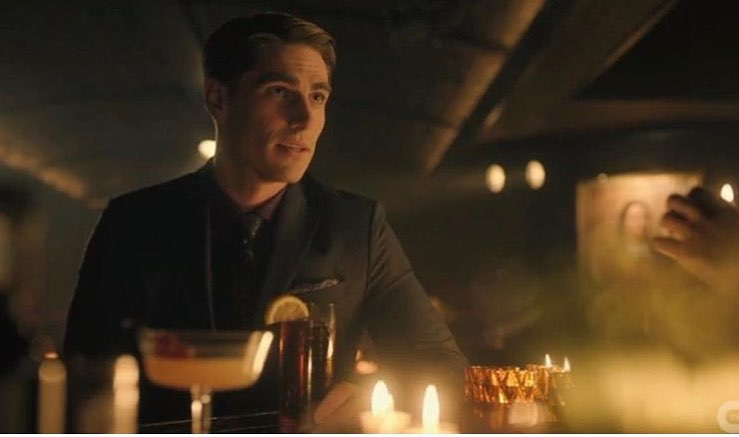 .
HELLTER: (Laughs). You are too funny. I would run for my life (Laughs). Anything else you want to discuss or promote?
JULIAN: Just stay tuned for more Elio in up coming episodes of Riverdale.
Can follow me on Instagram at @Julianhaig to see what I'm up to and for fun and silly content.
Thanks for having me guys!
.
.
.
.
.
.
.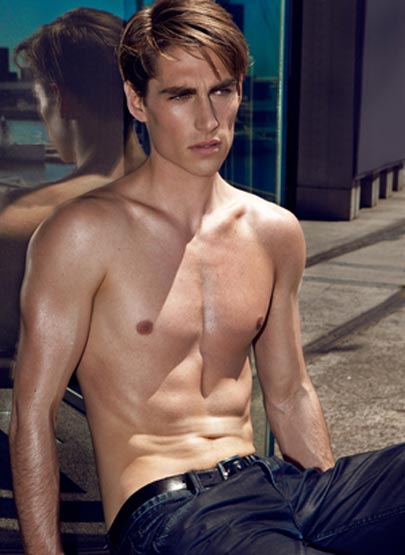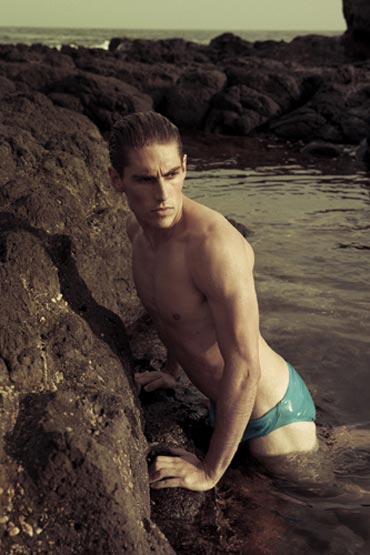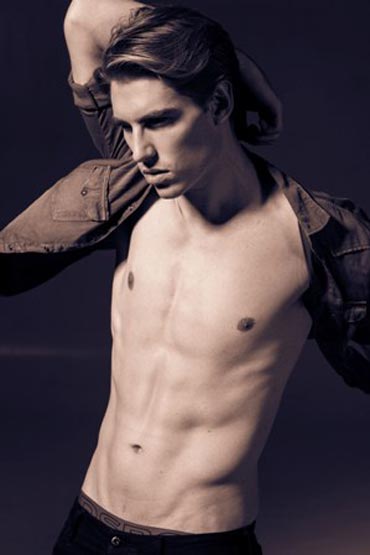 .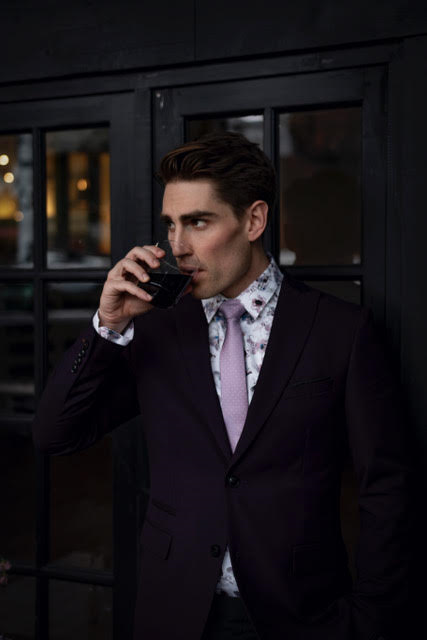 ---