Black Horror Month: My Interview with Kenneth Kynt Bryan (Tales From The Hood 2, Scream Queens, Claws)!!
---
Black Horror Month: My Interview with Kenneth Kynt Bryan (Tales From The Hood 2, Scream Queens, Claws)!!
---
Hell Grue-Lings,
  Today to Celebrate Black Horror Month to give thanks to the amazing Black Actors who have been in horror films and or tv series. We bring to you a interview with the amazing Kenneth Kynt Bryan. International Dance Recording Artist, Actor, Model, Dancer, Choreographer and Performer. He made his debut network speaking role appearance as Maria in the new FOX-TV show, "Scream Queens," which features Emma Roberts, Jamie Lee Curtis, Nick Jonas and Ariana Grande. He recently joined the cast of Claws starring Niecy Nash, in the role of Scarlet. A feisty Drag Queen! He is also in the Stephane' La Pointe-directed French Canadian comedy film, "Les Maitres Du Suspense" as a featured Voodoo Dancer, as well as starring as a Principle Dancer in the role of "Dance Partner," alongside Rose Leslie (Ygritte from the HBO series, "Game of Thrones," drama, "Sticky Notes.)" He also worked alongside Robert DeNerio & Sylvester Stallone in "Grudge Match" in the role of Tranny Hooker and featured in the Academy Award Nominated film "Dallas Buyers Club" starring Matthew McConaughey and Jared Leto.
Kenneth "Kynt" Bryan" is the first and only documented male house music recording artist from New Orleans, Louisiana. Here is my interview with Kenneth Kynt Bryan:
.
.
---
.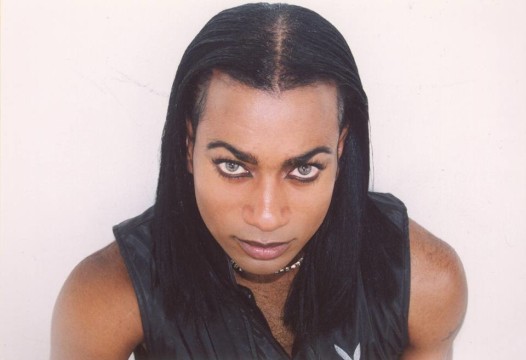 .
HELLTER: First off, Thank you Kenneth for joining me today for Gruemonkey's Black Horror Month. 
KENNETH: Good Afternoon! I hope all is well. Thank you so much for the amazing opportunity.
.
.
.
HELLTER: You do it all. You are an actor, dancer, choreographer, performer, and model. Wow. Tell us how you got involved with modeling?
KENNETH: Oh wow. That's a blast from the past! I was raised in foster care at an early age. I lived at Boystown of New Orleans. Boystown of New Orleans always supported any and every dream I chose to pursue as long as I made good grades and completed my daily activities. People would always tell me that I looked like a model but I suffered from poor self-esteem due to bullying. They would say I looked like Babyface, Michael Jackson, Prince, and Ru Paul. In high school, I was a drum major. The guys in the band would always chase me around and call me Ebony beauty of the week. At that time, this is like the late 80's up until after Katrina, walking down any given New Orleans street or anywhere in public random people would call me punk, sissy, fag, maufadice (New Orleans slang for hermaphrodite) and threaten to beat me just because of the way I looked. When I first saw images of recording artist Vanessa Williams, and supermodels IMAN, Grace Jones, and Naomi Campbell, I was literally mesmerized by their beauty and powerful presence. These ground breaking African American women helped fuel my desire to become a professional model. Boystown allowed me to pursue modeling and my dream of becoming a recording artist. I started going to modeling casting calls and talent scout auditions. Mr. Tim Westin of TLW Productions, a local media mogul and my mentor, scheduled my first official photoshoot. Eventually, I began working with several agencies including Tracee Dundas's About Faces Model & Talent Agency. I slowly learned to love myself, that nothing was wrong with me, and accept the idea that I wouldn't let other people's negativity determine whether or not I was good enough to follow my dreams. I immediately starting booking print, commercial and runway jobs. It was an eye opening experience. I gained self-esteem and was able to act as a peer counselor and role model to others struggling with self-confidence issues. Funny thing is that I ended up teaching runway classes at John Casablanca's Model & Talent Agency. It was my dream full circle. Now I was the person helping to mold and shape future aspiring talent. My students have gone on to work in the modeling and film industry. The best reward is when I'm booked on a gig with one of my former students. It's the greatest feeling in the world.
.
.
.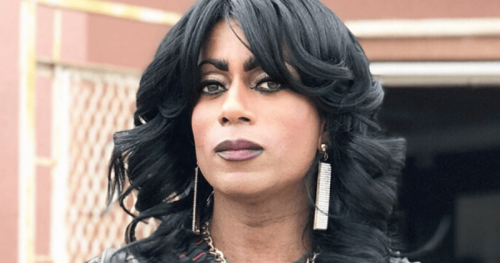 .
HELLTER: That's amazing. You fought threw all that negative shit and still found a  way to help others. Amazing. You make music to. What are some of the things you have done as a dancer and choreographer? 
KENNETH: I am known internationally as KYNT, New Orleans Louisiana's first House/Electronica Recording Artist. For more than twenty years now my original songs have been signed to record labels worldwide (EMI Germany/Big Star/Moomba etc.), remixed by some of the best Billboard Dance/Club chart topping ᴰᴶ/Remixer/Producers around the globe, played at radio, clubs, and have charted internationally as well as in ITunes top 100 and 200 Dance Charts.
As a dancer and choreographer, I have choreographed, cast, directed, produced, and danced in music videos, commercials, television, film, and for many different artist, corporations, and clients for years now. Projects I have worked on include American Horror Story Coven, My Big Fat American Gypsy Wedding, Les Maîtres Du Suspense, Adam Devine's House Party, Mystery Diners, and as Dance Partner alongside the lovely Rose Leslie (Game of Thrones) to name a few. I've been teaching dance in throughout the City of New Orleans for more than twenty years (Loyola University New Orleans, City of New Orleans, New Orleans Public Library, Lighthouse for The Blind, New Orleans Ballet Association, and many other organizations). I am also the founder of Flashmob New Orleans, a local community based dance company that is known worldwide for its Annual Thriller Flash Mob in front of the steps of New Orleans City Hall and Louis Armstrong Park.
.
.
.
HELLTER: Wow, very impressive. Paula Abdul is my all-time favorite dancer and choreographer, I love her. Your thoughts on her?
KENNETH:  I believe Paula Abdul is an original Tour De Force! Her choreography is phenomenal! I'm quite surprised she hasn't tried to make a comeback. The fact that she created a bulk of Janet Jackson's choreography for some of her most memorable songs like "Nasty" is proof enough! I sometimes get stuck watching Paula Abdul's 1990 American Music Awards Performance over and over and over again because it is just so FLAWLESS! The world needs a new Paula Abdul single and/or album with accompanying music videos!
.
.
.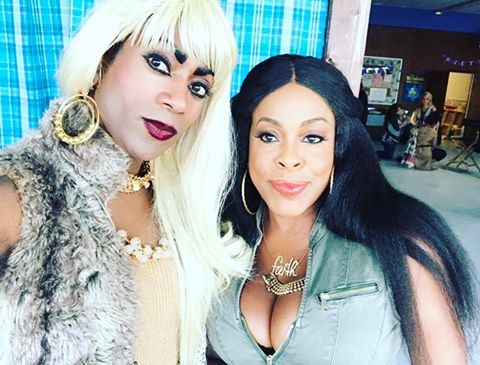 .
HELLTER: Paula Abdul is actually doing a semi comeback. She is currently on her first solo tour in 25 years and the last single she had out was on American Idol. Dance Like There's No Tomorrow. You made your first speaking role debut on a hit horror television series called Scream Queens as Maria. How was it to be in a series with all those amazing talented people like Jamie Lee Curtis, Ariana Grande, Emma Roberts, Nick Jonas and the list goes on and on. I am in love with Nick Jonas, what a body on him. (laughs). What was your Scream Queens experience like?
KENNETH: It was like being seated at the highest peak of a roller coaster at Disney World waiting for the ride operator to pull the lever to start the ride. I was nervous, anxious, excited, scared, ecstatic and so not believing I was on a set sitting in a jail cell across from Emma Roberts trading lines. At that time, I was just starting my journey as an actor. So of course naturally I was flabbergasted. Working on Scream Queens with Ryan Murphy as director was a monumental milestone in my acting career. It was my first television speaking role for a major network like FOX. Murphy was very fluidic in communicating what he specifically wanted to see happen in the scene. I like the fact that he was extremely friendly, down to earth, and welcoming. You have to understand that I was absolutely terrified! Sometimes when you book a role on a show with a team of well-seasoned actors like Emma Roberts and Niecy Nash it can be quite intimidating, but Murphy made me feel at home. Emma Roberts was truly a doll and pleasure to work with. I also had a chance to work with her in the film "Billionaire Boys Club". I actually ran into Murphy on set filming a scene for Scream Queens on location at Loyola University New Orleans, after I filmed my scene, and he totally took time out to acknowledge and thank me for my work. Hopefully, I'll get to work with Murphy again soon. 
.
.
.
HELLTER: I am happy to hear you had fun and I hope you do get to work with Murphy again too. Are you a horror fan at all, and if so what are some of your favorite horror films and why?
KENNETH: Yes, of course I am a huge horror film fanatic! Here are a baker's dozens of my favorite horror films — stock up before Halloween.
1. Jeeper's Creeper's
Jeeper's Creeper's, where'd you get those peepers? Really a freaky shindig here. You have the amazing Justin Long battling it out with the most peculiar savage winged monster that collects human skin and bones. Literally CREEPY!
2. Salem's Lot
Oh my god! I remember watching Salem's Lot as a child. The misty fog and mysterious kids flying outside the window asking the kid inside the house to open the window had me at the edge of my seat.
3. Poltergist
It was something about the little long-haired blonde girl and the way the house just came to life. I guess it's like the first paranormal activity, because of the fact that they built their house on top of a burial site. This film particularly bothered me because of all of the real-life deaths of actors surrounding the production.
4. The Exorcist
Wow… Linda Blair. All I can say is that scene when the priest is trying to expel the demon from her body and her head literally spins around in a full circle sends chills down my spine. The rocking bed, windows breaking, holy water, and her trembling convulsions are all classic.
5. Friday The 13th
That mask, the crazy mama, and oblivious camp counselors make this movie cinematic history. I still think about running from Jason Voorhes.
6. The Ring
Just the thought of that little frightening-looking girl in black and white crawling like mutilated animal fodder through the television was enough to hook me. Not to mention that bottomless well. The cinematography is sweet.
7. Interview with A Vampire
Come on, are you kidding me? Ann Rice, Tom Cruise, Brad Pitt, and the debut of little Kirsten Dunce, filmed in New Orleans. Vampires, blood sucking, light homo eroticism, mysterious nuances, and gorgeous makeup. What's not to love?
8. The Silence of The Lambs
Hannibal — whoa. Anthony Hopkins …. Anthony Hopkins…. I'm always entranced by his delivery of the word CLARICE. I really thought that man actually ate people.
9. A Nightmare On Elm Street
Wes Craven was a master of gore and horror fantasy. I used to be addicted to a television show called V when I was a teen. The show was about lizard-like aliens who looked like humans and who came to Earth in peace, but ultimately wanted to use humans as their food supply. That's the first time I saw Robert Englund fighting as an innocent resistance fighter, but when I saw him as Freddy Kreuger I was scared sh–less. The idea that he could go into your dreams and torture you and kill you in real life in some of the wildest ways was prolific.
10. Texas Chain Saw Massacre
Laugh-out-loud scary funny documentary bible for everything you shouldn't do if someone is trying to murder you with a chain saw.
11. Rosemary's Baby
I will never forget when they were trying to give Rosemary an abortion, with a hanger, I think. That was gruesome. It was sort of like watching a brain-washed community of devil worshipers.
12. Rocky Horror Picture Show
I love the songs in Rocky Horror Picture Show. It's like Halloween meets Cabaret as Raul Julia, a trendsetter, gender bends and pushes the envelope of sexuality while having a ghastly frightening time in Transylvania. He made men in lipstick and stockings sexy.
13. Michael Jackson's Thriller Music Video
Each year for the past nine years I have celebrated the Thriller music video in flash-mob form. I love the make-up, choreography, concept, and it's truly the ultimate visual for a music video. Steven Spielberg and Michael Jackson created a masterpiece that will live and breathe until the end of time. The video features the voice of the legendary Vincent Price, ghostly ghouls, and break-dancing zombies twerking to Michael Jackson's unforgettable anthem.
.
.
.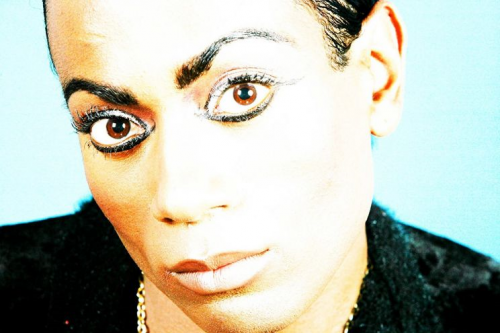 .
HELLTER: Wow, some excellent horror choices. Love your picks. You play a Voodoo Dancer in Les Maîtres Du Suspense. Do they make you do your own dance moves since that's your specialty?
KENNETH: In most cases yes, unless it's a specific role where set choreography is needed for the scene with other actors. But for the most part I'm prepped on the scene and am aware of what the director wants as far as movement and I create choreography to fit the specific scene. 
.
.
.
HELLTER: That's awesome!! I have to ask. Sylvester Stallone and Robert DeNero are two of my favorite actors of all time. How was it like to work with those two icons as the Tranny Hooker? 
KENNETH: Astronomical! Are you kidding me! My mind is still blown. It's something I'll never really think actually happened. Grudge Match was my first time auditioning for a film. When I got the call that I booked the role of Transvestite I did my little happy dance. I'll never forget when director Peter Segal called me on set for our rehearsal. There he was, Mr. DeNiro and across from him in the next jail cell was Sylvester Stallone. I just couldn't imagine that my first speaking role in a film would be with Robert DeNiro and Sylvester Stallone! Segal introduced me to DeNiro. He was like "This is Bob!". Words can't express how I felt at that moment. It was surreal. I kept thinking to myself, 'This is an American acting legend! Am I really supposed to just call him Bob?' Well, Bob it was and the rest is history. Trading lines with DeNiro and Stallone gave me the greatest Master Class in acting. It just doesn't get any better than that. I still get chills thinking about it.
.
.
.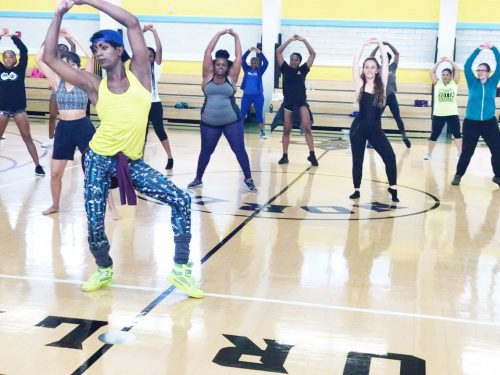 .
HELLTER: I would pass out if I got to work or talk to those two icons (laughs). ome LGBT Guys or Girls, take offense to being called Gay in a film. You have been a Gay Male at the Bar in Get Hard, Gay Guy at the bar in Sex Guaranteed. What are your thoughts on playing both of those roles and did you get a chance to work or talk with The Rock in Get Hard?
KENNETH: I don't have a problem with the label or the stigma attached to playing gay, transgender, or any other character. A job is a job and this is my dream. The problem is that sometimes casting agents or just people in general will only see you as their self-projected stereotype of you. Which can either be a good thing or bad thing. Regardless, I am a multifaceted and diverse actor and I will not allow anyone to dictate to me what they think I should be or what types of roles I can play. I've had a problem in the past where one of my original songs was signed with a major independent record label and the label removed my image from the cover artwork and name once I signed the recording contract. I was told my look was to gay to be on the cover of my own record. The song did very well and appeared on charts around the world, in clubs, and at radio. However, I did not receive any credit. 
No, I have not had the chance to work with The Rock. Yet! I would love to work in a film with him. I did however, talk to Kevin Hart and Will Farrell briefly while filming Get Hard. Both excellent actors.
.
.
.
HELLTER: Sucks you didn't get to work with The Rock, but it's cool you got to talk to Kevin Hart and Will Farrell. How was it like to work with Niecy Nash once again in Claws? She was on Scream Queens with you as well.
KENNETH: Nicey Nash is one the most down to earth, hardworking, built it from the ground up actors around. She's a role model. She's funny as hell. And most importantly she is real. Her presence is magical. I'm very thankful for her insight and direction and look forward to hopefully returning to the show this season as "Scarlet". I love the writers, cast, and crew. Claws is a magnificent show. There are a lot of jaw dropping scenarios and plot twists that guarantee to keep you watching. Season 3 ain't gone be nothing nice. Eliot Laurence, the show's creator, has really tapped into the essence of what viewing audiences across the board can relate too. 
.
.
.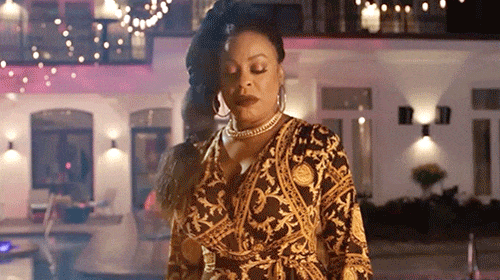 .
HELLTER: She seems like a really awesome down to earth person. How was it like playing a Vampire in Preacher?
KENNETH: So thankful to be a part of Preacher Season 3! I absolutely loved work with Joe Gilgun, Adam Croasdell, my fellow vampires and the entire crew! One day on set as Joe was getting strung up to the pool table in Eccarius's den. He looks up at me and says "I love the androgyny! Absolutely love it!" He told me I was his favorite. Very cool guy and he gives the BEST hugs!! Always in character. Adam Croasdell was very friendly. I learned a lot watching both actors bringing the writers script to life. Playing a vampire was something I've always wanted to do. I wore temporary preset fangs which sometimes made it hard to talk but eventually I got used to wearing them. I truly miss working on the show. It was like working with family.
.
.
.
HELLTER: Now you can cross off playing a Vampire on your bucket list (laughs). Were you a fan and did you watch Tales from the Hood before you starred in Tales from the Hood 2?
KENNETH: I'm a true fan of the film Tales From The Hood. I remember my first time seeing it as a kid. Since then I watched it over and over again over the years. The lead Voodoo Doll was hilarious! He crept around waiting for the right time to strike and when he did it was priceless. You can't help but fall in love with the cast. Clarence Williams III, Mr. Simms, is just brilliant! The story is what really grabs you. Tales From The Hood spoke to a generation. The film reminds us all that we need to stay woke!
.
.
.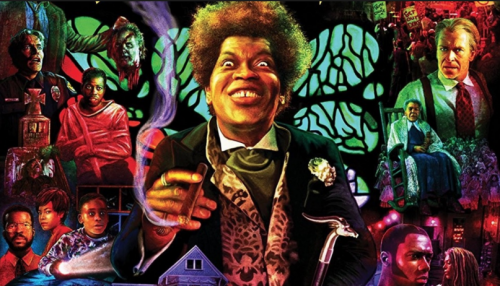 .
HELLTER: I love the Voodoo Doll from the first film to (laughs). Tell us about your character Golliwog from Tales from the Hood 2?
KENNETH: After WWII, Golliwog dolls were often given to young children as a form of comfort or teddy bear. Later the dolls were acknowledged as racist propaganda similar to minstrels. My character, Golly Gee a Golliwog Doll, had a long history of oppression and had seen and experienced so much oppression and inequalities over the years that he had become dangerously enraged with a passion for vengeance and would do anything to protect the Museum of Negrosity and Museum Keeper. 
.
.
.
HELLTER: What was your favorite kill from Tales from the Hood 2? Good Golly! 
KENNETH: My favorite kill from Tales From The Hood 2 is definitely during the chase scene when I pick up Andy Cohen (Phillip) and throw on to the whipping board. I went Zoro on him with the whip. I jumped, turned, twirled, and leaped many different ways to give the actual whip lashing illusion. The object was to whip him until his guts spewed out. Totally cool!
.
.
..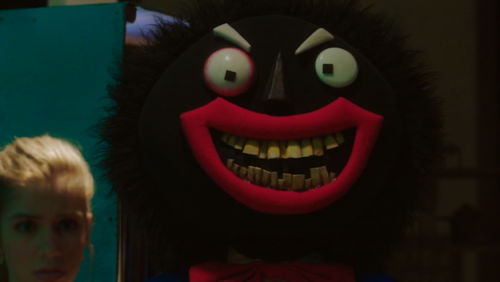 ..
HELLTER: I love that scene to. Favorite scene or favorite moment from Tales from the Hood 2?
KENNETH: (Laughs)! That's actually really funny. My favorite moment from Tales From The Hood 2 is when I kiss and make out with Alexandria DeBerry (Audrey). What can I say? It was my first on screen simulated make out scene as Golliwog. Mix in the fact that you have the Golliwog doll transform into a life size person with several hundred years of oppression frolicking and making out with a love interest is something to cherish. Gollwog's morphing facial expressions throughout the scene says it all.
.
.
.
HELLTER: (Laughs). Too funny. Any cool behind the scenes happenings or bloopers that stand out to you from Tales?
KENNETH: The Museum of Negrosity set had an enormous amount of memorabilia from the Tales From The Hood film. Some of the most recognizable dolls were displayed in cases throughout the scene. There was a point when I was wearing the Golliwog costume and at times could not see out of the head piece but when Mr. Cundieff called for action I committed fully to my character. With that said, I had to do a lot of whipping with an actual whip. I remember mistakenly hitting a light fixture, bumping into one of the dolls, and almost taking out one of the crew members. I put all my energy into each swing. It was a pretty tight space but nevertheless we had fun. It was really cool watching the special efx makeup artist preset blood and pack artificial internal organs into the life like sized chest of the body double dummy. I inquired about the process and totally gained a better understanding of how horror and gore makeup is created.
.
.
.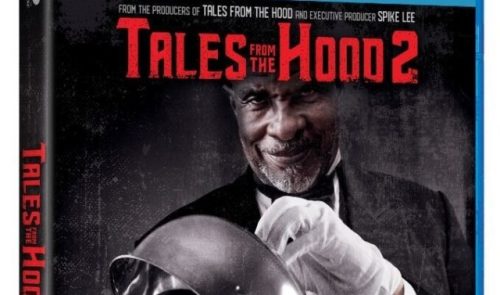 .
HELLTER: That's cool. Now you know how to do Gore makeup for horror films. Tales from the Hood 1 and 2, deal mainly with a Black Cast. I am happy to see that Black Horror is popular. Get Out put Black Horror on the map. I love both Tales from the Hoods. What are your thoughts on the love of Black Horror recently and Tales from the Hood 2?
KENNETH: Honestly, I would like to see more Black Horror films. I believe there is a lack of awareness when it comes to the genre. True, we were blessed with films like Get Out and Tales From The Hood 2 recently but there should be more Black Horror films produced yearly. Who could forget Tales From The Hood, Bones, Candyman, Blackula, Sugar Hill, Dr. Black, Mr. Hyde, Def By Temptation, and People Under The Stairs. All these films have left an indelible impressions and paved the way for the new generation of Black Horror films. 
I would also love to see a reboot or rerelease of the Jamaa Fanaka Directed "Penitentiary" films. I just can't get enough of Too Sweet and the boxing prison drama!
.
.
.
HELLTER: I agree!! Anything else you want to discuss or promote?
KENNETH: I'm currently working on new music, film projects, choreography projects, and recently debuted a new Sci Fi film "Out For Delivery" directed by Lee Garcia and Beal Locke. (Comfystone Films, Worklight Pictures, EFI Productions)
Kynt – Extended (Album)
https://youtu.be/cXZS4q4NM4Y
Kynt – Adrenaline LP (Continuous Mix)
https://youtu.be/aXszTUTCJu4
Kynt – Continuous Kynt (Mixed By DJ Frank Chambers)
https://youtu.be/hhEd105rtPY
Kynt @ IMDB: http://www.imdb.com/name/nm5426897/
Kynt @ Facebook: http://www.facebook.com/kyntmusic
https://www.facebook.com/kynt.bryan
https://www.facebook.com/FlashmobNewOrleans/
https://www.facebook.com/DanceFitnessNewOrleans
Kynt on Instagram:
KyntMusic
FlashmobNewOrleans
DanceFitnessNewOrleans
NewOrleansHouseMusic
KyntMusic @ ITUNES
https://itunes.apple.com/us/album/extended-dj-essential-mix-set/id1178549626
KyntMusic @ BEATPORT:
https://www.beatport.com/release/extended/1901246
Official Website: http://www.kyntmultimedia.net
http://www.flashmobneworleans.com
http://www.dancefitnessneworleans.com
Never see yourself the way others see you! – Kynt
.
.
---
.
.
.
.
.
.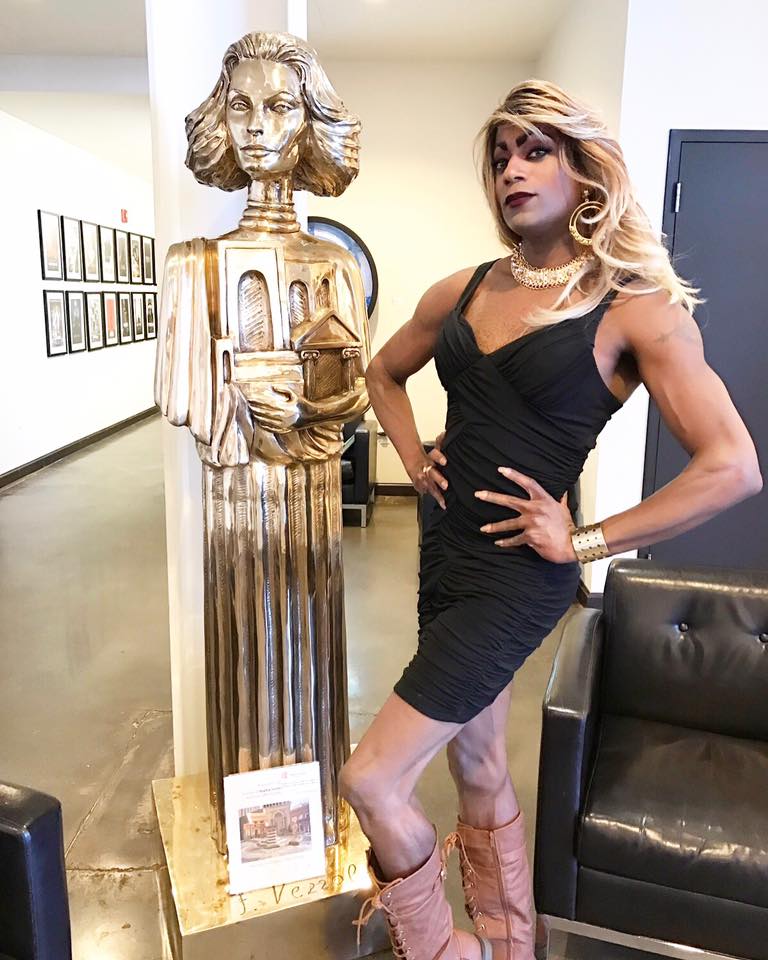 ---