---
Women of Horror: Amelia Kinkade (Night of the Demons 1, 2, and 3)!!
---
Hello Grue-Lings,
   I am so happy, proud and honored that a good friend of Gruemonkey has agreed to do Women of Horror today. She is such a remarkable amazing lady and we at Gruemonkey love her. Her name is Amelia Kinkade, who is a cult icon in the horror world as Angela from all 3 Night of the Demons films. Amelia Kinkade was inducted into the horror movie Hall of Fame in San Antonio Texas at a film festival devoted entirely to her, celebrating her cult status as the first female monster in movie history. Many don't know that she also starred on The Young and the Restless in the late 80's playing villianous vixen, Vivien. Amelia is the author of six books published all over the world, Straight From the Horse's Mouth: How to Talk to Animals and Get Answers (Crown Books), The Language of Miracles (New World Library), Aurora's Secret (CreateSpace Amazon), The Winged One (CreateSpace Amazon), Soulmates with Paws, Hooves, and Wings (CreateSpace Amazon), and Whisper from the Wild which will be published by New World Library in October, 2016.
.

.
She tours all over the world. She taught Animal Communication seminars in England, Scotland, the Isle of Man, Switzerland, South Africa, Portugal, Sweden, Norway, Italy, France, Canada, Mexico, the Canary Islands, Austria, the Netherlands, Brazil, Poland and all over the United States. She has well over 400 radio shows worldwide and appearances on talk-shows and news broadcasts all over the globe .  She is the only psychic ever to be invited to Buckingham Palace to "whisper" with the horses of Queen Elizabeth. She is the founder of a non-profit charity, Ark Angel, which allows her to teach wildlife education in rural communities in South Africa, Zambia, and Rwanda to prevent impoverished children from growing up to be poachers. She is formerly a professional jazz dancer and choreographer in Los Angeles, and starred in a Stray Cats music video. 
.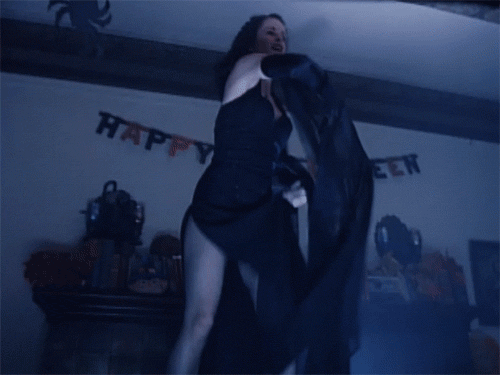 .
Amelia Kinkade tells Gruemonkey what it means to her to be a Woman of Horror:
.
.
---
.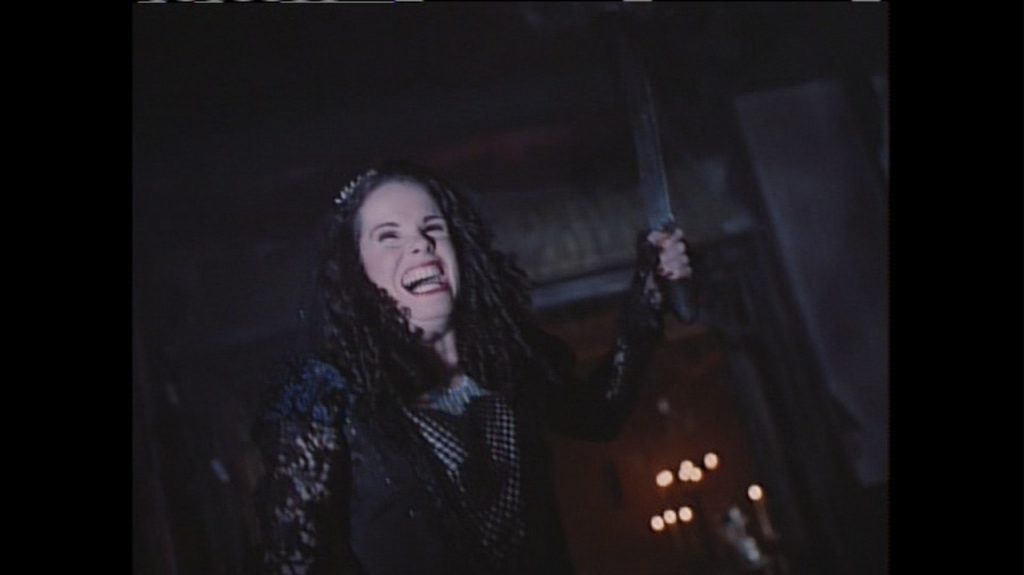 .
Now, Rocky(Hellter), I flew to Hawaii last night and this is my first day of my vacation before my students come. I spent the morning writing this article for you. Is that HARD CORE or what? This is how I'm spending my vacation because I'm THAT DEVOTED to my fans. You could write that if you want! :0):
…..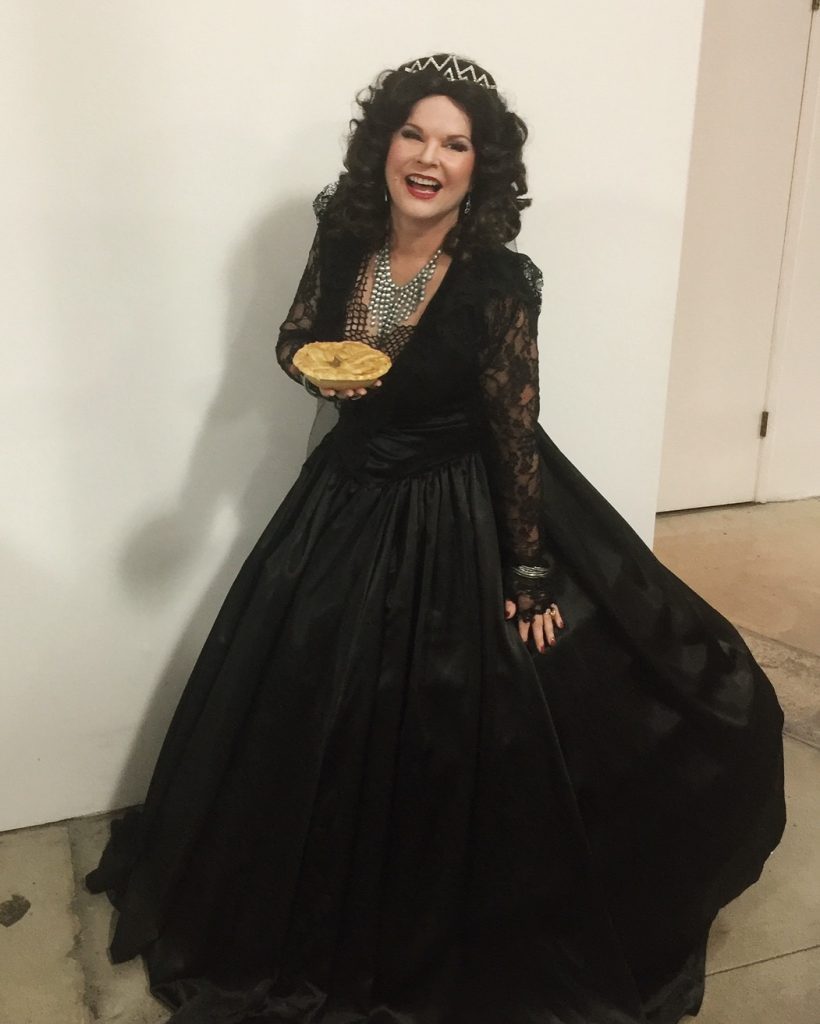 .
What does it mean to be a woman in horror? My story may be different from most others because of the heartfelt connections I have with so many of my fans. I never dreamed when I first blasted onto the con scene that some of the best friends I'd ever have in my life would come through my line wanting an autograph. I took a few years off the con scene, developing my charity in Africa, Ark Angel, and writing my last book, Whispers From the Wild: Listening to the Voices of the Animal Kingdom. (New World Library.) My career teaching animal communication has taken me to over 27 countries in the last 18 years where I lecture on animals, their thoughts and feelings, and our sacred connection to nature. My six books are on Amazon. f you are interested in reading about my life's work. I've also developed a new online school, www.languageofmiraclesinstitute.com, where you can even get online live with me in my webinars so I can assist you with every problem and question under the sun, whether your questions are about animals, psychic experiences of your own even with humans or spirits, and day-to-day advice about how to achieve your destiny and make your dreams come true. If you're an animal lover and want to understand your animals' behavior, thoughts, feelings, aches, pains, histories, relationships, and messages for you, this online school is a MUST! This online school will enable me to not have to fly all over the world living out of a suitcase to teach Animal Communication. I've got a world to save, and I need your help! As the ambassador of wild animals, too, I've devoted every waking moment to trying to save them. I love this work, but it's serious business. And after 18 years of being on a world tour upholding ideas about the evolution of consciousness of the human race in order to save the planet Earth and her animals, I found something BIG was missing in my life: FUN! I need to have some FUN!
.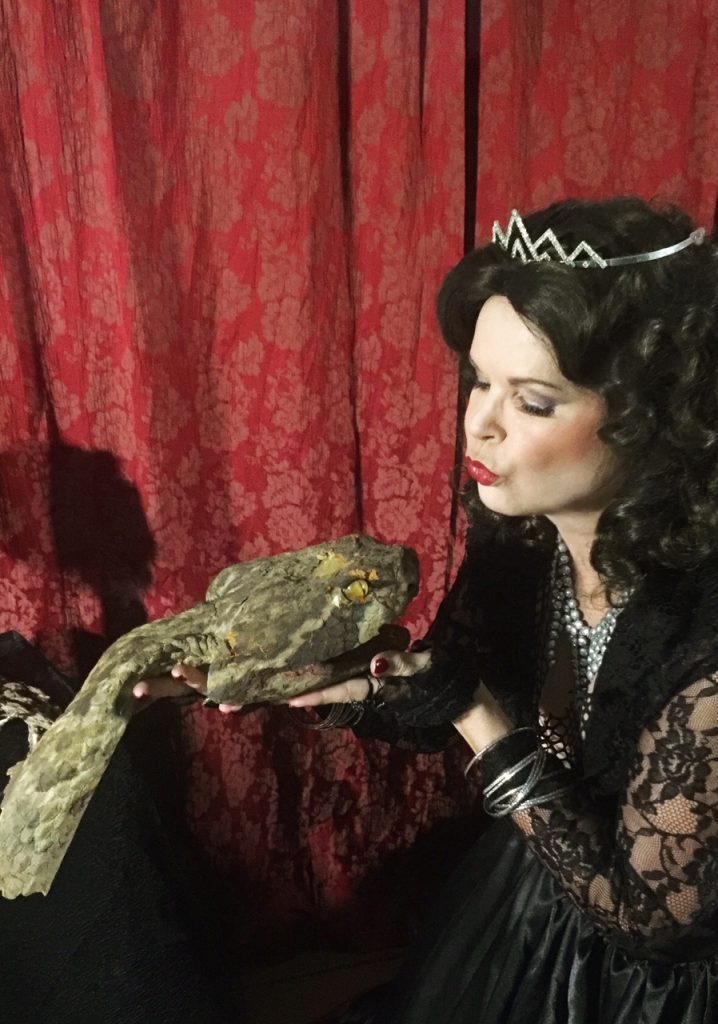 .
So the great news is I'm back on the convention scene, not only back, but BACK IN BLACK! I just did photo ops in Atlanta for Days of the Dead where I had to lug an extra suitcase to the con because one entire suitcase was filled with a colossal black wedding dress, crispy crinolines to plump out my Scarlet-Ohara-Turns-Tiger-Bitch-From-Hell ebony hoop-skirt, veil, and even a sparkling tiara. Who would ever dream that I would once again—30 years later, but who likes math?—don my Queenlike status as the Hostess with the Mostess, deadly life of the party?!
But who re-crowned the Queen? Well, THIS is the best story and the most wonderful surprise to come from my status as a cult horror star.
I know the other horror movie actresses also hear tearful stories, spend days on end giving hugs, signing amazing original artwork created by brilliant fans, and may even like me, find tattoos of ourselves on our fans bodies. Okay, that was a stretch. To tell you honestly, all modesty aside, I'm the only woman in horror I know who regularly finds tattoos of my possessed face on my fans chests, backs, arms, calves, and most likely places in their britches they are to shy to show me! But that is a story for the next installment of Grue Monkey.
.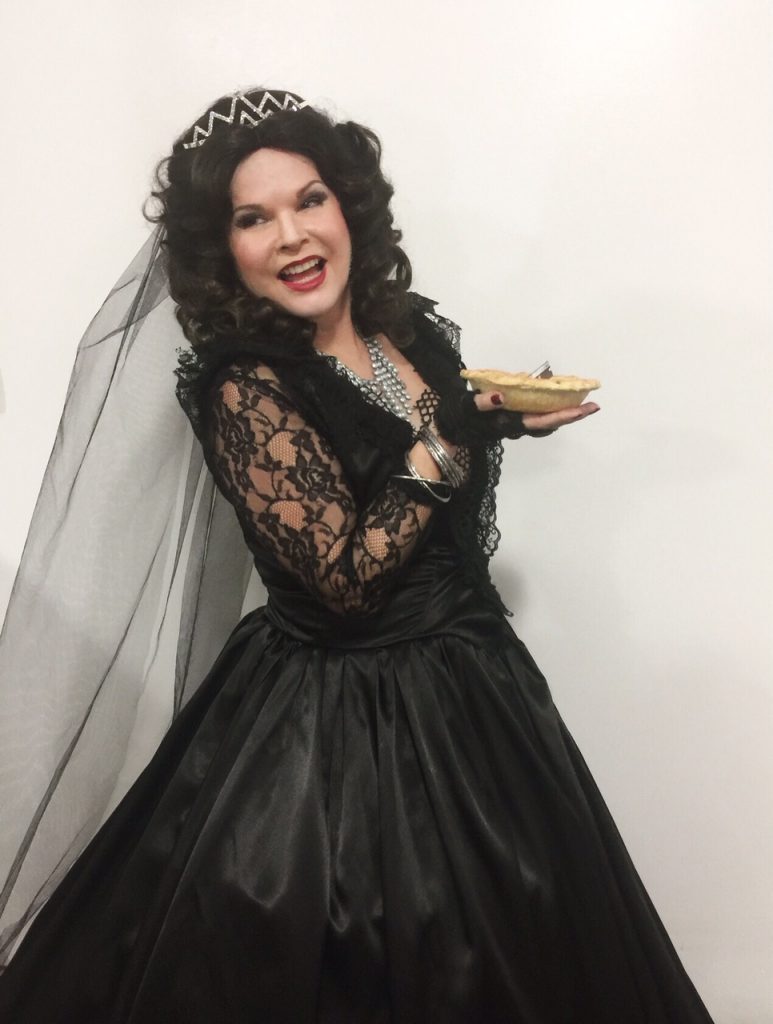 .
This is today's newsflash. It's the friendships that I've made—totally unexpected friendships—with loving fans who simply walked through my line one day. Today's mind-blowing story is a about a fan named Greg Abelar who came through my line in Los Angeles at a Days of the Dead con years ago trembling with eyes full of tears. He said he was so nervous to meet me he had to have a shot of whiskey to gather the nerve to meet me in person. His story blew my mind. Not only does he go "as me" in the Hollywood gay parade in Angela regalia—that's right: a leviathan drag queen, 6 ' 2" in his heels, we went on to tell me that he, as a teenage gay rebellious death-rocker in a close-minded, condemning high school, needed a way to survive the punishing redneck mentality. To my shock, he said he "went as me" to school—everyday—in full Angela white face drag. Now THAT is a rebel after my own heart. There were other stories he shared—private stories about humiliation and abuse—stories I now hear dozens and dozens of times a day at every con. Stories that hit me closer to home that you could imagine. It's my greatest honor that fans share their stories of child abuse with me, because something in them knows "I of all people would understand." I do.
.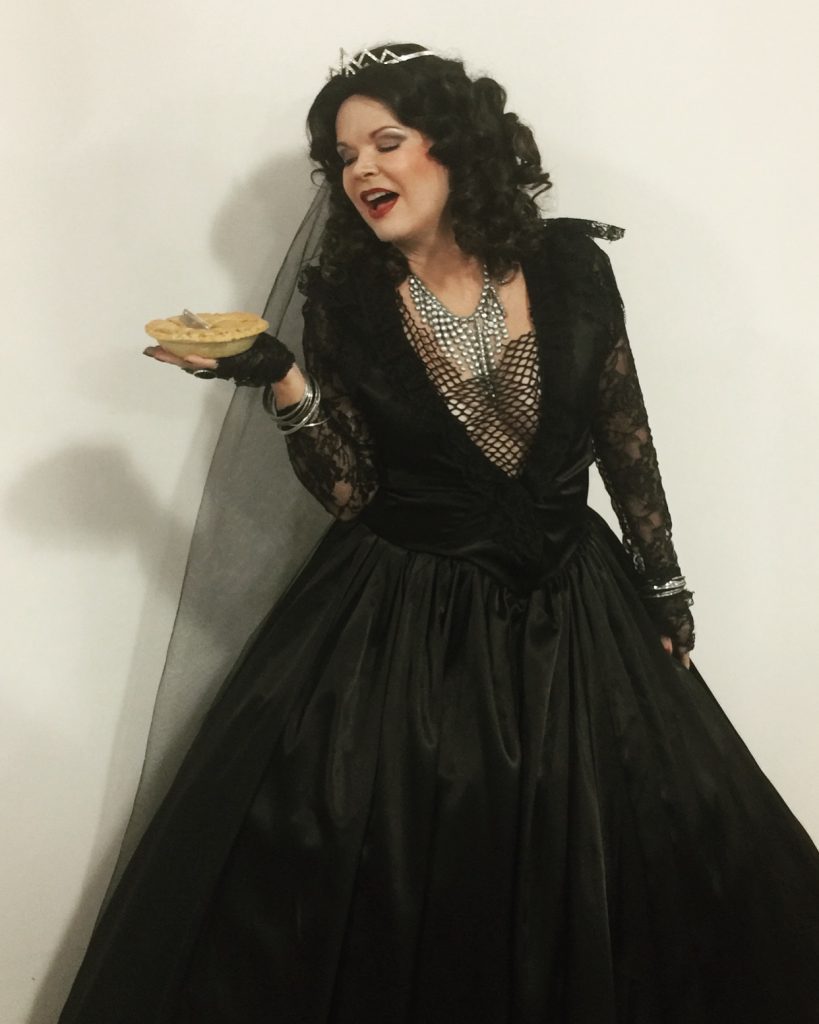 .
My Angela didn't roar to life without a lot to fuel her flames. Imitation is the greatest form of flattery. Greg went from fan to friend to President of my fan club, to board of directors on my charity, Ark Angel, to coordinator of our events in West Hollywood for my campaign, No Horror for Animals. He helped create the Amelia Kinkade Presents Angela's Party Facebook page and man my Instagram. But then he rose to even greater heights. Appearing at cons in his mammoth black wedding dress, he showed he was the absolute expert in Angela costuming.
I recently was approached for an interview for the Night of the Demons marathon documentary. This is being edited this year. Watch this space. I was simply going to give an interview like the rest of the cast, which I did. But Greg's brainstorming brilliance changed all that. The producers suggested I give the commentary in my original costume, and because of Greg's encouragement and enthusiasm with the project I agreed.
When you film a movie, the actors are not allowed to keep our original costumes, so the Angela dress from the '80s is long gone. We would need some serious ingenuity to assemble an elaborate costume that would please my hawk-eyed fans. He loaned me his dress, tucked and taped and even sewed me into it, and put me on a set that he personally built—and built for free. On his arm when he first met me at that original con, he had on his arm, his partner, David McCracken , who was a talented, frustrated, film-school grad from the East Coast looking to make his mark in Hollywood. This commentary for the doc was the perfect platform for him. With a stunning set Greg pulled out of thin air, and a team of generous volunteers, he managed to get my costume, hair, make-up, as accurate as the original film, Night of the Demons Part 1, and his partner brought his own sophisticated camera and worked some magic. The entire shoot was pure magic!
But the magic had just begun. I never dreamed posting these pictures online could bring in any money. We had done this shoot for the sheer JOY of it. We all worked for free and as a labor of love, we thought that would be the beginning and end of it. But it was just the beginning.
Bill Philputt, the promoter of the Days of the Dead cons saw the naughty playful pictures online where I was hamming it up in the dress, and invited me to appear IN the dress at the Days of the Dead con to do photo ops with the fans. When I asked, which con? Atlanta or Charlotte? Bill said "BOTH!" Now, this never happens. The cons don't invite me even every year to the same event, much less two events only months apart.
The Atlanta con was absolutely magnificent! What a BLAST I had with my fans! Unfortunately the Charlotte con has been postponed to September, but when I emailed Bill to ask if I could attend any of his other cons this year, he said, "Of course!" When I asked, "Which ones?" He said, "All of them!"
I actually burst into tears when I got that email. If your life is hard because of mean, rude, stingy, self-centered, thoughtless people (like mine can be), you know how shocking it is to have someone actually be NICE to you. That is one of the missions Greg and I are on: To prove that when we join hands to create art for fun, for love, for inspiration, to share our giggling and passion and naughty notions, that this kind of love for each other is contagious. it is through friendship that art is born. We have to help each other. It preparation for the history-making photo ops in Atlanta, Greg took me to his costumer and had my own gown built that fits like a glove. The upshot? The Days of the Dead con in Atlanta was a MASSIVE success and the line for the photo-ops knocked my tiara off! The money I made will help me squeak by so that I can look forward to doing charity work in Africa this year. My charity, Ark Angel, allows me to go into schools in impoverished villages in Africa and teach wildlife conservation so these precious kids don't grow up to be poachers.
More miracles abound: Another of my generous and devoted convention promoter in Ryan Scott Weber, the host the New Jersey Con, who has also asked me attend year after year, instead of putting me on the shelf like a used toy.
So here is our NEWS! My next con will be in Atlantic City on March 29-31. Not only will I be in costume and posing in my photo ops with YOU, Greg is bringing HIS dress. But wait there's more! My gorgeous co-star, Linnea Quigley, is also threatening to recreate her pink tutu dress, and Greg's partner, my filmmaker, David, is also coming IN DRAG as Linnea's character, Suzanne.
Greg, David, and I have been brainstorming a new campaign about gay men who love woman
in horror called Queens Love Scream Queens! So whether you are a gay man or a gay woman and want to pics with me and my "Mangelas,"or even if you are a straight fan with a wild sense of humor and want a picture with me alone in the dress (that would make you a "Fangela!), meet me Atlantic City and let's make some memories!!!
If you can't make it to Atlantic City, another wonderful convention coordinator has just entered the scene. Mike Perez is hosting the first Pop, Rock, and Horror con in Gettysburg Penn, the end of June. And will I be in costume at the Days of the Dead this July in Indianapolis, September in Charlotte, October in Dallas? Well. You know how I like to throw parties. And let me assure you. This party has JUST BEGUN!
-AMELIA KINKADE
.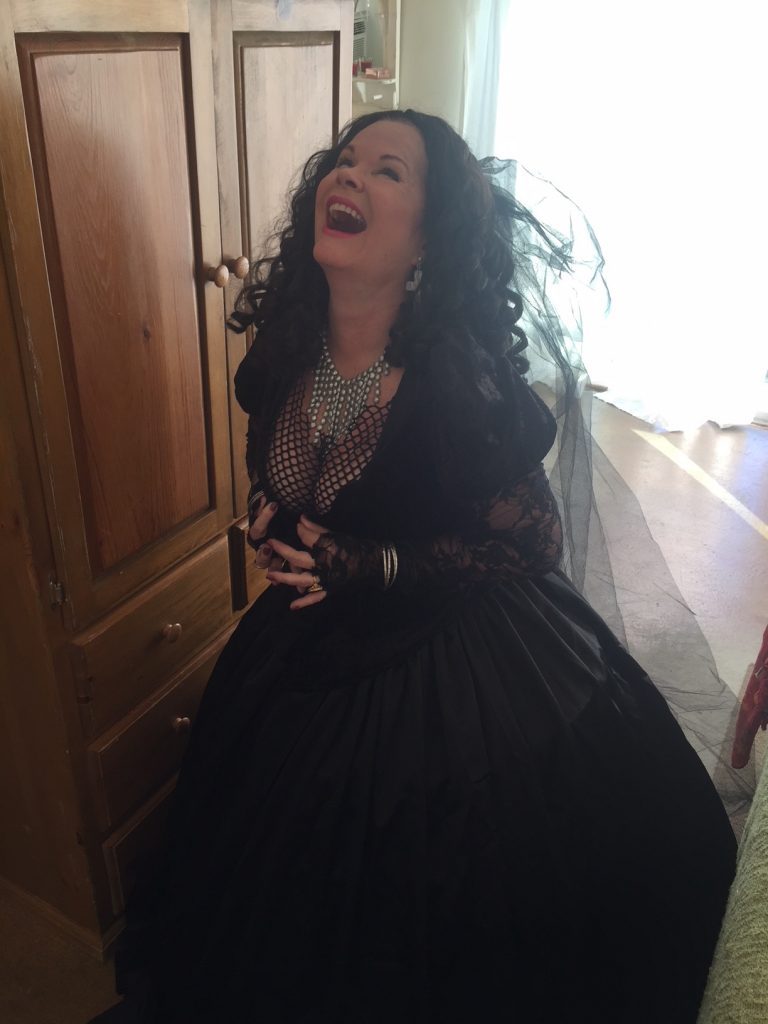 ..
---
.
THE LANGUAGE OF MIRACLES WITH AMELIA KINKADE
.
PICS from Queens Love Scream Queens!:
.
AMELIA AND GREG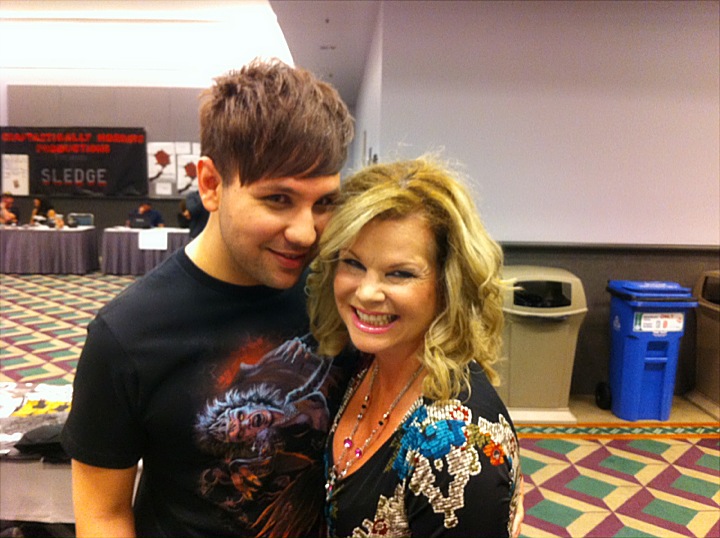 .
DRAWLINGS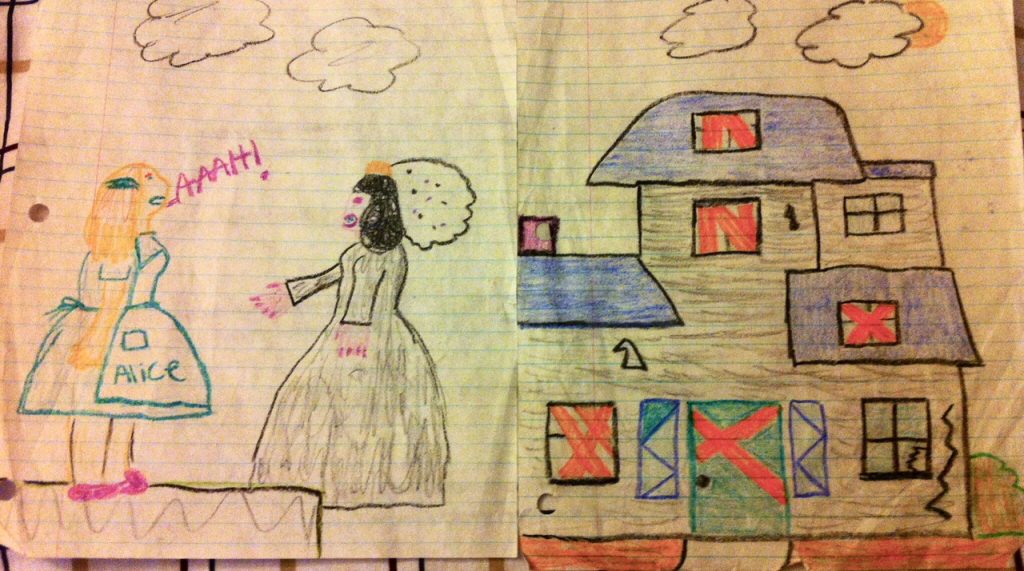 .
At the Elm Street House. Jason and Freddy were too scared to come..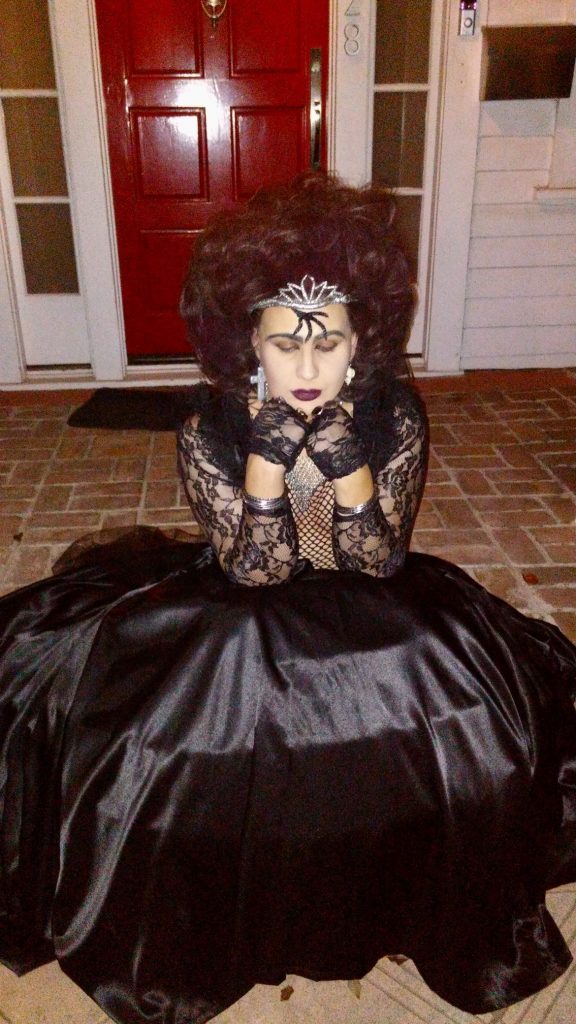 .
Getting party supplies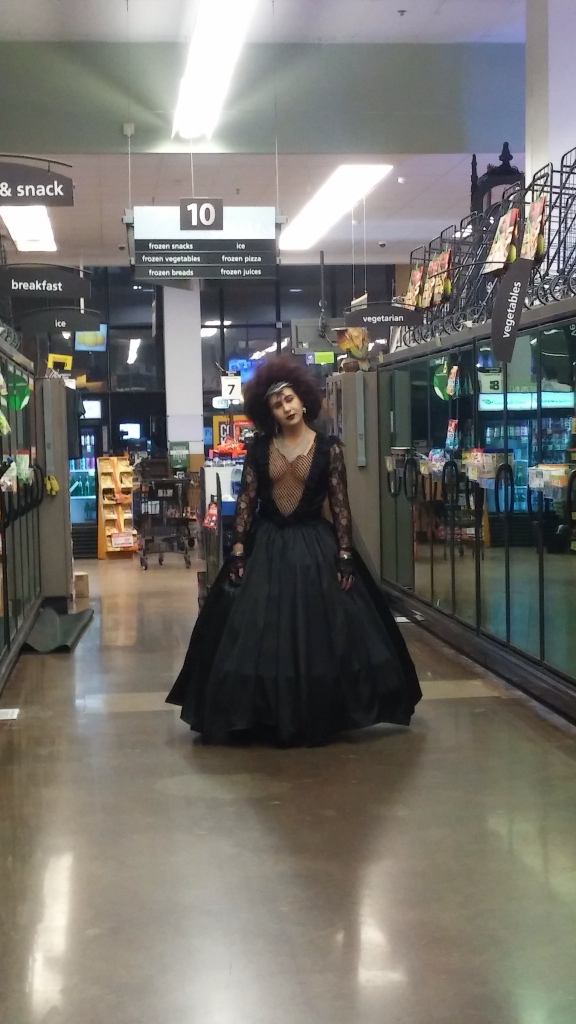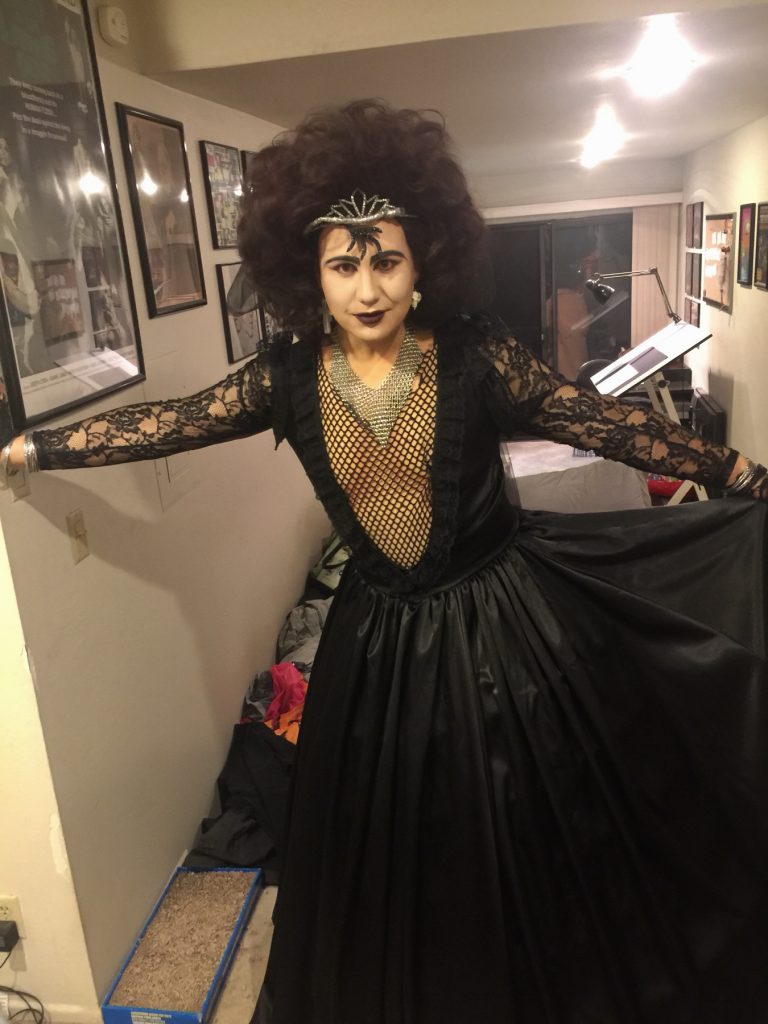 .
Floating down Hull House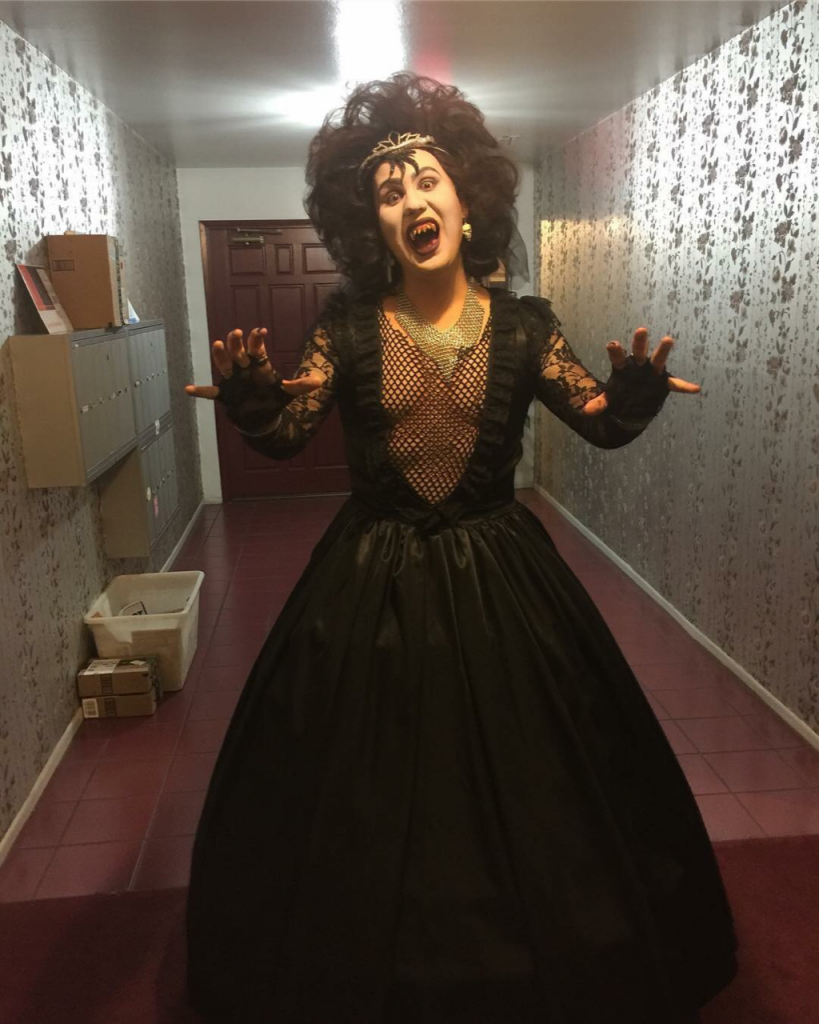 .
Amelia and Greg, Halloween 2016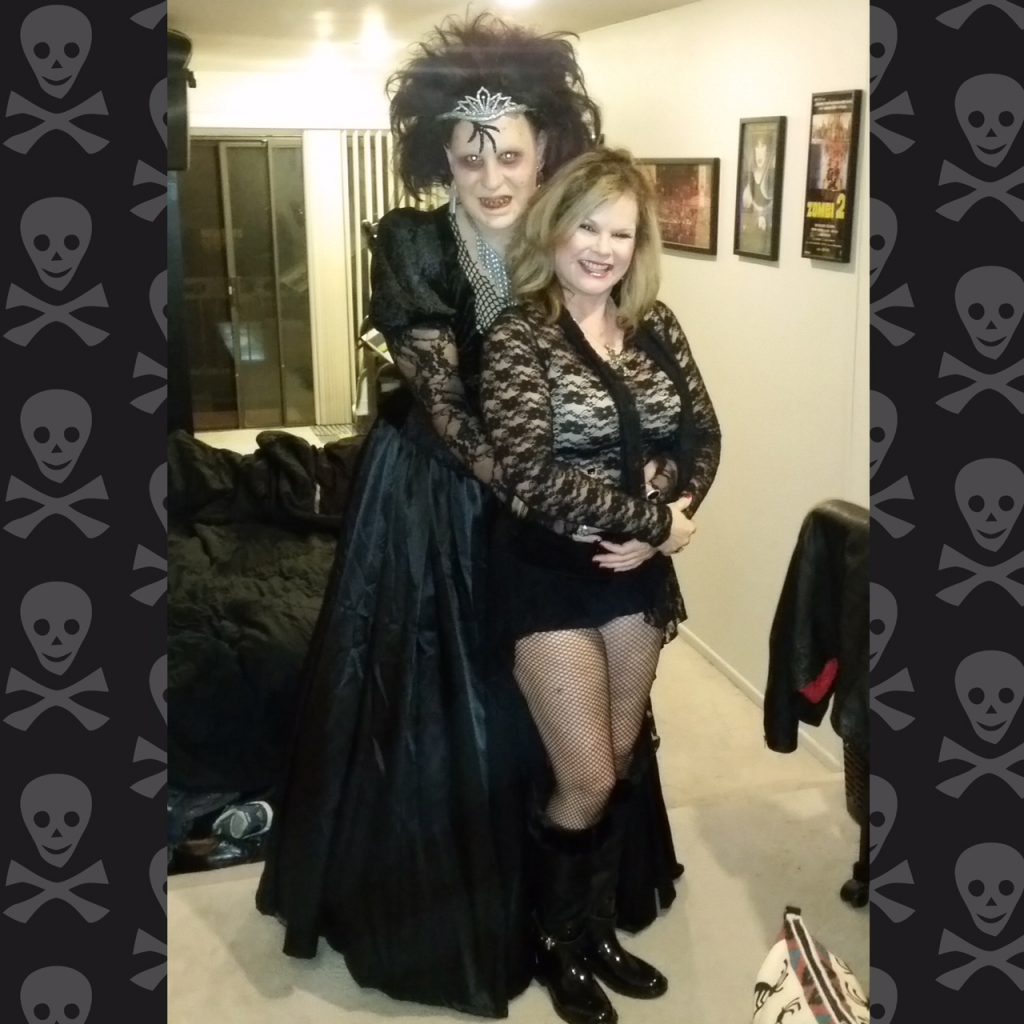 .
Halloween With Frankie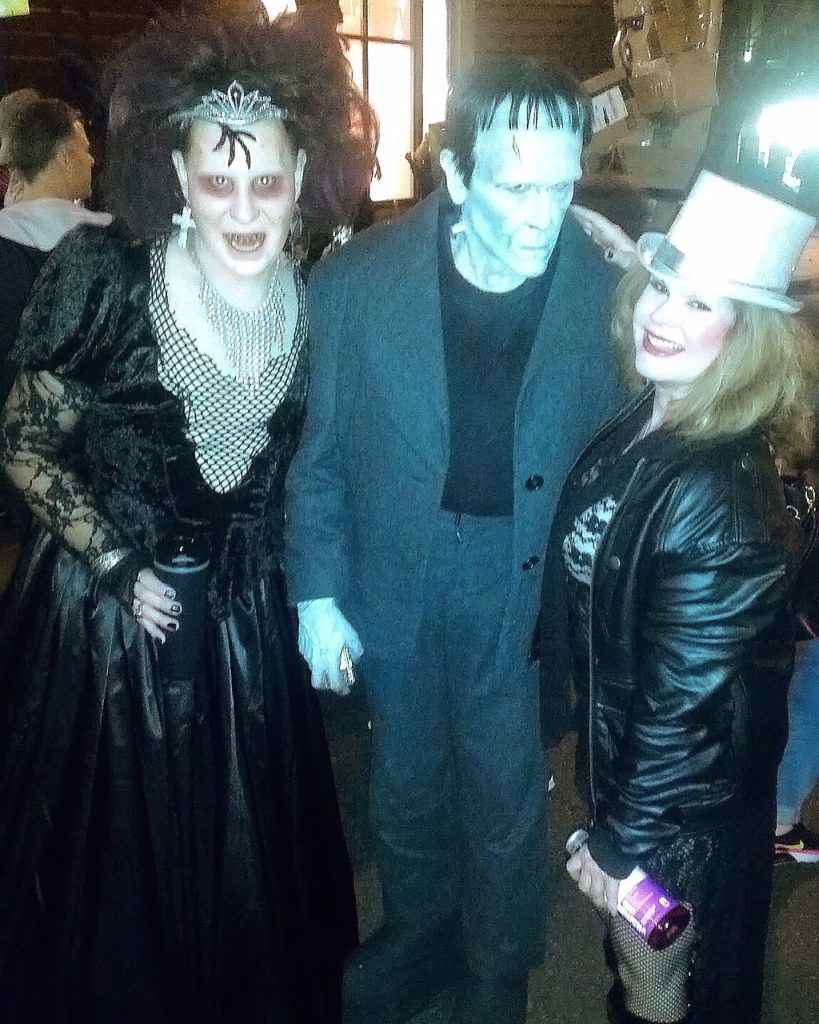 .
At the 30th anniversary screening of Demons 1.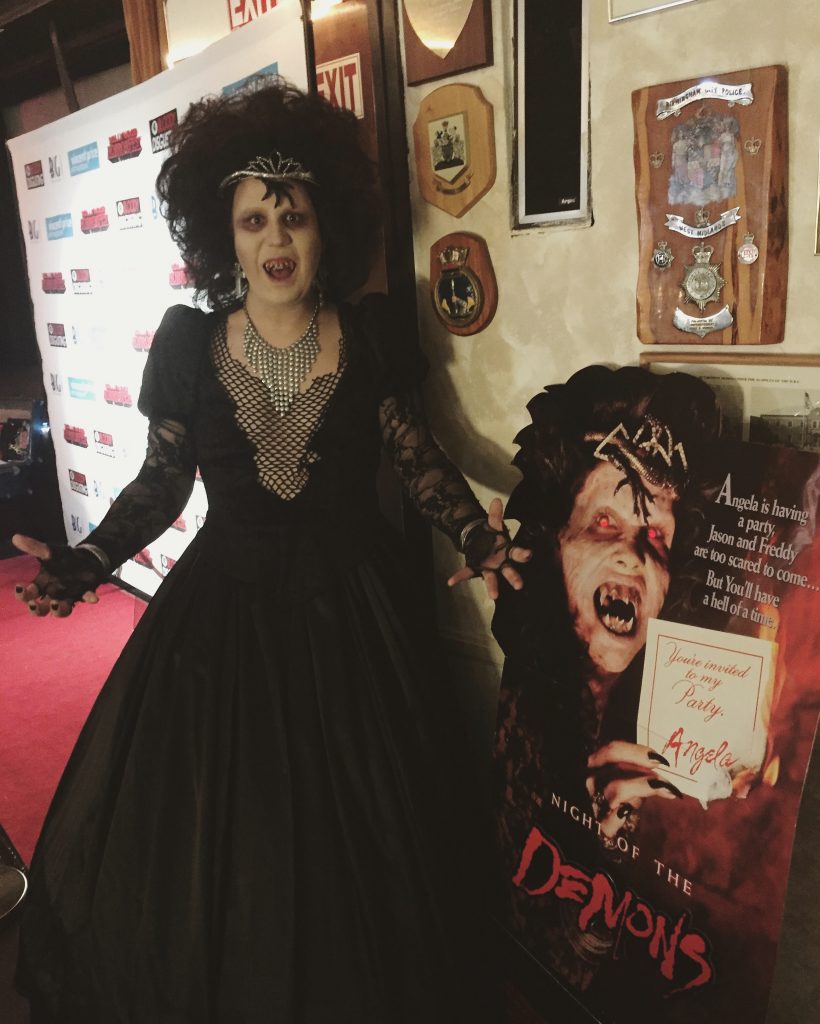 .
Amelia and Greg at his birthday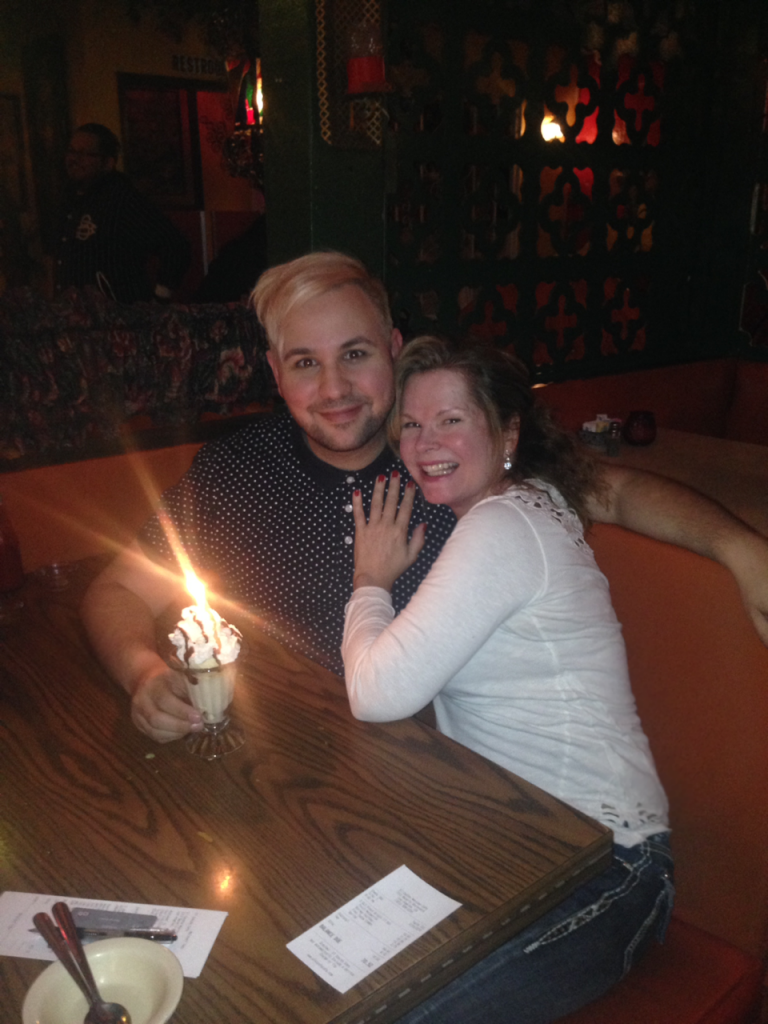 ./
.
.
.
---