Hellter interviews David Gere (Black Wake, The Manor, Blood Circus)!!
---
Hellter interviews David Gere (Black Wake, The Manor, Blood Circus)!!
---
Hello Grue-Lings,
  Today we have a special guest on Gruemonkey. Today we interview David Gere. David began modeling and working on both sides of the camera in films and commercials. Had a European print campaign for GUESS Jeans (1997). David was signed by Next Model Management NYC in 1996. It was during that time he was featured in Guess Jeans promotional photos prior to moving into acting. David returned to print modeling in a recent "Get to know Mitch" Men's product campaign.
David was more inspired by acting and filmmaking. He had a run of short films, documentaries, and music videos (MTV2).  He developed a relationship with Rhode Island directors, Michael Corrente and Peter Farrelly, and got his first acting break in Outside Providence a film which Peter and his brother Bobby Farrelly produced and Corrente directed. In 2006, David appeared in Rocky Balboa, which he cites as a significant turning point, having been directed by his childhood hero, Sylvester Stallone. In 2007, David appeared on the CW Network's hit show Gossip Girl as Frank Meltzer. David is also an experienced stuntman, having performed stunts in The Dark Knight (2008) as one of Bane's Mercenaries. After working closely with professional wrestling legend Tommy Dreamer on the horror movie set of Army Of The Damned (2013), David began a career in the squared circle.
Under Dreamer's guidance, Gere began performing as the villainous heel manager, DG Haven. The character has a cult level following, and is established in major promotions throughout North America. David is currently continuing his acting career, and is a producing partner for several major production companies including Verdi Productions and Woodhaven Media. Gere launched his new production company, Shadow Vale Productions in 2018. David Gere resides in Connecticut, where he owns several nightlife venues. David owns a well known art gallery/lounge, The Shadow Room, located in Connecticut. It is a hub for celebrities, artists, musicians, writers, actors, and filmmakers. A film David produced, 'Hard Luck,' starring "Diamond" Dallas Page and Darryl McDaniels was filmed there. In 2012, a club scene from the Chiller Channel's Anthology Series, 'Chilling Visions: The Five Senses of Fear' was also shot there. Musician and rapper Drake has frequented the venue. David Gere is closely connected to actor and Hollywood insider Chuck Zito. They have combined on multiple projects including Blood Circus (2017) Black Wake (2018) Dinosaur (2018) and Vault (2019). Gere and Zito are also involved in an annual charity auto show in David's hometown of Cromwell, CT.
David is very devoted to charitable causes for children, ranging from The United Way, to local organizations, including his own youth mentor program.  Here is my interview with David Gere:
.
.
---
.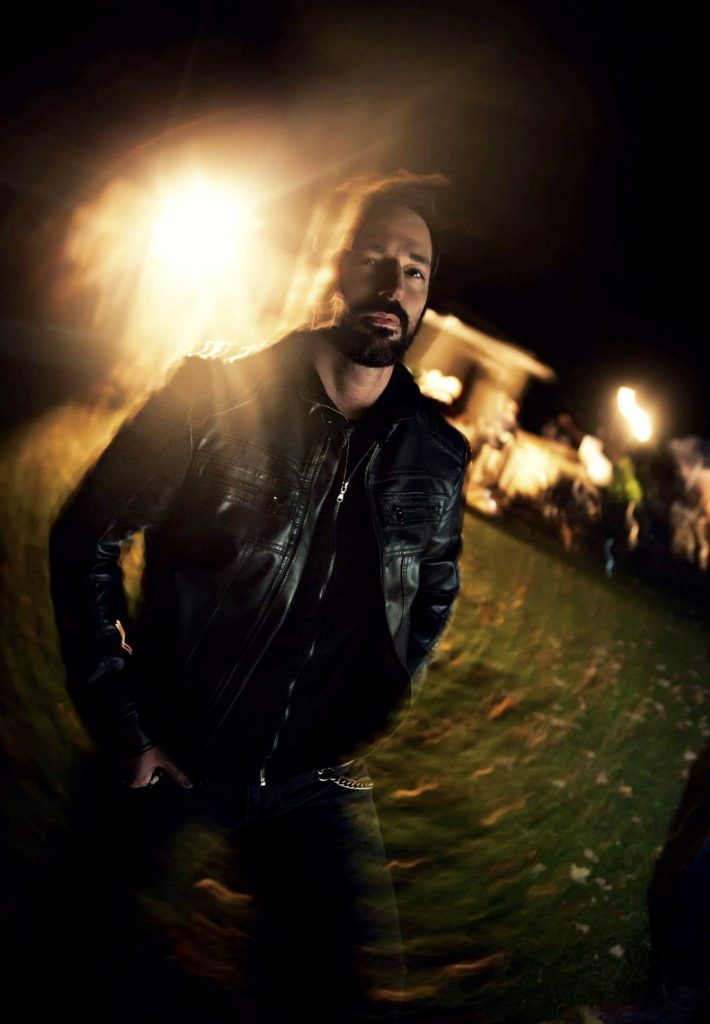 HELLTER: Hello David. Welcome to Gruemonkey. I am honored to have you as a guest today. You have done a lot already in the entertainment world. You started out as a model for Guess Jeans. How was your modeling career and how was it like working as a model for Guess Jeans?
DAVID: It was the 90's! I didn't know much about anything regarding the entertainment biz, but I knew that I was interested in acting. I got approached by a high level scout for a men's modeling agency in NYC called NEXT. She said that I had a 'Euro' look that she could do something with. I really didn't know what to expect, but it lead to a lot of cool work including print work for GUESS that ran overseas. The entire time I was honest about preferring to act, and that same scout ended up helping me meet an acting agent. The whole experience at the time was really neat, and I gained confidence in front of the camera, and learned a lot about fashion which is important in understanding characters on camera.
.
.
.
HELLTER: It sounds like modeling helped you learn about entertainment. That's really cool. You also did some short films, documentaries, and music video's. What was your experience like doing all of those before getting involved with films?
DAVID: I learned so much by immersing myself in small projects early on. There were countless productions that I would jump into just to be creative, tell a story, or act in something unique. Had I not picked up a camera, or helped on other friend's projects, I would not have learned as quickly as I did. By the time I was in college, I knew that I wanted to gain more technical knowledge to pursue filmmaking. In my senior year I did a thesis documentary about homelessness in downtown Providence, Rhode Island. All these steps led me to truly love the process, which opened the doors to producing. 
.
.
.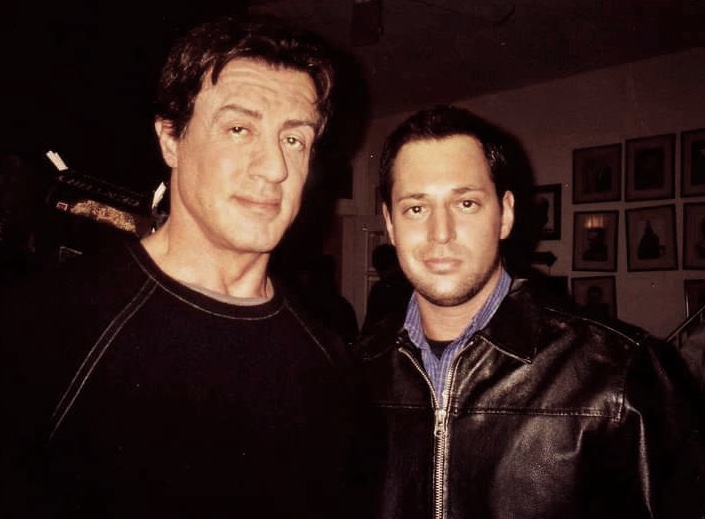 HELLTER: That's so awesome! Tell us about your first feature film acting break in Outside Providence?
DAVID: That was a really special time for me. I was at Providence College during the mid 90's taking a basic Film 101 course. There was a lot of excitement in the area as Steven Spielberg had just shot Amistad nearby. James Cameron and Arnold Schwarzenegger also shot True Lies in the state. Emerging filmmakers were finding success on the independent level. My professor pulled me aside at the end of the semester and said that he was impressed with my passion, and that he thought my last paper was creative. He asked if I wanted to chat more on filmmaking, and stated that there was a successful director he wanted me to meet who was an alum of the college. The director turned out to be Peter Farrelly, who had just hit it big directing films such as Kingpin, Dumb And Dumber, and is best known for There's Something About Mary. Peter was looking for one student to bring on as an intern. I was introduced to a director who was adapting Peter's book, Outside Providence. He felt that I had a good look for the coming of age film. I read for a bunch of roles, and landed a part as one of the high school kids. The movie shot by my senior year and had some major stars in it, Alec Baldwin, George Wendt and Amy Smart. The steps came together so fast. I couldn't believe I was the set of a Hollywood level shoot. I also earned my SAG card on the movie. It was a fast and unusual start. I didn't realize how great I had it then! I have a lot of fond memories from my first movie. I still keep in touch with some of the people I met. 
.
.
.
HELLTER: That's cool that you still keep in touch with some of them. How was it like working in Rocky Balboa and working under your childhood hero Sylvester Stallone?
DAVID: I grew up the biggest Rocky fan, and later in life appreciating Stallone's desire and drive to make his dream happen from both sides of the camera. So I look to that experience as the defining moment I knew I had to stay in this, and that it would work. I was in NYC in a cab, and heard over the radio about the new Rocky film getting into production in Philadelphia. It was just the DJ ranting about his excitement about another Rocky movie. I thought to myself if this is true, someone has got to be casting it. I managed to find out who the local casting agent was in Philly. I bombarded her email with my headshot and resume. I didn't hear anything back. That's when I broke the rules and did something they tell you not to do! I called the agent's office purposely after hours so I could leave a voicemail. It was over the top! Personal and passionate – you're really not supposed to do this! I stated that I was an up and coming actor who grew up inspired by the Rocky saga. I mentioned that I watched all the movies with my Father, and I said that I'm the right guy to be looked at for this film. I said I'm always prepared and on time, and asked her to please take a look at my headshot. The next day an assistant called me. He said, "so we got your voicemail…"! I don't think he thought it was the smartest move judging by his tone, but the point was they looked at my stuff. I went to Philly twice to read for a small role. I got a call that I had been cast in a scene at 'Adrian's Restaurant.' I was so amped up and I went to Philly to shoot. That day Sly was really run down with the flu. They got behind and the scene didn't shoot. I was worried it might get cut. I ended up going back, and got brought on set to meet Sly and shoot the scene. It was surreal. In the scene Rocky tells a table of his family members about his fight with Apollo Creed. He did the monologue a bunch of different ways. He gave a lot to direction and time to me. There's a great single of me in the film. I hung around the set in the upstairs to the restaurant after I was wrapped even though I wasn't supposed to. I wanted to take it all in longer. Watching Stallone act and direct up close was incredible. He's so passionate. When things were breaking down, I walked up to him and thanked him. I said, "I was the guy at the table." He said, "I know that was like an hour ago," and laughed. I told him that I was inspired by his legendary journey, and that like him, I also was an abstract painter. I broke the rules again, and asked him for a photo. He waited for a PA to come around and told her to "make it a close up," in a classic Rocky delivery. I've had a chance to speak with him later on in my career, and my good friend, actor Chuck Zito and Sly are best buddies, so it's been very cool to feel part of that scope. I will never forget my time on a Rocky set, and on some level I almost feel like I willed it all to happen, or it was some type of wild laws of the universe thing that happened for me. 
.
.
.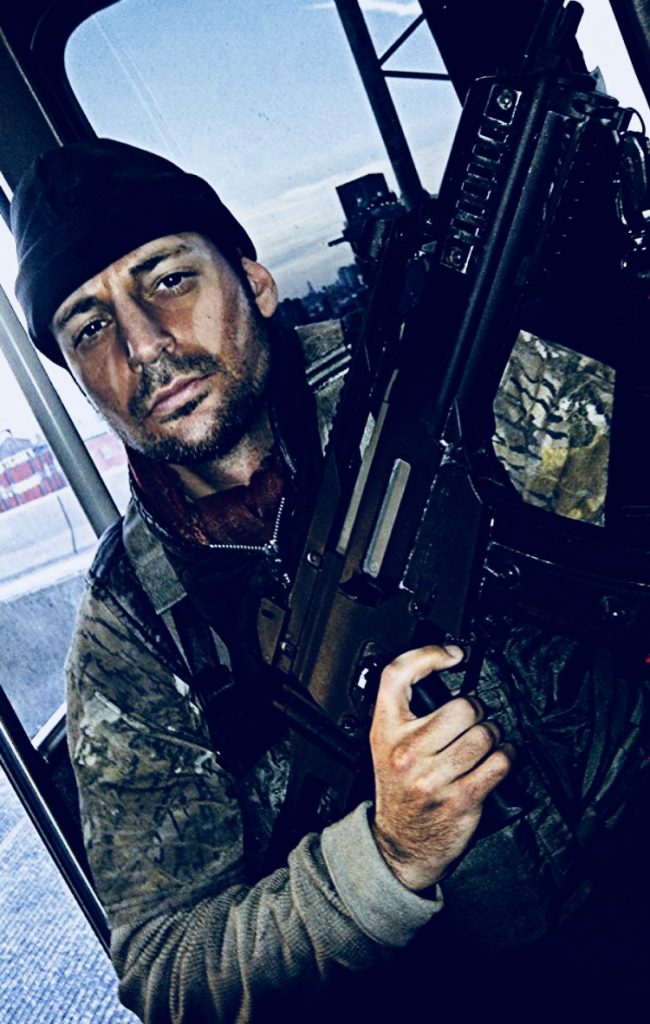 HELLTER: Wow. That's been a dream of mine forever to meet Stallone. I was a extra in Creed 1 and 2 but never got a chance to talk to him. Just shook his hand. To actually work with him and talk to him. I would literally cry. Stallone means so much to me and is such a inspiration. My parents love Stallone to and Rocky. That's why my name is Rocky because of him (laughs). How did you get involved with stunt work and how was it like working on The Dark Night Rises as one of Bane's Mercenaries?
DAVID: It was on the set of Outside Providence that broke me into stunt work. I saw that one of the lead actors didn't want to do a water stunt. I told the assistant director that I was athletic enough to pull it off and could double for the guy. They had me talk to the stunt coordinator. We went over all of it as it was very involved. I ended up being tossed into a frigid pond. We did about a dozen takes. It was a very cold November morning. Despite having a wet suit on under my wardrobe, the cold water hit me like a body punch. I learned a lot, and found out I not only was good at this stuff but really enjoyed it. I had a friend involved in The Dark Knight Rises. It's really tough to get into the fold on that level. I asked about stunt opportunities. I got a role as one of Bane's Mercenaries. We had to train for five days in NYC with a British SAS officer on weapons techniques and movement. I'm in quite a few scenes and double other actors during the huge fight showdown. It's truly incredible to see sets at that level.
.
.
.
HELLTER: To be in a Batman film. Wow. Who was your character in the horror film Army of the Damned and how was it like working with so many horror icons on that film including: Michael Berryman, Tony Todd, Nick Principe and pro wrestler Tommy Dreamer?
DAVID: I play an FBI agent Colton. I come in at the end of the chaos to asses the situation. He's a snarky character. The director of the film, Tom DeNucci had a cool, retro vision for the film that made it a ton of fun. It was great working alongside some the biggest names in horror. Tony Todd has a vibe about him that is really impressive. I've learned a lot working with Nick Principe as we have shared a bunch of screen time together. He's one of those actors who loves to give, and at the end of the day you realize that he was working to make everyone better on camera. Tommy Dreamer brought a lot to his role, which was his biggest at the time.
.
.
.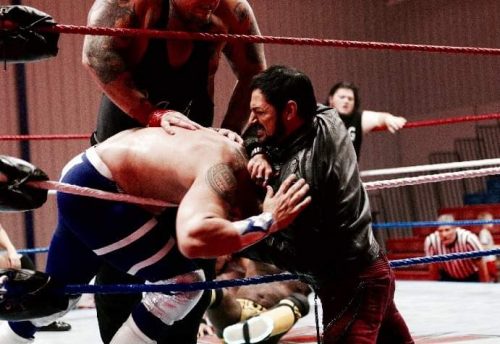 HELLTER: I would shit myself if Tony Todd was in a scene with me. I'm scared of him (laughs). Favorite moment or scene on set for Army of the Damned? 
DAVID: My favorite scene is when Tony Todd gears up his SWAT team, and gets ready to bust through the house to take on whatever crazy demonic presence is awaiting them!
.
.
.
HELLTER: Tell me how your wrestling training went to enter the world of Professional Wrestling and are you still active in Pro Wrestling?
DAVID: Tommy Dreamer broke me into the business as my character DG Haven debuted at House Of Hardcore 3 in 2014. The character is a villainous heel manager with an eerie and dark flare about him. I trained at the Pro Wrestling Academy under Josef Von Schmidt. The legendary Ox Baker worked extensively with me on my character around the time I had cast him in a horror anthology called Chilling Visions: The Five Senses Of Fear for the Chiller Channel. I learned a lot about heel psychology from Ox. He even wrote out some handwritten promos for me which I still have saved and hold dear to my heart since he passed. Matt Striker was also incredibly helpful during my start. There is certainly some parallels in performing in pro wrestling being an actor and a stuntman, but there is a lot to learn, and being a manager presents many unique aspects that have to be mastered. I am still active in pro wrestling, and am looking ahead to the next chapter for DG Haven. 
.
.
.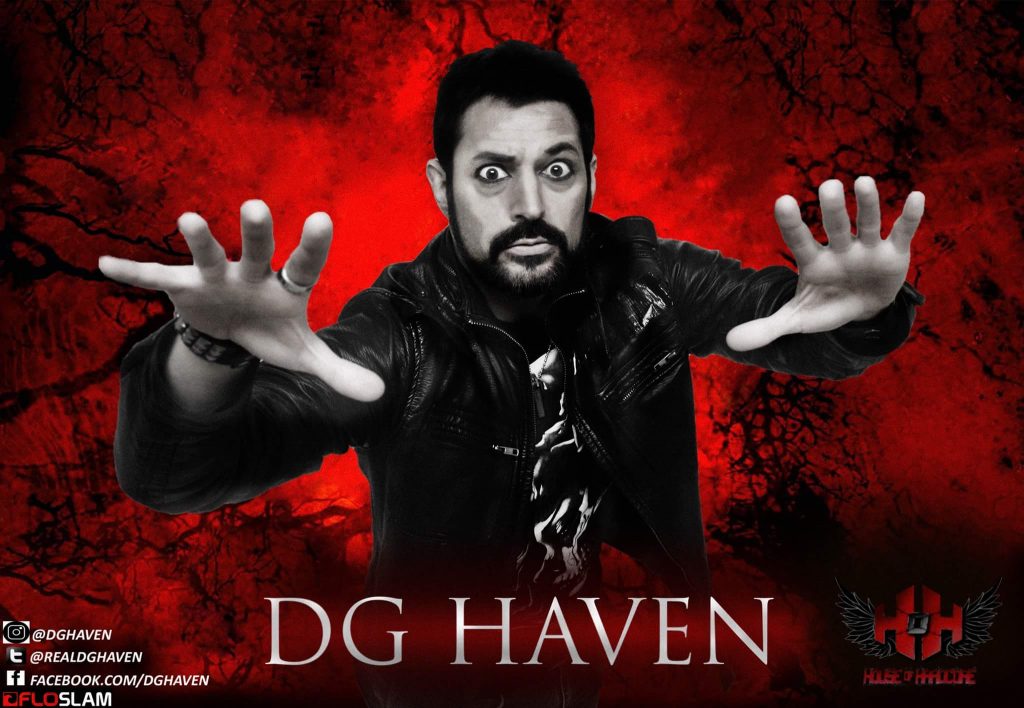 HELLTER: I would have loved to work with Ox Baker and picked his brain about ring psychology. What made you decide you wanted to start your own Production company and tell us about Shadow | Vale Productions?
DAVID: I have had a lot of success working as a partner in various production companies over the years, and it has been some time since I had my own company. My new partner is Chelsea Vale, she is LA based, and together we started the new venture in 2017. We currently have a unique horror film called The Find which is still shooting, Alien Warfare is in post production, and My Adventures With Santa from Universal premieres holiday season 2019. 
.
.
.
HELLTER: I'm looking forward to seeing The Find. We at Gruemonkey deal a lot with horror over other entertainment. You were in a large number of horror films before 2018 including: Infected, Remains, Self Storage, Grandpa's Psycho, Buddy Hutchins, and Black Wake. Can you tell us a little about each film and which one of them did you like the best? 
DAVID: Horror is hotter than ever, and I am proud that my roots are deep into the genre. Infected was a cool role that saw me as a father defending his family at the end reveal sequences of the film, and it was my first project of many with director Tom DeNucci. I played a rogue military bounty hunter type in Remains which aired on the SyFy Channel. DeNucci crafted an edgy project in Self Storage, where I played a suit type for an underground crime group who was working with Eric Roberts character. It was a trip working with Eric, he really molded himself into a dark role. It was fun to watch and learn at the time. In Grandpa's Psycho, I played a high pressure ladies man in a bar, hitting on the lead character, to find out she had something else in mind for me, which turned out to be a really wild scene! I fully enjoyed acting opposite comedian Jamie Kennedy in Buddy Hutchins, as he got dark and dirty in a very different role for him. Producer Richard Switzer had the idea to cast me in the role of Don Wolf, a guy who was messing up a marriage and causing a lot of trouble for Kennedy's Buddy character. Director Jared Cohn really wanted the tension to mount into a series of physical altercations between us, culminating in a crazy kitchen fight. We really went at it hard, and I did all my own stunts in the film, including getting slammed into a steel freezer at least a fifteen times, and then teeing off on Buddy on the ground. The wrestling training definitely came into play there for sure. I loved my role as Agent Johnson in Black Wake as a stone cold CIA Agent investigating all the supernatural occurrences we were uncovering. I guess the theme here is that it's important to be diverse as an actor, being able to adapt and to slip into different types of roles has been something I've been good at and enjoyed. 
.
.
.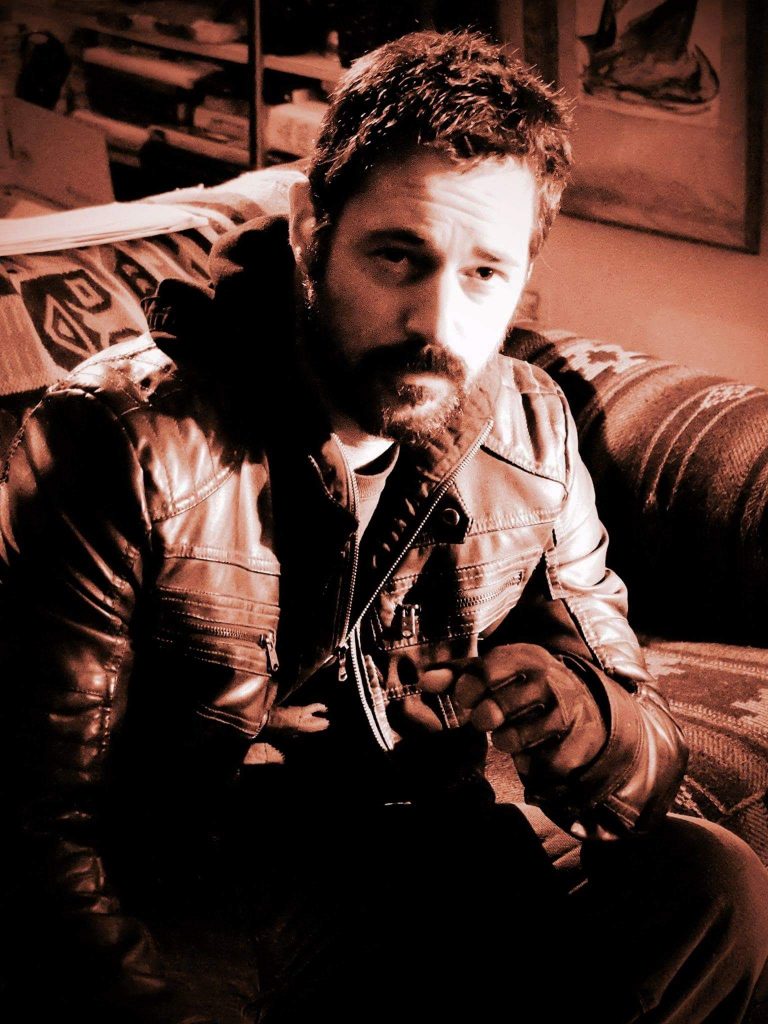 HELLTER: You are right. Horror is hotter then ever now. How was it like working with Ox Baker in Pinwheel and Kevin Nash in Blue Line?
DAVID: Ox Baker and I were very close. When we met at an autograph show, I was surprised to learn that he hadn't acted in years. We had a lunch meeting, and after watching Ox devour a giant bowl of stew and tell amazing stories about his time in the ring, and his cult like role in Escape From New York, I knew I had to get him in more films. Ox played a futuristic Sentator in Sensory Perception in scenes opposite John Savage, a very scary role in Chilling Visions: The Five Senses Of Fear and of course the role in Pinwheel. That almost didn't happen because Ox had been released from the hospital days prior to the shoot. Sadly, he was dying an went home to be at peace. I couldn't believe it when he called me, insisting on still doing the role. We adapted the shoot to allow for his character to be able to be in a chair. A group of us had to support Ox's still huge frame and walk him into the vintage fun house set which had some tight spaces. Despite his very weakened state, Ox belted out all his lines with extreme determination and commitment. I had tears running down my face by the time we got him back into his van. WWE legend Bob Backlund came by the set to see Ox. All of it meant the world to Ox. He told me he wouldn't want to be anywhere else but performing despite being so sick. He passed away exactly a week later. All of it really has stuck with me. In a bit of irony, before he died Ox gave me his only copy of a photograph he took with Sylvester Stallone when Sly came to visit backstage at a wrestling show in Texas, had to be the early '80s.
Kevin Nash and I have had a long history together. Kev has had a lot of memorable roles in A level films. His prior work had inspired me to reach out to him when I was casting Blue Line for Lionsgate. He was really great in the film, as the cunning villain boss, Cisco. Kev really is a master of the cool, smooth delivery that made him famous in and out of the wrestling ring. I was fortunate to work in a series of matches managing Sean Burke in a feud against Nash for Big Time Wrestling in 2017. DG Haven even got hit with the big Nash chokeslam – that is a long ride down brother, but I lived to talk about it! Kevin and I are developing a project together with him in the lead that we are both excited about. 
.
.
.
HELLTER: So cool that you were friends with Ox and now friends with Nash. Hey, since you got chokeslammed by Nash, maybe in this project, he can powerbomb you (laughs). You act and produce and you are even the casting director in horror film The Find. Can you tell us about your character and the film? 
DAVID: The Find was a project my partner Chelsea Vale packaged that has a lot of exciting elements. I play Mr. Greene, a super eccentric groundskeeper for a privileged family. I was happy to help cast this one as we have some outstanding up and coming talent including Ring Of Honor Wrestling stars Vinny Marseglia and Travis "Flip" Gordon in the cast. Chelsea is the female lead, and does such a great job during terrifying scenes as she has a long history in horror roles.
.
.
.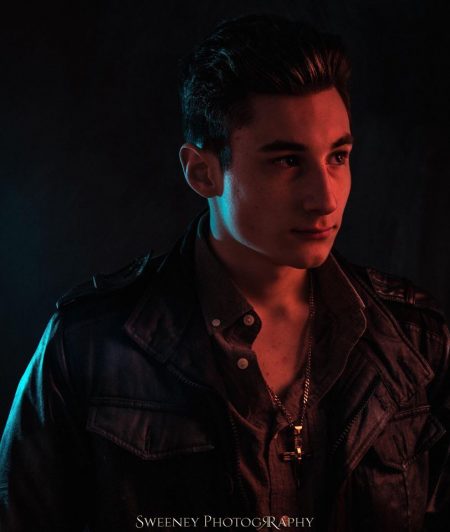 HELLTER: I love Ring of Honor. We just interviewed a actor who plays Perry in The Find, Joey Ambrosini. He calls you his mentor. How did you discover Joey and become his mentor and friend? 
DAVID: Joey is a sharp and impressive young talent. We were introduced by Mike "Fog Man" Avitable, a pro wrestling talk show host who mentioned that Joey wanted to get into acting. He had been helping out on some local wrestling shows at the time. Once we talked, I realized that Joey was really driven to become an actor. He has a great look and a positive attitude. Joey has had some small cameos in films I have produced like Vault, and has a cool role coming up in The Find.
.
.
.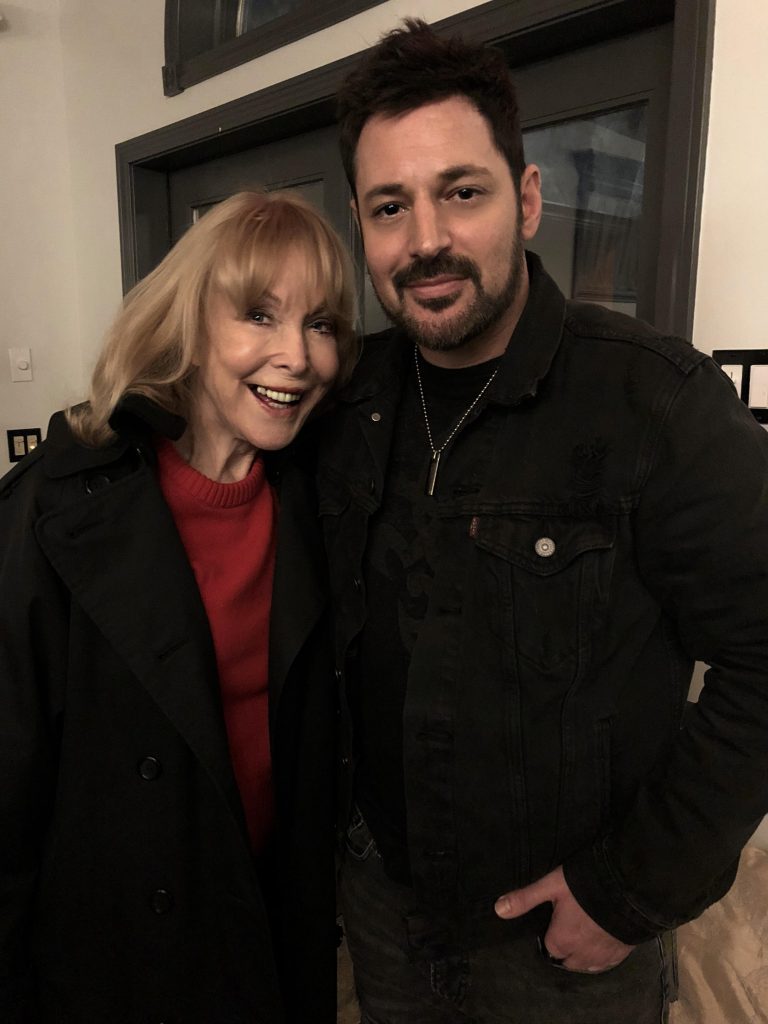 HELLTER: Joey is an amazing guy. Can't wait to see his role in The Find. How was it like working with ICON and I Dream of Jeannie star Barbara Eden in your recent holiday film?
DAVID: I was so happy when Barbara accepted the role of Mrs. Claus in My Adventures With Santa, a Christmas movie I recently produced for Universal. Barbara is on the short list of the most famous TV actresses of all time, and she was really excited about the role. When she arrived at the hotel, I went up to her suite to welcome her, and I instantly felt a special energy from Barbara. She is incredibly warm and gracious. We went to dinner to discuss the shoot, as there were a lot of details that the team had to get right to turn her into Mrs. Claus. She was super open and shared some wonderful stories from her career working alongside Larry Hagman, Paul Newman and many other iconic actors. She really loves to talk about her years in theater, almost more than Jeanie, but when we were leaving the restaurant, the waitress politely asked for a photo raving about her most iconic role, and the classic twinkle and smile came right out! Barbara was amazing as Mrs. Claus, and delivered a memorable performance. She really took a lot of time with the younger actresses to chat about the industry and how it's all changed for the better. The coolest moment from the shoot was when we announced "that's a picture wrap on Barbara Eden," she paused, realized all eyes and set cameras were on her, then she performed her famous Jeanie blink for us, complete with the arm routine! Everyone on the cast and crew went wild with a huge ovation for her. I can't say enough about working with Barbara Eden – a truly wonderful memory. 
.
.
.

HELLTER:  I would love to meet Barbara Eden or interview her. A true ICON. My mom loves her. Anything else you want to discuss or promote? Any new films?
DAVID: I have several films in post production including Vault and My Adventures With Santa. The Find is still shooting, and we are closing out a very powerful documentary with my partner Douglas Cartelli called Credible, about pro wrestler Justin Credible's attempts at recovery from years of addiction. The trailer for the documentary just won best new trailer at the 2018 Avalonia Film Festival. Alien Warfare comes out this winter on Netflix. I'm in development on an large scale action film and several important projects for 2019, including the cop thriller Avery's Sin, with two guys who I have collaborated with prior – screenwriter Eric Weinstock and director Jacob Cooney. A drama called It Happened On Tuesday is in the pipeline, and is set to be one of the biggest films I've produced with my partner Charles Lago of DTLA Entertainment. Additionally, on the horizon in 2019 is the launch of my new tech company. I'm also an accomplished abstract painter, and will be having an upcoming interactive art and multi media show by the close of the year.
.
.
.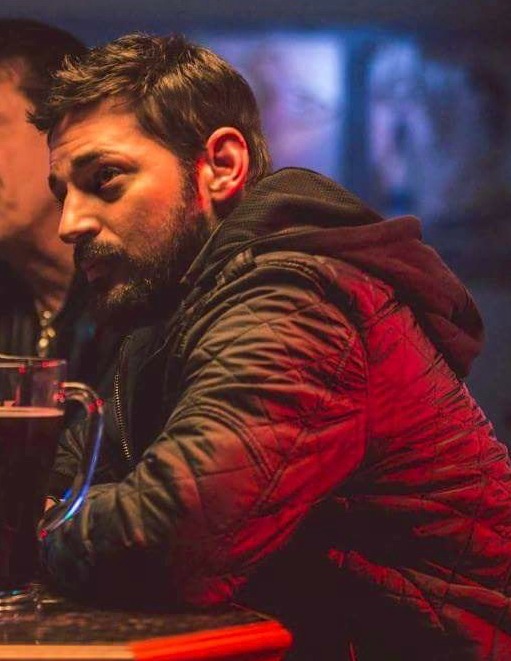 HELLTER: Thank you for joining us today on Gruemonkey and good luck with everything. 
DAVID: Thanks for the opportunity to chat – I appreciate it very much!
.
.
---
.
.
---