---
The Clovehitch Killer coming to Blu Ray from Shout Factory!!
---
A shocking revelation turns a teenage boy's world upside-down in this chilling look at the evil that can lurk below even the most wholesome surface in the chilling thriller The Clovehitch Killer. Coming to Blu-Ray on March 5th, 2019 from Scream Factory, in conjunction with IFC Midnight. Fans can pre-order their copies now by visiting ShoutFactory.com.
.
.
Tyler Burnside (Charlie Plummer, All The Money In The World) is a Boy Scout, a volunteer at his local church, and the dutiful son of an upstanding, community leader dad (Dylan McDermott, American Horror Story). Only one thing troubles the quiet Kentucky town he lives in: the unsolved murders — in which ten women were brutally tortured and killed by a psychopath known as Clovehitch — that rocked the community more than a decade ago. When Tyler discovers a cache of disturbing images in his father's possession, he begins to suspect that the man he trusts most in the world may be Clovehitch … and that his deadly rampage may not be over. With unrelenting tension, director Duncan Skiles crafts a picture-perfect vision of the American family … and then rips it to shreds.
.
.
The Clovehitch Killer Bonus Features
•Making-Of Featurette
•Theatrical Trailer
.
.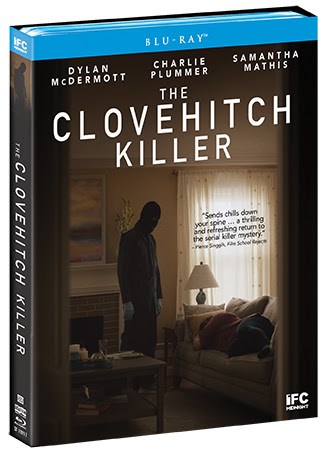 ---