Hellter interviews Yan Birch (Terror Tales, The People Under The Stairs)!!
---
Hellter interviews Yan Birch (Terror Tales, The People Under The Stairs)!!
---
Hey Grue-Lings,
  I am very happy to bring to you all today a interview that I did with a huge name in the horror world. His name is Yan Birch. He is starring in the newest horror film that he is in called Terror Tales that features a lot of other horror legends as well.  He plays Satan in the film. Terror Tales is a modern day Creepshow. Very good film, I highly recommend it. Yan is known for his amazing breakout role as Stairmaster from The People Under The Stairs. He was also known as The Weirdo in Slumber Party Massacre 3. Other horror credits that he has been involved in are: Warlock Kane in Charmed, Good Samaritan in Bless The Child, and Doctor Phibes in Death House. He also has some horror films in pre and post production including: Waking Nightmare, Sky Sharks, Agramon's Gate, Don't Let Them In, and Dawn of 5 Evils. Here is my interview with Yan Birch:
.
.
---
.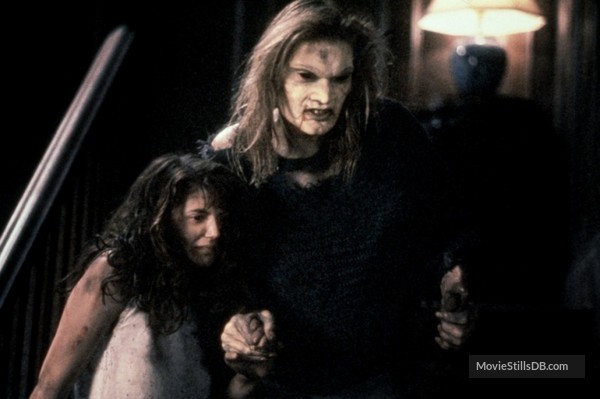 .
HELLTER: The People Under The Stairs is an amazing horror film that still has such a huge following. Tell us about how you got the role as The Stairmaster and did you think it would still be going strong all these years later?
YAN: I went to an audition for Eileen Knight. At the Audition I had to play the role of Roach because Wes hadn't developed the Stairmaster yet. Then I got a callback to go and see Wes, which was amazing. Still doing the character of Roach; a couple of days later I got the call that I booked the role… I had no idea what would happen and that its was going to be such a huge film. It was a rare film because it was both a Number 1 Box Office hit, and also became a cult movie, very rarely does a movie get to be both…I am very Grateful for all the things that this film has brought me over the last 27 years!!!
Thank you Wes…
.
.
.
HELLTER: You are amazing as The Stairmaster. Very creepy. Tell us about your character in Death House and how you became involved with the film?

YAN: I play one of the Doctors that do all the experiments on the Prisoners. This first film does not show the Doctors too much, but I am attached to the Prequel: "Dawn of 5 Evils" which will feature the Doctors a lot more. I know Felissa Rose really well and I had also met Director Harrison Smith before. Most of my "horror" friends were involved in the film and Felissa contacting me to make sure "The Stairmaster" was part of it as well… It was great fun!!!
.
.
.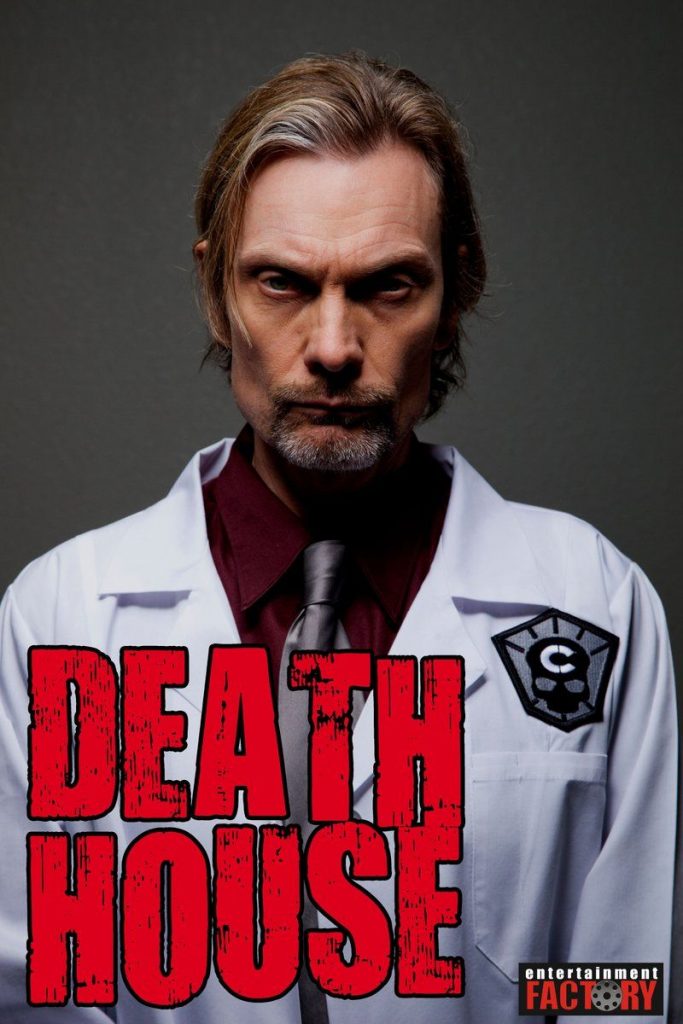 .
HELLTER: That's so awesome!! Felissa is a really amazing person. She rocks!! A lot of horror icons including yourself all came together for Death House, what was your favorite moment on set filming Death House and why? 
YAN: My favourite time on the Set of Death House was actually hanging out in between scenes with all the other Actors. Almost all of us had known each other for many years before and its always great when we get to work together on the same Project.
.
.
.
HELLTER: I'm sure it's always good to see your friends on set. You all have been doing horror many years and all are legends in this genre. Slumber Party Massacare 3 you play The Weirdo. How was it to work in the Slumber Party franchise and playing The Weirdo?
YAN: This was my first American Feature film and it was with legend Roger Corman so I was having so much fun enjoying every moment and feeling very lucky. I did sleep on a bus bench in Venice for a night or two to prepare for the role…
.
.
.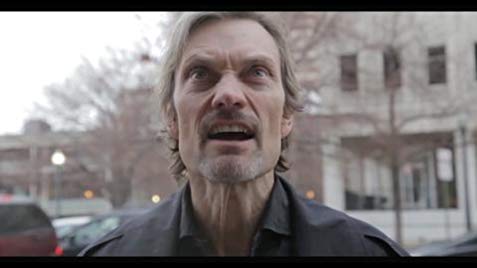 .
HELLTER: Oh wow. That is dedication to a role. Let's talk Terror Tales. Terror Tales is being compared to a new Creepshow. How would you describe Terror Tales to the audience?
YAN: Terror Tales is this great Anthology film with 3 different tales. Its shot like the 70's-80's horror films and Director Jimmy Lee Combs really succeeded in giving it the feel of the past. Great Directing, Great Acting by a lot of Horror veterans, and Great effects. You wont be disappointed!!!
.
.
.
HELLTER: Sweet!! That should make fans wanna see it. What character are you and what segment in the Terror Tales horror anthology film?
YAN: I play Satan himself in the last tale called Epidemic. I play him both in human form and in the form of Satan after a great make up transition…
.
.
.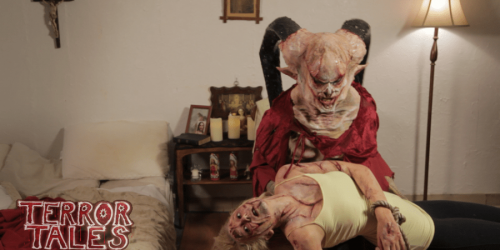 .
HELLTER: That's wild! What's your favorite scene from Terror Tales?
YAN: I believe my favourite scene is when I walk up the stairs to the Church, in human form, and letting the Pastor, (Tom Fears), know that there is nothing he can do to stop me…(laughs)…
.
.
.
HELLTER: (Laughs). Wow. Favorite Kill from Terror Tales?
YAN: Must be when I cracked the back of the daughter, this time I am in full Satan make up…and I am laughing while doing it…(laughs)… crazy ah? Don't worry, I am really a nice guy… (laughs).
.
.
.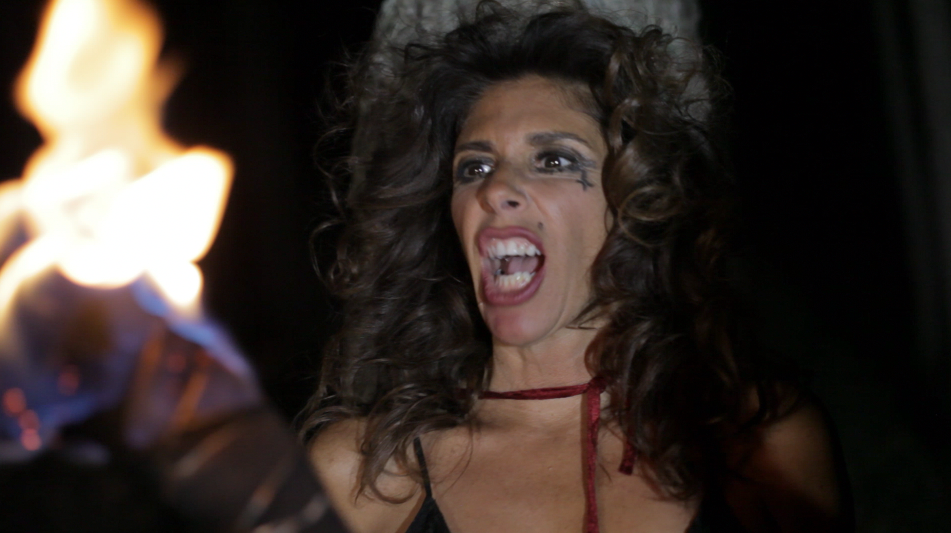 .
HELLTER: (laughs). Damn, that is crazy. (Laughs). Felissa Rose and Helen Udy have both worked with my site Gruemonkey. How was it like working with both of them for Terror Tales? 
YAN: I did not do too much interaction with them in this film, but its always a pleasure to work with these great ladies…
.
.
.
HELLTER: Any cool behind the scenes stories that happened on set for Terror Tales?
YAN: Well, this was the first time that I had a "horn wrangler". The horns in the Satan character were so heavy that I had my own personal "horn wrangler" that walked behind me holding up the horns while shooting… that was a first…
.
.
.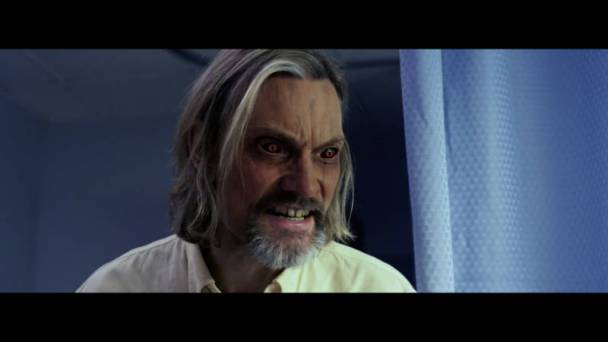 .
HELLTER: (Laughs). A Horn Wrangler? Interesting and cool. What can you tell us about Agramon's Gate and your character in it?
YAN: Agramon's gate is another great film by Director Harley Wallen that I am looking very forward to seeing… My co-star from Terror tales, Laurene Landon is in this one as well and we had a lot of fun on set. I play a demon that possesses people after it comes through Agramon's gate. My characters in Terror tales and Agramon's Gate have some similarities and they were both a lot of fun to play. This was my 2nd film with Harley Wallen and it gets better every time…
.
.
.
HELLTER: Your character's in both films do sound very similar. What were some of your favorite moments filming for Agramon's Gate?
YAN: Well we have a great scene with me and Laurene in the hospital that was awesome.
.
.
.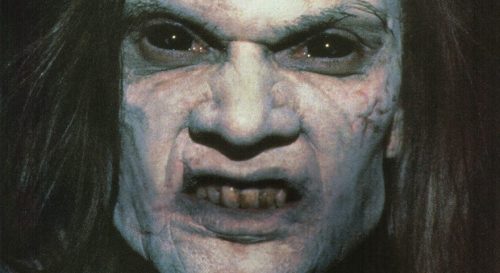 .
HELLTER: Anything else you want to talk about, any future films coming out?
YAN: I have been very fortunate the last few years and besides Terror tales and Agramon's Gate I have several more films coming out. One to mention that I really looking forward to seeing is Sky Sharks. A German film with a lot of other Horror stars. Its like "Walking Dead" meets "Sharknado"; with Nazi Zombies on Flying Sharks… Cant beat that. Lol… I am also looking forward to the release of Abeyance, my last film with Harley Walllen, Killer Rose, another film I made with Felissa Rose and the film Waking Nightmare a film by Directors Brian Farmer and Steve Craig I made with Diane Franklin.
.
.
---
.
.
.
.
.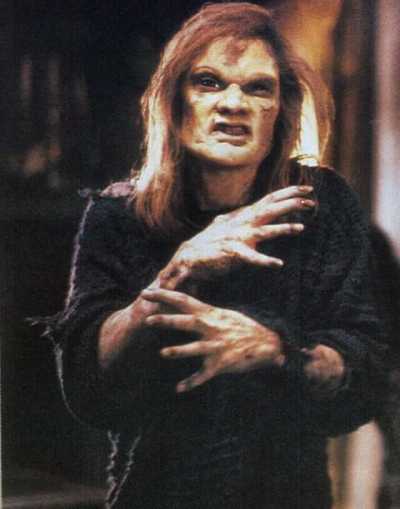 ---