---
Andrew E reviews LILITH
---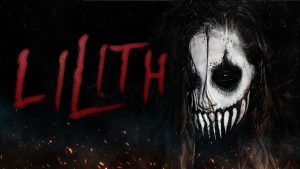 A horror anthology follows the Demon Lilith who punishes men for their indiscretions against women. Available on Amazon and other streaming sites now for rental & purchase. 
"Lilith" Stars: Felissa Rose (Sleepaway Camp, Deathouse), Vernon Wells (Mad Max 2, Commando), Thomas Haley (Fear of Walking Dead), Devanny Pinn (Escape from Ensenada, Party Bus from Hell), Hunter Johnson (From Jennifer, Irrational Fear), Charles Chudbala (Irrational Fear, Ugly Sweater Party), Jennifer Nagle (Mavolia, Ugly Sweater Party), Michael Wainwright (Deathhouse, Lake of Shadow) and more.
Directed by: Alexander T. Hwang
Writing Credits:
Richard J. Aguirre, Alexander T. Hwang, Paul McFall, Anthony Werley
The movie starts with a gruesome chase with a man called Brian (Anthony Werley), a creature is following him, a creature not from this earth. Brain calls for help from a Detective Carson but before help can arrive the creature is revealed to be a woman (Felissa Rose) who knows Brain "it's been a long time" before ripping his arms from his body just before Detective Carson can enter the room shooting this unknown demonic woman. This was a great place to start the movie as it establishes some of the best actors and their performances, Felissa Rose adds a layer of sexy and terrifying rolled into one.
Lilith then establishes itself as a number of different short stories with different women embodying the evil spirit of Lilith.  All link with various elements of Felissa Roses Lilith and Detective Carson.
Firstly we are introduced to two girls; Brooke (Brialynn Massie) and April (Lara Jean) along with two guys; Tom (Charles Chudabala) and Colin (Hunter Johnson). Colin wants to make to the finish line with Brooke but Brooke isn't interested due to her sleeping with her teacher James. When Brooke realizes she is pregnant from her affair she confronts her teacher James (Michael Jon Murphy) and he freaks out revealing his intention was never to leave his wife for her (and is acted very well as a total dick).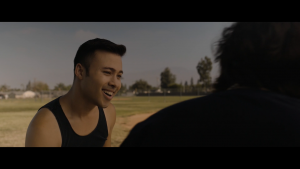 Brooke is unable to cope with the shame and fear of becoming a mother, and rather than seek help and support she takes her own life by hanging herself in her front garden. Brookes dad Detective Carson (Thomas Haley) delivers an emotional farewell to his daughter upon discovering her body.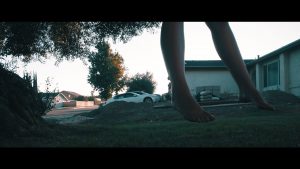 April, Tom, and Colin hatch a plan to get revenge for Brooke by blackmailing James for his affair with his pupil. Unlucky for them James has a gun and isn't afraid to shoot. Brookes spirit returns and punishes those in rather gruesome and gnarly ways revealing she is being looked after by "Lilith". This story worked really well. Charles Chudabala who has become a scream king in his own right plays a brilliant jock and the other actors compliment him very well. Thomas Haley is the one who owns the screen at the end of this short.
The unknown woman (Felissa Rose) from the opener of the film who is revealed to be Lilith the original sinner, not someone possessed by her spirit the actual Lilith. Detective Carson and Father Abrantest (Michael Wainwright) have Lilith tied to a chair. Ready to banish the spirit. Felissa Rose comes to life in these scenes, she plays evil well and keeps you waiting for what she will do next.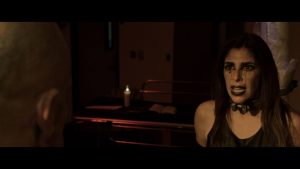 All of the stories are woven in between shots of Detective Carson investigating the grizzly murders of each story and Detective Carson having kidnapped the physical embodiment of Lilith.
Next up…
We are introduced to an elderly man called Phillip (Vernon Wells) who is ill of health and a woman called Lilith (Jennifer Nangle) enters to be Phillips carer. Phillip thinks Lilith is Joanne his former wife who is deceased or at least a woman who looks identical. It isn't long until we show that Lilith is the manager of hell and is there to take Philip to hell. But not without Philip making a devilish deal.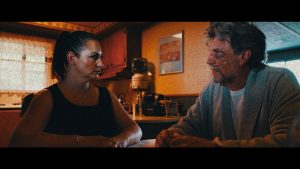 The penultimate story is about a couple who are clearly on rocky grounds in their relationship. There is mention of past infidelity. When Darren (Colton Wheeler) is caught masturbating his girlfriend (Emily Coupe) is less than amused. When she leaves for a religious retreat Darren is chatting with his buddies who let him know they know a girl that will do "anything" and that he should give her a call. Not being able to pass up the opportunity he invites another embodiment of Lilith (Noël VanBrocklin) in. Colton was brilliantly cast in his role. Colton delivers a likable guy who happens to be a cheating jerk. Not to spoil anything but Colton is also partially clothed and that is worth tuning in for alone, trust me!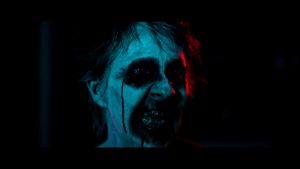 The final story is…
Frank (Frank Tryon) who stops to help a damsel in distress who's car has broken down. We are then allowed to see that Frank is actually a serial killer who picks up strangers and murders them. Just as he is about the commit another murder the doorbell rings…enter another Lilith (Devanny Pinn). Devanny is by far the most powerful female portraying Lilith only beaten by Felissa. Devanny plays her role with real conviction and enjoyment it is a sick turn of events where the audience is rooting for the bad guy to succeed, and that is all down to Devanny's performance.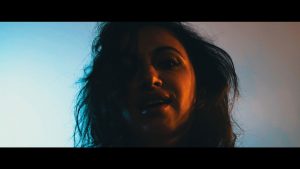 What do I like about Lilith?
I really enjoyed Lilith, I am not normally I lover of anthology movies as I never feel you get enough of the characters stories. However, with Lilith, you get a real sense of power from the smaller stories woven into the bigger picture. I felt Felissa Rose did a brilliant job and hold the stories together and her performance was terrifying, sexy and powerful.  Lilith was a lower budget film but was brilliantly shot with some really well thought out frames. The acting is brilliant there was nothing in any of the stories I could fault in the movie, there was some really great performance.
Performances that stood out:
Felissa Rose

Devanny Pinn

Charles Chudabala

Colton Wheeler

Thomas Haley.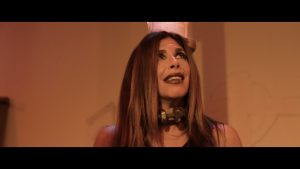 This isn't to say there were bad actors, there really wasn't. If you're looking for an exciting and different anthology movie you should check out Lilith as it's well crafted and clearly a labor of love –  and that's clear to see when you take in the film. My favorite shot of the movie was the ending shot of Felissa standing smoking taking in the events and slowly, calmly walking off into the night to bring more terror.
What I didn't like about Lilith?
I cannot really fault the film, I would have liked to see a little bit more Felissa Rose in her Lilith state, but that may have distracted from the other incarnations of Lilith. What is not to like, you have blood, guts (literally), gore and a beautifully talented cast holding the film. Sex, Sin, and revenge…makes for me a happy pick-me-up after an indulgent Christmas. The movie is available to buy/rent now check it out.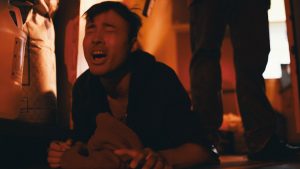 GRUEMONKEY RATING: 4.5/5
TRAILER:
---