Andrew E interviews Adam Marcus (Secret Santa, Jason Goes to Hell)
---
Andrew E interviews Adam Marcus (Secret Santa, Jason Goes to Hell)
---
Gruemonkey's Andrew E sat down with filmmaker Adam Marcus to discuss his latest slashtastic festive horror Secret Santa. Adam Marcus is an American film director, writer, and actor. In 1993, Marcus wrote the story for and directed the ninth film in the Friday the 13th series, Jason Goes to Hell: The Final Friday for New Line. He was 23 at the time and the youngest director ever hired by the studio. The three million dollar feature went on to gross over eighteen million domestically and became one of New Line Video's largest releases ever. In 2013 Marcus co-wrote the reboot of The Texas Chainsaw Massacre series, Texas Chainsaw 3D with partner Sullivan and Stephen Susco, which was the first number-one box office film in North America of the year. He co-wrote with Sullivan the feature film Cabin Fever: Outbreak and is directing and co-writing The Plantation, an adaptation of Val Lewton's RKO classic I Walked with a Zombie.
Adam's script for Momentum (aka Gravity), co-written by Sullivan, is in production in South Africa. The film is directed by Stephen S. Campanelli and stars Olga Kurylenko and James Purefoy. This is but a few things this incredibly talented man has done – check out the rest on his IMDb page.
Let's talk Secret Santa…
ANDREW E:  So for those who haven't seen Secret Santa – can you give us a synopsis of the film?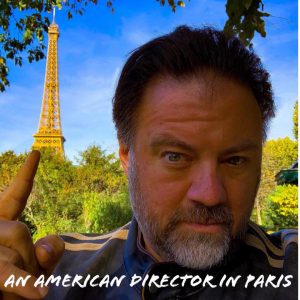 ADAM MARCUS: Sure.  The company line is…  When recovering alcoholic, April tries to turn her controlling mother's annual Christmas dinner party into something positive for a change, she gets more than she bargained for when she discovers someone has opened Pandora's box with a surprise holiday gift that unleashes the monsters we all keep hidden inside.  As the bodies pile up, she will have to try and save those she can and survive those she can't.
My personal take is that Secret Santa is the movie that finally lets the audience live out there darkest fantasies about what they'd like to do to all those family members that rub you the wrong way sitting around the dinner table.  
ANDREW E: Where did the inspiration come from? What was your process? (One is hoping this is not a similar childhood experience)
ADAM MARCUS: There are definitely personal stories in the movie.  No doubt.  But the inspiration came first, from my producing partner, Bryan Sexton, who wanted to make a horror film in one location with a small cast in as quick a shooting schedule as I could come up with.  Then my love of horror and my love of Christmas took over.  I've always wanted to do a holiday horror story but I had no interest in a killer Santa movie.  When we shot the film, Christmas Horror was by no means the rage.  In fact, on our second day of shooting, Krampus became the number one movie at the box office.  We knew right then we had made the right decision to make the film we were making.  
My parents were married on Christmas Eve and so it became this larger tradition.  But when my parents divorced it was like this weird celebration of their break-up and that was what has always made the holidays a very bittersweet affair.  So Debra Sullivan, my amazing writing partner and wife, and I started digging into those dark psychological scars and 21 days later we had a shooting draft.  No kidding.  21 days.  The second fastest script we've ever written.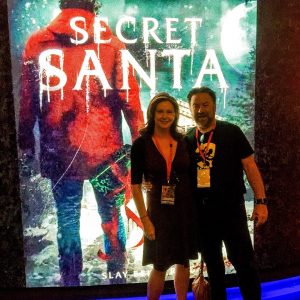 ANDREW E: What were your favorite memories from shooting the film?
ADAM MARCUS: I got to shoot this film with MY TEAM.  That's what Skeleton Crew is all about.  That's what Bryan, Debra and I had in mind when we created the company.  Consequently, I got to make the film exclusively with people I love.  Every second was the best moment I've ever had on a set.  But I will say, my two personal favourite moments were when after we had finished night 6 of the film and we were all heading to bed as the sun came up, Bob Kurtzman, the genius make-up legend and one of my closest friends for the last 25 years, came up to me and said to me, "Thank you".  I was shocked and I responded, "No, dude, thank you".  He then went on to say that the reason he was thanking me was that he felt that the work we were doing was making him remember why he loved making movies, "It's the best experience I've had in the last ten years".  Then he hugged me.  Coolest moment I've ever had on set.  
The second moment was Bob (who also shot B-Camera on the film) and I were right next to each other when on the eighth night of shooting we were doing this scene where three family members confront one person who has done a really bad thing and the scene is about 7 pages of dialogue.  It's all very intense emotionally and the actors were all in tears.  We shot the scene in complete runs so the actors could really dive into the emotions of the text.  It was simply amazing.  Bob turned to me after one particularly amazing take and whispered, "Man, you don't see stuff like this in horror movies".  Yeah, that's my proudest moment.
ANDREW E: Was there any pranksters on the set?
ADAM MARCUS: The whole cast was ridiculous.  Everyone in the group is hilarious and they all have natural comic timing.  It's why they were cast.  I will say that there was one evening, when we were shooting the 18-page dinner / secret Santa sequence when between takes we would all play the "Take a normal film title and turn it into a porn title" game.  that was fun.  Some personal favorites, "Schindler's Fist" and "Pile-Driving Miss Daisy".  Shameless and hilariously wrong.  Just like our movie.
ANDREW E: You had an incredible cast, who were your stand outperformers?
ADAM MARCUS: The cast is uniformly brilliant.  That's not blowing smoke, either.  The cast was chosen before we wrote one word.  The parts were written for the actors that played them.  Each member of the cast gets to shine.   I will say, however, my wife Debra, is freaking amazing in every moment that she's on screen.  But if you get me started I'm going to say it about every person in the film.  No hyperbole.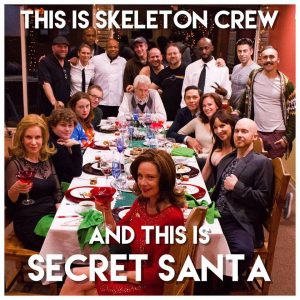 ANDREW E: Aside from Secret Santa,  do you have any other festive horror favorites?
ADAM MARCUS: I love Black Christmas.  Simply love it.  I'm a huge Bob Clark fan and I think that movie is brilliant and quite frankly is more responsible for the slasher genre than all the heavy hitters that came after it.
ANDREW E: Were there any major challenges you faced whilst shooting?
ADAM MARCUS: I shot the film in 11 nights and 1 day.  On the two days of set prep I had, Big Bear had the biggest blizzard they had seen in a decade and we lost all power.  We had to assemble the set by the light of our iPhones.  My cast and crew were half a day late getting up the hill because of the snow and we ended up snowed in for the first three days of the shoot.  And I kid you not, it was the smoothest, best set I've ever been on.  We were caught up by day three and ahead by day four and we finished the film 3 hours ahead of schedule!  
ANDREW E: What are your next projects?
ADAM MARCUS: Skeleton Crew has some truly incredible things on the horizon.  "7 x 7" is an anthology film we're doing with some truly gifted directors and writers. "Fat Camp Massacre" is a film that will be for people of size what "Get Out" was for the African-American community.  And "Hell's Bells" is the next thing I'm writing and directing.  It's a project inspired by my relationship with Steven Williams (the genius who played Creighton Duke) while making Jason Goes To Hell: The Final Friday.  I've wanted to work with Steven since then and this is a way to take what we created back then and take it to the next level!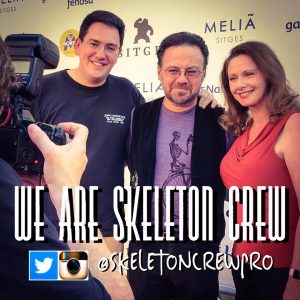 ANDREW E: If you were to describe Secret Santa in 10 words what would they be?
ADAM MARCUS: Horromedy.  Insane.  Politically Incorrect.  Unique.  Honest.  Well-Acted.  Bloody.  FUN!
ANDREW E:  Where can people check out the film?
ADAM MARCUS: Well, Secret Santa has been to 19 Film Festivals around the planet where it played some of the most beautiful movie theaters I've ever been in.   But now it's finally landed on BluRay and DVD.  You can get a copy at Amazon…
https://www.amazon.com/Secret-Santa-Michael-Leslie-Sullivan/dp/B07L7G1NJS/
And if someone wants an even more intimate experience, you can get signed copies, signed posters and limited edition items at…
SectretSantaTheMovie.com/merch
In closing, I guess I would just like to say, I hope everyone has a beautiful holiday season and finds the time to make the world a better place with love, compassion, and care for one another!
Merry F@#king Christmas…  Everyone!
ANDREW E:  Ha-ha brilliant, thanks for chatting to GRUEMONKEY! Merry Christmas.
ADAM MARCUS: Thank you so much! Appreciate it, and thanks for supporting our film!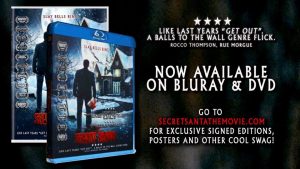 ---