---
The Find Teaser Trailer!!
---
Here is the official teaser trailer for the new horror film, 'THE FIND' from Shadow | Vale Productions. Starring: Chelsea Vale, Vinny Marseglia, Travis "Flip" Gordon, Blaise Serra, Brittany Toczko, Kara Curnane Joseph, Joey Ambrosini, and Chris Whitcomb.
Pro Wrestling's Ring Of Honor star, "The Horror King" Vinny Marseglia plays 'Damon' stalker character. 
Written by Eric Weinstock (Blood Circus, A Dangerous Date). Directed by Daniel C. Dahlstrom (Pinwheel). Produced by Chelsea Vale (Mostly Ghostly, Blood Circus) who also plays Adrianna in the film. Also produced by David Gere (Almost Mercy, Black Wake, Blood Circus). Executive Producers are:  Douglas Cartelli, Leo Kharin, David Brooks, Neal Freedman, Min Kim, Laurence Tamkin, and Thomas O'Rourke. Screenwriter is Eric Weinstock.
.
.
a group of college kids as they spend a night partying at an old, eerie manor, only to realize that a terrifying stalker is watching their every move as he begins plans to repossess an ancient Native American artifact located inside.
.
.
Chelsea Vale says: "There are many original elements to the story that play out intensely. Adrianna is a strong female character, that not only finds herself uncovering supernatural elements around her, but also begins to recognize how her own story plays into the psychology of the masked stalker. Production was challenging on both sides of the camera, as the aim was to have hyper realistic aspects that are scary, but feel like they could absolutely happen."
Director Daniel C. Dahlstrom, "Everything in this film is interconnected. The result is evil and methodical pacing by 'Damon', that certainly creates a specific darkness and an allure about his character."
.
Actor/Wrestler Vinny Marseglia says: was a dream come true for me. I grew up on horror films, and in pro wrestling I've become known as 'The Horror King', so it made a lot of sense early on to cultivate the character's identity through that window. Although being in a movie was very new to me, I felt like performing as the character was not. His mannerisms are very similar to what I do in the ring. I feel that I was able to bring a raw physicality that defines 'Damon'."
..
.
.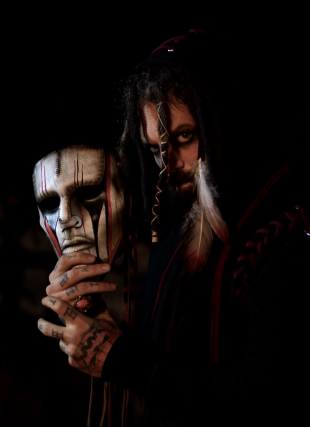 ---