---
Andrew E reviews – UGLY SWEATER PARTY!
---
UGLY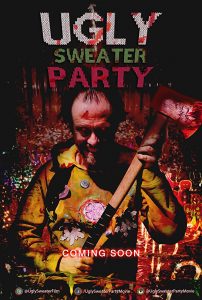 SWEATER PARTY
Los Angeles, CA –

Ocular Migraine Productions

has announced an early stocking stuffer with the Digital HD debut of writer/director Aaron Mento's Ugly Sweater Party.  The Christmas massacre comedy will be available exclusively on

Amazon Instant Video

starting

November 23rd

, just in time for the snow to cover up the bodies.
Cast:
Ugly Sweater Party features a cast of veteran horror ghouls, including Charles Chudabala (Death House), Sean Whalen (The People Under the Stairs), Felissa Rose (Sleepaway Camp), Brad Potts (Puppet Master X, Zombies vs. Strippers), Lara Jean Mummert (Anomaly) and Tiffani Fest (Circus of the Dead).  The body count is rounded out by an ensemble including

Marv Blauvelt, Emily Dahm, Berna Roberts, Matt Holbrook, Jody Barton and Kevin Caliber

as unsuspecting misfit campers.  The film was produced by Mento (Standards of Living, Crypt TV's "Choose Their Kill"), Chudabala, and Hunter Johnson (2 Jennifer).
The film begins with a gruesome (but funny) torture scene where local police officers are torturing a convicted murderer Declan Rains (played by Sean Whalen). Declan murdered 4 families on Christmas including children.
The police are taking matters into their own hands and when beating Declan to death with a baseball bat realize there may be a supernatural element to Declan linked to the devil. After the officers kill Declan, an alien-like spawn that comes from his body which the officers blast to pieces their guns but terrifyingly left behind is a message; "Merry Fuckin Christmas" splattered in blood on the wall.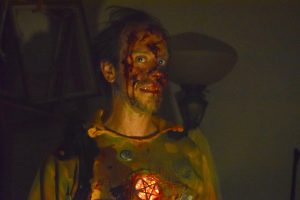 Fast forward 10 years –
Two friends Cliff (Charles Chudabala) Cand Jody (Hunter Johnson) are trying the get laid and want to join their twin girlfriends at an ugly sweater party. Little do they know this is a religious UGLY SWEATER PARTY run by the girl's parents. Also unknown to Cliff and Jody -Samantha and Susan have agreed to live a life of celibacy and be baptized born-again virgins. On route, they realize they will need an UGLY SWEATER and stop a homeless man to buy his. One of the boys appears to be possessed by the spirit of Declan and beats the homeless man to near death and steals his jumper – Declan's jumper! The jumper he was wearing when he died!!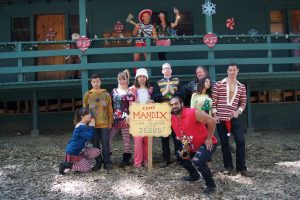 Arriving at the UGLY SWEATER PARTY Cliff and Jody realize this is a religious cult, but things go from bad to worse when the Cliff begins to recount the murders of his jumpers previous owner and begins to have more and more evil thoughts!
The "Christ camp" is run by Mr and Mrs.Mandix (Yes pronounced MAN DICK) the mother and father of Samantha and Susan. It isn't long before some of the most disturbing death sequences begin to fill the screen blood soaking this Christ-loving community. So much blood including; drinking blood from a certain detached body part (watch it).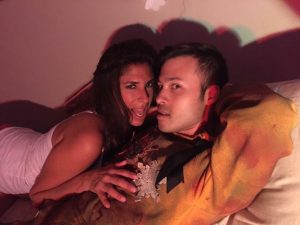 Time begins to play havoc on the camp inhabitants as Declan aims to be reborn! Lucky for the camp their resident "sensitive" witch teams up with Jody to try and bring an end to the terror. Unluckily for the camp, there is also a disgruntled ex-heavy metal loving groundskeeper also hell-bent on bringing terror to this camp. What will the outcome be?
What is good about the movie?
UGLY SWEATER PARTY is a hilarious movie; it has witty over the top ridiculous dialogue that is brilliantly hilarious. The characters are laugh out loud funny. Mr.Mandix (Marv Blauvelt) introducing Jody to the camp members had me in stitches. Mrs.Madix (Felissa Rose) was delightful as the overly flirty camp mother – her sex scene alone brought a tear of joy to my eye – "make it hard for mommy"! If I am honest I can find little fault with this movie. I enjoyed the movie from beginning to end. This is a festive treat for all to enjoy and puts itself among the best festive horror titles. I would watch this movie again and again. It is funny, well shot, well-acted and gory as hell! The film has a brilliantly recorded score with some funky songs that will have everyone singing along. There were standout performances from Felissa Rose and Marv Blauvelt, a brilliant comedy due.
The films lead Charles Chudabala was also an impressive delight. Charles delivered the innocent young man turned mass murderer brilliantly with perfectly timed comedic lines and outrageous grotesque sinister acting in his possession/murder scenes. The whole cast was brilliant!
What's not so good?
I can't fault the movie! A festive delight!
Conclusion:
I recommend if you like independent horror and Christmas horror at that to check the film out.
Stand out moments:
A "Dream Dance" sequence that in reality and the dream world is hilarious!
A pubic hair shaving scene that is every man's worst nightmare!
90% of the dialogue in this movie!
 Charles Chudabala's penis, the biggest penis I have ever seen on screen!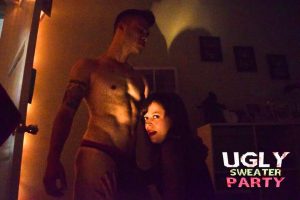 TRAILER:
---