---
Andrew E Reviews – AXEMAS (short film)
---
AXEMAS!
Written and directed by:
.
A group of six young people takes advantage of an empty storage locker facility to throw a small party where they won't be interrupted. Or so they thought!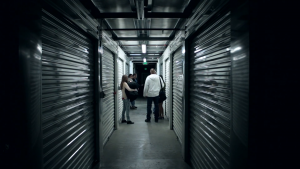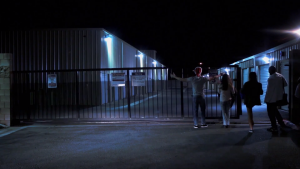 David played by Dillon Weishuhn invites his friends to his place of work (a storage facility) to party on Christmas. The group settles into a storage container to drink some beer before in true slasher style they break up into small groups for sexual shenanigans.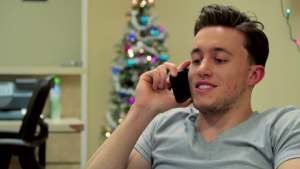 The hallways of this storage facility are like the "shinning" mazes to quote to quote a character.
Lurking in the hallways is a deranged man dressed as jolly old Santa who begins to lurk the corridors. This Santa truly doesn't care if you have been naughty or nice. As Santa begins to slay (love a pun) the young teens begin to reduce in numbers until there are only two left. David and his girlfriend Sarah must run, scream and fight to survive.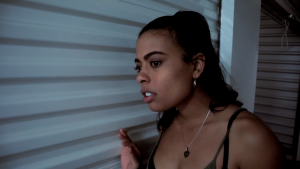 The movie is really nicely shot, the imagery is smooth and crisp. Though the budget is low the setting and style give this short film a step up over its competitors. The kills are innovative and executed really well. Acting which in low budget movies can often be cringe-worthy, this is not the case with AXEMAS. All the actors within the film deliver well and can't be faulted. I would suggest Dillon Weishuhn is the stand out performer in the film delivering the most dialogue with conviction and likability. His ability to jump between two different types of character should be applauded.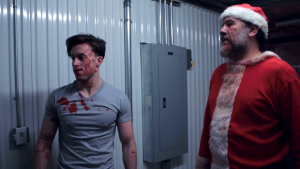 The film doesn't give too much away as to motives of this murderous festive figure but does have an interesting twist that I won't give away. I like the blunt attitude of this film, it knows what it is and doesn't try to pretend to be anything else. I appreciate that and was sucked in and followed the story and character straight through until the credits rolled.
I would highly recommend this movie to indie film lovers. It has a retro slasher vibe presented in a fresh new way. It has practical effects and gore effects galore. The movie is on 20+ minutes long and we get an impressive 6 kills (and a couple off-screen) –  that's one every 3 minutes! The killer Claus is well presented and the actor behind the suit is menacing and believable. I can see this festive short slashing its way through the festive period and scooping up awards at independent film festivals around the world.
Highlights:
Quote of the day: "The whole gift thing got boring…"
Dillon Weishuhn acting performance.
Practical death effects.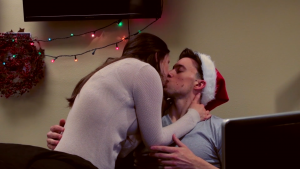 Watch the film / buy it on AMAZON
Trailer:
The film is to receive a sequel which I am excited to see!
---