---
Andrew E Reviews: Mrs Claus!
---
A CREATURE IS STIRRING…
It's going to be a very Black Christmas. Scream Queen

Brinke Stevens

, My Bloody Valentine's Helene Udy and Kaylee Williams (Model Hunger) help introduce you to Santa's stocking stuffer,
Mrs Claus.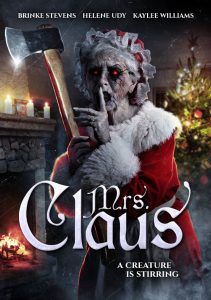 Synopsis: A group of college students attending a Christmas party at a sorority house that has a sinister past are stalked by a bloodthirsty killer disguised as Mrs. Claus in writer/director Troy Escamilla's award-winning yuletide spookfest.
Mrs. Claus
premieres on VOD and DVD November 13 from

Wild Eye Releasing

.
The story for this Christmas slasher is that of a hazing prank taken to far resulting in a murder & suicide. The film picks up 10 years later and we are introduced to a sorority house filled with the latest teens awaiting a terrifying holiday season…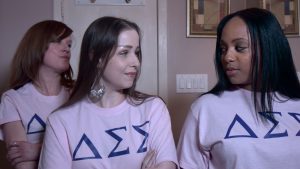 The lead 'final girl' is Danielle played by

Hailey Strader

. A haunted girl who has pledged the same sorority as her sister who was brutally murdered 10 years prior. Hailey does an excellent job playing the haunted lead very reminiscent of

Winona Ryder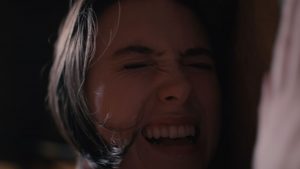 As the sorority house undertake their traditional Christmas party (which has been on hold for 10 years), the group are alarmed when one of their sisters is reported as missing. She was due to return home for the holidays, but never quite made it home! The university campus security officer Julie Cornell (

Brinke Stevens

) begins to see if she can find the whereabouts of the missing sister, regardless the teenagers carry on partying. In typical slasher style, the group slowly disband for various things (sex, drugs or to go home) and they are hunted by a masked assailant.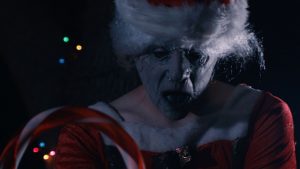 The film is typical in terms of the slasher film format – but that doesn't mean it isn't worth a watch. I found my self completely immersed in Mrs.Claus. The budget is low but that doesn't distract for some interesting and gory death sequences. And Mrs. Claus's mask is terrifyingly brilliant. The practical effects are decent and the blood is flowing aplenty!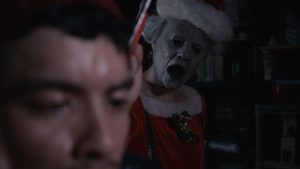 The acting is mostly on par for a lower budget film, there are some fun male lead roles delivered by

Billy Brannigan and Ryan Poole

.

Ryan Poole

plays 'Grant' who is your typical jock character but Ryan delivers him in such a way that you can help but laugh (in a good way). Grant's dancing scene alone made me smile enough to love his character. Switching over to

Billy Brannigan

who plays 'Kyle', who perfectly acted his role. He added many layers which kept me guessing if he had something to do with the terrible fate of his classmates.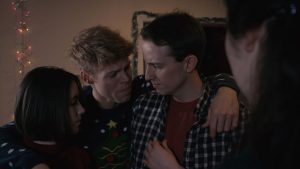 Brinke Stevens

brings one of only two adult roles in the film. As ever Brinke pulls off her character in an effortless way that means she is vital, relevant and grounding for the other actors. Brinke has some stand out scenes in this movie that are incredible and I can only applaud the filmmakers for casting Brinke in this role, I cannot imagine anyone else doing it even half as good.  Brinke manages to keep audiences guessing as she investigates what is about to be a bloodbath – but how does it all end for

Julie Cornell

? Watch to find out!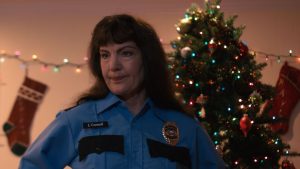 In conclusion, Mrs. Claus is a low budget blood fuelled yuletide gore-tastic slasher movie.  For me, and all of us at

GRUEMONKEY

we will be putting this festive treat on our Christmas list (but have we been naughty or nice?).
This film is sure to become a cult horror classic and one that people will return to year after year. Mrs. Claus deserves to be sat alongside the giant titans of Christmas horrors like Black Christmas and Silent Night Deadly Night. I would also like to see

Mrs. Claus

return to scare us next Christmas in a sequel, maybe if I am a

really good boy

it will happen!
4/5 GRUEMONKEY's
---