---
Andrew E Reviews: THE QUEEN OF HOLLYWOOD BLVD
---
THE QUEEN OF HOLLYWOOD BLVD (TQOHB)
Synopsis: On the eve of her 60th birthday, Mary, the proud owner of a Los Angeles strip club, finds herself in hot water over a 25-year-old debt to the mob.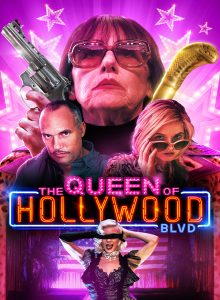 TQOHB is one hell of a ride! – A woman who's seen and done it all, smoking like an old steam engine, juxtaposed with her sixties forelock fringe of jet black dyed hard and leopard print, looking like a black-haired version of 'Patsy Stone' from 'Absolutely Fabulous' – though with a gritted husky voice rather than a posh English one. Pouring herself through the underbelly of L.A. with a gold-tipped cane that doubles as a deadly weapon. Mary (Rosemary Hochschild) let's be very clear, is not a lady to be messed with. She runs a strip joint on Hollywood Boulevard – a club populated with the shadiest souls you could meet.
Mary is old-school gangsta, ruling her side of the street – with sex, drugs, and violence. When we first meet her, it's her birthday, a rival mobster 'Duke' (Roger Guenveur Smith) has come calling for a 25-year-old debt, demanding the keys to the strip club. Mary rejects repaying the debt but this has consequences. Duke kidnaps Mary's son. Mary puts on her leopard print and scowls into the dark seedy Hollywood underbelly to get her son back, taking innocent  Grace (Ana Mulvoy Ten) with her on the quest. Grace is what we as an audience member can only imagine is a character similar to what Mary was at the beginning of her gangsta days.
Director Orson Oblowitz funded this movie through Kickstarter. From the concept to the colourfully neon faux-grind-house presentation, it's clear Oblowitz is a Tarantino fan. TQOHB is a massive hat tip to Kill Bill, Jackie Brown, and Pulp Fiction which were all rooted in 70s grind-house films just like TQOHB is. Like Tarantino's films, the soundtrack may be better than the picture itself. It consists largely of '50s/'60s-style R&B, with a little Blues and Country thrown in. Which work in some scene brilliantly.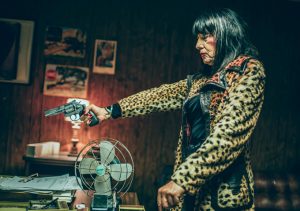 Exterior footage is refreshing for an indie like this, normally we are restricted to small sets or short outdoor sequences due to cost. Ob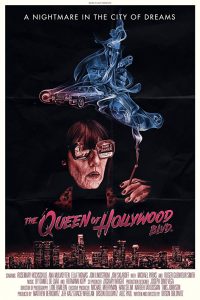 lowitz does a decent job capturing the shady side and the depravity of this dark version of L.A. Some shots are purely beautiful. It feels much more open than a lot of indies, which is great for the audience as you don't feel constricted knowing this is a low budget film and there won't be anything excitingly big in terms of scale, but TQOHB does well to cover its humble budget and hide its restrictions. The use of slow-motion effects and some twisted camera angles, Oblowitz shows the audience he knows what he is doing. From the creation of the characters and the buckets of blood poured out onto the street, The Queen of Hollywood Blvd is the art-house crime story I think a lot will enjoy.
Rosemary Hochschild knocks it out of the park, really delivering and keeping you hooked throughout.  She is simply amazing in a role that is usually left to the boys.  Here, she both terrifies (with a gun in one hand and a cane in the other) and brings a warmth to the character that few could ever muster.  The audience are with Hochschild every step whilst she fights and kills for the safe return of her son.
Co-starring Michael Parks, Ana Mulvoy-Ten, Ella Thomas, Jon Sklaroff, and Rico Simonini, The Queen of Hollywood Blvd isn't afraid to get its hands dirty.
The Queen of Hollywood Blvd isn't perfect. It does, however, offer some strong performances delivering good drama through effective direction. The dialogue is fair (if not a little drawn out at times), and it is backed up by some lovely visual storytelling and music.  It all comes together to make a dark, seedy, and moody picture that is worth watching once it comes out.
GRUE MONKEY RATING: 3.5 /5 MONKEYS!
---