---
Trailer is here for reboot of Pet Sematary!!
---
The trailer is finally here for the new reboot of Pet Sematary coming in April of 2019. Based off the novel of Stephen King. Written by David Kajganich and Jeff Buhler. Directed by Kevin Kolsch and Dennis Widmyer. Produced by Lorenzo di Bonaventura, Steven Schneider, and Mark Vahradian. Starring: Jason Clarke, John Lithgow, Amy Seimetz, Naomi Frenette, Hugo Lavoie, Obssa Ahmed, Lucas Lavoie, and Jacob Lemieux. 
.
.
Louis Creed, his wife Rachel and their two children Gage and Ellie move to a rural home where they are welcomed and enlightened about the eerie 'Pet Sematary' located near their home. After the tragedy of their cat being killed by a truck, Louis resorts to burying it in the mysterious pet cemetery, which is definitely not as it seems, as it proves to the Creeds that sometimes, dead is better.
.
.
.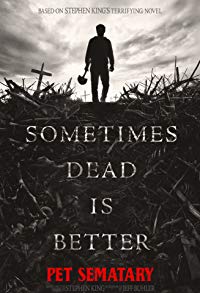 ---