Hellter Interviews Evan Daigle (TNT's Claws)!!
---
Hellter Interviews Evan Daigle (TNT's Claws)!!
---
Hello Grue-Lings,
Today we have a interview with star of hit tv series from TNT Claws, Evan Daigle.  "Claws" follows the rise of five diverse and treacherous manicurists working at the Nail Artisan of Manatee County salon in South Florida, where there is a lot more going on than silk wraps and pedicures. Evan plays Toby, the boyfriend of Uncle Daddy, a gangster who uses the salon to launder his drug money. The series is executive produced by Rashida Jones and stars Niecy Nash and Carrie Preston. Season 2 premiered on June 10, 2018. 
Evan grew up in a small town in south Louisiana. He did not discover his passion for acting until he was in his second year of college. After taking a basic scene study class, Evan felt like he had found his true calling and began to pursue acting professionally. Evan attended Loyola University New Orleans where he studied theatre and communications, but had to leave in his final semester to film season 1 of "Claws".
Evan enjoys fine art and is a hobbyist oil painter. He supports LGBTQ charities such as Happy Hippie and GLAAD, anti-bullying causes and the promotion of art education in public schools. Some photos taken are by Akeem Biggs.
.
.
---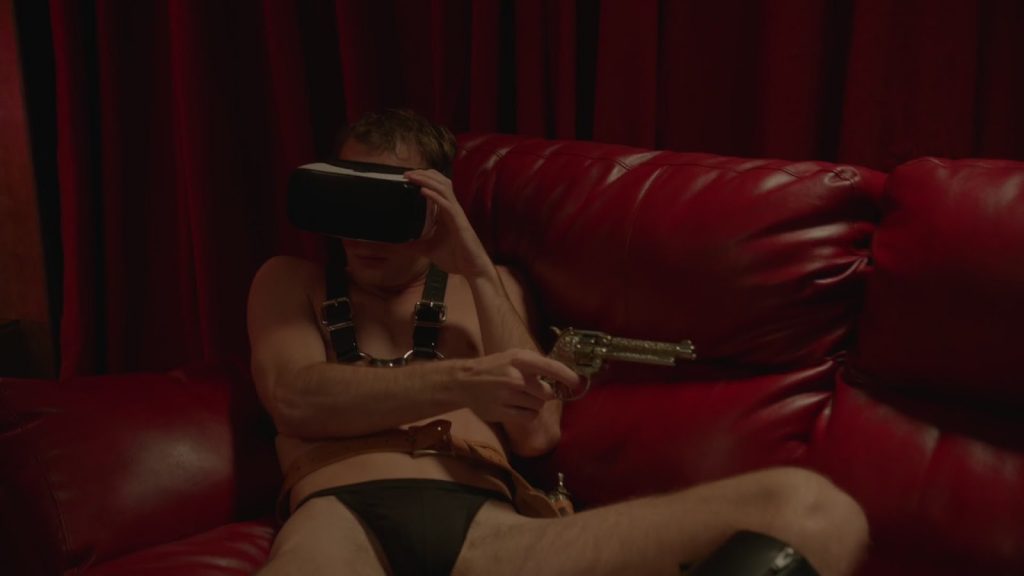 .
HELLTER: Hello Evan, welcome to Gruemonkey and thanks for being our guest today. When you first started how intimidating were the auditions for you?
EVAN:  When I first started acting, auditing was extremely intimidating for me. The whole process is really strange and stressful when you don't really know how it works. The only thing that really makes them less scary is consistently auditioning. The more I go out and the more roles I audition for the easier they are. I was taught to "audition for your career, not the job" which pretty much just means to get into the mindset that the actors job is to be the best they can be in every audition and when you're right for the role, you'll book work. It takes the pressure off the individual audition. Maybe I go in for a role and the casting director doesn't like me for the character but since I did my best work and hopefully impressed him or her, they'll keep you in mind for other projects. A lot of actors book work this way. I just try and focus on being as good as I can in those few moments in the room. There are endless factors that go into casting decisions so I don't ever take it personally when I don't book something. It's all about being consistent and eventually the stars will aline. 
.
.
.
HELLTER: What was the audition process like for Claws?  I heard you were just meant to be in the pilot, how did you get your role as Toby to be expanded on the show?
EVAN: The audition process for Claws was similar to most auditions I'd had before. At first I went in and read with the casting director in New Orleans. A few weeks later I found out I had gotten a call back with the producers of the pilot. After my call back I was told my audition tape was being sent to the studio and network executives in Los Angles for approval, then two excruciating weeks later I learned I had booked the role. A few months later the series got green-lit and I got promoted from an under five to a recurring role.
.
.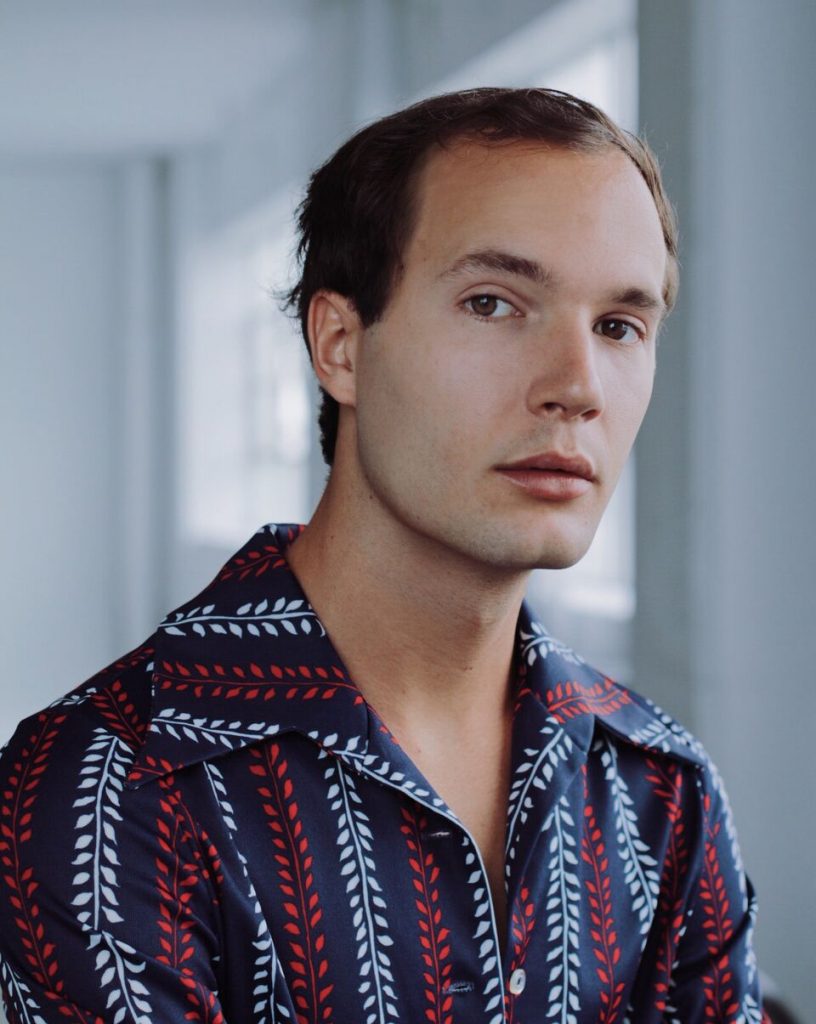 .
HELLTER: You have such an amazing cast around you with Niecy, Carrie, and Dean. Do you pick their brains on set for advice?
EVAN: I do! I think it would be such a waste to be working with so many veteran actors and not learn from them. All of them, especially Niecy, have been really awesome about giving me on set and career advice. I think Niecy is going to be a great director one day. She's so intelligent, talented and a natural leader. I feel so lucky to have been able to start my career on a show that has such a solid cast. It's been the best masterclass in TV acting.
.
.
.
HELLTER: Have you seen Niecy Nash in Scream Queens? She seems like such a funny person to be around, how is she on set?
EVAN: I loved Scream Queens! She was hilarious in it. Niecy is definitely very goofy and fun-loving but she's also a serious actress. She respects herself and her work and holds herself to a high standard which I think is why her work is so excellent. She also hold those working with her that same standard which I feel is the mark of a true leader. She leads our set with such great energy, I feel so lucky to be apart of her show.
.
.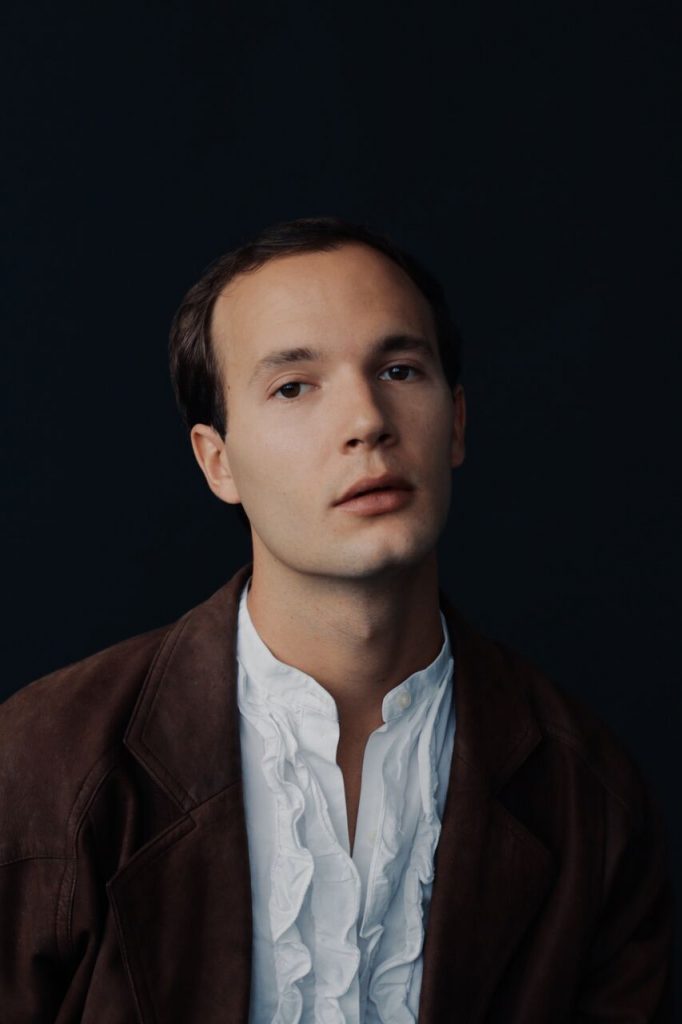 .
HELLTER: For someone who hasn't seen Claws. Can you tell us what Claws is about and who your character is? Was it you who quoted that Claws is if Breaking Bad had sex with Orange is the New Black as Weeds watch (laughs)?
EVAN: I was quoting Carrie Preston when I said that and I still think it's pretty accurate! Claws is about five women who launder money for the Dixie Mafia through their nail salon in a seedy area of South Florida. I play Toby, the live-in boyfriend of the Dixie Mafia crime boss, Uncle Daddy played by Dean Norris. The show is a crazy intense mix of broad comedy and drama with a ton of pretty colors thrown in there. 
.
.
.
HELLTER: Are you happy with the direction and evolution for Toby in season 2 and has his process of self discovery helped you as a actor and person in any way?
EVAN: I like what we get to see Toby do this season. We see a bit more of his relationship with Uncle Daddy which I think fans will be excited to see. Toby's process of self discovery has helped me as an actor and person. Something Meryl Streep once said in an interview has always stuck with me, she said she gives the same amount of respect to the lives of the characters she plays as she does her own and I think as an actor that's a great mantra to live by. In giving this amount of respect to the roles I play, I always learn more about myself as a person and myself as an artist than I anticipate. Playing Toby has inspired me to continue to educate myself about gender and sexuality and how these concepts are represented in media. 
.
.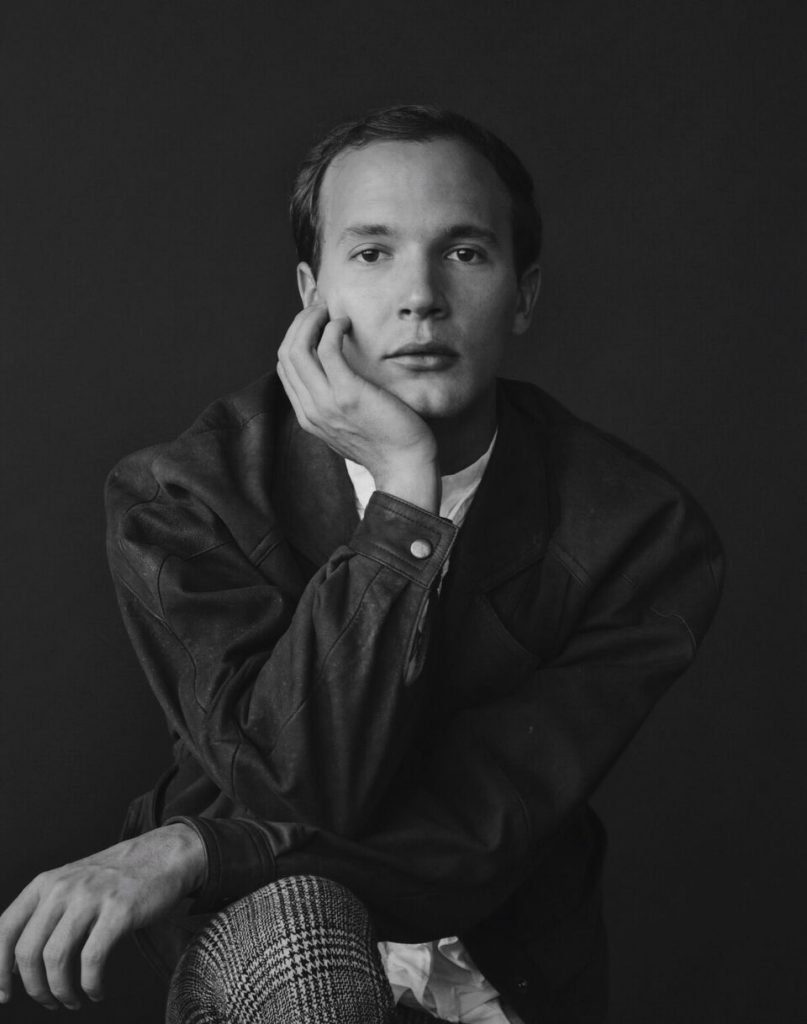 .
HELLTER: Your love interest on the show is Uncle Daddy. What do you think Toby likes best about Uncle Daddy that draws him in? Toby seems to be very comfortable and free to be himself when he is around Uncle Daddy. 
EVAN: I think at first the lure of the money and danger of Uncle Daddy's lifestyle really drew Toby in. After a while of dating I imagine Toby really enjoys being able to be completely be himself around Uncle Daddy.
.
.
.
HELLTER: How do you and Dean Norris prepare for your scenes between Toby and Uncle Daddy?
EVAN: Dean is a very professional guy. Him and I have brief conversations about where Toby and Uncle Daddy were at prior to the scene and what they are trying to get out of the current scene. We really just like to figure it out as we go. We calibrate our choices in rehearsal along with the director and between action and cut, we try and live as truthfully to the characters and given circumstance as possible. 
.
.
.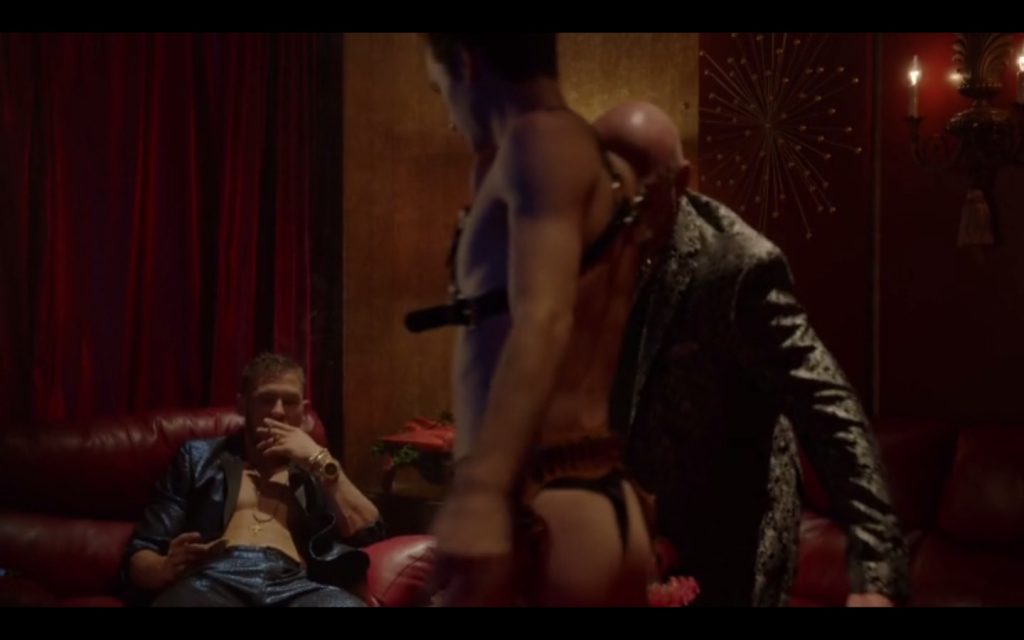 .
HELLTER: Toby dates a gangster on Claws. Would Evan ever date a gangster?
EVAN: I'm scared of guns 🙁  
.
.
.
HELLTER: Where do you see the Toby/Uncle Daddy story going?
EVAN: I'd love to see their backstory and how they met. Going forward I'd like to see Toby become more and more involved in the crime activities with Uncle Daddy, Roller and Bryce. I could see Uncle Daddy giving Toby more responsibility in the drug trade eventually.
. 
.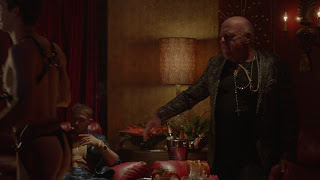 .
HELLTER: Is there anything you admire and like most about Toby?
EVAN: I really admire how committed to living his truth Toby is, regardless of the discrimination he faces on a daily basis.
.
.
.
HELLTER: What has been your favorite episode to film so far and why?
EVAN: My favorite episode to film so far has been the fourth episode in the first season! I really liked learning a bit of water ballet and getting to film such a dynamic scene with Victoria Mahoney who is probably my favorite director I've ever worked with. 
.
.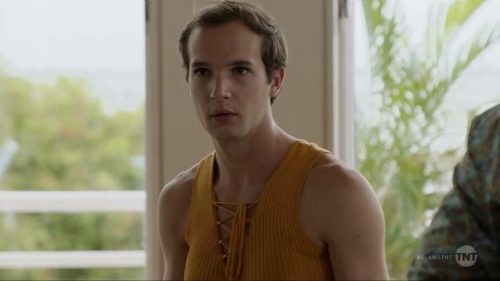 .
HELLTER: How do you prepare for a role or script, do you have a ritual of some sort to get in the mind frame for your character?
EVAN: When I get a role I do a lengthly preparation process. I start by reading the script about five times through and then I research any and everything I feel is relevant to the character and the project as a whole. I create a backstory based on the script of the character's life starting from their earliest childhood memories all the way until the action of the script starts. If I have time I also like to rehearse with my acting coach before I start shooting. In doing all this preparation I feel confidant to let it all go and trust myself to live truthfully moment to moment while I'm on set or on stage.
.
.
.
HELLTER: What has been your favorite part about working on Claws?
EVAN: This project has really taught my everything I know about working on camera and on a TV set. Being able to work with such great actors has made me all the better actor myself. 
.
.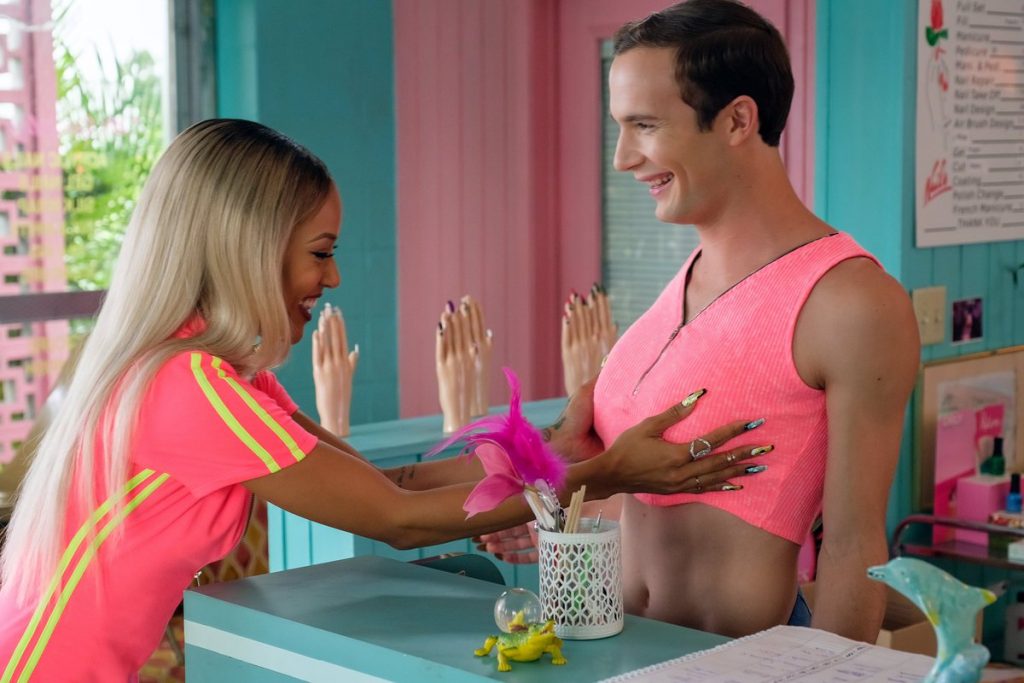 .
HELLTER: What do you think you have learned from your roles and projects you have worked on so far?
EVAN: To trust my talent. To realize that talent alone is never enough. That hard work and self discipline are the quickest and most satisfying paths towards getting what you want in this career.  
.
.
.
HELLTER: Tell us about what the Happy Hippie Foundation is about and how people can help? I know it deals with young people to fight injustice facing homeless youth and LGBT youth. You also are a huge supporter of GLAAD, anti-bullying causes and the promotion of art education in public schools? Can you tell us about these great causes you stand up for?
EVAN: I think we're in a very exciting time in TV and film history and we're beginning to really see accurate and positive representation of queer people which I believe is extremely important. Organizations like The Happy Hippie Foundation, which provides aid to LQBTQ+ youth and other vulnerable populations, as well as GLAAD, which works endlessly to make sure LGBTQ+ people are healthily included, protected and positively represented in media are so dear to my heart because I really believe in the work they do. If anyone wants to find out more about these awesome, hardworking organizations check out these links: http://www.happyhippies.org & https://www.glaad.org  
.
.
.
HELLTER: We love horror films on our site. Are you a fan of horror films and if so, which ones are your favorites and why?
EVAN: I love horror films! I'll admit it's rare for me to really like one though. I think they're difficult to pull off because the circumstances are so heightened that it requires some stellar acting to make it work. Some of my favorites are The Shinning, The Conjuring and one I saw recently that I loved is Hereditary. 
.
.
.
HELLTER: Thank you for joining us today on Gruemonkey. 
EVAN: Thank you for having me. Your welcome. 
.
.
---
.
.
.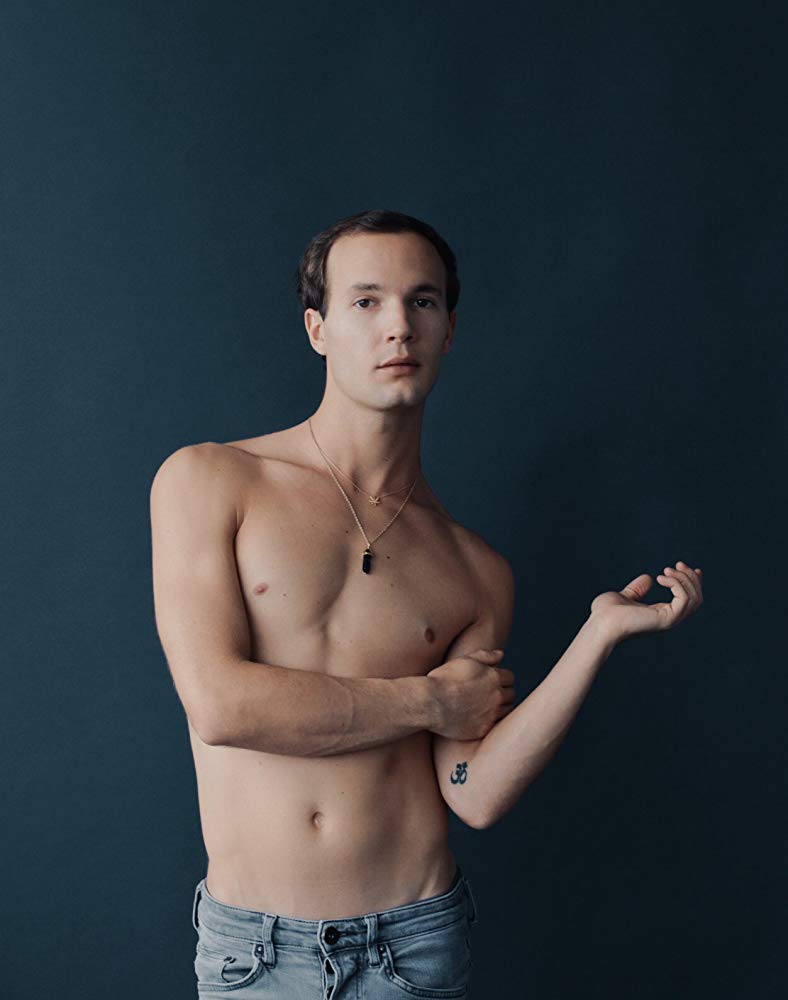 ---