---
She Burns In Hell: Carrie film gets a poster and is doing a contest!!
---
She Burns In Hell: Accounts from Chamberlain, Maine:
.
Own a piece of Carrie history with the She Burns In Hell Contest.
— She Burns In Hell: Accounts from Chamberlain, Maine is the upcoming fan film based on the classic Stephen King novel "Carrie" and the filmmakers are looking to make one lucky fans nightmare come true with a giveaway of gory proportions.
.
The production gives a different view of the events of that fateful prom night and how it effects the lives of the townspeople in Chamberlain. The film goes the extra mile by being accurate to the decade the original novel takes place in, the 1970's. Producer J.J. Philips searched out costumes, wigs, and props to add authenticity to the film which is shaping up to be a worthy entry into the ever-expanding world of Stephen King.
.
In an effort to give back to the fans who have been sharing support for the project, filmmaker Ryan Stacy (Midsummer Nightmares I & II) is giving away the blood soaked, iconic red wig worn by Carrie White actress Brittany Blanton. The contest asks fans to submit their stories about their journey with Carrie and what the character, book, and film has meant to them. The winner will receive the unique prize once the film is released. Those who wish to compete can send their story via email to SBiHFanFilm@gmail.com
.
While the official release date is TBA, fans can feed their blood lust by purchasing 8×10's of Brittany Blanton in full on Carrie glory on the Concept Media website and relish the iconic poster that has been released. Fans can keep an eye out for a teaser trailer premiering soon.
Concept Media Store: https://conceptmediallc.com/product/284212
She Burns In Hell Facebook Page: https://www.facebook.com/sheburnsofficiall/
She Burns In Hell Twitter: https://twitter.com/She_Burns
She Burns In Hell IMDB Page: https://www.imdb.com/title/tt9010314/
.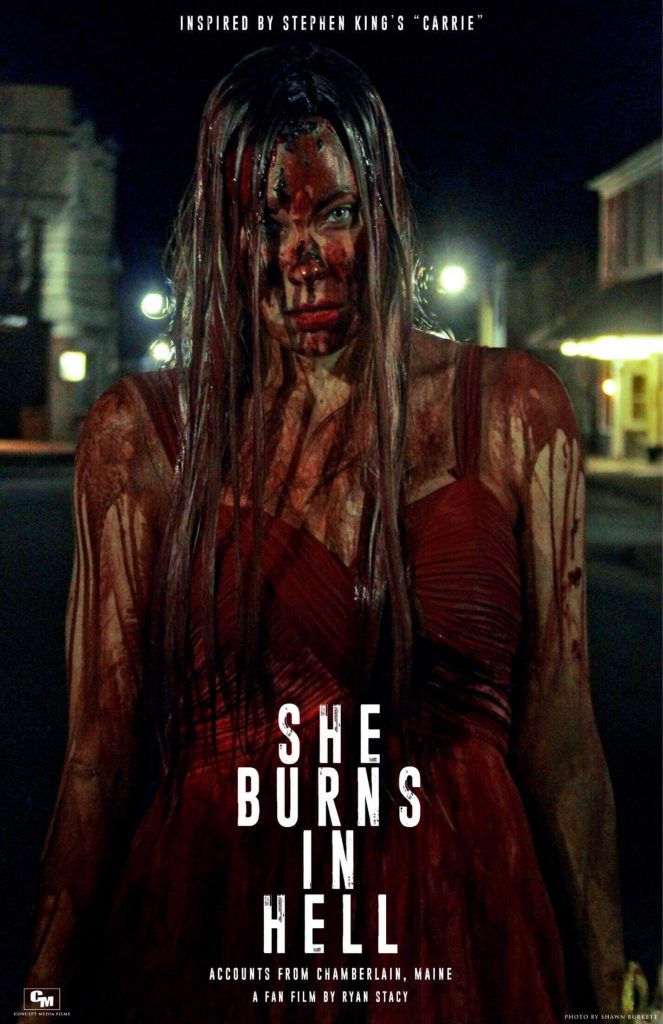 ---