Hellter interviews Jey Crisfar (Otto, Or Up with Dead People)!!
---
Hellter interviews Jey Crisfar (Otto, Or Up with Dead People)!!
---
I have a very special guest on Gruemonkey.  LGBT horror fans and horror fans around the world will like this interview. If you are a fan of Bruce LaBruce's films and a fan of Gay Horror Films, you know the movie Otto, Or Up With Dead People. The very sexy and cute gay zombie Otto won our hearts over. He is played by Jey Crisfar. 
.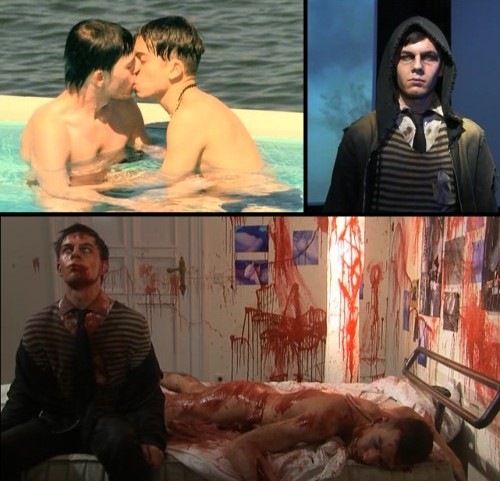 .
He became known playing the lead role in Bruce LaBruce's Otto; or Up with Dead People (2008). He toured with the film through festivals. The May 2008 issue of British magazine Dazed & Confused includes photography session with him, shot by New York-based visual artist Terence Koh. He has also had photoshoots with photographers Adelaide Ivanova and fashion photographer and video artist Pierre Debusschere.  He is featured in the music video for British duo Society's track "Future Days". 
.
.
---
.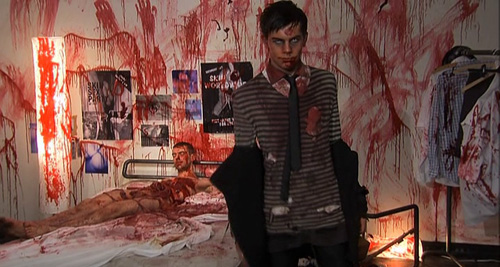 .
HELLTER: What made you decide you wanted to get involved with acting?
JEY: I didn't decide, providence did. 
.
.
.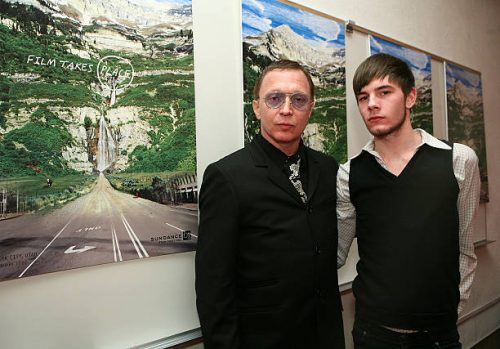 .
HELLTER: How was your audition with Bruce LaBruce and how did you meet him and find out about him?
JEY: I've seen pictures of Slava Mogutin in a gay magazine and contacted him through myspace. We chatted, he told Bruce about my page. Back then i had a red picture of me sitting with a jockstrap and cowboy shoes as an avatar (didn't get censored for it as it would be the case with FB today). I guess Bruce liked it, and he got in touch. He sent me the script through email (we chatted a lot, that was part of the audition) and I could relate to that character so I said i'd do it, the sex scenes and all. 
Second part of the audition, the 'casting' was that photoshoot for Kink magazine.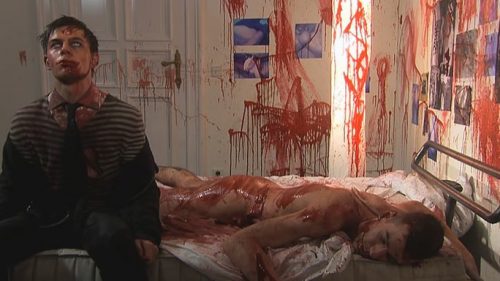 .
HELLTER: Jockstrap and Cowboy shoes, nice. I would have contacted you to (laughs). Did you watch any Bruce LaBruce films prior to you being in Otto?
JEY: I did watch Hustler White after we discussed (with Bruce) and Skin flick.
.
.
.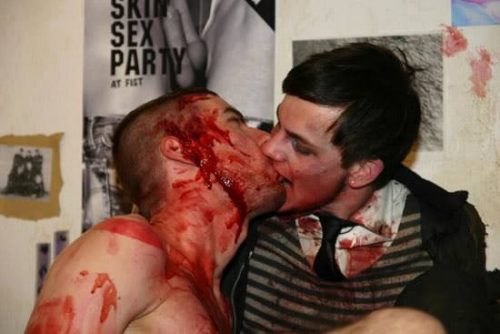 .
HELLTER: Before playing a Gay Zombie, were you fans of horror films or zombie films and if so, what are some of your favorites and why?
JEY: I was not a fan of zombie movies at all, didn't even know about Romero, but I liked horror. I liked Tetsuo (Shin'ya Tsukamoto) or Dario Argento's movies (Suspiria, Inferno, Trauma) and other mainstream movies (Halloween, Freddy Krueger, Carrie, The exorcist,…).
.
.
.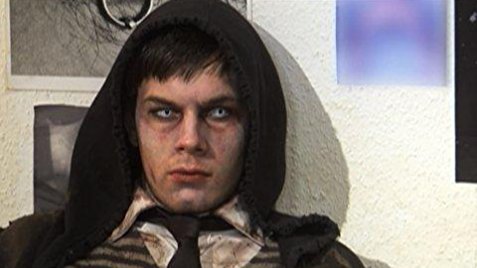 .
HELLTER: Very good choices of films. For anyone who hasn't see Otto or up with Dead People. Can you tell us about your character Otto in the film?
JEY: He's having an identity crisis, he doesn't know whether he's a zombie or himself. I relate to that, still now as i'm schizophrenic, i think Otto is.
.
.
.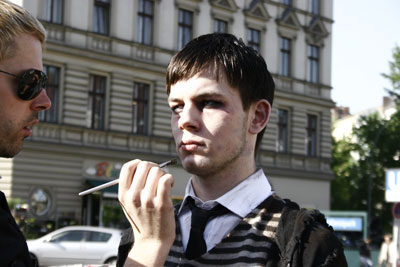 .
HELLTER: What was your favorite kill scene that Otto did?
JEY: The rabbit was fun. 
.
.
.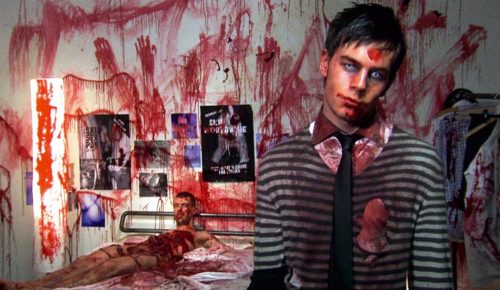 .
HELLTER: That was a good scene. What was your favorite scene in general in Otto?
JEY: Making out with Marcel Schlutt and Gio Black Peter. But the more interesting for me is Medea's (Katharina Klewinghaus) speach in the garbage field. And the dance scene with the three girls (Susanne Sachsse, Katharina K. and Kembra Pfahler's apparition).
.
.
.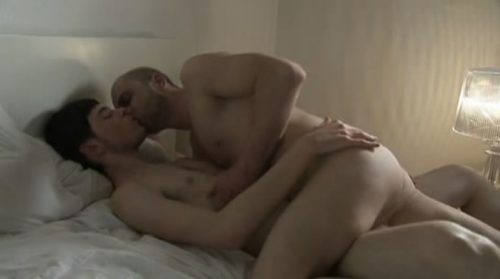 .
HELLTER: Very nice. How did it feel playing the first Gay Zombie in a horror film?
JEY: I didn't know i was the first back then. It felt normal to play a zombie, it's how i felt then, a hypersensitiv zombie.
.
.
.
HELLTER: Were you comfortable doing makeout and sex scenes with other men and sitting in a bed next to a naked dead man?
JEY: I didn't do the sex scenes, last minute i had a change of mind, but the makeout felt natural. 
.
.
.
HELLTER: Any behind the scenes stories that happened on the set for Otto?
JEY: None. Well.. 
.
.
.
HELLTER: Any funny stories or bloopers for Otto?
JEY: What's a blooper ? I was so scared in the yellow field filled with bees, i couldn't stop saying "putain" (which is "fuck" in american english i believe) and I cried when Bruce had me burried for the opening scene (on my birthday). I think it traumatized me that day but now I think it's funny. 
.
.
.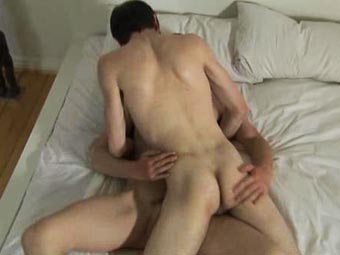 .
HELLTER: If you were turned into a zombie like your character Otto, would you embrace it or try to fight it, and would you wanna be a gay or straight Zombie?
JEY: A gay zombie of course, why would i be straight ? I'd embrace it like i did with my illness for years, before i tried to get better and get help. I'm doing great by the way.
.
.
.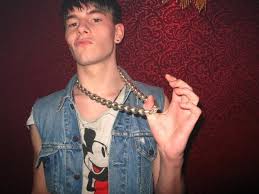 .
HELLTER: You were in a British music video for Society called Future Days. How did that go, how was it like shooting a music video?
JEY: It was done in one day, the question is more how is it like when the public sees it. I don't know, i just notice there were 15 thousand view today as you ask. I don't feel famous or anything, i'm not yet. 
.
.
.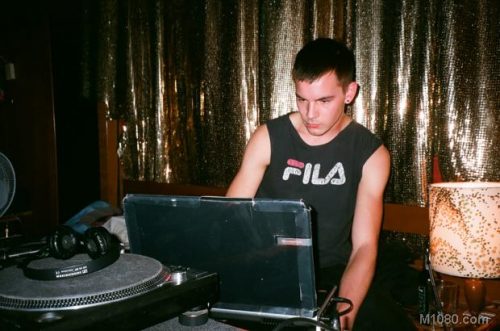 .
HELLTER: I think you are a very talented person. Modeling, acting, and in a music video. What did you like best about being a model?
JEY: Being watched. I worked first with Lisa Carletta, then with very few people after Otto. Pierre Debusschere, Bruce, Terence Koh,..  And I always liked the result, because I couldn't see me, so it was easy to be seen by someone and that someone transfers something of you so you get it better.
.
.
.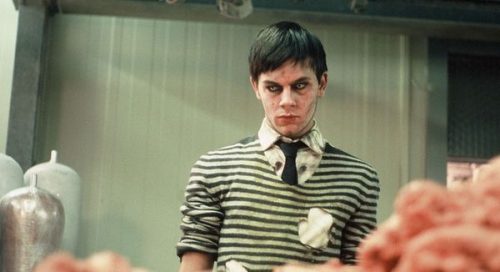 .
HELLTER: Can you tell your horror fans out there on what you have been up to lately?
JEY: Lately i took back drawing, and slowly moved to painting, but I won't show anything within few years, i'm not in a rush. I don't care fame being alive. I do care about the money though, so keep updated through my Instagram (jeremydicristofaro, there you go you have my identity now).
.
.
.
HELLTER: Anything else you want to discuss or promote?
JEY: I fell in love with Yayoi Kusama's work recently, probably because she's doing great as an obsessed artist, she's schizophrenic and she doesn't care how people see that I think. I relate to her a lot right now. I'm painting dots at the moment, but way smaller scale.
.
.
---
.
.
.
.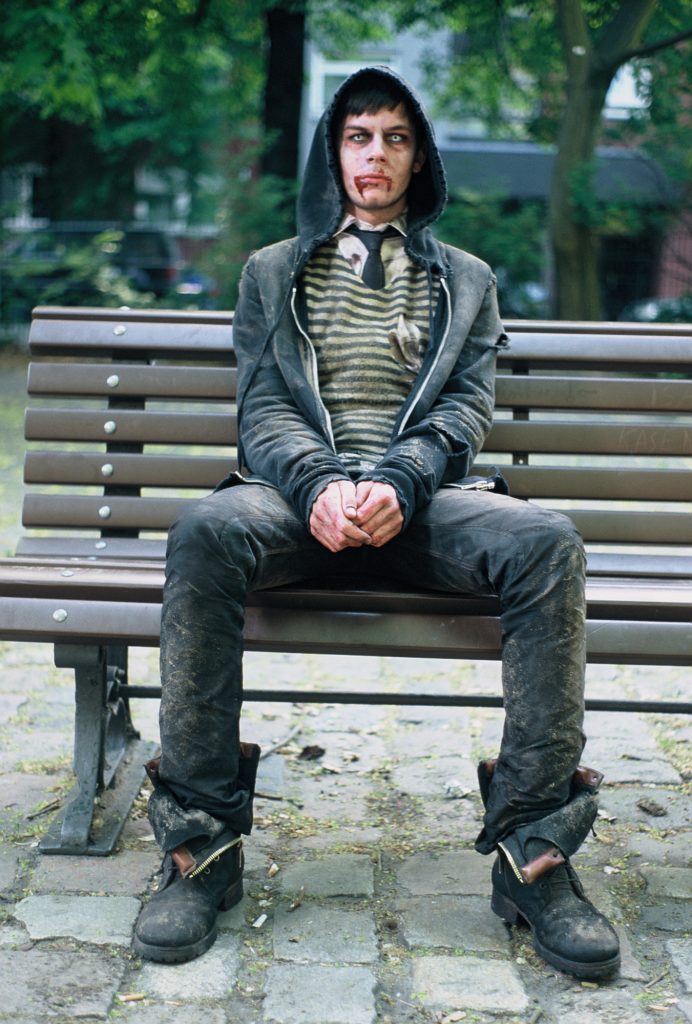 .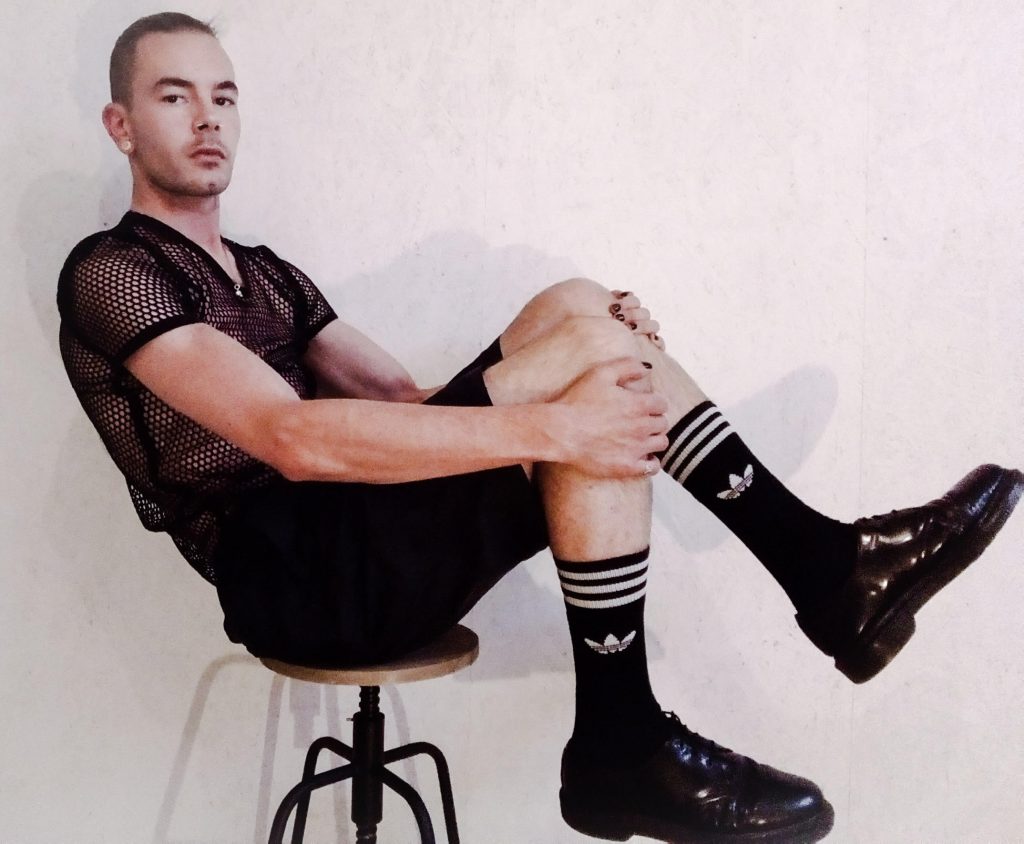 .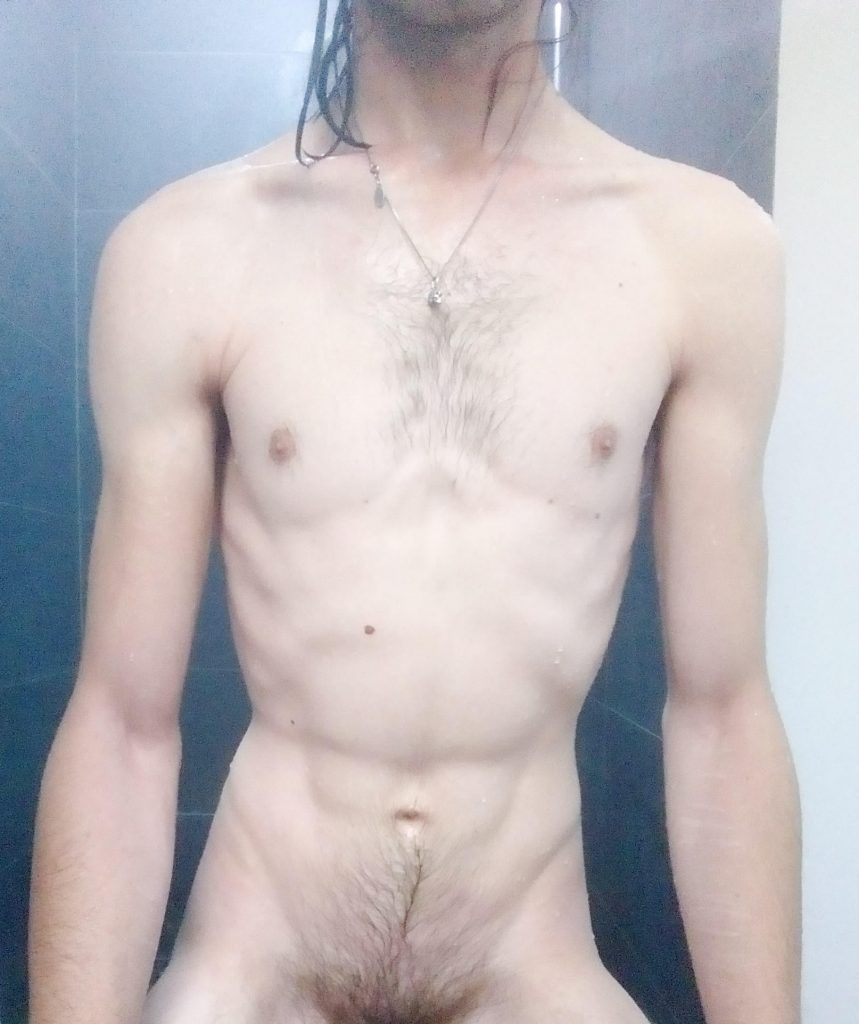 ---