Gruemonkey's Andrew E interviews Director Bryan Norton!
---
Gruemonkey's Andrew E interviews Director Bryan Norton!
---
ANDREW: Hello Bryan, Thanks for letting us chat together today. I wanted to start the interview off by asking those who don't know your work – what would be your synopsis?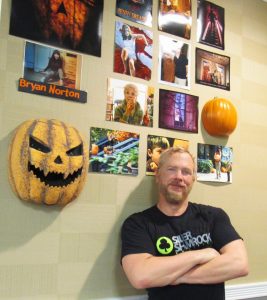 BRYAN: Here is my BIO!
Bryan Norton has an M.F.A. degree in Film Production from New York University's Tisch School of The Arts Graduate Film Program, and a B.A. in Cinema Studies from Sarah Lawrence College. He wrote and directed the award-winning horror film Penny Dreadful with a generous grant from Warner Bros, starring Friday the 13th's Betsy Palmer and has won over one hundred film festival awards worldwide as well as the recent horror hit 'All Hallows Eve 2". He recently signed with Eli Roth's CRYPT TV as a writer/director of genre content for their new internet platform. As a professor and lecturer of film, Bryan taught film directing and screenwriting throughout the United States since 2001 and served as the chairperson of The New York Film Academy or 14 years. He also has consulted on several documentaries, books and articles relating to the history and analysis of the horror genre, including Butcher Knives and Body Counts: Essays of the Formula, Frights and Fun of the Slasher Film, Going To Pieces: The Rise and Fall of the Slasher Film, Corman's World: Exploits of a Hollywood Rebel and the upcoming documentary "Scream, Queen! My Nightmare On Elm Street." He has written articles for Fangoria Magazine, Delirium, Gorezone and other horror publications. His book 'For God Sake's Get Out! The Making of the Amityville Horror' is due out next year from Bear Manor Media.
.
.
ANDREW: You have written and directed films, what drives you to create your own films?
BRYAN: This itch started in childhood. The whole super 8 things, then camcorder…I was always killing my friends growing up! As complicated and frustrating and painful as ANY film project is to make on any scale….something makes you want to go back and do it again. Then I moved to teach like many of us do, and suddenly I was helping other people's films.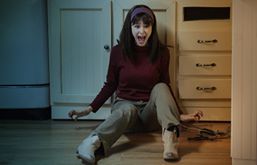 .
.
ANDREW: What made you fall in love horror?
BRYAN: Maybe it has something to do with it being SO FORBIDDEN when I was growing up in the 80s. It was the big VHS boom. Movies like Friday the 13th were savaged by critics and warned parents that they were worse than pornography! I love scary stuff…scary movies are best when they are watched with others. I love turning people on to my favorites. Plus, as a kid, I was really into Special Makeup FX.
.
.
ANDREW: Have you noticed a growing trend in LGBT themed horrors, what's your favourite of what's out there?
BRYAN:I've noticed. Not all of it is good, or even comes from a good place.  I don't want to offend, but seeing too many gay men conform to a stereotype that bigots created for them. Almost like a "fried chicken n' watermelon' mentality that pisses me off. So many people I know are lemmings for "camp" because they were taught to like it….not all of it is good.  There is an anti-PC fever that is sweeping the community. People suddenly love shit like CRUISING and WINDOWS, which, again, NEVER came from a good place. I don't buy the whole "taking it back" crap. They just like it because it has GAY in it. When Will and Grace have jokes about being a "Platinum Gay", which means being born via C-section because vaginas are "disgusting", the whole community loses. The misogyny in the gay community is out of control. I consulted on the upcoming documentary about Elm Street 2's gay following, which should be interesting, though. As far as what I've liked recently, it would have to be that episode of BLACK MIRROR "San Junipero".
.
.
ANDREW: Penny Dreadful was a great movie you made, it starred horror icon Betsy Palmer (Mrs P. Voorhees – Friday 13th) – What was it like working with an icon of film and stage?
BRYAN: I used to g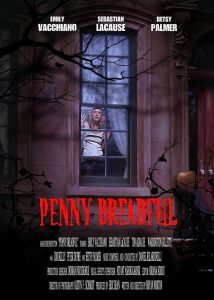 o to her Upper East Side apartment to talk about the project over lunch. I wanted Betsy badly…because I also had Warrington (Part 2's Jason) Gillette in it…but she was unsure she wanted to do it. That is, until I told her my second choice was Lee Grant. Suddenly, she was into it! She was excited to play a psychic and claimed that her daughter Melissa was one in real life.
She was difficult though…a self-described "cranky old woman". She had trouble with her lines and often got frustrated. But after the first day of shooting, I went home and there was a message from Betsy on my answering machine. She told me it was a wonderful day and she apologized for fumbling with her dialogue.  It felt good to be appreciated because I was a huge fan.
But when I was in post-production, I read an interview she gave to some horror website. When she was asked about PENNY, she trashed both me and the movie! Sort of like she used to talk about Friday the 13th.  I was furious. I've blocked out most of the nasty stuff, but it was enough to make me call her right away. She was super cheery to hear from me. I asked her for a favour…to at least hold off her opinion until she at least saw the movie. She pretended not to know what I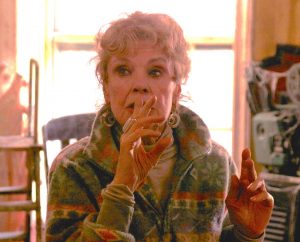 was talking about until I read her the interview. She got quiet….then said: "Bryan, I am so so sorry. Understand that I'm just a cranky old bitch sometimes and I never meant it." She was so embarrassed.  I reminded her that many scenes were compromised because she couldn't remember her lines. She always boasts about her role in MISTER ROBERTS and working with John Ford. I reminded her that her character didn't even have a name in that film! She does nothing in it.  I really unloaded on her and she was mortified at what she had done.  She insisted that I come uptown for lunch the next day. She took me to a fancy restaurant and we drank wine. She then handed me an envelope that she had drawn all these beautiful flowers on. Inside was $1000.00 cash that she insists I accept because she felt so bad and knew how hard so many of us were working on it.
After that, she was great…and really helped promote the movie everywhere. At the premiere, she stood up and got the crowd to give me a standing ovation and called it a beautiful work of art. She said she had no idea it was going to turn out that good.  Anyway, I'm sure most of that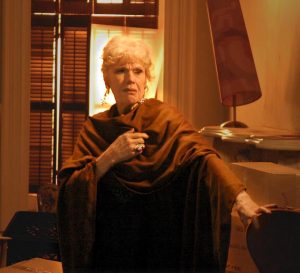 praise comes from guilt! lol.
.
.
ANDREW: Can you tell us something the horror community don't know about Betsy?
BRYAN:As you know, Betsy passed away a couple of years ago. I got a call one day from an estate attorney. Betsy had included me in her will. It wasn't a lot of money, but it was very sweet of her.
.
.
ANDREW: Out of all your work, what is your favorite (I know that's a hard question).
BRYAN: Well, I was running a film school for many years and had to choose between that and pursuing projects more diligently….which probably was a mistake, I guess it would be this short I did called JACK ATTACK which came out pretty good. It's adorable and we won a ton of awards for
it…it even opened the Fantasia Film Festival.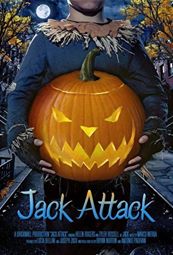 .
.
ANDREW: If you could get your hands on a franchise and move it forward – which would you choose and why?
BRYAN: Franchise? I don't know. But a few years ago, I heard they were remaking The House on Sorority Row and I went after that full force. I really wanted it, but they chose this other guy. Broke my heart!
.
.
ANDREW: Is there a forgotten gem out there that you would like to give a sequel that never got one?
BRYAN: Not really, but I am super excited about the new Halloween movie! I would, however, LOVE to remake the 1981 slasher EYES OF A STRANGER!
.
.
ANDREW: If you could / when you do make your next movie – what would be your dream cast?
BRYAN: Jamie Lee Curtis, of course!
.
.
ANDREW: What is next for you? Do you have any projects in development?
BRYAN: I've written some silly stuff for the TV that I don't really talk about and used pseudonyms for. Lately, it's mostly been writing about horror films for various publications and my Amityville book will be out next year. Let's make a movie!
.
.
ANDREW: I would love to make a movie with you Bryan – it would be a dream, come on over to England, we can make it happen. So finally – How can people follow your work?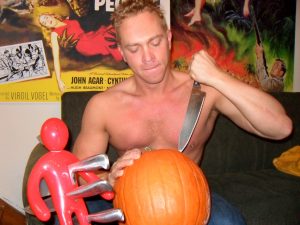 BRYAN: Facebook is the way to go!
.
.
ANDREW: Thanks Bryan – appreciate you taking the time to speak with me!
.
Interview conducted by Andrew E with Bryan Norton.
FACEBOOK:
https://www.facebook.com/bryan.norton.54
IMDB:
https://www.imdb.com/name/nm0636171/?ref_=fn_al_nm_1
Watch the trailer for Penny Dreadful here:
https://www.youtube.com/watch?v=N3ddSLZlOuM
Watch Jack Attack here:
The 'Making of' here (hilarious!)
https://www.youtube.com/watch?v=9PgwtaQ4JAg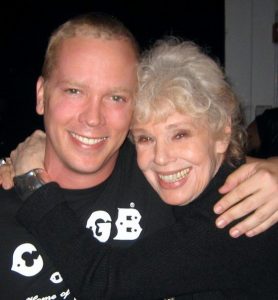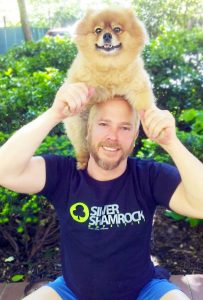 ---