---
Women of Horror: Tuesday Knight (Nightmare on Elm Street 4)!!
---
Tuesday Knight tells Gruemonkey what it means to her to be a Woman of Horror:
.
Where do I start, talking about horror is so much different than being recognized as one of the "Women In Horror".  In the mid 80's I got 
my first big job doing backing vocals for the Metal band

Quiet Riot

, and we would always have these parties and get togethers and laugh, talk and
just watch films and I would always bring some rare horror film that nobody had even heard of.  At that point in my life I enjoyed all these films just
like everybody else.
Then I got my own recording deal at the end of 86′.  By the time the record came out I had a top ten dance hit on the charts and then I was doing appearances
on shows like "The Facts of Life and Fame" it was really great because I got to get my feet wet in the acting world, but I was also able to sing and do what I did best. 
Then I landed another full time gig on "General Hospital" where I really started to love this thing called acting, but was still very new to it all.  My agent at the time was
really pulling out the roles left and right.  Then he called me one day while I was in the studio finishing up the mixing aspect of my album. 
He told me to go down to this company called

New Line Cinema

, and audition for this new independent film that was casting.  
So I went into this audition and I was auditioning for this role for A Nightmare on Elm St: 4 The Dream Master.  For the role of

Kristen

.  I have been such a huge fans of the
previous films that I knew exactly what I was reading for. 
But the thought of taking over for a character that had been previously played by someone else was a bit nerve racking. 
But the rest is history and we all know that I got the part, and that I was so excited when they hired me on the spot I ran out of the building and fell down the stairs at the front
of the New Line building. 
So looking back 30 years and seeing how everyone loves these films is something truly awesome.  And the song, it is always listed somewhere as one of the greatest opening
films credit songs… especially in

Oct

. 
I still go into auditions and people always know me from

Elm Street. 

 
Being in one of these films is like being a

Beatle

… people are never going to forget.  They will continue on and gather new fans as the years continue. 
Horror films are held so special by so many people these days, and its such a wonderful feeling to be bundled into that.  Horror films people thought we just played victim, against
these horrible monsters. 
But these films give people especially

WOMEN

the power that a lot of people wish they had.  That is why we always have a final girl.  
I am so very happy to be a part of something that people hold so dear.  Going around and meeting the fans is something I never thought I would get to do. 
Looking forward to the next 20 years where people are still screaming

"ELM STREET"

and I am sure it will keep going after that.  I am truly honored by this. 
May many more

SCREAM QUEENS

be born and brought onto the silver screen.
-TUESDAY KNIGHT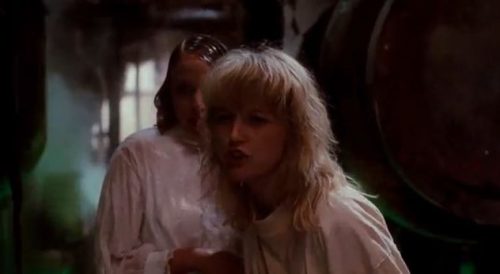 .
.
---