---
She Burns In Hell is a fan made film about Carrie!!
---
Concept Media

announced that a "Carrie" fan-film, already in production, will be released late 2018. "SHE BURNS IN HELL: Accounts from Chamberlain, Maine" is inspired by the closing chapters of

Stephen King's

novel, the short exploring the stories of the citizens that survived their encounters with the unhinged telekinetic on Prom Night. Written & directed by

Ryan Stacy

, the film is set on the night of

May 26, 1979

. Props and costumes by producer

JJ Phillip

s, author of the novel Parental Bloodshed. He Co Produces with

Concept Media

co-founder

Shawn Burkett, Stacy, and Chris Gierowski.


Starring:

Brittany Blanton (Don't Fuck in the Woods, Failing Grace) as Carrie White, Payton Krebs & Josh Miller as Sue Snell & Tommy Ross, Audery Lane,

 voice talents of

Mark Justice and Kelci C. Magel as Billy Noland and Chris Hargensen. 

.

.
Picking up just after Carrie has left the high school in flames, the townspeople of Chamberlain, Maine all experience peculiar & horrific phenomena…especially those unfortunate enough to be nearest her.
.
.
Will be available digitally, completely free to stream on YouTube later this year. The film's official Twitter account is(@she_burns).
www.conceptmediallc.com
#SHEBURNINHELL
.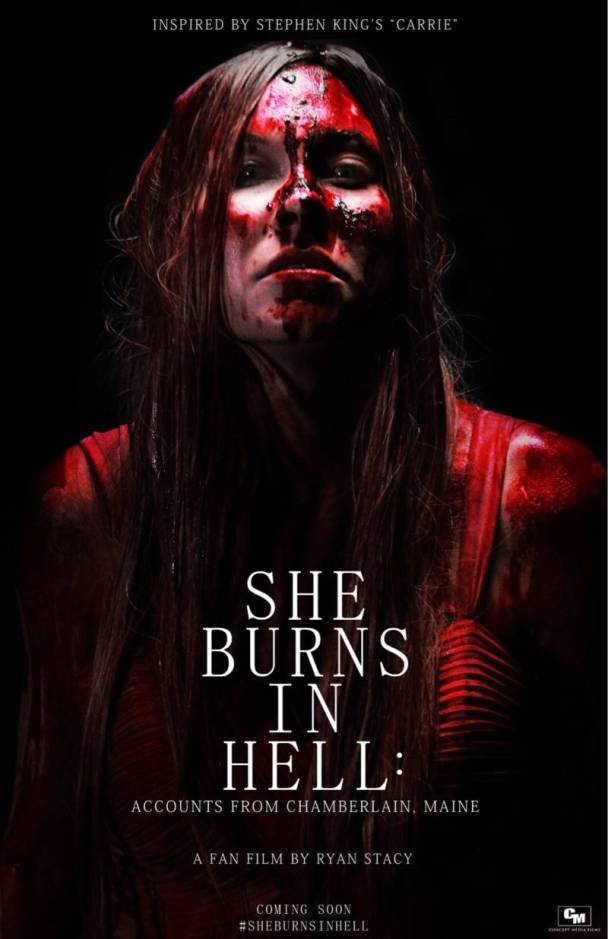 ---