Hellter interviews Ami Sheth (AMC's Dietland, Most Beautiful Island)!!
---
Hellter interviews Ami Sheth (AMC's Dietland, Most Beautiful Island)!!
---
Our guest today on
Gruemonkey

is the lovely and talented

Ami Sheth

. 

AMI SHETH

has had film and TV success in both the United States and India. She can currently be seen playing

"Sana"

(Plum's best friend and confidant) Sana ​is a model ​who ​​becomes a victim of a​n​ acid attack that leaves half of her face disfigured, on AMC's Dietland (starring

Julianna Margulies

), which premiered

June 4th

.

.
Sheth

has acted in several films including the

SXSW Critics Choice

winning film

Most Beautiful Island

and the cross Indian-American film Walkaway. Her TV credits include NBC's Blindspot as

"Afreen"

, the FBI lead lab tech, as well as guest appearances on

Bull, Blue Bloods and Delocated.

She also had the pleasure of shooting a TV pilot for

Discovery Inc. and Animal Planet

, which allowed her to combine her love of acting with her education in veterinary medicine. One of Sheth's greatest honors was being chosen to attend the

Sundance Film Lab

in Utah and working amongst many talented directors and actors from around the world. 
.
.
---
.
.

.
HELLTER: You are currently in AMC's drama Dietland. Can you tell us about your character and the show?  
AMI: Dietland is based on the modern feminist novel by Sarai Walker, of the same name. It follows the life of Plum Kettle (Joy Nash) who is the ghostwriter for Kitty Montgomery (Julianna Marguiles), editor of a trendy fashion magazine. Plum struggles with her self image and self acceptance. At the same time there are news reports of men who have been accused of sexual abuse and assault that go missing and end up having untimely, violent deaths. I play the role of Sana, a burn survivor, artist and member of the feminist collective called Calliope House. The house serves as a place for women to explore who they are and learn how they can make the world a better place for others. Throughout season 1 Sana uses her art as her outlet to deal with her facial scars. Sana befriends Plum and helps her through her journey of self acceptance.
.
.
.
HELLTER: What drew you to your character of Sana on Dietland?  
AMI: Initially I was drawn to Sana's self awareness and strength. Sana is an acid attack survivor and has dedicated her life to helping other women; women who themselves have had atrocious things happen despite everything she has been through. The role also requires hours of prosthetic work, which is something I have never done before. 
.
.
.
.

.
HELLTER: Do you prefer a TV series or a movie to work on and what are the pros and cons of both a series and a movie? 
AMI: Both are wonderful experiences, but if I had to choose, I'd pick working on a TV show. I love how you become like a family with everyone you work with because you see them daily and hopefully, if the show does well, for many years. I guess it's the closest thing to "stability" you can have as an actor. Alternatively, filming a movie is always new and exciting because being on a movie set is a short term project.
.
.
.
HELLTER: Can you tell us about the award winning film Most Beautiful Island?  
AMI: MOST BEAUTIFUL ISLAND is a psychological thriller set in the world of undocumented female immigrants hoping to make a life in New York City through the modeling industry. It follows one young woman's struggle (writer/director/actor Ana Asencio) for survival as she finds redemption from a tortured past in a dangerous underground game.
.
.
.
.

.
HELLTER: Most Beautiful Island is a horror thriller film. How do you mentally and physically prepare for a film about survival? 
AMI: There were a lot of factors that helped in creating a sense of heightened tension on set. First, the environment; we filmed multiple days overnight in a dark warehouse in Brooklyn. Second, I was able to really challenge myself to get into the mind of someone who was desperate, scared and on the brink of a breakdown. People will do just about anything if everything they have is on the line.
.
.
.
HELLTER: Favorite scene from Most Beautiful Island and why? 
AMI: The reveal of what the "game" is that these women are playing. Before it's revealed, your head goes to so many places. The answer is so satisfying. I wont be giving any spoilers here!
.
.
.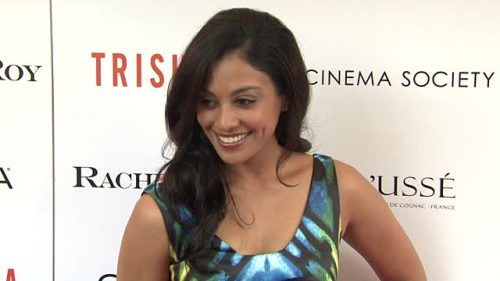 .
HELLTER: You were on Animal Planet and you're a vet. How awesome was it to be on Animal Planet with your experience of being a vet?
AMI: It was really amazing. One doesn't get many opportunities to combine your passions. It was also one of the first times I realized that acting could be more than just a love and creative release, but a career.
.
.
.
HELLTER: I love animals to. That sounds so amazing. You've been in a lot of TV series, even a long running soap One Life To Live. What's been your favorite character and TV series to work on and why? 
AMI: Definitely Sana and working on Dietland, working with so many wonderful people and being part of such a supportive set. I also loved the experience of working with all female directors. The show is so groundbreaking and I'm honored to be a part of it.
.
.
.
.

.
HELLTER: Dietland is such a great show. Good work with that. Do you like horror films at all, and if so what are some of your favorite horror films and why?
AMI: I'm actually kind of a wuss when it comes to horror. I'm not scared by blood or gore but true horror, the stuff that nightmares are made of? I'll need to sleep with the lights on. 
.
.
.
HELLTER: (Laughs). Horror films are so much fun!! Your thoughts on being chosen to attend the Sundance Film Lab in Utah?
AMI: It was such an honor to attend the Sundance Film Lab; I was surrounded by so many talented actors and writers. It was an opportunity I will always treasure. 
.
.
---
.
.
.
.
.
---