Grue's Pride Month: Hellter interviews Michael Johnston (Cory from MTV's Teen Wolf)!!
---
Grue's Pride Month: Hellter interviews Michael Johnston (Cory from MTV's Teen Wolf)!!
---
Hello

Grue-Lings,
  Our very special guest today is a young man who became so popular with his character

Cory

from the popular

MTV

series Teen Wolf,

Michael Johnston

. 

Cory

can be seen often shirtless and was a very popular character on the last couple seasons of Teen Wolf.  Michael started out as a voice actor in numerous shows including  A Lull in the Sea, Tales of Zestiria the X, and Zak Storm.  He also did voice over work in video games such as

Dust: An Elysian and Tales of Zestiria

. His first live action tv series was playing a senior in the tv show Awkward. Michael got his big break in the breakout role of

Neil

for the movie Slash.

Neil

was the main character and was dealing with his sexuality and feelings. The same year, he also had a starring role in the creepy horror movie Bornless Ones as he plays

Zach

, amazing performance. From his two breakout roles,

MTV

decided to hire him for their hit tv series Teen Wolf.

Michael

plays

Cory

.

Cory

melted the hearts of the

LGBT

community,

Cory

was so sweet and so sexy and he was also a werewolf. In 2018 he had a role in The Maestro as

Pietro Castelnuovo-Tedesco

and he also has a film in Post-Production called Crazy for the Boys. Here is Teen Wolf's

Michael Johnston:
.
.
---
.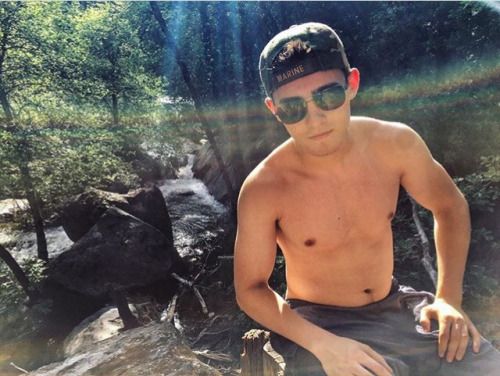 .
HELLTER: First off Michael. Thank you for joining me today on Gruemonkey for Grue's Gay Pride Month. Speaking of Gay Pride Month. You have a big gay following because of your character on Teen Wolf. Are there any similarities between Michael and Corey?
MICHAEL: Of course! I'm so grateful for my fans. Corey is gay but the show isn't about his sexuality – It's just a part of who he is. I get messages from fans all the time thanking me for making them feel represented and accepted. It's truly an honor.
One similarity between Corey and me is that we're both outsiders. In the show, Corey is thrown into this supernatural world and given new powers. For me, Teen Wolf was my first major TV role. It was surreal. I joined a large cast and crew that had been working together for years. I was pretty nervous, but everyone was extremely welcoming and kind.
.
.
.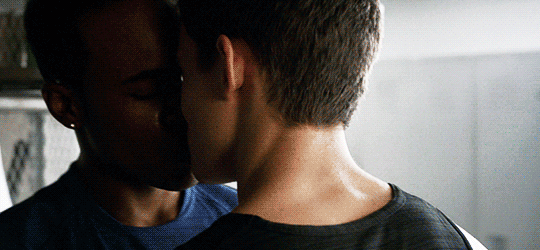 .
HELLTER: I am glad to hear the cast was kind and treated you well. Is it true you auditioned for Slash before you knew you were going to be Corey on Teen Wolf and how do you feel about reading Teen Wolf fan fic about your character?
MICHAEL: Yes, I auditioned for Slash before Teen Wolf,  and then I found out I got it after we shot the first half of season 5. It was quite a change of pace and a completely different type of project. Slash was actually a perfect introduction to fan fic because my character Neil wrote it. Before that, I didn't even know what fan fic was. Reading the Corey fan fic is bizarre, and a little endearing. There are some creative stories out there! 
.
.
.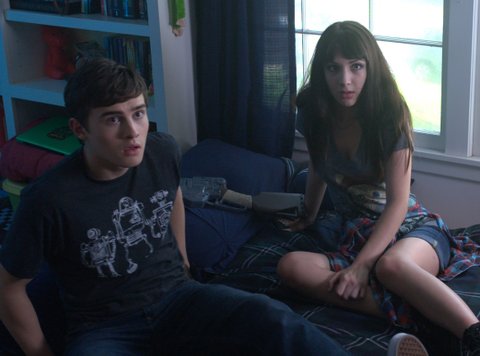 .
HELLTER: Sound very interested. I might have to read some of the fan fic. How did it feel to have your first lead role in Slash?
MICHAEL: It was a life changing experience. I learned so much about how movies are made and the importance of every job on set. I also learned what a big responsibility it is to be the lead of a film.
.
.
.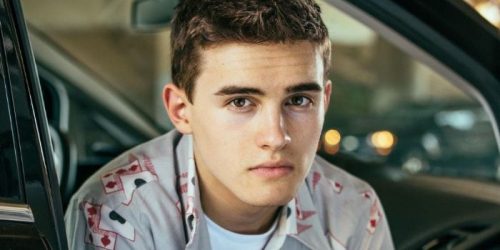 .
HELLTER: You really nailed that role out of the park. Great performance for your first lead role Michael. Can you tell us about Neil in Slash and his struggle with his sexuality and what advice you can give to teens that are also struggling with their sexuality and who they are in love with?
MICHAEL: Throughout Slash, Neil explores his sexuality in his writing and with his new relationships. Neil is lucky to have supportive parents, but he struggles with bullies and is even picked on by his sister. My advice to Neil, or any struggling teen would be to just keep being who you are. There's no need to put a label on yourself. Fitting in isn't going to make you happy if it means surrounding yourself with people who have a problem with your sexuality.
.
.
.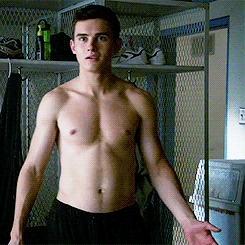 .
HELLTER: I agree 100 percent. Can you tell us about how you got the role as Corey on Teen Wolf?
MICHAEL: I had an audition for a small role in MTV's Awkward, and the casting director liked me enough to send me to the Teen Wolf audition a few days after. I auditioned for it and got the part!
.
.
.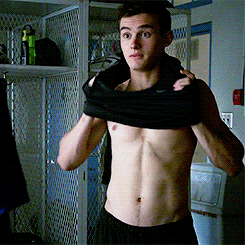 .
HELLTER: When you originally auditioned for the role of Corey, did you know where the writers were taking your role?
MICHAEL: Before I started working on the show, I had no clue what the writers had in mind for my character. I honestly thought I would only be around for a couple episodes. But then I learned that my character was going to be introduced with a really strange injury, and that Mason was going to be my love interest. Finding out about the finale was all really last-minute, it seems like everything is when it comes to Teen Wolf. Everyone's kind of like "Oh my gosh what's happening! Ah! That just happened! Ah! Now that's happening" (laughs). It keeps us (as actors) on our feet.
.
.
.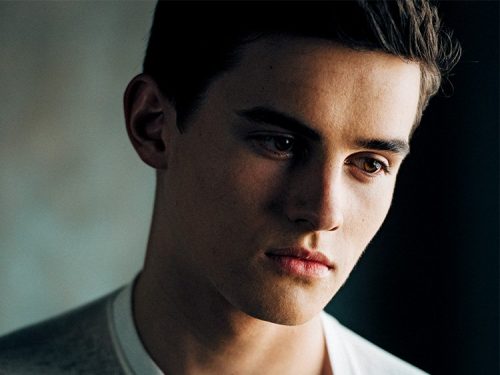 .
HELLTER: Were you nervous when Corey had to do kissing scenes and sex scenes with his boyfriend Mason? Were you comfortable doing those scenes and being seen shirtless alot?
MICHAEL: I was nervous to do those scenes but everyone was so professional that it wasn't a big deal at all. I actually got to work with a trainer a bit before the shirtless scenes. That was a lot of fun.
.
.
.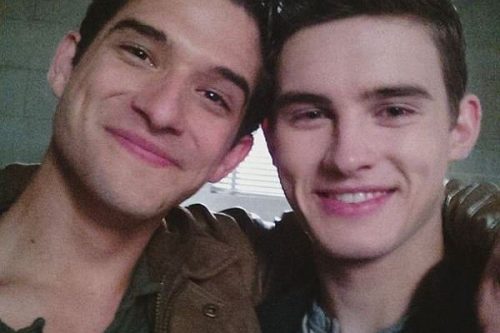 .
HELLTER: That's why your body always looked so amazing, you had a trailer before shirtless scenes. Nice. This questions is threw the eyes of Corey. Being a Gay Werewolf, if you had your choice to be in a relationship and hook up with any guy on Teen Wolf besides Mason, who would it be and why?
MICHAEL: I think Corey is pretty loyal to Mason! If something devastating happened, he'd probably just be a loner.
.
.
.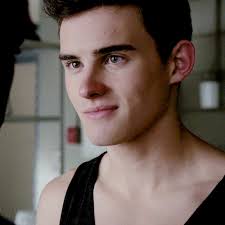 .
HELLTER: What was it like joining the cast of Teen Wolf, everybody on set seems so cool and down to earth, Tyler Posey seems amazing?
MICHAEL: It was awesome. The atmosphere of the set was so laid-back. Tyler was great to work with – he always spread good vibes! He showed me around on my first day. I'm glad for that, because the set was huge and there were a lot of new faces for me. My first scene on the show was with the leads. I remember this particular thing happening. Melissa (Ponzio) who plays Scott's mom was supposed to be hovering over me as I was screaming. I was trying to get advice from her for a later scene. I said "Hey can I read my lines to you? Can you tell me how this sounds? Is this ok?" She thought I was so funny. She was like "I'm sure you're fine, you got here through your audition! You'll be okay." Thankfully, everything worked out! After I did my film in Austin I came back with a lot more experience so I was really excited to dig in again.
.
.
.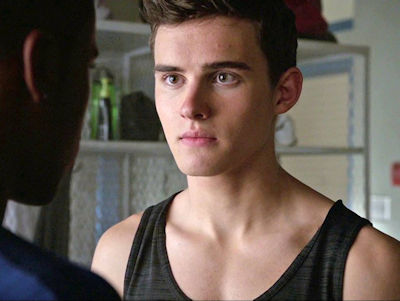 .
HELLTER: How is your music going? while you were doing Teen Wolf, you were posting videos on instagram singing and started playing the piano.
MICHAEL: I just started learning guitar and I'm singing and writing every day. When I was road-tripping with my dad a while back we were listening to music and he said "You never sing!" So I sang for him for the first time in the car. He told me I should start singing and now I do it all the time. It's my main focus right now. More covers and original music coming soon! I'll keep my Instagram up to date.
.
.
.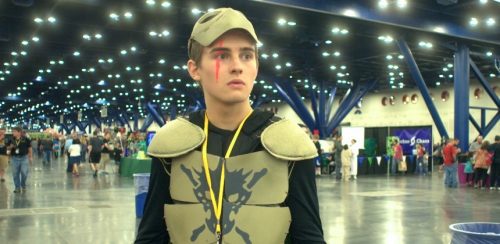 .
HELLTER: That's so cool. I heard your music online, you are very talented. There was alot of bloopers on Teen Wolf and on Wolf Watch. What was your favorite blooper and are there any funny stories that maybe the camera may have not caught?
MICHAEL: That's a tough one! I can't remember seeing any bloopers but Wolf Watch itself was like a huge gag reel. One funny moment I remember was when Khylin and I had to sprint in the rain wearing wet suits underneath our clothes. The suits were so restricting that our running looked goofy and awkward. Also, There was an incident with a carrot. Dylan (O'brien) was throwing carrots at Kara, one of the crew, from far away. He was just throwing all these carrots and I wanted to play too! So I said "Hey throw me a carrot!" He threw it from really far away and it hit me directly in the face. It was hilarious. It was also more painful than you'd think!
.
.
.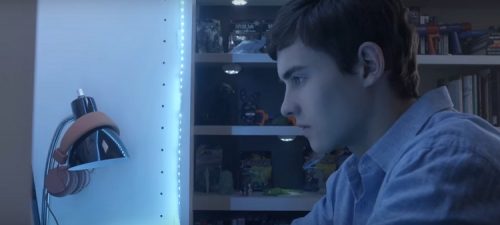 .
HELLTER: (Laughs) Too funny. What was your favorite scene and favorite kill on Teen Wolf?
MICHAEL: Any scenes with Void Styles are my favorite. I'm a huge fan. My favorite kill has to be when Corey gets skewered by the Surgeon. I'm proud of that scene because it was my first death scene ever, and the guy playing the Surgeon (Marti Matulis) is such a cool dude.
.
.
.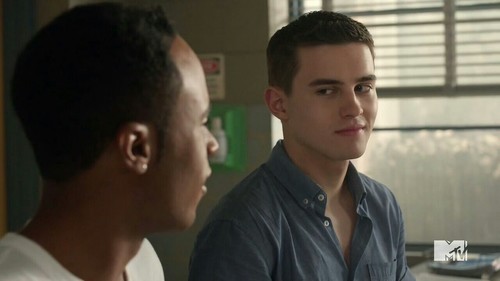 .
HELLTER: I was so sad when your character died. How was it like kissing Michael Ian Black in Slash and how did that scene come about?
MICHAEL: That was a brave scene for both of us. We were filming in a public place so that made it a bit awkward. At one point I remember the director shouting, "Do it again! Make it longer!" (Laughs)!
.
.
.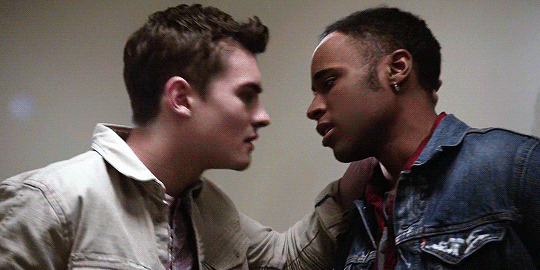 .
HELLTER: I guess he wanted you both to feel the passion in the kiss (laughs). Who was a better kisser, Mason or Michael Ian Black?
MICHAEL: I didn't have the opportunity to really dig in with Michael so I'd have to say Khylin!
.
.
.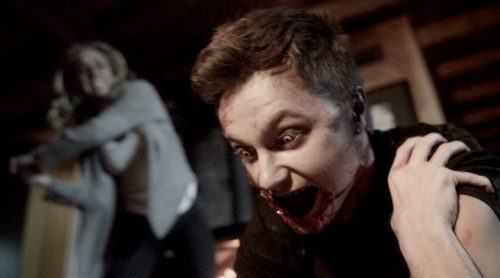 .
HELLTER: You did such an amazing job in another lead role you had as a paralyzed guy in the horror film the Bornless Ones. How was it like working on that horror film and what that experience like?
MICHAEL: Thank you! That was my very first project. Another great learning experience. I made some amazing friends.
.
.
.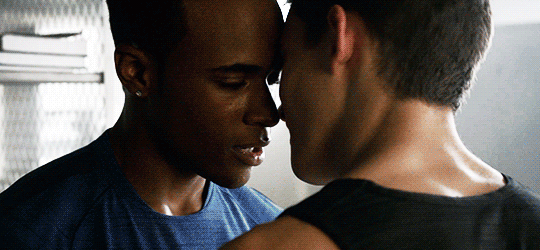 .
HELLTER: You play a gay character Corey on Teen Wolf, but has Michael Johnston ever been curious to explore with a guy or have a man crush?
MICHAEL: Hmm, I do enjoy hiking with my friends. Also, I think every guy has had at least one man crush.
.
.
.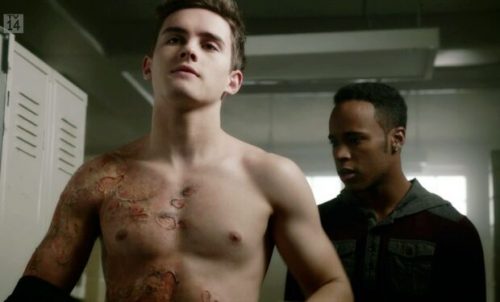 .
HELLTER: True. I think my man crush might be Spiderman himself Tom Holland. What do you prefer more, doing a movie or tv show?
MICHAEL: I honestly couldn't choose. I'm happy to do either. I think there is something really satisfying about filming a movie though, because you get to tell a story from beginning to end in a shorter period of time.
.
.
.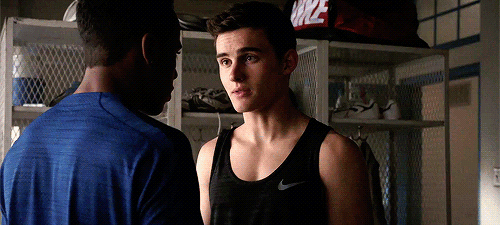 .
HELLTER: Anything else you want to discuss or promote?
MICHAEL: Sorry, nothing I'm allowed to talk about yet. Thank you so much for the interview!
.
.
---
.
.
.
.
.
.
---