---
British Horror film Habit gets North American Release!!
---
Kew Media

is bringing to us the North American release of festival hit British horror movie Habit starring

Jessica Barden (The End of the F**king World), Elliot James Langridge (Northern Soul), William Ash (Hush), Roxanne Pallett (Wrong Turn) and Joanne Mitchell (Before Dawn).


Habit was awarded Best Feature and Best Screenplay at the

New York City Horror Film Festival

in October 2017 and has been shown at festivals across Europe. It will be available on all VOD. 
Produced by:

Simeon Halligan and Rachel Richardson-Jones

. Based on a novel by

Stephen McGeah.
.
.
It follows Michael (Elliot James Langridge), and his chance meeting with Lee (Jessica Barden) that leads to a job at a seedy massage parlour called Cloud 9. After witnessing the violent death of one of the customers Michael experiences blood-drenched flashbacks and feels himself being sucked into a twilight world that he doesn't understand but is irresistibly drawn to.
.
.
Directed by:

Simeon Halligan

. Habit also also features an amazing soundtrack. Music composed by Claude Foisy. Habit is a

Habit Films Production

in association with

A Not A Number and Tin Hat

, available now on all major VOD platforms in North America.
.
.
.
.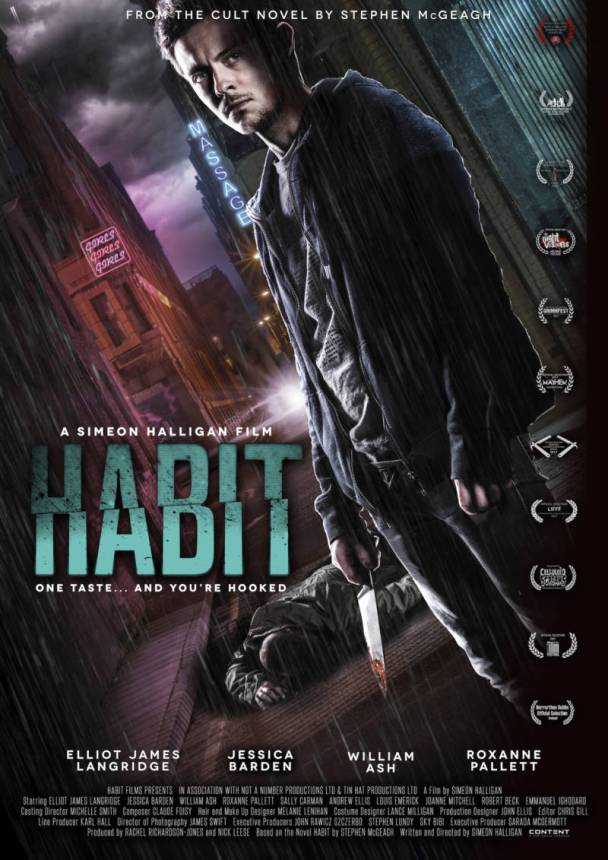 ---