---
Blessed Are The Children will give you nightmares!!
---
CWM Entertainment Presents:
.
BLESSED ARE THE CHILDREN!!
.
.
A Film by Chris Moore. 
.
"BLESSED ARE THE CHILDREN"

CAST
.
TRACI PATTERSON……………………………………………………KALEY BALL MANDY CRANE………………………………………………………KENI BOUNDS
ERIN PETERS……………………………………………………….ARIAN THIGPEN
BEN LANE…………………………………………………………….JORDAN BOYD
STEPHEN FORDHAM………………………………………….MICHAEL KINSLOW
JOHN BALSAM…………………………………………………..DAVID MONCRIEF
STEPHANIE PATTERSON…………………………………..CHERYL ABERNATHY TINA………………………………………………………………JENNIFER WILDER
AMY MOORE…………………………………………………..…HOPE PRYBYLSKI
BERNADETTE MOSS…………………………………………CLAIRE MAYRONNE
GUY AT COFFEE SHOP………………………………………….ERIC HENDERSON GABBI……………………………………………………………..…SARA LARGENT JOGGER………………………………………………………………CHRIS WESLEY
KILLERS…..……………GEORGE MAYRONNE, ERIC RIGGS, WAYNE THOMAS.
.
DIRECTED BY…………………………………………………………CHRIS MOORE
PRODUCED BY……………………………………….………………CHRIS MOORE
EXECUTIVE PRODUCER………………………………………………..SHERRI OTT
WRITTEN BY…………………………………………………………..CHRIS MOORE EDITOR………………………………………………………………..HARDY JARVIS
MUSIC BY…………………………………………………CHRISTOPHER SUMRALL
DIRECTOR OF PHOTOGRAPHY……………………………………LEE FIRESTONE
ASSOCIATE PRODUCER……………………………………………CARLENE BOYD
.
SYNOPSIS : Between her father's recent death; an unreciprocated romance with John, a narcissistic med student; her harrowing and unexpected encounters with Ben, her violent and drunken ex; and her strained relationship with Stephanie, her snooty mother; adrift 20something Traci Patterson thinks her life can't get any worse…until she discovers that she's pregnant. With the help of her friends, Erin and Mandy, she decides to terminate her pregnancy, but quickly after leaving the clinic, she begins seeing and hearing things – shapes in the corner of her eye, strange noises in the middle of the night, and ghoulish figures stalking her every move. Is it guilt or are Traci and her friends in grave danger? Blessed Are the Children is a twisted horror/thriller from CWM Entertainment concocted by writer/ director Chris Moore guaranteed to make sure you never feel safe in the dark again.
.
.
DIRECTOR STATEMENT:  If I may get pretentious for a moment, I wasn't interested in making a normal, run-of-themill slasher film. Not that there's anything wrong with them. As you'll see in the film, there are many homages and tips of the hat to some of my favorite classic slasher films. However, historically, the subgenre hasn't been terribly interested in its characters – typically treating them as little more than blood-soaked set dressing. I wanted to make a film about modern women – about their dreams, hopes, friendships, relationships, and (most especially) their rights as human beings. The horrors that befall these characters should be shocking, horrifying, and disturbing, because, hopefully, you'll relate to them and see them as your sisters, mothers, coworkers, lovers, friends, and classmates. I hope you'll enjoy rooting for them as much as I do and, most importantly, I hope you enjoy taking this journey with them. I encourage you to laugh with them, cry with them, panic with them, and scream with them.
.
.
Born and raised in Jackson, Mississippi,

Chris Moore

has been active in the arts since he was 10 years old and started making his first film. At 13, he began work on The House of Covered Mirrors, a surreal, giallo-inspired fever dream. The film was recently completed featuring performances from beloved genre veterans such as

Lynn Lowry and Debbie Rochon

. Before graduating from high school, Moore had two feature films, Lock In and Perversion, to his name. He attended the University of North Carolina School of the Arts where he graduated with a BFA in filmmaking with an emphasis on screenwriting. Also a playwright, his 2013 play, Finding Laurel, won the 1st place at the MTA Playwriting Competition. Around this time, he also created the comedic web series The American Dream and its feature film spin off, A Star is Stillborn with collaborator

Nina Scholl

.
.
.
KALEY BALL

plays Traci Patterson, the appealingly sarcastic modern woman surrounded by grief, dead end relationships, and targeted by a group of terrifying fanatics. Most known for her musical work with Jackson, Mississippi based band, Serotonin, this is Ball's first feature film credit.
.
KENI BOUNDS

portrays Mandy Crane, the warm and maternal friend we all wish we had who's still grieving over her mother's passing and a mysterious breakup with her girlfriend, Amy. Bounds co-runs the hysterical mystery dinner theatre group, The Detectives, and recently directed a production of Neil Simon's Barefoot in the Park for Black Rose Theatre.
.
ARIAN THIGPEN

is Erin Peters, a virginal and whip-smart young woman who's less concerned with dating than she is with trying to find her place in this world. Thigpen makes her motion picture debut in Blessed Are the Children after starring in such stage productions as Stephen Sondheim's Company for Actor's Playhouse in Pearl, Mississippi.
.
JORDAN BOYD

co-stars as Ben Lane, the psychotic drunken ex of Traci's who won't leave her alone until he gets what he wants. Though Blessed Are the Children is his film debut, Boyd is a veteran of the stage with several credits to his name. He also works with the dinner theatre group, The Detectives.
.
MICHAEL KINSLOW

is Stephen Fordham, Erin's very first date.
.
DAVID MONCRIEF

is John Balsam, Traci's handsome and selfish lover.
.
CHERYL ABERNATHY

plays Stephanie, the disapproving mother of Traci.
.
JENNIFER WILDER

steals her scene as the stuck up Tina, who corners Traci in the restroom.
.
.
REVIEW QUOTES:
.
The critics are loving Blessed Are the Children! Here's some of what they've had to say:
.
"Twisted…a blend of chilling visuals and snarky humor." – Dread Central
.
"Lovingly salutes many a horror trope and then when you least expect it, slyly stomps on a few too…alarming as hell." – Kindertrauma
.
"It's nice to see independent horror like Blessed are the Children…controversial content riddles the film with a breaking point uncomfortable for most. You have to respect horror that takes on the hard to talk about topics." – We Are Indie Horror
.
"Startlingly-fresh…intriguing…legitimately terrifying." – Slasher Studios
.
"A stylish slasher…horror with taste…one of the best casts I have seen in a horror movie." – Horror Society
.
"Quite unique with a distinct voice of its own." – Bollywood Newsflash
.
"Blessed are the Children isn't just a simple horror film looking for scares and a body count…a smooth cross between Sex and the City and Black Christmas…powerful… boasts solid production value." – Morbidly Beautiful
.
"Believable and creepy…clever script…enough moxie and cleverness to move past being just another run-of-the-mill indie horror movie." – Gruesome Magazine
.
"A mean little horror movie, one that's good at playing with genre conventions and more often than not turning them on their heads…a winner." – [re]Search Your Trash "Effectively scary…unsettling in a good way." – HorrorNews.net
.
"The acting is great….nods to films like The Brood…really well done…one to look out for." – The Hysteria Continues
.
.
..
.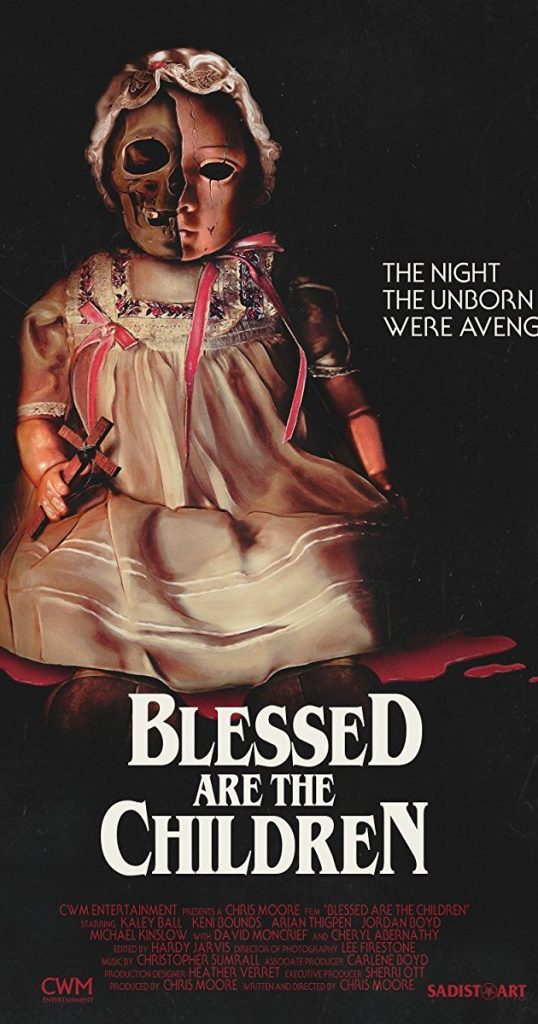 ---