---
Move over Sharknado for evil clowns in Clownado!!
---
CLOWNADO PRESS RELEASE:
.
.
After the critical, theatrical and Film Festival success of

Dreaming Purple Neon

, out now on DVD and On Demand from

Unearthed Films

, and the ambitious and wildly entertaining Werewolf Movie, Bonehill Road, Indie Director

Todd Sheets

celebrates his 30th year making horror movies with

CLOWNADO

.
.
It is a wild and crazy title, but with

Todd Sheets

as Director, you know to always expect the unexpected. It is not a parody nor is it near as ridiculous as the title suggests.
.
The goal with CLOWNADO is to make a damned good, scary and splatter-filled, nonstop roller coaster ride of a Horror movie. It's something new, fresh, original and unique but also familiar. Using only Practical Special Makeup Effects and old school styled Visual Effects, CLOWNADO has the vibe of Classic Horror movies we love.  Think Evil Dead, Dead Alive, Bad Taste and Texas Chainsaw Massacre if

Lucio Fulci

was directing, all mixed in a swirling storm of insanity! Now add in scary supernatural Clowns and the cinematic visual style known as

FILM NOIR

…. intense composition with shadow and light…. and a bit of that incredible

John Carpenter

suspense (John was also influenced by Noir classics)…. and you have an Ambitious, Over the Top Gorefest Epic!!
.
But none of that matters WITHOUT YOUR HELP. The production team have all the gear and the crew and half of the cast all set and ready to roll, they also have PLANES, access to an airport for filming, members of TVs Storm Chasers involved and Effects designer

Joe Castro

already hard at work on the practical effects. "Unlike some of our other films, we cannot do this one alone. The makeup effects and visuals do cost a bit… we want to do this with Practical Effects. Some visual effects will be done on a computer, but it is not CGI…. mainly for stuff like mattes and wire removal. And we need to be able to fly in our genre icons, and put them in a hotel."  Sheets explains.  "As with our other films… every dime will be used for production and it will ALL go onscreen. We even asked people on the Official CLOWNADO Facebook page and decided to do TWO campaigns, one on

GoFundMe and one on IndieGoGo

so you can use your own preferred site."
.
A TEASER trailer for the Crowdfunding has been released:
.
.
.
Time is ticking, so please help!!! Share this post, spread the word and create something awesome… together!!!
.
Our crowdfunding links:
.
.
.
CLOWNADO – A one of a kind thrill ride into the depths of depravity and gore!!! Believe it or not, it is a

Horror Film Noir

, with crazed killer Clowns on a rampage from Hell… out for revenge and only BLOOD can quench their savage desire for destruction!!!! Be ready for one twisted and scary adventure!  Thank you for your support!!!!
.
.
Todd Sheets
.
.
www.nightwatchradio.com
www.jackaloperadio.com
www.zombiebloodbath.com
.
.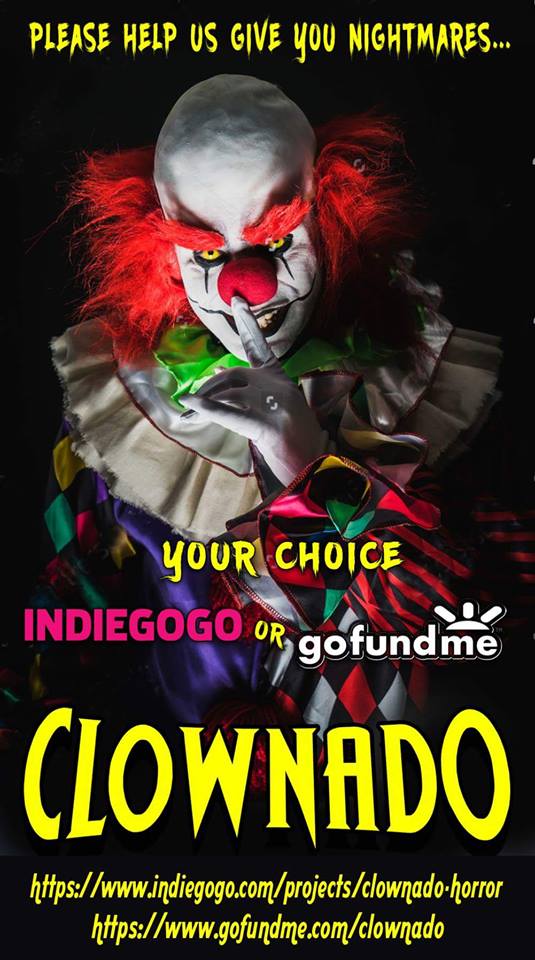 ---