Hellter interviews Tuesday Knight (Nightmare on Elm Street 4's Kristen)
---
Hellter interviews Tuesday Knight (Nightmare on Elm Street 4's Kristen)
---
Hello my Grue-Lings,
    Today our very special guest is Nightmare on Elm Street 4's own Tuesday Knight.  She is an actress and composer, known for A Nightmare on Elm Street 4: The Dream Master (1988), The Theory of the Leisure Class (2001) and Mistress (1992).   She has a Nightmare EP out and did the theme song for Nightmare on Elm Street 4 called Nightmare.  She is heavily into music as she is for acting. I am very honored that Tuesday is doing a interview with us.  Please welcome Tuesday Knight.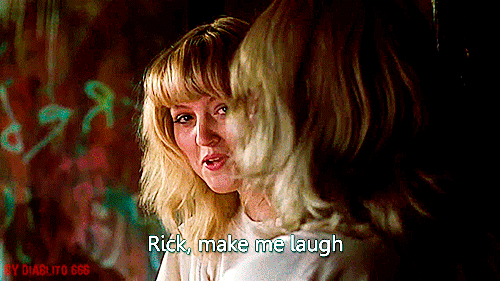 ---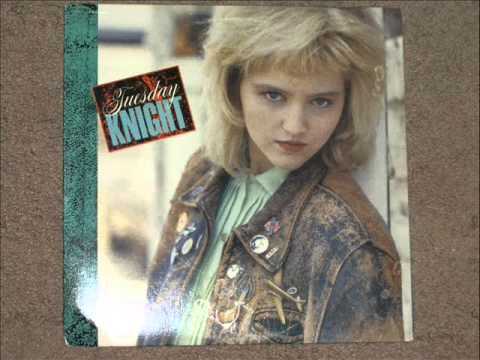 Hellter: Early in your career you did Mob Squad, Facts of Life and a good run on General Hospital. Did you enjoy working on those series?
Tuesday: The Mod Squad was something I was kind of thrown into, I really don't have many memories of that or on set.  But when I was doing FAME, The Facts of Life and General Hospital I did because they were music related and my record company at the time (CBS/PARC Records) wanted me to get my face out there before my album came out.   So they had sent me on those auditions, but General Hospital turned into a good almost 4 year run and I was not expecting that.  I had a blast on all the shows though, The Facts of Life was just crazy to be on because the dressing rooms didn't have ceilings and people could just look over and see you dressing it was almost an episode of the twilight zone.  And Cloris Leachman was as crazy (in a good way) as they come.
Hellter: Sounds like there wasn't to much privacy for you on set of Facts of Life.  One of your most recognized roles is Kristen Parker from Nightmare on Elm Street 4. How did this role come about for you?
Tuesday: Like I said I was out doing shows to get some promotion for my first commercial release album.  I think I had finished my album and then about 2 weeks later my Manager called me and told me to go on this audition down at New Line Cinema.  So I went down and met with Renny Harlin and Rachel Talalay and the casting director and Renny hired me on the spot.  I knew it was a "Nightmare" film and I had been such a fan of the first film.  So when I got hired I was running down the stairs in the front of the New Line Cinema building and I fell down them.  So I had to go find a pay phone and call everyone I knew to tell them I had gotten the part.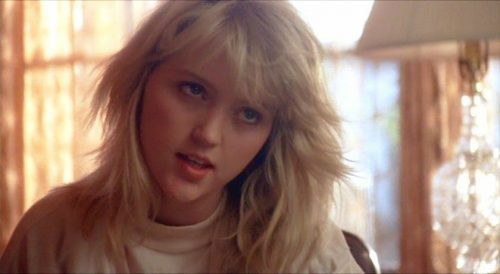 Hellter: I am happy you got the role, but it sucks you fell down the stairs in the process of the excitement.  Did you ever think Nightmare 4 would have the success and following it has?
Tuesday: Well I was a huge fan of the first film and I knew that it had a following but at the time it was just another Horror film.  I think we were all really surprised at the take off that Nightmare 4 got, and how people were crazy about Freddy.  I was crazy about Freddy.
Hellter: I think we can all agree that we all love Freddy (laughs).  Did you study Patricia Arquette's Kristen at all from Nightmare 3?
Tuesday: I was told that I had been replacing an actress that was in the previous film, and I had not seen the 3rd film yet so I went and saw it with some friends… I think we rented it.  Renny wanted me to get some of her characteristics down, and I did to a degree.  But then again I didn't want to just be a cookie cutter.  I wanted to make the role my own, so I just went with what I thought the character should have been.  At this point Kristen knew all about Freddy, and she really wasn't going to go down without a fight and I think I showed that.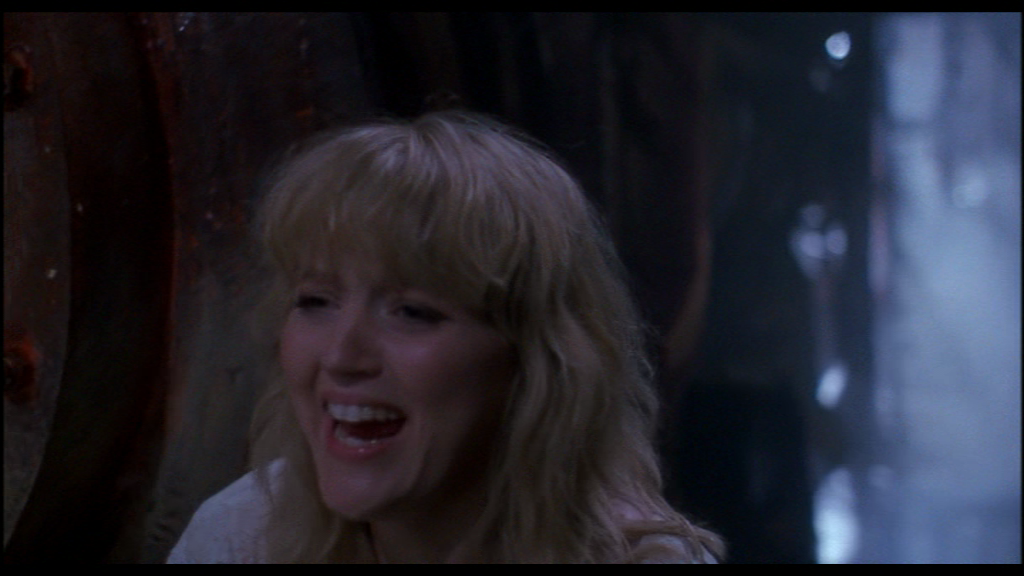 Hellter: Your character did take it to Freddy. Ill give you that.  What do you remember most about filming the boiler room scene?
Tuesday: It was hot.  With all the lighting and fog (steam) machines and running around it was just really hot.  But I remember really getting into the scene, because of all the surroundings it was intense.  We actually shot many boiler room scenes but a lot was cut from the film.  In fact there is a lot of footage out there that people didn't see, but the studio had to make a call and say "cut it" because they were focusing too much on my character and they needed to kill her off to move on to the new kids on Elm St.  I do hope that one day the do release the deleted scenes, I know the fans would really like that.
Hellter: I am one of those fans that would love to see all the extra boiler room footage that was cut.  New Line if your reading this, get on that!!   Did you date Andras Jones who played Rick in Nightmare 4?
Tuesday: Yes, we met on the set of Elm St. and dated for 3 years after the film.  There are a lot of people out there that say I was having an affair with Renny, because he and I grew really close and were good friends.  But I was with Andras, so that is just such a false statement… people have been talking about it for nearly 30 years, is it that an interesting subject?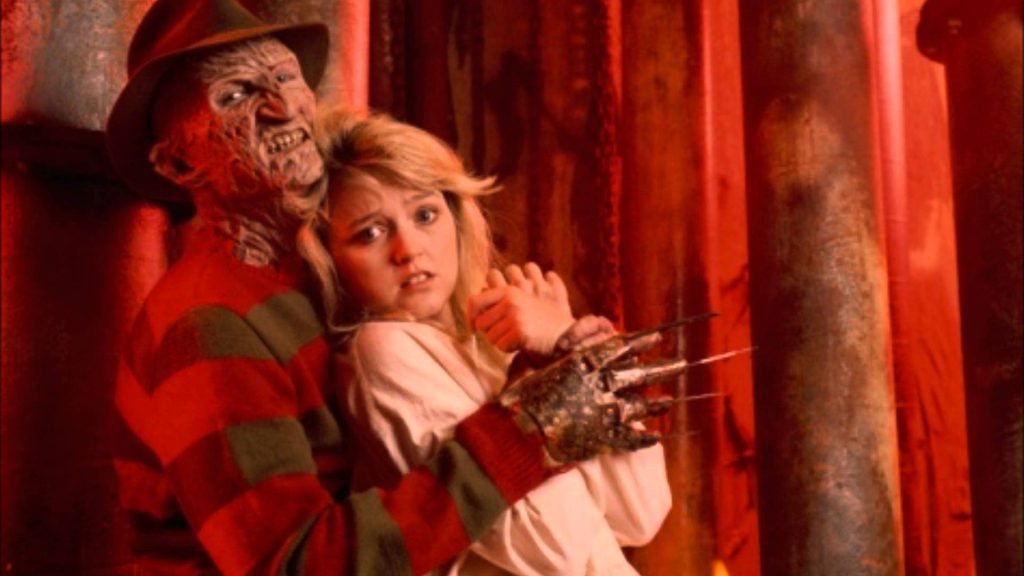 Hellter: People love to gossip. I can't believe that still talk about that, that's crazy.  Let people live their life.  How was it like working with Robert Englund and Lisa Wilcox?
Tuesday: Robert was amazing!  He came on set and treated all of us New Kids like we were equals, he never did the whole DIVA thing and wouldn't share a trailer with us or anything like that.  And the man had many great stories about all the other films and stage work he had done at that time.  And about the other Nightmare films. When we did the beach scene (another HOT day in Los Angeles) he and I were sharing a trailer and fans found out that we were shooting there and they were yelling and pounding on the trailer wanting to see Freddy and security had to come escort them away so that we could film.  That wasn't a real beach they had made that.And again it was hot and for Robert to have to wear all that make-up and that sweater, I just don't know how he did it.  Lisa is great as well.  We have stayed friends all these years through thick and thin, I love her and when you do these kinds of films you really do become family. 
Hellter: It's really cool to see how close you and Lisa remain as friends. I was just at a recent horror convention and saw both of you sitting next to each other at two tables.  When you were filming the beach scene with Robert, hundreds of fans showed up to his trailer, how was that experience?
Tuesday: As I said above we were both in the same trailer those 4 days… and it kind of freaked me out.  But he knew and was used to it by then.  He had already traveled the world as Freddy and people were going nuts.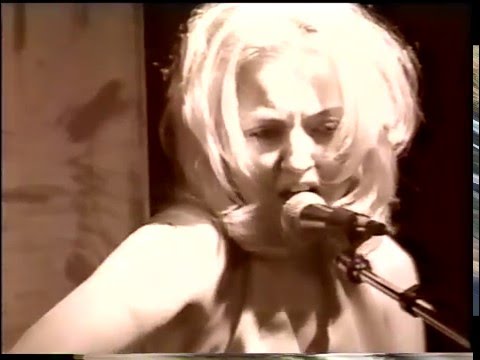 Hellter: That must have been a crazy experience, wow.  You sing the feature song on Nightmare 4 called Nightmare. You have a Ep and digital download out now of a full album called nightmare. Featuring your self titled album and versions of nightmare. Explain the album and songs and where can a fan buy a copy or download it at?
Tuesday: Well as all the fans know the song did not end up on the soundtrack, that was the craziest soundtrack half of those songs aren't even in the movie and half of the songs that were credited at the end weren't even in the movie. But I guess at the time I didn't really know the kind of impression that, that song would make on the fans.  So I had been getting fan mail over the last 27 years asking me where they could get this song because they were downloading a horrible version off the internet.  So I went down and went diving through all of Warner Bros. archived music from those years and found the master tracks to the song. So I wanted to do some kind of a proper release that the fans would put with their collection.  So there are 7 versions of "Nightmare" on there and a lot of other songs that people may or may not have heard of mine.  I tired to make it as 80's as possible as if it had come out then.You can get the digital download on my website www.tuesdayknight.com for $10 for a limited time.
Hellter: I'll be one of those people buying the Nightmare EP.  I love your song. It's amazing and so are you.  How was it like working with Quiet Riot as the backing vocals and your own self title album?
Tuesday: That was my "REAL" first release in the music world.  I had started a band before then, and I was dating the lead singer Kevin Dubrow at the time and he asked me to do backing vocals on 4 of the songs on that album.  And that is what lead to me getting my own record deal, and then you have history.  But that was such a great album and I am so happy to have been a part of it.  And the talent from that album was all Kevin and Randy, both have died too young but they were the masterminds behind that amazing album.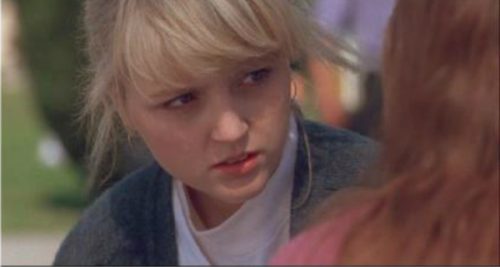 Hellter: That's really cool that you got to work with Quiet Riot.  What other movies and characters do fans know you by besides Kristen and the nightmare films?
Tuesday: A lot of people know me from my series that I had called 2000 Malibu Road that starred Jennifer Beals, Drew Barrymore, Lisa Hartman and myself.  That was really fun. And then I have people who know me from Mistress and my film I did with Billy Bob Thornton called Daddy & Them.  But I think people will always put me with A Nightmare on Elm St.  That movie is going to be around for a very long time.
Hellter: But that's a great way to be remembered in the horror world. You fought Freddy Krueger!!!!   Is Horror your favorite genre and what are some of your favorite horror films? 
Tuesday: My favorite Genre of film is Horror.  Always has been, like I said earlier I loved the first A Nightmare on Elm St. Wes Craven is just a genius when it comes to horror.  I love films like Dead Silence, Grave Dancers, Dolly Dearest, Dolls.  And shows like The Twilight Zone and Night Gallery.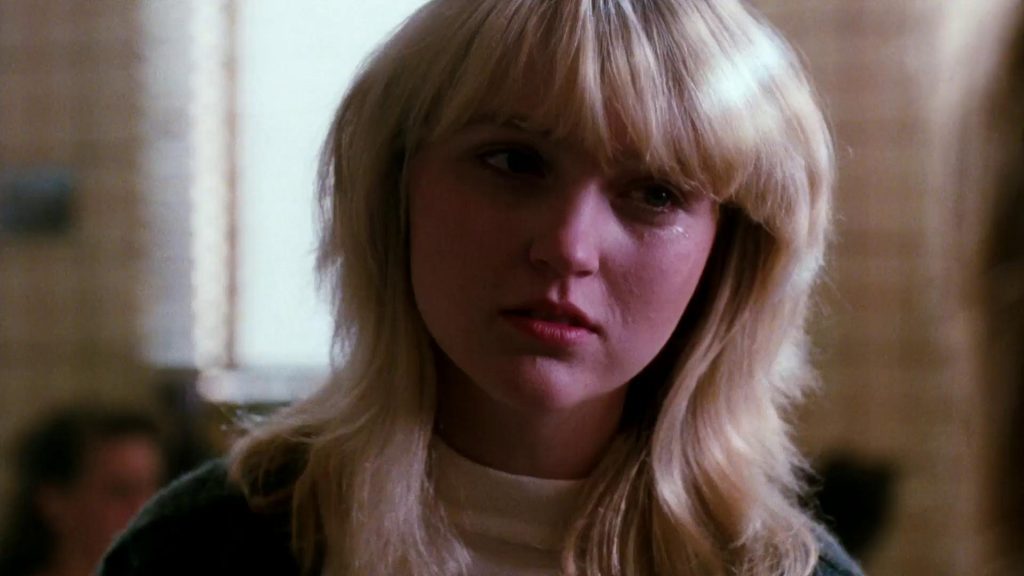 Hellter: Very good choices.  Do you still own a jewelry store with Lisa Wilcox or are you flying solo now?
Tuesday: We never owned a store, just a company.  And Lisa and I did it for many years and then I started my own line called Tuesday's Hip Vintage, but now I am just taking a break from that.  It's a lot of work, and I am really focused on Music right now. Basically the jewelry was seen in many department stores like Macy's, Nordstroms, Bloomingdales, BCBG and many more.
Hellter: Very impressive.  Going back to Nightmare. How did you get picked for Wes Cravens New Nightmare?
Tuesday: I got a call from Wes Craven, one of the sweetest men alive.  He first started off by saying he was doing another Nightmare film and I thought that how amazing that the franchise was still going.  And he told me that he needed a star in that scene and he was afraid to call Johnny Depp, in fear that he would turn him down.  He had seen some of my films that I had done and loved them, and at that point I was so flattered I would have done anything. When I got to the set that day and was looking around there was nobody else around from any of the other sequels so at first I felt really out of place.  I met Heather that day and she is amazing, she really puts her all into what she does.So I went to Wes and I asked him if anyone else from the other Nightmare films were going to be in this scene and he said "No."  He said that the other reason he wanted me to do it was because he loved how I portrayed Kristen in Nightmare 4.  When he wrote the script to Nightmare 3 he made Kristen a fighter, and then other people came in and re-wrote most of what he had and Kristen had turned into a victim.  She wasn't a fighter, just more of a screamer. And he liked that I made her a fighter the way he had originally written it.  So being a part of that franchise for a 2nd time was just awesome, and getting to work with Wes was a dream.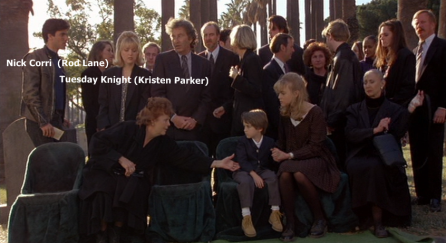 Hellter: Alot of people didn't like Wes Craven's New Nightmare. But I loved it. I thought it was a good horror film with a different twist to it.  How does it feel being in the same category as female icons in Nightmare on elm Street series along with Heather Langenkamp and Lisa Wilcox?
Tuesday: Well I never really felt that I was or am part of a "Category" because I never really embraced the whole "Elm St." thing, I just started doing conventions not long ago.  As much as I feel that I am part of it, I also feel disconnected in a way.  Because other than my cameo in New Nightmare I have only done one horror film and was in like 40 minutes of it.  So when people call me a scream queen I kind of just laugh because I never really though of myself as one.  I don't really know how to answer this… (laughs). 
Hellter: I think you did an amazing job in Nightmare 4 and so do alot of horror fans around the world.  How do feel when you look back at your experiences with the Nightmare films?
Tuesday: I feel blessed.  These films are not going anywhere and the next generation is just catching on to what a lot of people did over 30 years ago with the original.  Some people might be ashamed of being in a horror film, I could never do that.  It started my career in film for starters, and I could do a thousand movies and people could just forget them after a few years of being out.  But they will never forget A Nightmare on Elm St. so it was really a blessing to have been a part of franchise.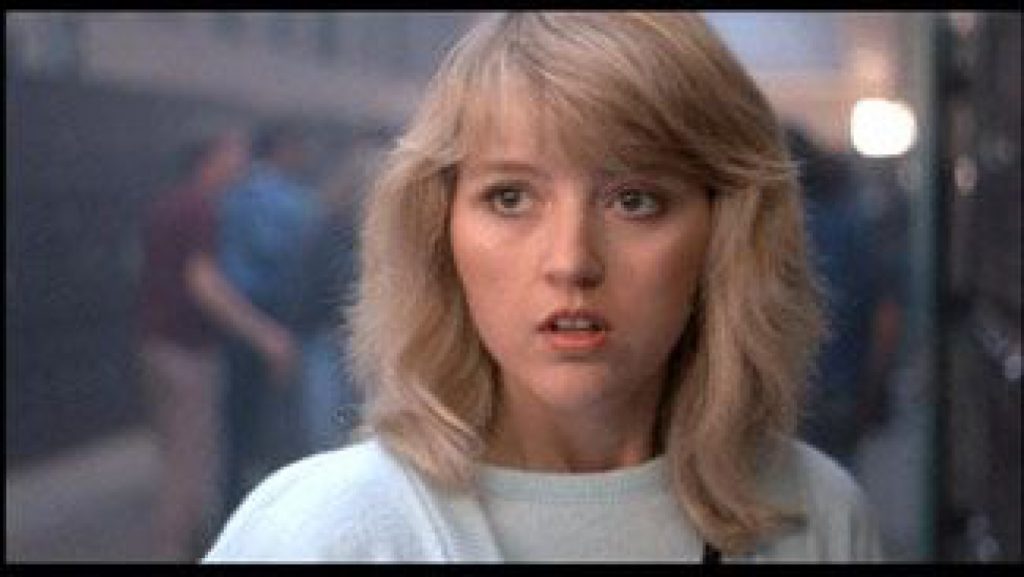 Hellter: You have big success in music and films, whats your key to always being inspired to create?
Tuesday: Many things inspire me, when it comes to music I could be feeling a certain emotion, or watching a movie and it will inspire me to write a song.  But film is and will always be my first love, and just to be able to be doing it today is inspiring to keep doing it.
Hellter: What happened with your encounter early in your career with Madonna?
Tuesday: My first encounter with Madonna was a wild one.  It was at the premier of my film Mistress and at that time I had short platinum hair as she did.  And she came up to me inside the gate (after the red carpet) and said "I'd fuck you, because it would be like fucking myself."  meaning that we look a lot alike.  It was a shocking and great experience in my life.  And then to be able to design jewelry just for her videos and tours.  Look for it in her upcoming REBEL HEARTS Tour.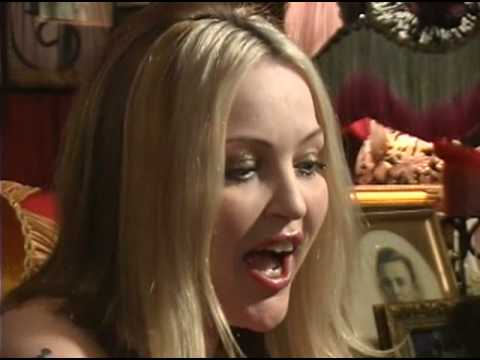 Hellter: (laughs) That sounds like Madonna!!  Anything else you want to talk about?
Tuesday: Well everyone can download the Nightmare EP from my website (www.tuesdayknight.com).  And you can check out my band Rapture at www.rapturetribute.com and keep looking for me on Television and film because 2016 is going to be a busy year in those departments.
Hellter: Thank you so much for joining us today. It was my pleasure.  
Tuesday: Your welcome! 
---
---