Cursed Tapes to Creepy Wells, Grumonkey interviews Bonnie Morgan(Samara from Rings)
---
Cursed Tapes to Creepy Wells, Grumonkey interviews Bonnie Morgan(Samara from Rings)
---
Hello my Grue-Lings!!
    Gruemonkey has an exclusive interview today with the very talented Bonnie Morgan. Very happy she is our guest today. Bonnie is a stunt woman, contortionist, and actress. Bonnie is best known for her role as Samara in Rings 2, the scene where she does that creepy spider crawl out of the well.  Now she is back again as Samara in the movie that's out now Rings.  I saw the movie and I loved it.  If you remember, she also played the possessed Rosa in The Devil Inside.  She has been in countless other films and TV series.  She is very talented and a really cool person. I am so happy and proud to bring to my Grue-Lings, Samara, Bonnie Morgan!!
---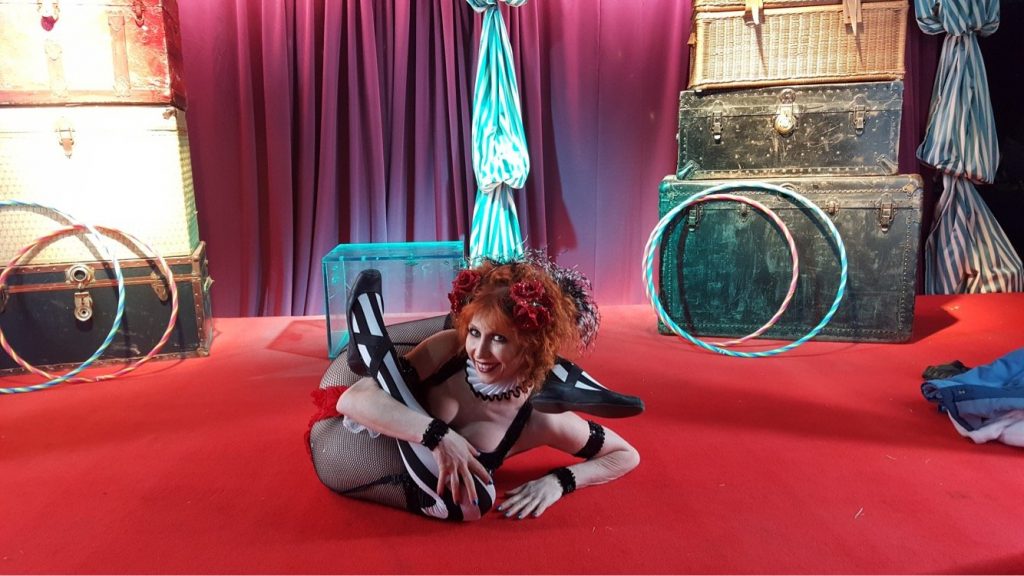 Hellter: Thank you for joining us today Bonnie and welcome to Gruemonkey.  How did you get involved with being a contortionist? That looks like it hurts the body. It's amazing stuff.
Bonnie:  Thank you so much. No… it doesn't hurt … much… anymore… I'm kidding! I come from a long line of circus, acrobat vaudevillians!
It started with my grandparents, my grandma Dotty opened for Frank Sinatra and Jimmy Durante, then my father was a child star on Broadway, and the original "Little Richie" on the Dick Van Dyke pilot, and later became a sci-fi icon as Billy in Logans Run, and many many other films so when I happened to turn out to be extra bendy… it was highly encouraged and embraced as a potential career…or straight job… you know … in case the whole acting thing didn't pan out… little did we all know they would actually become a joint venture. 
Hellter:  That's very impressive that your grandma opened for the ICON himself Frank Sinatra.  How was it like working on Piranha 3D and Fright Night, the remake? And do you prefer being in films over tv series?
Bonnie:  Both fantastic movies to work on!
Piranha was such a blast… a party on and off the set. So many fun creative people between the cast, the stunt department, and the effects team… then you put us all on Lake Havasu for a party that turned into a massacre for a few weeks…that was a killer summer!
Fright Night was all kinds of fun… running around a basement playing vampires with Colin Farrell (who is a riot!), chasing people, biting them, setting stuntmen on fire… and it was also the third time I was buried alive on set.
Honestly, I just love to work! I love the whole process. 
On the one hand, working on a tv series becomes a big family, everyone knows each other for so long, it's a very special community, like a home. The hours are usually far more civilized than on a film, and not only does one develop bonds with your cast and crew, you really get to know the character you're playing week after week.
On the other hand,  film offers such variety one to the next. Different characters, different crews, different locations. The excitement of filmmaking is electric, the hours can be grueling. When you're done you fly off to the next adventure! 
I honestly couldn't choose which one is my favorite, because I just enjoy it all so much!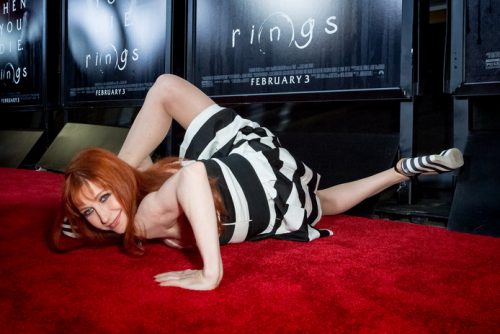 Hellter: I've seen both films. Good films.  I interviewed one of the actors from Piranha 3D, he is a big star on tv series Baby Daddy now, Jean Luc Biledeou.  Piranha looked like a lot of fun.  You have a very creepy disturbing scene in The Devil Inside. You play Rosa Sorlini. You showed how well you can act and how great you are at being a contortionist. The way your body twists is perfect for a horror film. Did you have to train your body a certain way to play the role of someone possessed? Also, how was your experience working on The Devil Inside?
Bonnie:  Actually, they were not looking for a contortionist at all! I got the audition from my agent. They were looking for an Italian teenager. I  had recently been passed over for a big feature because the director couldn't see past my red hair and blue eyes, he loved me as an actor and was freaked out by the contortion,  but in spite of my having the producers support, he just couldn't see me as anything but what was in front of him.
So when I auditioned for Rosa I didn't take any chances! I went in with a brunette wig, hazel contacts, and had a friend translate the dialogue into Italian. They heard that I had some ideas but didn't know exactly what I'd planned!  I really scared the casting director.
Once I was hired, no one recognized me without the wig. When we arrived in Romania, I became close with the director Brent and his producers Morris and Matt. They were so open to my crazy ideas, they gave me a lot of freedom and input as Rosa grew from a small possession scene to the whole sequence they wound up shooting! 
It was serving in the trenches with an awesome cast and crew, in a basement in Romania in December! I must admit, however, that the "hemorrhaging" bit was a surprise to me!
.
,
Hellter:  At least you got to spend time in Romania, that's a cool experience, and speak Italian.  In Fear Clinic, you play the role of Paige. How was it like working with the great Robert Englund and describe what your character Paige was about?
Bonnie:  Robert Englund is the best! I hadn't seen him since I was a kid when my dad worked on Freddy's Dead: The Final Nightmare. We met in our hotel lobby in Medina Ohio to work out the finer points of the opening sequence when he finally asked if we knew each other… I reminded him that I used to contort in the makeup trailer when I was little… he responded with the classic, "Oh… OF COURSE!! You're Gary's kid!! How's your dad been?"
In Fear Clinic, my character, Paige was one of Dr. Andover's (Robert Englund ) first patients, a girl he felt very close, protective and responsible for. She was also his only casualty, a loss for which he couldn't forgive himself. So when Darkness needed a way into the Doctor's mind,  of course it took the form of Paige to make mischief.
It was also kind of awesome because Fear Clinic was the first movie that I got to play both the maiden and the monster! They called me into don the darkness suit to do some of the more innovative creepy movements. So I got to play Paige and Darkness.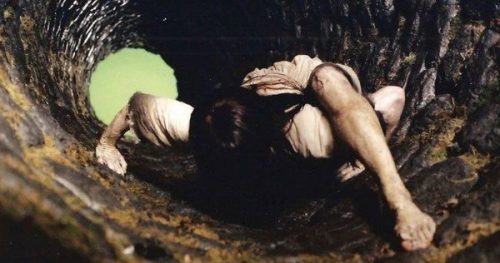 Hellter: Robert Englund sounds so cool. How can you not like the man who made Freddy Krueger famous?  How did you come up with that creepy famous spider crawl out of the well? That is something a lot of people try to copy but can't do it as good as you did.
Bonnie:  Believe it or not, it happened on my living room floor! I was tracked down on the second Ring movie as sort of a coup to do the CG department out of the final sequence. CG was kind of all the rage, and I was told that they really wanted to WOW the audience with something really "scary and different and spectacular." The visual effects dept. was convinced that production couldn't find anyone that could rival their digital concept.
Well, the director Hideo Nakata (who had directed the original Ringu in Japan) was quite opposed to the idea, he is a horror purist, believing that "real is scarier" he wanted to see something practical instead of another computer-generated monster. I was then tracked down by a department head who had known me since I was a kid.
He called me and we all had a sort of clandestine creative meeting, after which they asked me to film something at home to present to the grown ups. And thusly the "spider crawl" was born in my living room. I created an iconic movement for an already iconic character.
To this day, most people assume that it is a CG creature… I'm pretty proud of that.
Hellter: You did an amazing job because of that creepy spider crawl, creeped me out (laughs).  What drew you to the character of Samara?
Bonnie:  Samara is one of the first horror icons that really scared me! She terrified fans literally around the globe. But she was the first to really get to me.
To then turn around and be asked to play her… to become the very thing that terrified you as a kid is about the greatest full circle to come to as an actor. Please excuse the ring …full circle pun.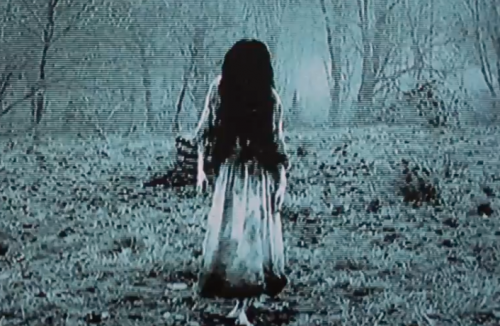 Hellter: Samara is very creepy.  Are you happy that you finally got cast as the main role for Samara instead of a stunt contortionist for the Rings film?
Bonnie:  I couldn't be happier! To become the thing you feared as a kid!!! To then add an iconic movement and my own ideas to an already iconic character is one of those things you hope for but never actually really think will happen in reality.
Hellter: I'm glad to see it all worked out for you and Samara.  How was it like being on the set of Rings and working with a lot of great talent?
Bonnie: It was a pleasure serving in the trenches with this incredible cast and crew… it was also my pleasure to scare the pants off them every chance I got.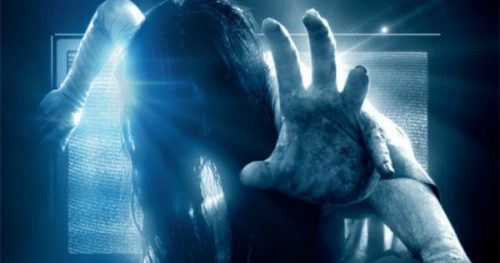 Hellter: Are there any scenes that creeped you out?
Bonnie:  The editing was masterful!! The jumps, the boos, the scares landed so effectively. I loved seeing every slimy, waterlogged bit come to life creeping out the audience. And of course, Matilda's incredible work pulling the hair out of her throat!
Hellter: Yeah, the film was very well done.  If you saw a creepy girl coming out of a well doing a spider crawl towards you, how would you react?
Bonnie: I would be flattered… and then challenge her to a battle to the end!!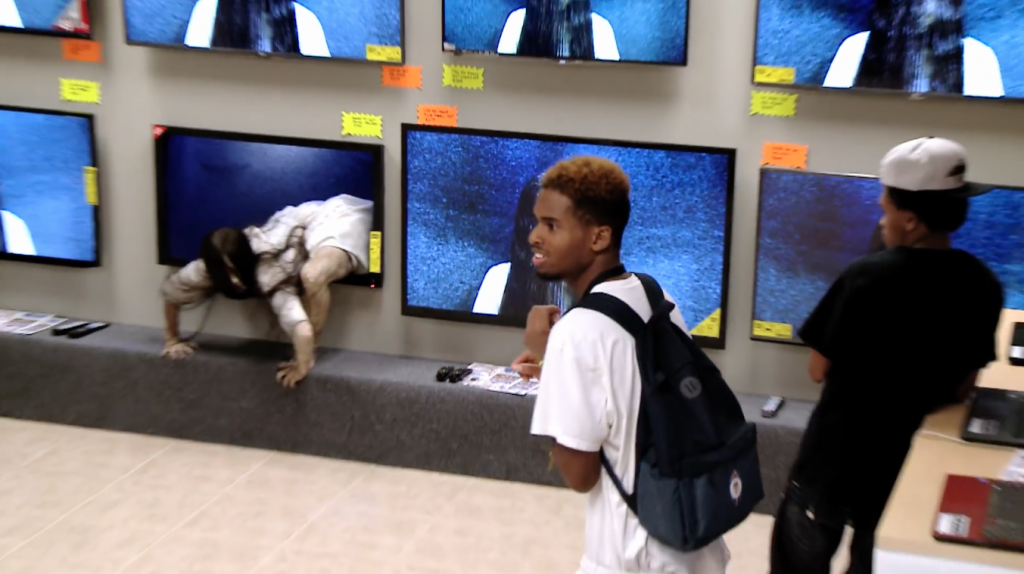 Hellter: (laughs) I think you would win!!  Who would win in a fight between your version of Samara against Kayako from The Grudge?
Bonnie: Hands-down Samara, the kid's got moves and moxie! 
Hellter: That would an amazing battle!  Anything else you would like to discuss or any projects you have coming up that you want to talk about?
Bonnie:  I'll be playing Judy Punch this season on the Sundance Channel's Hap and Leonard airing this spring. And though I can't say the title, I've signed on as part of a well-known sci-fi franchise that I'm really excited about
Hellter: Thank you so much for this interview.  It was a pleasure.  
Bonnie: You're welcome. 
---
Check out Bonnie's Twitter by clicking here
Check out Bonnie's Facebook by clicking here

---