An Interview With Innsmouth Director Izzy Lee
---
An Interview With Innsmouth Director Izzy Lee
---
Former writer for Gruemonkey, Tim Murr did a interview with the talented Izzy Lee. Tim now writes for Popshifter and Strangerwithfriction.blogspot.com
Boston filmmaker Izzy Lee has built a body of work in short films that could stand together as a fantastic horror anthology TV series and if I were a producer I'd certainly hire her to develop one. Films like Picket, A Favor, Postpartum, For A Good Time Call… are consistently smart, tight, shocking, and well made. Clearly, each one a labor of love that for the viewer are entertaining and enriching works of art. Her latest film, Innsmouth, starring Diana Porter and Tristan Risk is inspired by the work of HP Lovecraft. It really captures what makes Lovecraft great while giving it a much-needed modern twist. You can read my review HERE.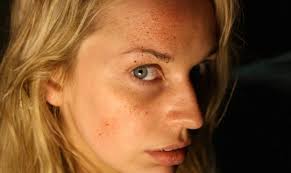 So, let's start with where you come from. Did you grow up loving horror movies?
Yes, from a very young age. The first full film I recall seeing is An American Werewolf in London, and it changed me forever. I just had the honor of meeting and out with John Landis in Mexico City, too. Morbido Fest brought him in as a guest for the film's 35th anniversary. What an amazing trip. Also, Vincent Price and Roger Corman are responsible for my most beloved childhood film memories with the Poe/AIP adaptations.
How does living in Boston (the greatest city on Earth) affect your work?
I don't have half as many cast and crew options as I'd like. There is a very small pool of each here, because everyone leaves to go to New York or LA, where the real work is. In fact, my sound crew and DP moved to LA over the summer. The Kevin James and Adam Sandler films don't cut it.
Your latest short film is Innsmouth, inspired by the work of HP Lovecraft. What does his work mean to you?
It's influential to a certain point; I'm much more influenced by Poe. In fact, I was able to make one of my dreams come true by bringing in Jeffrey Combs to perform Nevermore on Halloween in 2014. It was directed by Stuart Gordon and written by Dennis Paoli. It was incredible.
Getting back to Lovecraft, who was also influenced heavily by Poe, I mean, I like his work. I haven't read all of it, and there are some really great ideas and stories in his lexicon.
Lovecraft has a lot of baggage-the misogyny, the xenophobia, and the outright racism- and yet his work, or at least his creation Cthulu, seems more popular now than ever. Do you think it's more important to preserve his work or redeem it with films like Innsmouth or From Beyond and newer writers who keep the Cthulu mythos alive sans racism?
Yes, it's been interesting to see the drama unfold around Lovecraft's personal life. On one hand, from a historical and sociological perspective, it's semi-interesting to see what straight white men thought about "the other" during that time. Mostly, it's more of the same garbage that women and people of color have always had to deal with.
The best part of adapting Lovecraft for me, and I suspect, for Stuart Gordon and other filmmakers, is that the stories are great jumping-off points for creating fascinating work. You can take the seeds of what Lovecraft sowed and make them blossom into something completely original. I hope that is what I've done with Innsmouth.
Not to spoil the ending of Innsmouth for those who haven't seen it yet, but what was Tristan Risk's reaction when she read the script?
Hahaha, the entire script was reverse engineered around her special trick. When we were on set For A Good Time, Call… two years ago (and I'm going to release that short very soon), she told me about this thing she can do…. I just looked at her and said "I'd put that on film!" And that's how Innsmouth began.
You've worked with Diana Porter on all of your shorts and she's great in each role. How did the two of you meet?
We met as actors on another friend's set — Skip Shea's short Ave Maria. We hit it off, and when it came time for me to cast my short Picket, I gave her a call. You can see that film online via Blair Bathory and her awesome FEAR HAUS show, by the way. Actually, she's in almost all of my films… I think I've made 11, and so she's in about 9 of them. She's professional, reliable, and consistently one of Boston's top-booked actors. We get each other. Someone once called us the "Scorcese and DiCaprio of Boston indie film," which is hilarious.
One of the consistent things from each of your films, from Favor, to Postpartum, to Innsmouth is how good each film looks. What kind of camera do you shoot with?
I've used the same cinematographer for a while, Bryan McKay. He used a Sony A7S on For A Good Time, Call… and Innsmouth, and a Cannon 60D on Postpartum. He color grades and edits, too, and he has a great style. I trust him deeply.
Favor is a dark comedy of errors that reminded me of the most fucked up episode of Amazing Stories that was never made. How did that story come about?
Hahaha. Well, I was itching to make something and take a break from my usual darkness. I asked my friend Chris Hallock for scripts; because he usually has a few on hand — and this one was so funny I couldn't not film it.
Short films aren't new, but when I really got into film back in the early 90s, where I was really paying attention to directors and writers, I was never really taken by short films. A lot of them seemed more like proof of concept for bigger features and often lacked real quality. Now though, there's a plethora of great shorts and anthologies. It's almost like a new punk rock. Your films feel like very complete statements and stand tall and proud on their own, but how do you view them in the wider context of your career? Are you assembling a statement with shorts or are you building a reputation/resume for feature length films?
I love short films, and I really like making them. Most of the films I make have some sort of political statement. I actually got into filmmaking because I was really pissed off at old white male Republican lawmakers who think they know what rape is and isn't, and what they think women's bodies magically can and can't do. It's farcical. And yeah, it's punk rock as fuck.
Each one is made on its own, but I've been asked a few times if I'll ever release them all as a set. I'm not sure if there's a market for that, but I enjoy making them and touring the festival circuit with them. I think I'm on my 11th now. Building a reputation is part of it, but I like using shorts to pressure myself into telling a succinct, solid story that also leaves questions with the viewer.
You've got a story in the new Wicked Witches Anthology called Tilberian Holiday. What's it about?
Wicked Witches is a new anthology put out by the New England Horror Writers. I know many of them and have been attending their events, so I decided to try to join in on the fun. This story is the very first I've ever attempted to get published. I never took my fiction writing seriously before, and so I never bothered submitting anywhere. By going to so many readings by talented friends, I figured I'd give it a shot. I'm thrilled to be signing books now. As a lifelong reader, it's a special thing.
Who/what are some of your biggest influences?
Carpenter, Cronenberg, Lynch, Bava, Argento. Sadly, there are no female directors here because we're not trusted and allowed to flourish. Therefore, I haven't grown up being able to devour a catalog of work from any woman. That said, Karyn Kusama, Jennifer Lynch, Jennifer Kent, and Anna Biller are all utterly fantastic and deserve to be household names.
What's next for you and Nihil Noctem?  
I'm working on a number of things; foremost getting a feature made. It's proving to be a struggle to even acquire a producer, so I'll probably end up doing something on my own with a small crew and release it into the wild when it's ready. Hopefully, there's also more fiction coming down the line.
Izzy was kind enough to do this interview with me and I want to thank her for time.
Innsmouth is currently streaming on Shudder. See the trailer HERE. You can, and should, follow her work at Nihilnoctem.com and on Twitter.
---