Gay Zombies and more!! The Bruce LaBruce interview!!! Creator of LA Zombie and Otto!!
---
Gay Zombies and more!! The Bruce LaBruce interview!!! Creator of LA Zombie and Otto!!
---
Today I am very honored to have a guest on Grue who is an ICON in the gay community. He makes gay mainstream films, gay horror, and even adult films.  He studied film in York University in Toronto Canada. While there, he wrote for Cineaction Magazine.  He also did Queer Punk Zine J.D.'s. He is known for one of the founding fathers of New Queer Cinema, which was part of the Queercore Movement.  He is not afraid to go that extra mile and put something out there. He even had vampire and zombie sex, gang rapes, fetish, prostitution, etc in his films. My two favorite films he did are Otto, or Up with Dead People! and Gerontophilia.  He also did the very popular Gay Horror film LA Zombie!!! Here is an interview I'm so happy to bring you. Welcome, Bruce LaBruce!
---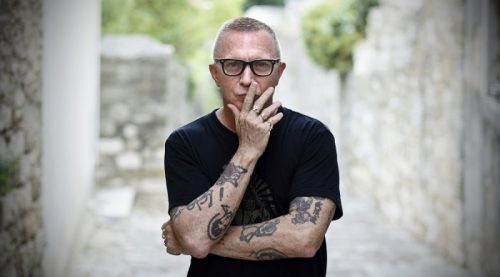 .
.
Hellter: What made you decide you wanted a career in film and when you got into film, what made you decide to break the walls down so to speak and have the world see that gay cinema is just as good as straight films?
BLB: I grew up on a farm, so watching movies on TV and going to movie theaters were my only connection to the broader world. I became a real cinephile, and I initially went to university to become a film critic. But while I was getting my Masters degree in Film and Social and Political Thought, I started making short, super 8 experimental film in the punk and underground alternative art scene. I started making films with explicit gay sexual content as a political gesture of unapologetic visibility and an in-your-face expression of homosexuality. I didn't set out to make "gay films" per se. In fact, many of my films are about characters who are straight or straight-acting yet still have homosexual sex – hustlers, neo-Nazi skinheads, extreme left-wing revolutionaries, etc.
.
.
Hellter: Yeah your films are fun to watch, I can say that. Do you feel that Hollywood and movie fans don't give gay cinema a chance?
BLB: There are a number of high profile, mainstream directors who are gay and who express a gay sensibility in their work –

Gus Van Sant, Todd Haynes, John Waters

, etc. I think if a movie is good, it doesn't matter whether it's gay or not, or if it has a gay director. It has to be good cinema first.
Hellter: I totally agree with you, cinema is cinema, gay or straight. Your involved or were involved with Queer Punk Zine J.D.s. Describe what that's about?
BLB: I was involved in the punk scene in Toronto in the eighties, which my friends and I turned to because we were bored with the mainstream gay world, which had become bourgeois and assimilationist. We thought punk was more politically and aesthetically interesting, but we soon found that it had sexist and homophobic elements. This spurred us to make very pornographic queer punk fanzines and movies, to provoke the sexually conservative punks and challenge their supposedly radical stance.
Hellter: Very bold move, I'm glad it paid off for you. How do you like being a writer for ViceNerve.com, Blackbook, Toronto's Eye Weekly, New York's Index Magazine, and a Canadian music magazine called Exclaim?
BLB: I actually don't write for any of those magazines anymore! Lately, I've been writing about movies for

The Talkhouse
.
I just started a new column there about my favourite movies called

"Academy of the Underrated."
Hellter: I'll be sure to check that out, thank you. You are one of the founding fathers of Queercore Movement. That was back in the 80s. Describe what Queercore Movement was and how do you feel about being one of the founding fathers for it?
BLB: The Queercore Movement started out when a bunch of kids who felt marginalized by both the mainstream gay movement and the increasingly macho straight hardcore punk scene started making fanzines and playing in bands in order to make contact with other like-minded queers. J.D.s, the fanzine that I co-edited with

G.B. Jones

, was one of the first. It was just me and a few of my friends in Toronto taking photos of one another, writing stories, making movies, and dabbling in pornography. The movement caught on, and eventually it was so big that they began to have international queer fanzine gatherings in places like L.A. and Chicago.
Hellter: Wow, sounded like a lot of fun. The 80's were the best time. Your movies are described by many as very sexual. Almost along the lines of gay porn. It's described as sexual fetishes that include BDSM, gang rape, male prostitution, and zombie and vampire sexuality. How would you describe your very sexual films?
BLB: I started out with my short super 8 films and queer zines in the eighties using found porn material for collage or montage, incorporating existing gay porn into our punk products to be provocative and in-your-face about homosexual sex. Gradually, we started shooting our own sexually explicit material, although in a very naive, personal style, very different from

"industry porn."

My first three features,

No Skin Off My Ass

,

Super 8 1/2

, and

Hustler White

, were what I considered sexually explicit art films, but they also referenced porn conventions and techniques. My producer,

Jurgen Bruning

, and I gained a reputation as pornographers because of these films, which compelled Jurgen to start the first-ever porn company in

Berlin

,

Cazzo Film

. Three of my films were subsequently financed by Jurgen's porn company:

Skin Flick

,

The Raspberry Reich

, and

L.A. Zombie

. For each film, I made a softcore version for film festivals and theatrical releases, and a hardcore version, marketed and distributed under an alternate title by porn distribution companies. From the beginning, however, the themes have remained pretty much the same – films about outsider and marginalized characters, about the fluidity of sexual identity, and about sexual fetish. I've always tried to humanize and romanticize sexual fetishes, which are often about a deep appreciation and worship of the object of desire. I also deal with porn tropes, including rape fantasies, but my films are more about exploring, exposing, and exploiting the conventions of porn rather than mindlessly reiterating them.
Hellter: The Hustler White is about male prostitution in Hollywood near the famous sunset strip. Do you feel that back in the day that they had a lot of male prostitution? And do you feel Hustler White is very sexual? I love the stumping scene.
BLB: It's actually not the Sunset Strip, but Santa Monica Boulevard, which was where the hustlers plied their trade. With Hustler White, we set out to document the male prostitution scene on the Boulevard before it disappeared in the late nineties. The police started to run the hustlers off the Boulevard, and the advent of the Internet was starting to make the rich and storied street prostitution phenomenon obsolete. With Hustler White, we documented the scene by interviewing a number of hustlers and johns about their experiences with male prostitution, and then compositing their stories into a single strip, like a hustler

"Short Cuts."

Some of the people we interviewed play themselves in the movie and act out their own fetishes, such as the real amputee hustler we cast, and the elder gentleman who likes to have cigarettes put out on his body and be sliced up with a razor blade. The film is also about the search for love and tenderness in the harsh world of prostitution and sexual fetish, making the point the extreme sexuality doesn't preclude romance and affection.
.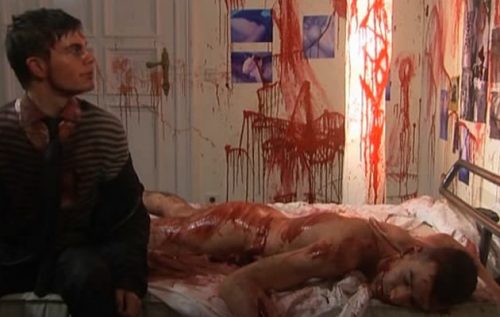 Hellter: Wow, you got real hustler's to be in your movie, interesting! A movie I really love by you is Otto or Up with Dead People. It's about Otto who is played by the very sexy Jey Crisfar. Otto is a neo-goth zombie with an identity crisis. Very good film. It seems like the actor Jey Crisfar hasn't really done anything else since your movie. Do you still talk to him yet? Also, how did you come up with the very interesting concept of the movie?
BLB: 

Jey Crisfar

was an 18-year-old art student from

Brussels

that I met on

MySpace

. He didn't want to be an actor, but getting to know him online, I thought he was perfect for the role. I'm still in touch with him from time to time on the internet. The concept for the movie came from a variety of inspirations. In some ways, it's a remake of my own movie

Super 8 1/2

, but with zombies. Both films are about revolutionary lesbian filmmakers who make a movie about a young, disaffected gay man who is totally alienated from both society at large and from the gay mainstream. In Otto, his alienation is manifested as an identification with zombies. My friend Candy made a short film in the early nineties called Interview with a Zombie in which I played a gay zombie, so that was another inspiration. I had also recently been married to a Cuban man who had been caught up and lost in the immigration system in Canada for well over a decade, having no country, no identity, lost in a foreign world. So that was another influence. And then the film was also a commentary on how gay conformity and sexual compulsion can be a form of zombie-hood. I'm also always interested in how zombies are signified in movies as worthless, disposable homeless people, an idea I expanded upon in the much more pornographic

L.A. Zombie

, another film about a homeless homosexual who is either a "real zombie" or has the delusion that he is a zombie.
.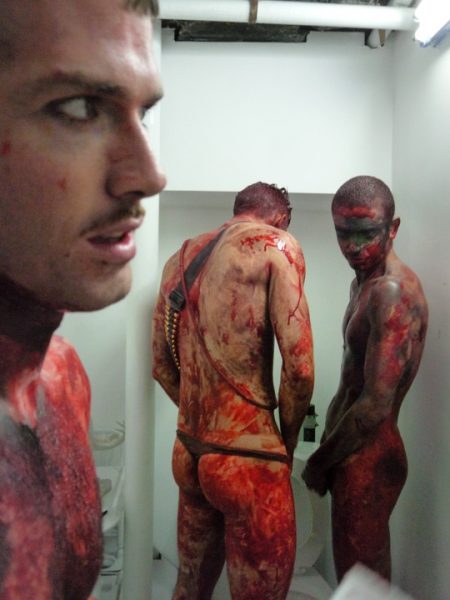 Hellter: I love how you came up with gay zombies. Love it. Otto was amazing. L.A. Zombie is a very sexual film. I personally loved it. What were your feelings and thoughts when they banned your film from the Australian Film Festival?  And did you get this film shown in any other festivals?
BLB: Of course I am always dismayed and disappointed when my films are censored or banned, but it also has the benefit of giving the film lots of exposure and notoriety. L.A. Zombie was a very modest film, bankrolled by porn companies, but being banned in Australia gave it a high profile. It ended up premiering in competition at the

Locarno Film Festival

, an A-list festival, where it caused quite a controversy. It went on to play at dozens of film festivals, gay and straight.
.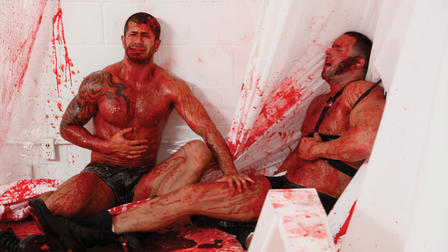 Hellter: LA Zombie is a very sexual film. Alot of blood and man on man action. Very good erotic horror film. Where did you find the sexy beefy muscle actors for L.A. Zombie? They were so hot and is a must watch for gay men who are into beefy muscle men. Do you feel that L.A. Zombie is too sexual for mainstream film?
BLB: Well, I should point out that it was the softcore version of L.A. Zombie that was banned in

Australia

! The hardcore version,

L.A. Zombie Hardcore

, is very extreme, often proving too much even for porn aficionados! I was surprised that the softcore version was screened as widely as it was, not because of the gore, which is a very mainstream genre now, but because of the "gorn," the mixture of gore and porn. In the softcore version, you only see the homeless zombie's alien dick, which was a prosthetic, a huge cock with a scorpion stinger on the end that squirts black squid ink. In the hardcore version, you see both the prosethetic cock and

Francois Sagat

's real cock. But I would say that the softcore version is about as far as you can push a film of that kind into the mainstream, considering its connotations of necrophilia and the penetration of wounds and bullet holes in the body.
.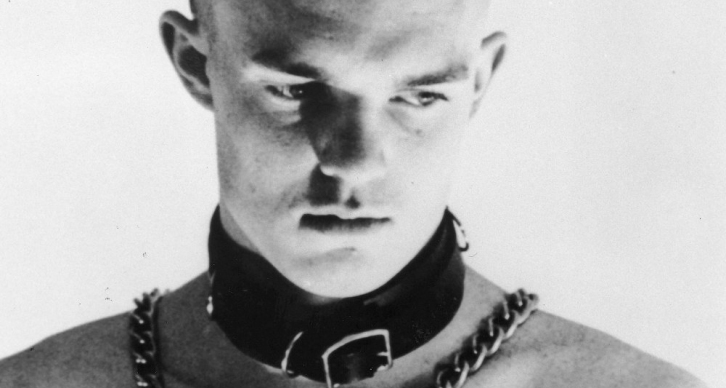 Hellter: Your film No Skin Off My Ass is rock and rolls icon Kurt Cobain's favorite film. How do you feel that a rock icon Kurt Cobain loved your film?
BLB: I'm so bummed that I never got to meet

Kurt Cobain

. I saw

Nirvana

once in Toronto at Lee's Palace just before they became huge with

Nevermind

, so there were only about forty of us at the concert and I got drunk and danced on tables watching them. I thought it was really cool when he said he was a fan of

No Skin Off My Ass

, but I can't say I was surprised. The film is punk, with lots of great punk music by the likes of

Nip Drivers

,

Beefeater

,

The Subhumans

, and

Operation Ivy

, not to mention

Nico

. It's also romantic and playful, about outsider, loner characters who are very different from each other but somehow find love as an improbable couple. I imagine that would have appealed greatly to Kurt Cobain.
.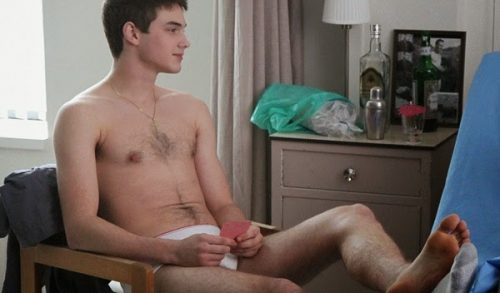 Hellter: Sadly Kurt passed away too young. Wish he was still here making great music. Gerontophilia is a film you made in 2013 about a sexual taboo between a young man falling in love with a senior citizen. And even had some sex scenes between the two. Do you feel that there are alot of young men into older people like that? I know theres a big community for Sons loving their Bears or their Dads.
BLB: Yes, but

Gerontophilia

is a completely different fetish from Daddies and Sons. Gerontophilia is really a fetish for the elderly, for wrinkled skin and age spots, for the visible signifiers of old age, the older the better. It's more than a grandfather or grandmother fetish – it has something to do with the perishable nature of the body, with the proximity of the love object to death. In that way, it's also related in a strange way to necrophilia – a death fetish. In my movie, when the young boy gives the unconscious old man a sponge bath, he is literally fetishizing this inert, aged body, almost as if it's in a morgue. Of course, the gerontophile can have other, more salubrious attractions to the aged – to their wisdom, their experience, their frailty and vulnerability. Also, the film relates to my zombie films inasmuch as the elderly are over-medicated and barricaded away from society, turning them into a kind of zombie.
.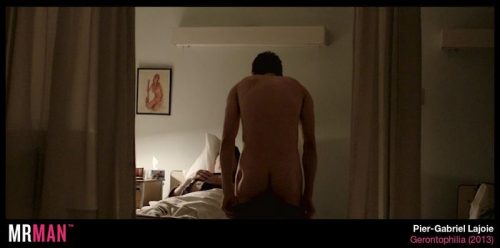 Hellter: I have already watched this movie over a dozen times. But, mainly because I love all the shirtless and nude scenes of Pier-Gabriel (laughs). How did you find the most beautiful sexy man in the world Pier Gabriel Lajoie? This stud has everything. The smile, the eyes, the sexy body, the perfect butt, and the cute face. Hes the whole package. What made him stand out from everyone who auditioned for that role and hows your relationship with him today?
BLB: 

Pier-Gabriel

was probably the youngest of the 20 or 25 boys we auditioned for the role (he was 18 when we started shooting), and also one of the least experienced actors (he'd had a small role on a Quebec TV show about high school kids). But that's exactly the quality I wanted. I wanted a very beautiful boy, somewhat naive, who was very open-minded about the subject of the movie, and who would play it without judgement or irony. I wanted to cast the two main actors with the same age of the characters, 18 and 81, which I managed to do. This huge discrepancy in age is really essential to make the point of gerontophilia, which, as I previously described, is about a fetish for very old people. Pier-Gabriel had all these qualities, and for a straight boy who plays hockey, it was quite heartbreaking to see him play the role so convincingly.

Walter Borden

, who played the old man, was also quite beautiful and remarkable. I'm only in touch with them occasionally online now.
.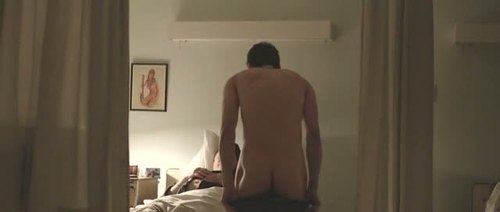 Hellter: Yeah, he's perfect. Thank you so much for having Pier in soo many shirtless scenes. Love the scenes where he is just in his boxers and of course his nude scene with his perfect bare butt. Such an amazing body. Was Pier comfortable doing so many shirtless scenes and his nude scene showing off hid butt?
BLB: The movie was never intended to be sexually explicit or to have much nudity – more so for the old man than for the boy, as the old man is the object of desire in the film!

Pier-Gabriel

is from Quebec, and the Quebecois, more like Western Europeans, have a much more mature and open idea of the body and sexuality. It's not such a big deal for them to show their bodies on film.
.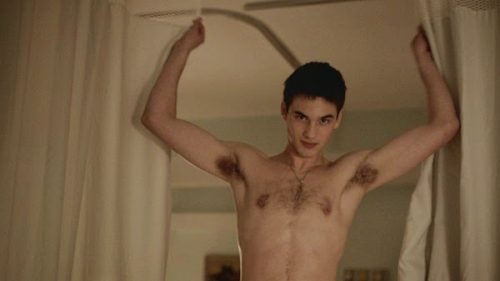 Hellter: How was it like working with Walter, Katie, and Pier?
BLB: All three of them were great. Walter is such a charming and distinguished man. Everyone on set loved him. He has the Order of Canada, the highest cultural award in Canada. He was Canada's only

Black Panther

in the sixties, and he's been a black and gay activist since that time.

Katie Boland's

audition tape made me think that I actually wrote the role expressly for her, even thought I'd never met her. She really embodied the character, and she's also a very smart and sweet young woman, who also directs and produces herself. And

Pier-Gabriel

really bonded with Walter off-screen, and the cast and crew loved him as well. So it was a lovefest.
.
.
Hellter: Whats the MoMA show? I heard you had great success in that.
BLB: 

MoMA

in New York gave me a ten-day film retrospective last year, during which the showed all 9 of my feature films and a program of my short films. It was very well received and attended.
.
.
Hellter: Do you have any more projects in the works?
BLB: Yes, quite a few. I've already shot a new feature film,

The Misandrists

, which I will be editing later in the summer. I have several more feature films in development, and I will also be shooting a short film in August for

Erika Lust'

s company.
Hellter: What does gay transgression mean in this day and age?
BLB: In the current age of gay assimilation, sexual transgression takes on a new meaning. During the gay liberation era of the seventies and eighties, transgressive and militant sexuality was the engine that drove the movement. It was an existential expression of sexuality, a political and philosophical questioning and challenging of morality, sexual norms, and conventional sexual behaviour. Today, the focus is on marriage, monogamy, family values, and participation in conservative institutions such as the military. So it doesn't take that much effort to be sexually transgressive these days! I often say porn stars are the last real homosexual revolutionaries. Back in the day, most gay men lead their lives as if they were porn stars! The new, most political form of sexual transgression is the transgender movement, which is challenging binary conventions and sexual identity.
Hellter: Do you feel that acceptance to be gay in hollywood and gay films are alot better now and more open then it was back in the 70s and 80s?
BLB: 

LGBT

characters are more common now, especially in the golden age of television, but they're not necessarily represented in more enlightened or progressive ways. There are great shows like Transparent that have brilliant, complex, and controversial gay, lesbian, bisexual, and transexual characters, but in a lot of other shows, LGBT characters are still portrayed as shallow, or flamboyant, or disposable, or peripheral. There's also a new strain of "politically incorrect" homophobia that pops up in a lot of shows like

True Detective

or

Game of Thrones

, for example.
Hellter: As an artist and writer and producer, how do you feel about mainstream films?
BLB: I like all types of films. I'm not a pop culture snob. I've known people who are only into alternative or experimental film, and who turn up their noses at mainstream and Hollywood films. I've also known people who are only into mainstream narrative film, and turn up their noses at cult films, or low-budget or formalist or avant-garde film. There are also a lot of people who look down their noses at pornography and pornographers, even though they watch it privately. I don't turn up my nose or look down my nose at any type of cinema. I'm not very interested in mainstream Hollywood today, ruled by the evil twin empires of

Disney

and

Marvel

, but I watch a lot of television series that are amazing. I love classic and sixties and seventies Hollywood cinema.
Hellter: What are some of your favorite films and artists?
BLB: 

Robert Altman, John Cassavetes, Agnes Varda, Maya Deren, Godard, Pasolini, Fassbinder, Frank Perry, Antonioni, Bresson, Bertolucci, Bunuel, Preminger, Ophuls, Sirk

 – way too many to mention. I have so many favourite films. To name a few:

Interiors, Luna, Cruising, 3 Women, A Woman Under the Influence, The Reckless Moment, There's Always Tomorrow, Badlands, Carrie, The Discrete Charm of the Bourgeoisie, Little Darlings, The Shining

...
Hellter: What advice would you give to a young filmaker or actor?
BLB: As

Werner Herzog

says, you only need 10k dollars to make a movie these days, or less. The first rule of filmmaking is make films. Don't talk about it, do it. I'm convinced that anyone can be an actor. Practice, hard work, and not being afraid to fail are key.
Hellter: How would a actor like myself be able to get into one of your films?
BLB: To be in one of my films, you have to be in the wrong place at the wrong time!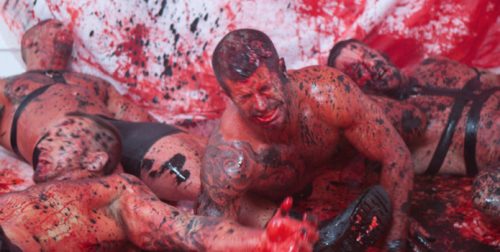 Hellter: (laughs), I'll make sure I'm in the wrong place at the wrong time then, (laughs). How do you feel about how popular zombies are today? I think its being way overused and I loved how you did Otto.
BLB: The zombie genre is definitely becoming exhausted. People have to come up with new revolutionary ideas about what zombies can be. The old tropes are really tired. Although I must confess I am an avid watcher of

The Walking Dead

and

Fear The Walking Dead

. But the limitations of the zombie genre are only enforced by the limitations of the imaginations of the writers.
Hellter: How do you prepare your actors for very hardcore explicit gay sex scenes?
BLB: You have to be very professional and very sensitive to the needs and requirements of the actors. There's many aspects to making professional porn. You have to cast people with sexual chemistry. You have to make a set that is conducive to porn, an environment that is relaxed and comfortable. You have to do all the requisite screenings for STI's and make sure everyone is on the same page with health and safety regulations. You have to cast people who know what they're doing and why they're doing it. There should be no tolerance for sexual exploitation in porn.
.
.
Hellter: What is Chicken Holocaust?
BLB: Is that one of my new scripts? Actually, I grew up on a farm, which I call now The Cruel Farm, because as a child I witnessed so much carnage and castration and slaughter. For example, once a year, my father would slaughter 200 chickens, cutting off their heads one by one with an axe. Their decapitated bodies would flop around, and when you looked at their decapitated heads, their eyes would still be blinking. I called it the chicken holocaust.
Hellter: How do you choose the songs for your films?
BLB: I often use music for my films by friends I know who are musicians and who are in bands. Or I might otherwise have some way of connecting with someone in the band (quite often the gay member!) who can help me with the rights.
Hellter: Have you ever felt that you overstepped the boundaries in any of your films?
BLB: Usually. When I'm making a film and I get the feeling that this time I have gone too far, I know I'm on the right track!
Hellter: Anything else you want to discuss?
BLB: Gee, well watch out for The Misandrists early next year. I have a book coming out called

Porn Diaries; or, How To Succeed In Hardcore Without Really Trying

, from

Editions Moustaches

. I have a retrospective exhibition of my photography coming up at the gallery

Lethal Amounts

in Los Angeles. It's called "Faggotry."
Hellter: Thank you so much for this interview.
BLB: You're welcome. xxx Blab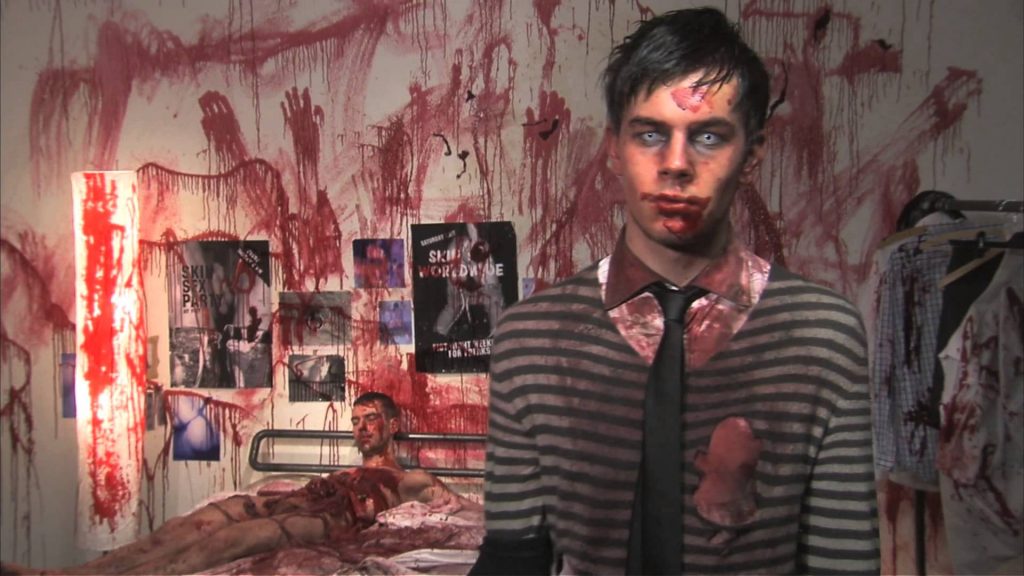 .
Check out Bruce LaBruce's social media accounts:
WEBSITE
TWITTER
FACEBOOK

---