Beware the Lights: Interview with Eden Royce
---
Beware the Lights: Interview with Eden Royce
---
Let me introduce you to Eden Royce. She's an author who specializes in the gothic side of horror, the creepy feeling of being watched and the fear of things waiting in the darkness. She's been a stalwart supporter of black women in horror throughout her career. With her current projects and new horror on the horizon for 2017, Eden is about to turn some heads. I had the pleasure of speaking to her about her work and what inspires and energizes her as an author.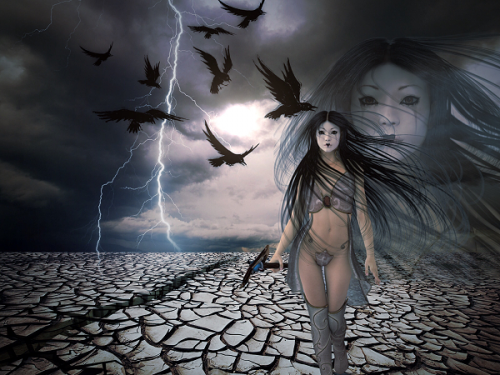 Lori:  What influences from your young life inform your writing now? 
Eden: I grew up around rootworkers, practitioners of conjure magic, in Charleston, SC and those experiences have always stayed with me. Charleston is also a deeply historical city, but I had few stories about my hometown that featured people of color as anything beyond incidental characters. I wanted to change that; I wanted to see people like me as instrumental in Southern stories, so I realized I had to write them. In addition, my grandmother had a fondness for classic black and white monster movies—Dracula, The Wolfman, Frankenstein—and I always enjoyed the creepy, yet elegant, horror they portrayed.
Lori:  Tell us about your current release.
Eden: My current release is Spook Lights: Southern Gothic Horror. Don't let the word 'horror' deter you. Southern Gothic is subtle, atmospheric, and leaves you with just the right amount of chill. In the collection, I've included stories of the folklore and traditions of the Geechee people and the Gullah language, a vibrant mix of English and several African languages formulated from the first slaves brought to the United States, still spoken today in certain parts of Charleston and her surrounding sea islands. I grew up with the language, but it is rare to hear now, but my hope is to bring the Gullah heritage more attention with this collection of tales.
Lori:  You do a lot of work and promotion of other authors. Why?
Eden: I think it's important to promote other authors. This isn't a zero-sum game where if a reader buys another writer's book, they won't by yours. Writing is hard work, and no one likes to feel their effort isn't getting any notice. It's like you're yelling into a void. I still remember when the book 60 Black Women in Horror Writing by Sumiko Saulson came out and I mentioned at a book signing that I was featured in it. The response was, "Are there sixty Black women that write horror?" After that, I began contacting other Black women who wrote dark fiction like I did and interviewed them, reviewed their books, and talked about their work on my social media pages. I didn't notice many other people championing our stories, and I felt it was important to showcase the unique voices I came across.
Lori:  If you could change anything about the publishing business right now, what would it be?
Eden: It would be to have publishers take more risks when making decisions on work to accept. Often, publishers want variations on a theme, not ideas without a precedent of success. I also wish readers and writers valued books more. With so many books available for free, it seems few people want to pay full price for an unknown author's work. I'd love for writers and authors, even the unknown ones, to be paid a fair price for their work. (I know that's two, but it's so hard to choose.)
Lori:  What are your go-to books or movies when you need inspirations?
Eden: I try to read outside of the genre that I'm currently writing in. I want my ideas to come out as uncluttered as possible. But I read anything and everything, so I can find inspiration in a cookbook or from watching a quiz show.
Lori: What are some of the elements you try to incorporate in your writing?
Eden: I try to incorporate my upbringing and details about the lifestyle of growing up in the South in my writing. Maybe I don't necessarily try to incorporate it, but that sense of everyday living alongside the supernatural, not unlike Latin American magical realism, infuses my work no matter what I do. I also try to include both strength and vulnerability in my characters—no one is 100% one or the other.
Lori:  Have you read anything lately that made you angry?
Eden: I rarely, if ever, get angry at a book. However, I do get disappointed or disgusted. I also rarely decline to finish a book but I will relegate it to the back of the bookshelf if I can't manage it after a few attempts.
Lori: How do friends and family react to your writing?
Eden: My family is extremely supportive of my writing. I'm so grateful for that. My parents, my husband, and my in-laws read most of what I write. (When it doesn't unnerve them too much.)
Lori: Outside of writing, what are some of your interests or hobbies?
Eden: I love cooking, the more intricate the recipe, the better. Not sure I'm ready for Masterchef, though. I read voraciously and game when I have the chance. I also paint and practice origami. I don't watch much TV, but when I do I love quiz shows and mysteries.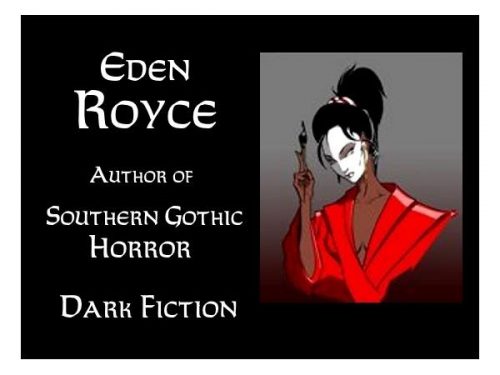 Lori:  Do you have any works in progress that you can tell us about?
Eden:  Spook Lights 2,  my second collection of Southern Gothic horror short stories is coming out in January. I'm also in an anthology of horror fiction and poetry by black women authors entitled Sycorax's Daughters, due out in February for Women in Horror Month. I have another project coming up with Graveyard Shift Sisters, also scheduled for February about black women in horror. No more details on that one yet, but I'll be shouting about it when the time draws nearer. I'm also putting the finishing touches on my NaNoWriMo novel from last year, a YA Southern Gothic. I'm nervous and excited about all of these projects and I wonder how I'm going to get any sleep. But I'll be sure to update my website with any new releases.
Lori:  Is there anything you'd like to add?
Eden: Only that if you like an author's work, let them know. It might be the only thing that keeps them writing.
__________________
Check out Eden Royce's book Spook Lights: Southern Gothic Horror on Amazon.

Connect with Eden on Twitter.

---